JAI DEVI MAIYYA! DIVINE HELP HAS BEGUN!
Jun 16
JAI DEVI MAIYYA! DIVINE HELP HAS BEGUN! (By Samona) (Thanked: 4 times)
IPKKND has now entered the thriller zone!! This entire week has thrown up suspense and thrills nearly every day and yesterday was a nail-biting episode to keep the viewers sitting on the edge of their seats! Close encounters and near misses with the devilish kind, read Skunky, and a lot of drama made us forget that Barun was still missing from the sets; only snippets of flashbacks gave Arnav to us!!
While wearing her earring, Khushi discovers the hidden key of the briefcase, hidden under the rug but peeking out at Khushi! DM HELP!! Devi Maiyya, Aap Sab Se Acchhe Hain!!! What if she had left her earring there in Anjali and Skunky's room in her haste?? Skunky would have realized that she was onto something! But Payal had come to that room at the right time and found the earring and gave it to Khushi! DM HELP AGAIN!! Now I wonder why did Payal come to that room?
Khushi opens the briefcase, checks out the file kept inside it, and keeps it aside. She then picks up the envelope which had the name of S. K. Travels on it and keeps it aside!! Hey Devi Maiyya!! How could you not see the connection between Anjali's talk and the envelope, Khushi? Then she sees that something has peeked out at her from that envelope!! DM HELP AGAIN!
Khushi opens the envelope and discovers Arnavji's boarding pass and his passport inside it! She goes downstairs to the pooja holding both hidden inside her dupatta! That dupatta has always worked very hard to bring Arnav and Khushi closer to each other! Remember the numerous occasions when the dupatta has flown off her and onto his face or body, whichever was required at that moment?? Or the number of times the dupatta has fallen onto the ground for him to pick up??
Downstairs at the pooja, all are deeply immersed in their worship, except two men, NK and Skunky!! NK is worried that Khushi might be caught; Skunky is worried that he might be late for his meeting with S.K. Travels!! And of course, Payal! Payal has also been waiting for Khushi to come downstairs, she signals to Khushi to pray properly. What a wonder! Payal has suddenly woken up from her sleep and is looking out for her sister!
Then follows a discussion between NK and Khushi while still at the pooja, thank you, DM that everyone was solely concentrating on you!! Khushi informs NK that the key was hidden beneath the carpet, NK wants to know what was in the briefcase and Khushi shows the passport and boarding pass to him. Khushi is ready to tell the entire family that Skunky had kidnapped Arnavji immediately; thankfully NK kept his cool and made her understand that any such action could backfire on them and cause them to regret! NK and Khushi remember Anjali Di's question about S K Travels and Skunky's reply to her.
After the pooja, just before the Maha Aarti, Khushi hears Skunky telling Anjali that he needed some papers from his briefcase for his expected important phone call. She realizes that Shyam would see that the passport and boarding pass was missing from the briefcase,and tells Nanheji about it. Skunky turns to go, but Anjali stops him and tells him to stay for the Aarti! DM HELP AGAIN! The maha pooja begins and Khushi remembers the way she had first doubted Skunky on seeing the bloodstains after the red chunri fell near Devil's feet! She remembers Anjali Di telling her about Chhote's O-ve blood group, the lab assistant informing about the sample she had submitted. She recalls the silhouette of the boss in the warehouse and unconscious and blindfolded Arnav being carried away to the car while she and Mamiji had hidden behind the boxes!! She also remembers the abrupt way in which Skunky had pulled the stained shoe out of NK's grasp and had cleaned it after shutting the door! Khushi glares at Skunky, tension written large on her face, NK notices and places a hand on her shoulder to caution her!
Khushi goes upstairs to keep the documents back while NK keeps a watch on Skunky! She has just reached the top floor, when Skunky receives a phone call and starts going to his room. NK realizes that Khushi would be caught if allowed to proceed, so he calls out to Khushi on the pretext of taking Prasad!! DM HELP! Khushi hides the documents in her dupatta again while she comes down and passes Skunky on his way upstairs still listening to the phone call. Khushi realizes that NK has to keep the papers in the briefcase and so Skunky had to be delayed!! She pretends to twist her ankle and cries out sharply!! She knew that Skunky could never leave her then and walk away!! NK reaches her side first; there is a relay of the documents from Khushi's hand to Nanheji's hand under cover of the dupatta!! The family members rush forward to Khushi's side and Payal along with Aakash bring her down! Skunky appears worried and forgets the phone call; he too follows them, while NK rushes upstairs!
NK enters Skunky's room, shuts and locks the door and takes out the key from its hiding place under the carpet and starts a mad search for the briefcase in the room! He is unable to find it!!
Mamiji sees Khushi limping near her with a similar sprain like hers and wonders whether the kidnappers had performed any black magic on both of them. ROFL, MAMIJI, YOU ARE TOO GOOD TO BE TRUE!! Imagine hanging lemon and chillies as an earring to ward off the trouble, like you suggested to yourself!! ROFL!!
Khushi is about to sit down when Skunky receives another phone call and turns away. Seeing the danger of Skunky going back to his room, Khushi lets out another shriek of pain, Skunky/Shyam turns around immediately, and keeps one hand on her shoulder and offers the other hand as help! Anjali holds on to one of Khushi's hands, seeing Skunky offering his help, Khushi closes her eyes and gathering all her internal strength to mask her dislike for the man, takes his hand and sits down slowly. Skunky is stunned to see Khushi taking his help, he does not let go of her hand!! A dream come true for Skunky, a nightmare for Khushi!!
TO BE CONTINUED..........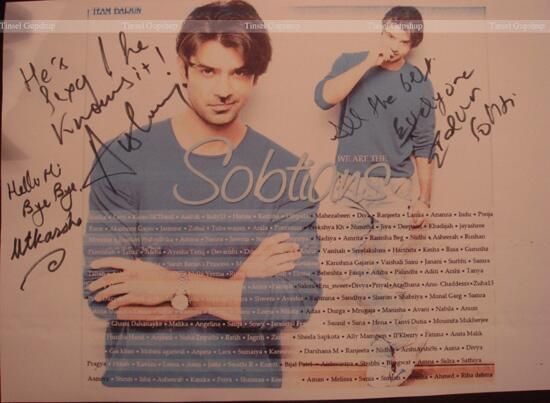 Jun 16
DIVINE HELP! (By Samona) (Thanked: 4 times)
DIVINE HELP!!
NK continues to search everywhere in the room for the briefcase, he is in a panic to complete his task and rush outside before his jeejaji walked in!
Payal comes back with the first-aid box and rushes to Khushi's side, grabbing her hand from Skunky's hand, and he is angry with Payal. Khushi does not want Skunky to leave yet, she tells Payal that the pain balm was kept on the table, Skunky goes to get it just like Khushi anticipated! Payal does not like to see Skunky hovering around Khushi! Looks like Payal has finally woken up from her long slumber! Khushi looks at the stairs to see if NK has managed to come back, but to no avail!
In the meantime, NK gets the briefcase, puts in the documents and shuts the case. Skunky asks Khushi whether there was lot of pain, and he suggests that there might be a fracture and he would call for the doctor! ARNAV, WHERE ARE YOU? COME BACK SOON, THIS MAN IS TRYING TO TAKE YOUR PLACE!! GRRRRRR!! Khushi keeps her foot up on the cushion, Skunky is about to apply the balm to her ankle himself while Payal and Khushi are stunned! Skunky seems to have forgotten the presence of his wife and other family members in his anxiety to help Khushi! Payal snatches the balm from Skunky's hand saying that she would apply it and calls him Jeejaji! Skunky is angry with Payal! Khushi winces with pain, Skunky glances at his hand; he remembers how Khushi had held his hand for help!! He smiles happily, thinking that Khushi still loved him and was his!! HIGH HOPES, SKUNKY!! DEVI MAIYYA IS WATCHING!!
Khushi sees NK coming back, and then she keeps quiet when Skunky goes back to his room after receiving another phone call. NK realizes that he had forgotten to keep the key back in its place; it is still in his hand! He rushes to Skunky's room again, and has barely managed to keep it back and comes out of the room when he sees Jeejaji coming near! He goes back inside and hides behind the curtain near the poolside! He hears Skunky talking to S K Travels telling them that it was important to show on the passport that the passport holder had gone to Scotland! It is finally confirmed to NK that Shyam had kidnapped Arnav! He has heard it with his own ears!! He also hears Skunky telling the travel agency that he would contact some other agency for the purpose! We hear ASR's signature tune then as NK comes to terms with the fact that his cousin has indeed been kidnapped by his brother-in-law!
NK sees Skunky take out the hidden key and then keep the briefcase in his wardrobe. We undergo moments of nail biting tension and a lot of chewing of our nails while we watch NK coming out silently from behind in a bid to escape unnoticed by Skunky!! NK halts for a second in the doorway having heard a sound and thinking that he had been caught, both the viewers and NK are holding their breath, slowly NK turns around and realizes it was only the sound of the briefcase being shut!
NK rushes out and Skunky turns around, he sees the curtains half open and goes to shut them! Lucky escape for NK, right on time! DM HELP AGAIN!
NK and Khushi discuss the kidnapping in her room, Khushi wonders why no ransom demand was made as yet! It was now confirmed that Shyam was the kidnapper. NK discovers that S K Travels was a small agency; Khushi says that a big agency would never do a wrong thing like that! Khushi wonders why Shyam wanted to show that Arnav had travelled to Scotland! She wants to clear the matter, NK wants to know how?
Khushi comes to Anjali's room after Skunky walks out and asks for Rs. 2 lakhs since she wanted to gift it to the night school near Buaji's home where girls were being taught. The school needed help and so Khushi wanted the money. Skunky overhears this conversation and starts thinking. Anjali is happy to give the money for such a noble cause. Skunky is angry with Anjali. He wonders why Khushi needed so much money when there was no such night school near Buaji's home!
Yes, he would know, after all, he has stayed as a paying guest there while lying to them!! And Anjali keeps that much cash at home??
Pre-Cap fainted on the spot after hearing this and was not seen at the site!!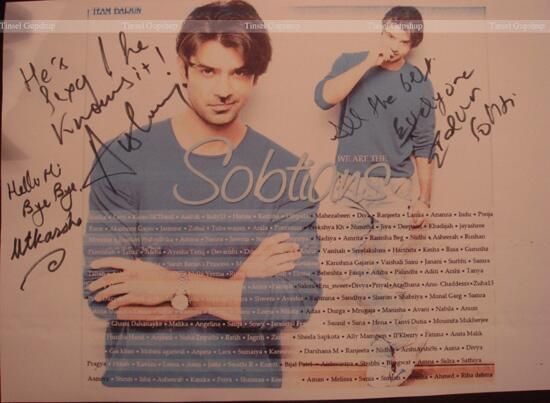 Disclaimer: The views expressed above are member's views and myeDuniya does not comply with it. The views expressed may not be factually correct. Incase of any issue please contact us/report it to us.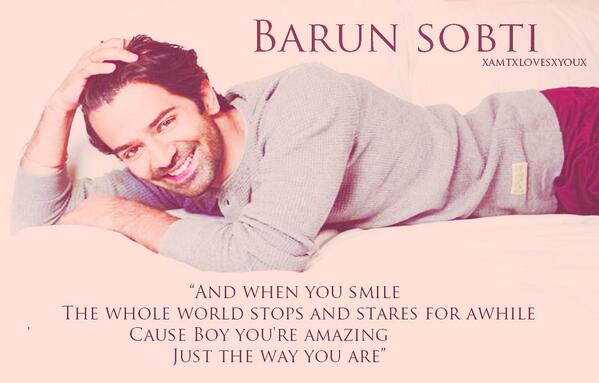 Missing Arnav Singh Raizada!!!!!!!!!!!