KHUSHI DISCOVERS THE TRUTH OF THE SIGNED PAPERS!!
Jun 27
KHUSHI DISCOVERS THE TRUTH OF THE SIGNED PAPERS!! (By Samona) (Thanked: 4 times)
Anjali is finally waking up! She had caught Skunky in Chhote's room twice earlier but had never imagined questioning him so much! She had always been fooled by his umpteen excuses for being there but now the times are changing. After seeing him twice with Khushiji, Anjali is in no mood for frivolous talk. She sees him coming out of Chhote's room and shutting the door quietly and asks him why he had been there. She reminds him of her call ten minutes earlier when he had told her that he was coming down for the doctor's appointment!
Shyam is caught in his web of lies! He tries to divert Anjali's attention from the talk by asking her about the function in her friend's home. He wants to know if all went well, to which Anjali replies that it did go well but what he was doing in Chhote's room. He tells her that he had misplaced his cell and so was searching for it everywhere. Yes, misplaced it indeed! Where you not talking to your wife just ten minutes earlier, Skunky? Anjali asks him how his cell could be in Chhote's room. Why did you not ask him how his kurta could have reached Chhote's room earlier when he had used the lost and searching for it excuse, Anjali?
Back in Khushi's room, NK enters the room from the poolside, where he was hiding as an eyewitness for the audio confession of Skunky's password! NK listens to the audio recording again to confirm whether it was properly and clearly recorded! Khushi hears the I LOVE YOU KHUSHI message and becomes very upset! Khushi is distraught with tears, she cannot believe that she had to stoop to such a low level. She feels dirty and disgusted like she had something very vile; she wonders how she could let that creature touch her! She cannot bear Skunky's touch, her skin crawls at his touch! She feel disgusted with herself for having said those words and listened to his words, a man whom she detested the most in this world!
NK tells her that she should look at the brighter side of things, they have now got the audio password, so they could now read the file within the pen drive. NK tells her that he was sorry for the pain and humiliation she had to go through. Khushi continues in her grief, she tells NK that she had to let Skunky touch her, she felt like…………while NK completes her sentence saying that she had done all that she could do for Nanav! He sees her tear streaked face and consoles her. He tells her to wait in his room while he brought the pen drive and camera from Skunky's room. NK has turned out to be the best buddy anyone could ask for, he is funny, witty, brave and a good shoulder to cry on, and intelligent as well as good looks, a complete package indeed! Hope he is later on teamed with Lavanya, a perfect foil for NK!
Anjali is still questioning Skunky in the drawing room about the phone, Skunky tells her that he will search for it again in his own room, Anjali does not appear convinced but lets him turn away. Suddenly she spots the black raksha dhaaga with the Durga Ma pendant and enquires about it. Skunky did not have the time for an excuse, he told her that Khushiji had brought raksha dhaaga for all and so he had worn it! And what will you answer when Anjali does not see the dhaaga with anyone else except you, Skunky? Another nail in the coffin of Anjali-Khushi relationship!
Khushi rushes out of her room in a hurry and dashes against Anjali whose back was turned to her! Anjali was about to fall when Khushi managed to save her. Anjali looks at Khushi in disapproval,did not accept her apology gracefully saying that she should have looked before walking and that she should not do anything which needed forgiveness later! The rift in Anjali-Khushi relationship is seen clearly when Khushi attempts to smile as she normally does, but Anjali does not respond, she smiles very coldly! Khushi realizes that something is wrong but Anjali walks away.
NK fixes the pen drive into the laptop and enters the correct password. The computer asks for voice authentication and
NK switches on the recorded password. Hearing it again makes Khushi upset again. NK sees this but does not react instantly, instead he waits for the computer to accept the password and starts to open the file. He then starts narrating the story behind the name NANAV with which he irritated Arnav. He told her that when Arnav was very small and just learning to talk, he used to tell his name as NANAV, all started calling him by that cute name! The entire family stopped calling him Nanav when Arnav grew up, but NK continued to call him by that name because he had realized that Arnav used to get very irritated to hear it! Khushi started getting interested in hearing this story, so NK continued that this was the reason why just for the fun, he started saying HEY NANAV, MERE BHAI! He clapped his hands in glee, Khushi too is caught up in the funny tale and laughs out in her normal way, she had forgotten her misery for a moment! NK is happy to see this, he says that my Khushiji is back, and to please continue to smile like this!
The file opens out to the will and NK and Khushi realize that it was the soft copy of the will made by Skunky and which also had Arnav's signatures. Khushi is stunned to see this will. NK tells Khushi that according to the will, Arnav had put everything that he owned in Shyam's name. Khushi asks him why Arnav would write such a will and NK is flabbergasted by it all. Khushi ki dimaag ki batti jal gayi! She recollects taking photos of the signed papers before burying them in the pot. She prays to DM that hopefully it was not the very same papers and checks her cell at last! She is speechless for a moment, stunned beyond belief! She tells NK that there were the same papers on which she had herself taken Arnav's signatures, but when she had read them, the papers were different. She realized that Skunky must have double crossed her and switched the papers before the signatures!
She curses herself, she blames herself that it was due to her fault, that Arnavji's life was in danger! Khushi is unable to bear the burden of her guilt and goes away from the room and sits in front of Devi Maiyya in the mandir. NK returns the pendant to its rightful place in the drawer and then goes to the mandir to talk to Khushi. Both Khushi and NK are now aware of the motive behind Arnav's kidnapping.
Akash waits for Payal at the entrance to the party hall. Payal is late and Akash starts getting irritiated. He sees Payal tottering on high heels; he wants to know what folly made her try such tricks. Payal tells him that she wanted to make him happy. Akash joins the dots and asks her whether the kaajal in her eyes, the batting of her eyes, the flowers in her hair, the chameli ka tel on her hair were also part of her ways to attract his attention, he says UNBELIEVABLE IN ASR STYLE!!! He tells her that the workload was much more since Bhai was not there and he now had to also handle these kinds of silly tricks too!
Akash had fallen in love with the simplicity of Payal, he had never wanted a social butterfly! Payal felt inadequate at the business party that she had attended and tried to adjust to that social set-up! It is unfortunate that both of them did not talk out their feelings and insecurities with each other!
On one hand, we see a couple who fell in love, married but the nearness took them away from each other! On the other hand, we see a couple who hated each other at first sight but came closer to each other despite the distance! The CVs have shown the contrast and disparities between the two couples, two brothers and two sisters paired with each other, in a brilliant portrayal of their characters!
TO BE CONTINUED.......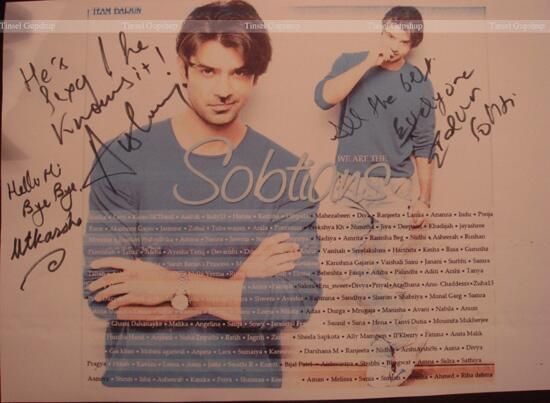 Jun 28
the bait! (By Samona) (Thanked: 2 times)
What have I done, Devi Maiyya? I still remember the day I gave those papers after hiding them along with Akash Jeejaji's papers and telling Arnavji that he wanted those signatures. Arnavji has taken them and signed them on blind trust. Please forgive me Devi Maiyya! I should not have done such a thing! I had thought only about myself, I wanted to prove myself innocent in Arnavjis's eyes, so I joined hands with Shyamji! Why do I cry these tears now when I did not think even once at that time that I might be putting Arnavji into danger? I don't want to prove anything anymore. I don't care anymore about what Arnavji thought about me or thinks about me, I don't care for any such thing! I just cannot bear it that he is in danger, all due to me! I am wholly responsible for the danger to his life! Khushi looks at Devi Maiyya with tears flowing out of her eyes; she is deeply upset with the realization of the enormity of her blunder!
No, I will not lose heart so soon; I cannot be defeated so easily! I cannot weaken so easily. All this has happened because you were not there with me, Devi Maiyya but now that you are with me, I know that everything will turn all right, hai na? She wants that assurance from Devi Maiyya, an assurance that everything would turn alright. Devi Maiyya gives her that assurance when NK keeps his hand on her shoulder and consoles her saying that everything would definitely be alright! He asks her what was the next step, Khushi turns to DM and looks at her! She prays to DM asking for strength and she wants DM to be with her during the next step, she has already decided to do something more! Hope she has confided in NK, he is the buffer between Skunky and herself, he is the eye witnesss between Arnav and herself, he is needed to be kept in the loop at all times!
In the kidnapper's den, the tattooed goon discovers Arnav missing, he searches amidst the boxes and after much searching he finds Arnav behind many boxes. Arnav is cocky, he asks him why was he scared, and what will be his condition when he actually runs away? He tells the goon that he should inform his boss and the other goons that he was going to escape from there before sunset the next day!
Mami dresses up in detective gear, takes up her binoculars and other items and starts her investigative work!
Next morning Khushi calls Skunky to the poolside to talk to him. She begins by saying that both of them were aware of the real reason for her marriage to Arnavji. She tells him that now she wanted to end this farcicial marriage. Skunky is happy to hear this, and tells her that he was willing to do everything possible to help her. She tells him that he was lying that he had always lied to him. She reminds him that he was a married man. Skunky does not like to hear this and tells her that he wanted just a signal from her and he would do whatever she wanted.
Khushi tells him that taking away Arnav's wealth would not defeat him, but hitting where it hit the hardest would break him totally. She tells him that if Di was…………….she waits for him to complete the sentence. He takes up the bait and asks her if she wanted him to leave Anjali, if she wanted him to divorce Anjali. She tells him that it would break Arnav's ego and destroy him completely.
I am sure this talk has been noted by Mami during investigation. What will be Mamiji's reaction, interesting to note!
Pre-cap:
In the kidnapper's den, Arnav is doing push-ups, three goons come there. Arnav gives them a once-over and asks them if they were all the goons needed. But again he tells them that it does not matter, he was going to escape them anyways.
FIGHT TIME FOR ASR!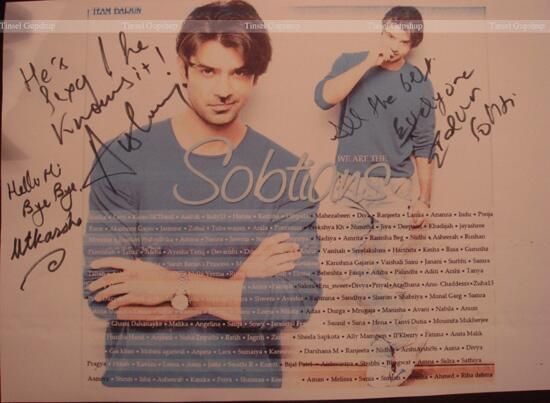 Disclaimer: The views expressed above are member's views and myeDuniya does not comply with it. The views expressed may not be factually correct. Incase of any issue please contact us/report it to us.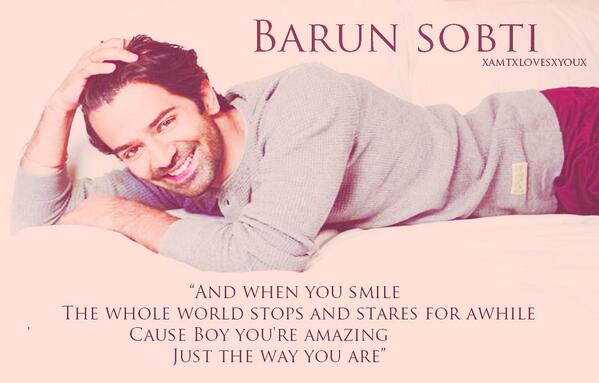 Missing Arnav Singh Raizada!!!!!!!!!!!