THANK YOU FOR MY FRIENDS! FOR ALL YOUR WISHES!!!!
Jul 8
THANK YOU FOR MY FRIENDS! FOR ALL YOUR WISHES!!!! (By Samona) (Thanked: 5 times)
I WONDER WHAT I HAVE DONE IN MY PAST LIFE THAT I HAVE MERITED SUCH LOVING AND WONDERFUL FRIENDS WHO HAVE WISHED ME FROM ALL CORNERS OF THE GLOBE!! A LOVE SO OVERWHELMING AND SO TOUCHING THAT MY HEART FEELS SO FULL OF IT!!!
IT MAKES ME FEEL SO SPECIAL, SO WANTED AND SO LOVED THAT TEARS BLIND ME WHILE I AM WRITING THIS, I WISH I COULD HUG EACH OF YOU PERSONALLY, HUG YOU ALL TO MY HEART'S CONTENT!!
I HAVE SPENT A WONDERFUL DAY TODAY, A DAY WHICH BEGAN AT MIDNIGHT, WHEN PEPPER, MY TWIN, WAS THE FIRST ONE TO WISH ME A SECOND BEFORE IT TURNED TWELVE, JUST BEFORE SHE SWITCHED OFF HER PHONE BEFORE FLYING BACK HOME!!
THE NEXT SECOND, I WAS WISHED BY MY CHILDREN, MY HUBBY, AND MY MOM AND SISTER!! I CAME OUT OF THE ROOM, AND REALISED THAT A SURPRISE BIRTHDAY PARTY HAD BEEN ORGANIZED BY THEM, THEY HAD INVITED MY TWO COUSINS AND THEIR WIVES AND CHILDREN, THE DOOR HAD BEEN SILENTLY OPENED WITHOUT RINGING THE BELL, THEY HAD CALLED UP ON THE CELLPHONE UPON REACHING MY PLACE!!
CAKES, LOVE AND LAUGHTER LIGHT UP MY LIFE AS I STARED AT THEM AMAZED! WONDERFUL EXPERIENCE!!
MY BIRTHDAY GOT BETTER AS I HAVE GOT OLDER!!
CAME BACK TO MY FRIENDS ON MYEDUNIYA AFTER THE FAMILY LEFT AND DISCOVERED A WHOLE LOT OF MESSAGES IN MY MAIL WITH E-CARDS, G-CHAT MESSAGES, SKYPE MESSAGES ETC FROM SANDY,DD, BABYFACE, ANA, GOLDIE, ASH, PEPS! HOPE I HAVE NOT MISSED ANY ONE! SORRY IF I HAVE!!
WOKE UP IN THE MORNING AND DISCOVERED NEW POSTS FROM DD, KABI, MERI AND ARSHI ADVOCATES ALL WISHING ME A VERY HAPPY BIRTHDAY!!
AND THEN THE OUTPOURING OF LOVE AND BIRTHDAY WISHES, SONGS, E-CARDS, BEAUTIFUL VMS, EACH EQUALLY TOUCHING AND HEARTFELT, EACH MAKING ME FEEL BLESSED, SO BLESSED THAT I HAVE FOUND MYEDUNIYA, SO BLESSED TO HAVE YOU IN MY LIFE!!
AND THEN THE PHONE CALL FROM KABI, THAT WAS SO WONDERFUL!!
I PRAY TO GOD ON THIS DAY THAT NO MATTER HOW MUCH TIME PASSES BY, LET ME BE FRIENDS WITH ALL OF YOU FOR ALL MY LIFE!!
I FEEL SO BLESSED, SO TRULY BLESSED BY GOD, THAT DESTINY HAS GUIDED ME TO YOU AND THIS SITE, I THANK MY DESTINY TOO, MY STARS, FOR HAVING BROUGHT ARNAV AND KHUSHI INTO OUR LIVES! WE WOULD NOT HAVE MET IF THEY HAD NOT BEEN HERE!
THANK YOU TO JAL, BHUMI, AHOYY, PRINCESS, RAINQRAZY, MYSINDHU, GREVA, YAMAN( THANK YOU FOR REMINDING ME THAT I SHARE MY BDAY WITH DHONI!), JUSLIKETAT, AANCHAL, MOONRISE, MUSKAAN, LOTUS, OCEAN, DHARA, BOGDAN& LILI, MERI, NONO, SS, SREDDY, DV(THANK YOU FOR WISHING MY DREAM OF MEETING BARUN COMES TRUE!), CHERRYBLOSSSOM, AAPAHZ, LOVEARNAV(SURE IF I GET THE CHANCE OF MEETING BARUN THEN WE GO TOGETHER!), RAMYA, RASHDAH & PEPPER (AA), SPOON( OUCH! THOSE BIRTHDAY BUMPS WERE REALLY HARD!), ALINAAA, JIYA(OF COURSE WILL GLADLY BE YOUR FRIEND, THANK YOU FOR READING MY VIEWS!), DREAMY!!!!!
ANOTHER ROUND OF BIG THANKS FOR ALL THOSE FRIENDS WHO HAVE DEDICATED POSTS TO ME!
DD- FOR LETTING ME OPEN MY EYES AND SEE THE SURPRISE OF A POST WITH MY NAME IN THE TITLE! HOPE THE WISH OF MEETING BARUN DOES COME TRUE AFTER YOU HAVE WISHED IT FOR ME!!
FAIRY- FOR THE BEAUTIFUL POEM, AND THE BIRTHDAY SONGS, EACH ONE WAS BETTER THAN THE PREVIOUS ONE!
SANDYY- YOUR POEM WAS BEAUTIFUL, DIRECT DIL SE, AND OF COURSE PARTY TIME, WITH PIZZAS, COKE, CAKE AND CHAMPAGNE/WINE WHENEVER YOU SAY IT!
ANKKG- FOR WISHING ME THE BEST OF LIFE, HAD AS WONDERFUL A DAY AS YOURS WAS, INDEED LUCKY TO HAVE FRIENDS WHO MAKE DAYS SPECIAL!
KRISH- NEVER KNEW YOU READ MY VIEWS COZ YOU NEVER COMMENTED, BUT LOVED YOUR BIRTHDAY POEM! DO KEEP IN TOUCH!
ANA, MY PRINCESS- FOR THAT BEAUTIFUL CAKE AND THE GLOWING CANDLES!
KABI- FOR CALLING ME SAMONARNAV, I LOVE THAT ONE! FOR BEING THERE AND FOR THOSE WONDERFUL VMS WHICH MADE ME SEE THEM AGAIN AND AGAIN!
PEPSI, MY TWIN!- FOR THAT WONDERFULLY, COLORFUL, BIRTHDAY WISH, THE CAKES, THE STREAMERS, THE KISSES, THE ROSES!!
MERI- FOR THAT BEAUTIFUL POST WHICH IS SO TOUCHING, AND THAT SONG WHICH MADE ME STOP AND LISTEN TO ITS TUNE!
ARSHI ADVOCATES- RASHDAH- FOR ALWAYS ENCOURAGING ME AND LOVING ME!
PEPPER- FOR ALWAYS BEING THERE FOR ME!
LOVE YOU ALL!!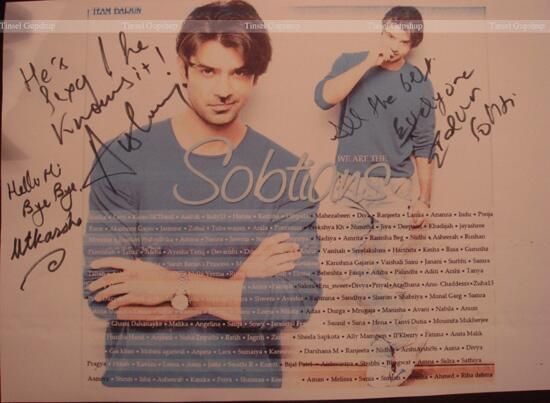 Disclaimer: The views expressed above are member's views and myeDuniya does not comply with it. The views expressed may not be factually correct. Incase of any issue please contact us/report it to us.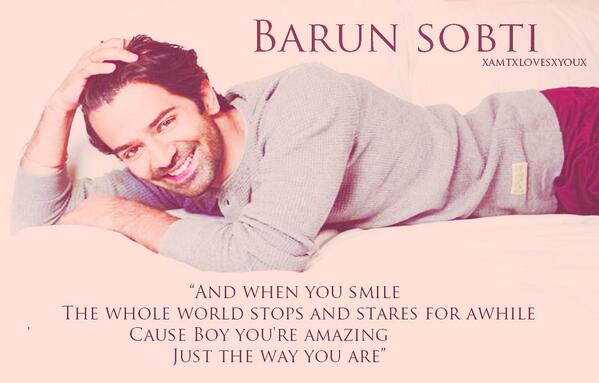 Missing Arnav Singh Raizada!!!!!!!!!!!