LOSS AND GAIN OF TRUST – SHYAM VERSUS ARNAV- KHUSHI!!
Jul 11
LOSS AND GAIN OF TRUST – SHYAM VERSUS ARNAV- KHUSHI!! (By Samona) (Thanked: 7 times)
Fantastic episode depicting two sides of the same coin, each side is the direct opposite of the other side! On one hand, we saw the loss of trust in a person, Shyam Manohar Jha, the Damaadji of the Raizada clan lost the trust of Arnav, who happens to be his brother-in-law, which will affect the entire family. On the other hand, the Bahu of the Raizada clan gained the trust of Arnav, who happens to be her husband too!
The family mourns the death of the trust, the death of a relationship which had affected the lives of all those in the family, it is indeed very difficult to accept the fact so easily! Kudos to the CVs and the entire cast and team for having brought out an episode with minimal dialogues and extra emotions, all the pathos and grief, trust and pain were brilliantly depicted today! Many scenes did not have a single dialogue today but everything was said and done in a manner that did not require words!
LOSS OF TRUST – SHYAM VERSUS ARNAV:
The episode started with the conclusion of the family court which ended with the judgment of Arnav Singh Raizada, who threw Shyam out of his home, without giving any explanations to the family, secure in his belief that his actions would not be misinterpreted by anyone in the family, they knew that he never did anything wrongly or unfairly! But certain situations merit an explanation before judgment is passed, Arnav failed to realize this and he is now going to pay the price for his lack of words! We should always choose the right words before saying them, sometimes those very words come back to bite us, today Arnav said the right words for Khushi but they turned out to be wrong words for Anjali!
"I TRUST KHUSHI! I BELIEVE THAT WHATEVER KHUSHI HAS SAID IS THE TRUTH"! Hearing these words brought back life to Khushi and Arnav's relationship, but brought death to Anjali and Shyam's relationship, unfortunately it also brought death to Anjali and Arnav's relationship! It will be very difficult to revive this brother-sister bond; the roots have been hurt and nearly up-rooted in the aftermath of the emotional cyclone that just passed through the Raizada house!
Anjali faints after her husband is thrown out of the house by her brother, without an explanation to her, except the words uttered by all others, her Chhotte did not say anything, he delivered those slaps and then threw him out! He did not ask her, Anjali, in such an important decision, it was Anjali's right to take the decision of her life, after hearing everything; her brother did not have the right to do so without consulting her! This decision is going to take a toll on their bond, Anjali might resent Arnav, she has already distanced herself from him, calling him ARNAV instead of her loving CHHOTTE!
Let us see the episode briefly in terms of the mourning of the Raizada family, after it is revealed that Shyam was the culprit behind the kidnapping of Arnav, and the discovery of Khushi's former engagement, and all the major revelations regarding the divorce papers, will papers and the secret kept by Payal from Akash!
After Anjali recovers from her faint, she tries to get up from bed, but lifts her hand to stop Arnav from helping her, the distancing has already started! Arnav looks across at Khushi, she understands the pain he is going through with the rejection from Di! Anjali looks at Arnav with pained eyes; he is unable to look at her pain! Arnav wants to talk to Di alone but Naniji wants Arnav to answer her question first! Arnav is willing to answer any number of questions but wants the right to talk to Di first and alone. It shows how much ASR has changed from the high-handed guy who never answered Naniji earlier, but this time is ready to explain all. The family moves out of the room, while Khushi looks at Arnav, wanting to know if he needed her, with a slight half-blink, he conveys the message that he is alright but wanted to talk to Di alone, she too could leave with the rest of his family! Words are not needed to convey and understand, they speak one language now, the language of love and trust!
Arnav tries to tell his Di, who is shocked beyond words, she is almost paralyzed with grief, she cannot understand nor hear anything, she is lost in her own world of grief, with the tears having dried, but emotionally vacant! He reminds her that she had tied rakhi to him all these years, it was his time to fulfill those promises of safeguarding her! He tries to explain that he had no choice but to throw Shyam out of the house, he does not call him Jijaji any more, conveying to his Di that he had lost the trust on Shyam. He tries to find solace by holding her hand and lying down on her lap like he has always done but this time, Anjali is numb with grief, she does not react!
He does not explain anything fully, expecting her to understand that he had done this to keep her and the baby from harm, he thinks just saying this is enough for his Di! But Arnav does not realize that for Di, Shyam was her whole world, she could never bear to hear anything against him, she had already told him earlier that in love, DOOR JAANE KE KHAYAL SE HI SAANSE RUK JAATI HAI! How could Arnav expect anything different from Anjali now?
Khushi looks at the devastating pain in Arnav and Anjali's eyes; she is overcome with the enormity of it all!
Anjali remembers all those loving moments when Shyam had showed his love and concern for his Rani Saheba, when he said that her place was not near her feet but in his heart, when he had carried her to the sofa in full view of the family, brought her flowers to pacify her anger, had fed her jalebis made by himself, had fed her golgappa and had brought the cradle for their coming baby!
A FAMILY MOURNS!!!!!!!!!!
NK stands as a witness to the grief of the entire family! He sees it as a spectator from far, he has already grieved earlier after knowing the truth behind Skunky, he bears it unbearable to see the family literally breaking down!
Naniji and Mamiji hold each other in their grief, each remembering about the days with Shyam! Naniji holds Mamiji's hand for comfort, while Mamiji is overwhelmed with the grief and keeps her head in Naniji's lap! It is the first time that the mother-in-law and daughter-in-law have come together in a bid to find solace with each other! Naniji and Mamiji remember the loving scenes with their daughter Anjali and the Damaadji, it is difficult to let go of such memories!
NK sees Payal approach Akash who is also lost in his memories of Shyam, and the banter, Akash walks away without hearing Payal! Payal breaks down in her grief, having lost Akash's trust! NK looks at Naniji and Mamiji, both disconsolate in their grief! Shyam had sweet talked and cemented his place in the family, everyone had memories of Shyam feeding them jalebis! There is an air of bereavement in the place, it is like they have received the news of a death in the family!
Arnav continues to lie in Anjali's lap while Anjali continues with the journey of memories, the past being slowly replaced by the recent ones, of Khushi accusing Shyam of being Arnav's kidnapper, of Payal telling them that Shyam had pretended to be a bachelor and got engaged to Khushi, she had asked them to call Buaji and confirm this news. Finally she remembers the slap from Arnav, the slap in the face of Shyam and removes her hand from her brother's grasp, it is like she did not want to touch her brother's hand which had delivered that slap! She tells him that she wanted to be alone, he tries to protest but she calls him ARNAV and tells him to leave her alone!
He is stunned to hear this, Di had never called him ARNAV, he realized that he was being distanced from her, alienated by her! She takes him by the hand and leaves him outside the room with him protesting that she could not separate him from her, his plea is that of a child being separated from his mother, he cannot bear the pain of his mother going away from him!
The family comes there after hearing his pleas; Anjali locks herself in her room. Mamiji bangs the door and tells her to open it, Anjali tells Mamiji from within that she wanted to be alone, and she did not want anybody! Arnav walks away from there to his room. Naniji cannot bear to see Khushi in tears, she goes to her to console her, Naniji believes in her Khushi! Mamiji stops Naniji and glares at Khushi, she takes Naniji away, Mamiji is yet to believe in Khushi, I do wish Khushi had confided in Mamiji earlier! Akash is about to follow them when Payal stops him, she wants him to believe her and Khushi, but Akash justs asks her one question, why did she not tell him earlier? He believes in Khushi and Payal's story, his main anger is that Payal did not confide in him earlier, they had decided to never keep any secrets from each other; there is a breach of trust here too! NK looks at Payal and Khushi trying to console each other with a hug, the Gupta sisters are alone in Raizada Mansion. NK walks away, hopefully he goes to Akash and Mamiji with his version of the events!
TO BE CONTINUED........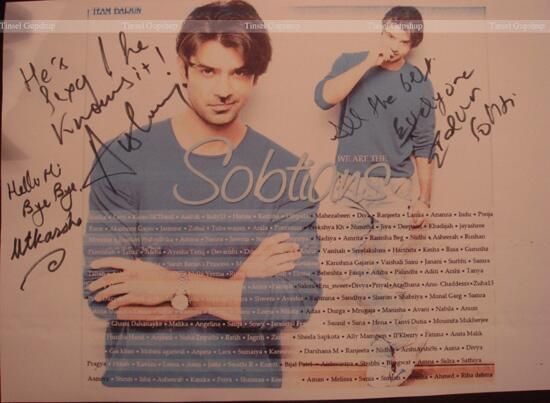 Jul 11
GAIN OF TRUST FOR KHUSHI! (By Samona) (Thanked: 13 times)
Anjali breaks down with fresh tears in her eyes, she tells Shyam in the photograph that she would not be able to live without him, she is about to touch his face with her hand, but stops herself! Is it that tiny bit of doubt playing in her mind which prevented her from touching Shyam's face in the photograph? Outside her room, Payal and Khushi hug each other, Khushi tells Payal that she was not able to bear the rift between the brother and sister; she knew the devastation in Arnav's heart at the rejection by his Di! Payal consoles her sister with the same bond that was seen earlier before their marriage, this storm has brought them close again!
Arnav comes back to his room and slumps on his bed, grief-stricken at his sister's rejection of him, he knows that his Di is in terrible pain! The lamps are lit in the room, it is night-time, but the light has gone from his life, his life is now in darkness without the light of his beloved Di!
I have given intense grief to my Di today, I never wanted to do this to her! But this matter had to be brought in front of the family; I could not hide it any longer! I cannot see my Di in this condition! I JUST CAN'T SEE HER LIKE THIS! She has left me alone, she is grieving alone, she thinks that I have made a mistake! How do I convince her that it had to be done? That she was better off without him!!
GAIN OF TRUST- KHUSHI VERSUS ARNAV:
It is night, Khushi has changed into her nightwear, her pristine white dress and she comes out to look for Arnav. She sees him standing there near his beloved plants, near the poolside. There is an air of utter desolation in his stance, it is like he is defeated! Khushi watches him for a moment and recollects the second slap from Arnav to Shyam, he had said it was for misbehaving with his wife! Arnav had then said that both Anjali and Di were the two most important persons in his life and Shyam had made the mistake of hurting both of them! She then recalls how Arnav had told the family that he believed that all that was told by Khushi was true, HE TRUSTED HER INSPITE OF NO PROOFS!
SHE HAS GAINED THE TRUST OF HER HUSBAND, WHILE SHYAM LOST THE TRUST OF HIS WIFE! IT IS A DIFFERENT MATTER THAT ANJALI IS IN DENIAL AND WILL TAKE TIME TO RECONCILE HERSELF TO THE DUPLICITY OF HER HUSBAND!
Tea is brought to the room by the servant, Khushi takes the tray and turns towards Arnav. She steps outside the room, onto the pool-side, Arnav is instantly aware of her presence!
Arnav hears the rattle of the tea-cup on the tray, he looks at Khushi as she walks slowly towards him. Khushi nears him and glances at him, there is a sheen of tears in her beautiful eyes! The rattle of the cup makes Arnav aware of how much Khushi has feared this meeting, how much she was afraid of his feelings! He takes the tray in his hand, and Khushi turns to go away! Arnav has always pushed Khushi away from him in times of grief, earlier when he was mourning for his parents on the barsi day, he had told her to leave him alone, she turns to leave him alone this time too! He holds her hand and stops her, very much like the times when she had held his hand and prevented him from leaving her, first on Holi day and then at the airport, he does not want her to leave him now! He has realized how much he needed her, he knew the value of Khushi in his life!
I see her now, in her beauty and simplicity, wearing her white simple dress, unadorned but with only a tiny symbol of our marriage, she is afraid to come closer to me, a tea tray in her hand, the cup rattling with her fear! Tears in her eyes, those tears have always affected me! She has gone through so much for me, I have given her a lot of grief! I took the tray in my hand, but she has turned to go, she thinks I want to be left alone! No, not this time, Khushi, STAY! I need you here with me, I want you to console me, I want to be the one to console you too!
Arnav turns to keep the tray down, Khushi nears him with those eyes now filling with tears, he holds her by her shoulders, the gesture breaks Khushi and she hugs him with all the pent-up grief bursting out of her heart and pouring out of her eyes! He is shaken by her grief too, he is relieved to hold her in his embrace and he holds onto her in a hug which soothes both of them! The feeling of coming home is evident in their faces, the feeling of grief if shared with the one you love is halved is very symbolic here, they have acknowledged the importance of each other in their lives! He knows to console her now, he had been unable to console her during her time of need the first time, but now he consoles her by holding her in his quiet embrace, words are not needed any longer! He looks at her face, sees the bruises which she had suffered for him and realizes that she needed rest after her near-death ordeal!
She turns to me, and I can see the hurt in her eyes, the tears dropping down her cheeks, her shoulders tremble when I hold her, she hugs me fiercely, I am stunned for a moment, can I console her this time at least? My hands go around her, and I hug her back, she sobs and her tears shake me up! I have never been able to see her anguish, her tears tear me apart! I console her and then see the bruises on her precious face, her eyes look at me mutely in pain! She needs rest, she had nearly lost her life, she came back for me, I have to make her sleep!
He carries her gently in his arms, both remembering that night out at the barn, a feeling of deep love all round in the air, he does not want her to take those few steps to the bed by herself! He lays her down on the bed, gently lowers her head onto the pillow, treating her like a fragile doll, and covers her with the blanket. He looks at her in a spoken gesture to ask her to sleep and turns to go! She halts him now, with her hand grabbing on to his hand, he is stilled by her gesture, she mutely pleads with him to STAY! She does not want to let him go, she holds his hand tighter, he sits beside her and soothes the fear in her, she is fearful that he might disappear again, the past events have taken its toll on her! He understands her without a word, he cups her cheek gently and removes the lock of hair hiding her face from his eyes, she does not want to let him leave! She holds his hand against her cheek as if to assure herself that he was there with her, it was not a dream like before, he feels her fear and gulps down his choked feelings! Finally she falls asleep peacefully after so many anguished days and nights of separation, with her beloved's hand against her cheek and he looking on at her face, guarding her with all his love!
I knew that she was almost on the verge of exhaustion, the past few hours have taken its toll, she had nearly died for me! I did not want her to take those few steps to the bed, I lift her in my arms, she feels like a fragile doll, so delicate yet so strong, she is made only for me! I lay her down gently, cover her with the blanket, she holds my hand and does not let me go! Her eyes plead unblinkingly at me, I cannot move! I sit beside her, my hand against her porcelain cheek, her hair fall over her face, I have always wanted to remove those locks of hair from her face! She sleeps at last as I watch her, my hand under her cheek giving her a peace, I know finally that FINALLY WE HAVE FOUND EACH OTHER!
PRE-CAP:
Arnav explains to Naniji that he knew many things about Shyam from the time of Akash' s wedding, he confirms he knew from the time of his own wedding to Khushi!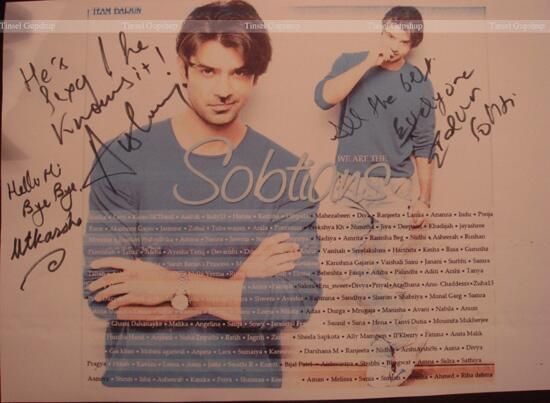 Jul 11
THANK YOU! (By Samona) (Thanked: 5 times)
Thank You, all my silent readers and friends who have loved and commented on my view!
A huge thank you to
Swarna, Fairy, bogdan&lili, Miss Sonya, vimmiya, Ocean, Silent Reader, Pepper, Sanam07, Maheen,Proy, watthe, Ti, Rainqrazy, Cherryblossom and Sandyy!
Here is a vm specially for you all!
Click here to watch the video on YouTube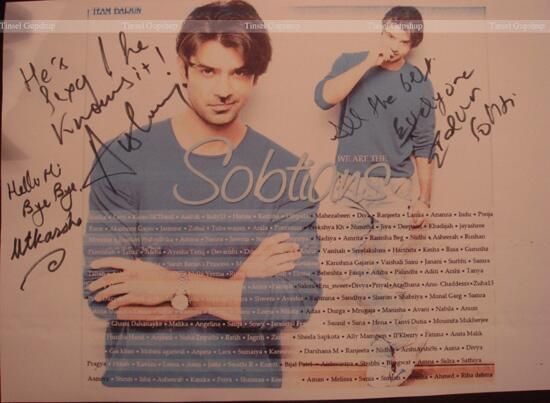 Disclaimer: The views expressed above are member's views and myeDuniya does not comply with it. The views expressed may not be factually correct. Incase of any issue please contact us/report it to us.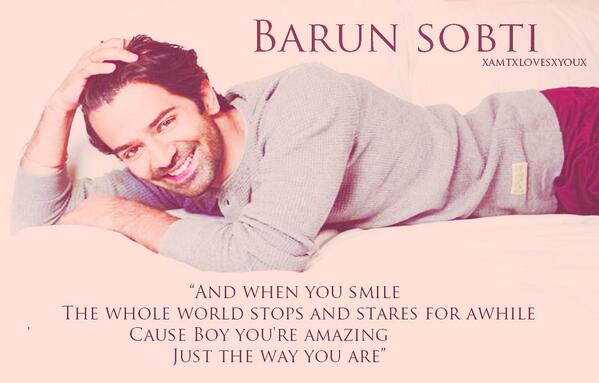 Missing Arnav Singh Raizada!!!!!!!!!!!