SILENT GRIEF AND SILENT LOVE!! FLIRTING AGAIN, ASR??
Jul 11
SILENT GRIEF AND SILENT LOVE!! FLIRTING AGAIN, ASR?? (By Samona) (Thanked: 14 times)
A sad episode which depicted the aftermath of the emotional cyclone which had hit Raizada household earlier in the week! Everyone is battered emotionally, the tears continue to overflow, the heart is heavy with a devastating grief, and the members are unable to meet each other's eyes! The feeling that Arnav is always right, he has always taken the right decision but still unable to come to terms with the fact that the beloved Damaadji of the house had betrayed their love and trust, he had cheated them all, and especially he had ruined and shattered their daughter, Anjali, is difficult to handle! The house has an air of desolation, of stunned disbelief, of anger, anguish, it is as though Shantivan has turned into a place of Ashanti, there is no peace left anymore!
Arnav thinks that Khushi is sleeping peacefully at last, he removes his hand from under her cheek very slowly, taking care not to disturb her, she has gone through an emotional and physical upheaval, she needs to rest, and goes out of the room silently! But Khushi is so tuned to him, she can understand every nuance and feeling from his presence or absence, she wakes up to see him going and feels lonely immediately! We can see the fear in Khushi's face and eyes, she is restless thinking of the recent past when she had nearly lost him to the kidnappers, she now wants his presence at all times!
Arnav leaves her and goes towards his Di's room, remembering all that had happened earlier. He walks with a slump of his shoulders, defeated in the face of his sister's grief, he remembers the way she had called him ARNAV and told him to leave her alone. He recalls the way she had taken his hand and put him out of her room, while he protested that she could not separate him from her. The intense sadness is due to the fact for Arnav, Di is not a sister, she is his de facto mother, she has raised him from the age of fifteen after the death of his parents, he is emotionally so bound to her, it is like an umbilical cord!
He reaches her door and sees it half open, unable to resist himself, he enters it and finds it empty, he panics on not seeing her; he knocks at the bathroom door, but gets no response. Raising panic sets in and he goes round the house in attempt to search for her, and finally sees her lying on the lap of Naniji, the shelter for the anguished soul of Anjali! Naniji sees Arnav outside the door, and signals him to be quiet; she gently shifts Anjali's head from her lap to the pillow and comes out of the room, to tell Arnav that it was with great difficulty she was able to make Anjali sleep, with medication. She is worried about the effect of the day's events on Anjali! She can see the exhaustion on Arnav's face; she tells him to sleep and assures him that things would work out better slowly. Arnav looks at his sleeping sister sadly and goes away.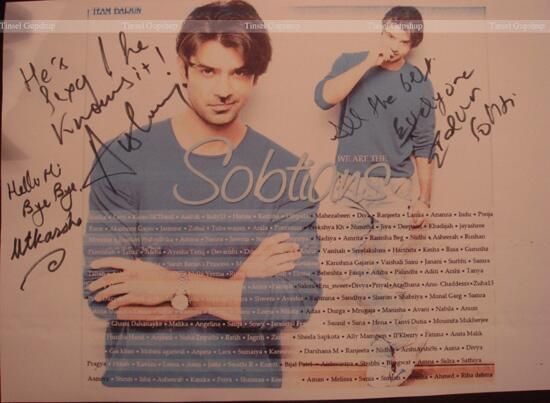 Jul 11
SILENT LOVE PART TWO (By Samona) (Thanked: 12 times)
Payal is worried for Akash, he is not to be seen anywhere in the house, she rings him up constantly and then sees him entering their home. Akash is unable to look at Payal, he has monosyllabic answers to Payal when she asks him where he had gone, and he tells her that he had gone out of the house, to get some solitude. He has shown the same behavior that ASR had shown after seeing the terrace hug; he had escaped from the house for mourning! Payal tries to tell Akash that these bad times too would pass and then things would turn out for the better! Akash removes his hand from Payal's hand and gets up to go. Payal wants to know the reason for his curt behavior and Akash then reminds her of their solemn vow not to keep any secrets from each other, a vow taken on the day before their wedding!
Akash tells Payal that he had expected her to keep her vow just like he was keeping it, but now he felt that the faith, trust and vow were all broken by her! He tells her that he would always wonder if there were any other secrets left in Payal's mind. Payal realizes the folly of having hidden such a big secret from Akash for so long, he also holds her responsible for the situation which they were facing today. He tells her that she should have told him earlier, then something could have been salvaged out it earlier! Akash leaves the room, leaving a saddened Payal, a victim of the Shyam cyclone, she had wanted Khushi to tell the truth and not care about her impending marriage, but Khushi's decision of not hurting Anjali had taken its toll on Payal.
On the other hand, I do not sympathize with Payal at all, for she has not done her duty as an elder sister should have, especially when she knew that Shyam was present in that very home! Akash definitely had the right to be angry with Payal, trust is a very fragile feeling like glass, once shattered or broken, the crack always remains!
Arnav is unable to go back to his room, sleep is far away from his eyes and mind, he sits down on the stairs and remembers the past when he and Di had shared an unshakeable bond! He remembers her telling him that she was never afraid of his fake anger at her; she was the only one who could make him do things which he would not do for anyone else! He remembers another incident when she tells him that she was the only one who had heard him speak his first word, it shows that she had been a second mother to him even when his own mother was alive! He recalls the temple scene where she had promised to never leave him like their mamma had done so! The numerous rakhi days when she did aarti to him and then tied her own home-made rakhi to his wrist, and fed him sugar free sweets bring a terrible ache to his heart! He recollects her words after hugging him, she had just survived the car accident and had bruises on her forehead and hand, but her first concern was for her brother, her Chhotte, her words that life should be lived fully, we never know when it might be the last moment of our lives! She had also told him that we should never let the person we loved to go away from our lives, just what Lavanya had advised him when leaving for London as a final goodbye! He does not recall Lavanya's words but his Di's words! The sweet, affectionate and beautiful smile of his Di is what he has lost today!
He sits there lost in his myriad thoughts when Khushi comes there and sees him on the stairs, she has been unable to sleep after he had left her, she feels restless and scared of losing him, she is now so insecure that she wants to be beside him at all times, the fear of losing him has been engraved in her heart! He senses her presence on the stairs behind him, both have always sensed each other, it is a strange emotion, a telepathic bond that they have shared from the time their hearts began to beat in unison! They had never realized the reason for their awareness; one had to step into the room for the other to know!
Khushi sits down beside him, and tentatively touches him on his shoulder, he shows he is aware of her, but does not react, the intense grief in both their hearts keep them silent, she places her head on his shoulder to feel secure, she has her hand around his arm for a little while! Then she looks up at him, yet unsure of her place in his life, wondering if she truly had the right to that shoulder, whether she could take his strength for herself, whether he was truly and finally hers to keep and to hold! Words have not been exchanged, feelings and glances have not yet convinced her of his feelings, she is still a little insecure of him!
He looks at her then, he does not want her to lift her head from his shoulders, he has already given that place to her as rightfully hers to keep and hold, he was completely hers in his mind, but he can see the hesitation and doubt in her eyes! Just a little half-blink from his eyes conveys to her the message that it was her right to keep her head on his shoulder, his strength was for her, and he holds her hand as she understands what is in his heart and keeps her head back on his strong shoulders to take the solace that she badly needed at that moment! They sit there together, as one, their hearts and minds are one, the bodies are separate but they are an entity together, no words needed to convey solace, they do not need anyone else to share their grief, the love they have for each other will last them many lifetimes!!
TO BE CONTINUED.......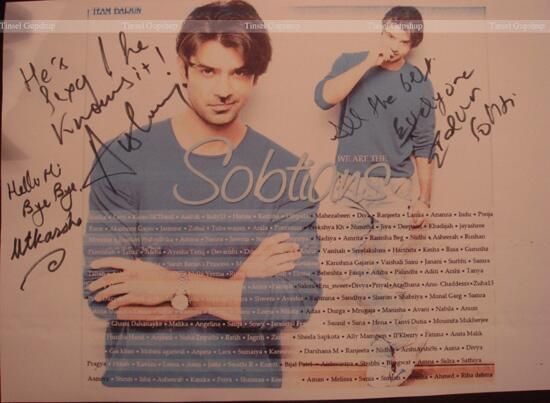 Jul 12
Part three of this view: (By Samona) (Thanked: 7 times)
Part three of this view:
Anjali wakes up from her sleep and remembers the slap across the face of Shyam, her Chhote's hard slap, and the way he pushed Shyam out of the house! Tears slowly course down her cheeks when Naniji sees her from outside the poolside door! Nani wonders how to comfort her grand-child, when she sees her grand-daughter-in-law, Khushi enter the same room! Naniji is the witness to the next scene where she sees Anjali close her eyes and pretend to sleep to avoid facing Khushi! Naniji is surprised to see Anjali close her eyes, she had thought that matters would be resolved soon, but the way Anjali avoids the meeting convinces her that they had a long way to go to become one family again! Khushi enters the room and she watches Di sleep and tells herself that it was good for Di to sleep; in her condition she needed rest! Naniji and Anjali hear her concern for Di, Naniji understands everything! Naniji sees Anjali break down completely and cry, it makes her resolve to ask Chhotte about the entire matter!
Arnav is still sitting on the stairs where Khushi had left him, he becomes aware that Naniji had come down with Khushi for an explanation. He knows it was time for the truth to come out! Naniji tells Arnav that she wanted to say something to both of them. Naniji begins the talk by saying that no one in the house understood what had happened earlier, they did not understand the fact that no one knew what was going on in the house! By saying this, Nani conveys the message that she had implicit belief that Chhotte was right in his words, she did not demand to know if it was true, she merely was surprised at the lack of their own knowledge of the events! She cannot believe that the Damaadji who took care of all the little things that the family members liked, who showed so much love and care for Anjali bitiya, was actually betraying their trust on him? She cannot believe that so many allegations were made from all sides, she was at a loss for words! Arnav and Khushi glance at each other, both know that his next words were going to shatter Naniji more than ever before, when the real truth of Shyam's nature was revealed to her! Naniji is shattered and breaks down; she is unable to think coherently!
Arnav holds Naniji's hand and tells her that there was no doubt in his mind! Naniji is stunned to hear that Arnav knew many things about Shyam from a long time! She is shocked to hear from him that he knew it from the time of Akash's wedding, he looks at Khushi when he reveals to his Nani that he knew it from the time of his and Khushi's wedding too! Khushi looks at him then, she sees the stirrings of regret and guilt in his eyes, a feeling which I am sure, will never let him live in peace for his entire life!
He tells his Naniji that he knew the depth of Shyam's dirty intentions from that day itself! He tells her about going to the terrace to talk to Khushi and seeing her in Shyam's tight embrace and also reveals the words told by Shyam that he loved only Khushi and not Rani Saheba, he did not value the marriage at all! Nani listens to him with shock in her unblinking eyes, tears slowly falling down, she listens to the deceit of that man, whom she had loved as a son! Arnav tells his Naniji that he misunderstood everything, and he had committed the biggest mistake of his life by not believing Khushi's words! He looks at her regretfully, Khushi looks down, she does not want this matter to be spoken! He further reveals to Nani that he had himself asked Shyam that night and Shyam had confessed that Khushi was everything to him, his life, his obsession, his madness, and the only obstacle which had remained between them was RANI SAHEBA! Khushi herself hears this for the first time! Naniji cannot believe her ears, Arnav tells her that it was the reality behind Shyam's face! Arnav confesses that he had disbelieved Khushi, he had thought that Khushi too was involved with Shyam, but later realized that she was not at fault, it was Shyam's fault all the way! He is unable to look into Khushi's eyes directly while confessing this, Nani looks at Khushi and understands everything!
Arnav tells Nani that Shyam did everything with the intention of fooling the family, he had wrong intentions from the beginning. Nani is upset that Anjali was shattered by it all, after facing so much trauma since a long time, she had to now face this revelation of her husband's treacherous nature! She tells that Anjali was now like the living dead, with her body there but her soul was elsewhere! All worry about the effects on the baby, Naniji is broken by the thought! She tells them that Anjali would need a lot of time to come out of her grief, the family had to rally behind her! Naniji is suddenly assailed by another thought, she asks Khushi to stay away from Anjali so that she did not remember the past on seeing Khushi! Arnav does not like to hear this, but stays silent for Di's sake, Khushi promises Naniji that she would not come in front of Di; she has tears in her eyes! Naniji knows the sacrifices that Khushi has made for the family, she consoles her!
In the morning, Arnav takes the breakfast to his Di and starts saying the cute poem which they had been reciting since childhood, but this time Anjali does not respond! She does not eat the morsel of food he offers and goes to sit far away from him! He is deeply saddened by this and is about to go to her when he gets a phone call and leaves the room! He is busy talking to Mr. Roy at the poolside, when Khushi walks into their room with his medicine and a glass of water! Arnav is distracted by her sight and she is unaware of it, she takes the medicine and waits for him to complete his conversation!
THE FINAL PART COMING UP SHORTLY ALONG WITH THAT RACY PRECAP!!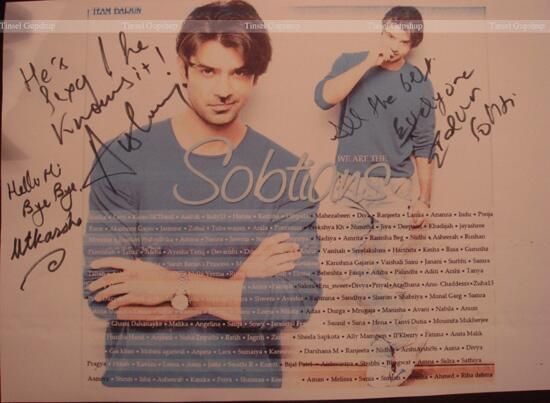 Jul 12
RACY PART WITH A RACY PRE CAP! (By Samona) (Thanked: 7 times)
RACY PART WITH A RACY PRE CAP!
He tells her that he needs to go to the office for an hour, there were clarifications to be made to the will, she is not used to hearing explanations from him, and she listens quietly. He goes to her and asks his customary question of TUM THEEK HO? That question last time, had made her run upto him and hug him fiercely, she nods her head this time and says that she was fine, but what about him, he had not yet taken his medicines! He listens to his wife berating him for not having eaten anything since morning, he tells her that Di had also not eaten but she chides him that he had to eat and take care of himself if he wanted to care for his sister! He listens to everything quietly, what a change in the man!! She tells him that she would not let him go anywhere unless he had taken his medicine; he takes it from her quietly and drinks it! Oh ho! There was a time when he would have told her that she could not make him do anything but now he was ready to do anything for her!
He hands over the water glass to her, she takes the tray along with her and tries to leave, coincidentally he moves in the same direction at the same time, and they almost dash against each other! He says sorry and stops, both move in the opposite direction at the same time, the same result, with Khushi looking at him in consternation and he is again sorry although now does not say it! They match their movements in tandem for the third time, then Arnav is reminded of the scene (I am sure) when it had happened before, at the doorstep of RM much, much earlier at the time they were not talking to each other and finally Arnav had dashed against Khushi on his way out and made Khushi very indignant with a perfect "O" of her pout seen to the delight of the viewers!
He realizes that Khushi was feeling flustered by it all, it became a game for him now, teasing her in his own subtle way, she was yet unaware of his intentions! She is looking down at the tray, intent on not dropping it, so she fails to see the beginning of a smirk on his face! He turns to the side she turns with her tray, once, she turns again, he reaches there, still smirking and turning the viewers and droolers into mush, she turns a third time still thinking it was a mistake, he is there in front of her again! She looks up at him and sees the smirk, now on his face, looking at her, teasing her, he knows her reaction to his smirk! He has seen her reaction before, she was always blushing and flustered by it all! She sees the shararat in his eyes, she feels shy and there is a tiny smile at her realization of his mischievous eyes, he lifts his eyebrows a millimeter high on seeing her smile, he knows the dhak –dhak that has begun in her heart, his heart has started its dhak-dhak sometime earlier!
Pre cap:
What a racy precap it is! ASR droolers, including the writer, have not slept well last night!
KHUSHI, IT IS HIGH TIME KE MAIN TUMHARI TARAF AAON, TOH TUM PICCHE JAANA BANDH KAR DO! IN FACT, TUMHE MERE SAATH AAGE BADHNA SIKHNA HOGA!
FLIRTY ASR IN HIS VEST, BUSINESS SUITS AND GELLED HAIR, WITH HIS SMIRKS, EYEBROWS LIFTS, WHAT THE! AND ALL THE NUMEROUS DIALOGUES OF THEEK HO TUM, SAMJHI TUM? MUJHE FARAK PADHTA HAI AND THOSE KISSES IS BACK AGAIN!
LIFE IS LOOKING GOOD ONCE MORE!!
SORRY FOR THE LONG VIEW, WILL WRITE SHORTER FROM NEXT TIME! THIS TIME I HAD TO, HAD TO, HAD TO WRITE!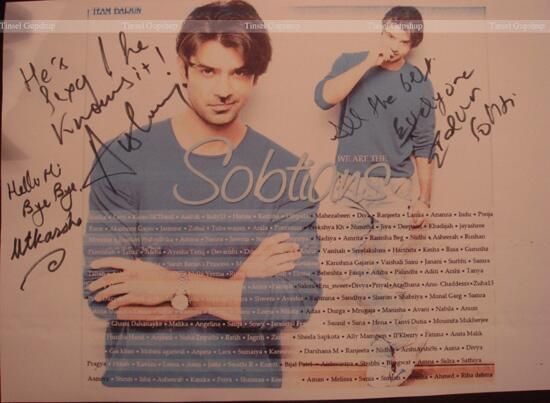 Jul 12
for everyone a big thank you! (By Samona) (Thanked: 4 times)
for everyone a big thank you!
OCEAN
ARSHI ADVOCATES
SANDYY
SS
FAIRY
DD
SILENT READER
DIEHARD_ROM
RAMYA
DIMPLE
DV
RAINQRAZY
DK
TSHAHEEN
BOGDAN&LILI
JB
TAMIZHPENN
BABYFACE
THANK YOU AND FOR ALL MY SILENT READERS, ANOTHER BIG THANK YOU!!
FOR WAITING PATIENTLY FOR MY VIEW AND FOR READING THIS LONG ONE!
LOVE YOU ALL!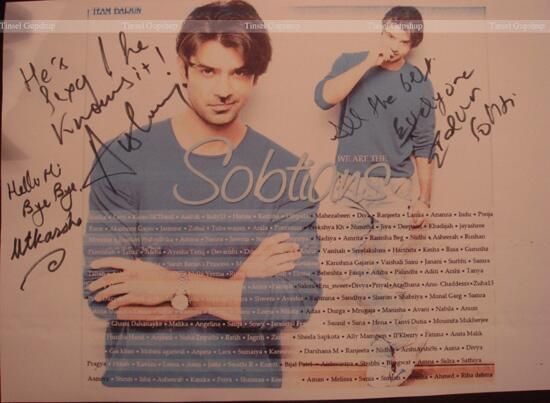 Disclaimer: The views expressed above are member's views and myeDuniya does not comply with it. The views expressed may not be factually correct. Incase of any issue please contact us/report it to us.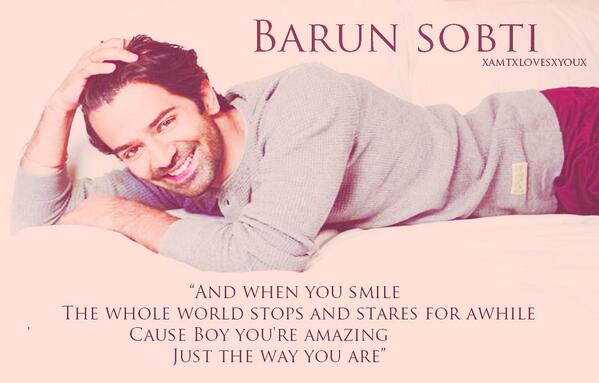 Missing Arnav Singh Raizada!!!!!!!!!!!