TWO MINUTES OF DHAK-DHAK FOR ALL!!!!!!!
Jul 12
TWO MINUTES OF DHAK-DHAK FOR ALL!!!!!!! (By Samona) (Thanked: 7 times)
The first two minutes of the episode gave us dhak-dhak
we were all waiting for with bated breath after watching the previous episode!
Arnav continued where we left them earlier, with a smirk on his lips, and mischief in his eyes as he continued to thwart Khushi's progress with the tea tray! He danced his way with her, matching side–step for side-step with her, turning this way and that, all the while the smirk widening beyond his lips, and now matching with the glint in his eye, Khushi was unaware but we were very much aware of his shararat and loving it!
She thinks it was a mistake when it happened once, then twice and then after the third time, she glances up at him and sees the smirk tilting his adorable lips, the glint in his eyes crinkling at the corners, amusement writ large on his face! She realizes that it was a game for him, he was enjoying it at her expense!! She is amazed first, then shy and glances down with a tiny smile peeping near her lips, she is now aware of him and blushes slightly, the sight amazes him and makes him raise his eyebrows a teeny-weeny millimeter and exclaim "WOW! KHUSHI KUMARI GUPTA SINGH RAIZADA KO SHARMANA BHI AATA HAI!!" in that husky voice which makes all of us blush furiously whenever we hear it!
HEY, DEVI MAIYYA! WHY IS THIS LAAD GOVERNOR LOOKING AT ME LIKE THAT? HE IS NOT LETTING ME GO AND HE IS LOOKING LIKE HE WANTS TO TEASE ME AND HARASS ME!! MUJHE SHARAM AA RAHI HAIN PAR INNHE KAISE PATA CHALA??
WOW, SHE BLUSHES SO CUTELY, MERI PAAGAL BUT CUTE PATNI! I LOVE IT WHEN I THINK OF HER AS MY PATNI, SHE IS AMAZING, I NEVER KNEW THAT LOVE CAN BRING SUCH FEELINGS TOO!!!
She looks at him and sees him looking at her adoringly, his eyes does not move from her beautiful face, now made more beautiful with the pink blush spreading all over her cheeks, she has never looked more adorable than this in his eyes! He has always been mesmerized by her beauty, and it shakes her to the core to see him looking at her with dangerous intent in his eyes! The Rabba Ve resounds in the air for all of us to go into raptures seeing their old chemistry back after such a long time!
I CANNOT LOOK AT HIM WHEN HE IS LOOKING AT ME LIKE THAT! HE IS SMILING WITH HIS EYES, AND HIS LIPS HAVE THE SAME SMIRK I HAD NOTICED AFTER THAT POOLSIDE KISS HE GAVE ME BEFORE JIJI'S WEDDING! IS HE PLANNING SOMETHING LIKE THAT AGAIN?
NOW I REALISE HOW MUCH FUN I CAN HAVE TEASING HER, SHE IS REALLY AN INNOCENT AND I AM GOING TO GO AHEAD AND TAKE HER INTO MY ARMS AGAIN! YESTERDAY WAS PURELY TO CONSOLE HER AND SOOTHE AWAY HER HURT BUT TODAY I WANT HER IN MY ARMS FOR OTHER REASONS ALTOGETHER!
He starts moving closer to her, she starts to move back which was not expected by him, he had thought the barn romance must have erased all distances from each other physically but NAY! She still inches back step by step! He halts looking down at her feet which are still moving, and then realizes that she was innocent, she needed to be told what he wanted from her now, he did not want any more dooriyan between them! He needs to tell her that "KHUSHI, IT IS HIGH TIME KI MAIN TUMHARI TARAF AAON TOH TUM PICHHE JAANA BANDH KAR DO"! She glances at him on hearing this and he continues that "IN FACT, TUMHE MERE SAATH AAGE BADHNA SIKHNA HOGA"!!!!!!!!!!!!!!! She smiles a tiny embarrassed smile on hearing this, she cannot raise her eyes to him in shyness and is about to go again when Arnav stops her again by coming in her path!
I CANNOT COME FORWARD TO YOUR ARMS, MUJHE SHARAM AATI HAI!
I WANT TO TAKE INTO MY ARMS JUST NOW, BUT WAIT, I CANNOT RUSH THINGS SO SOON, I MUST GIVE HER THE TIME TO BE ACCUSTOMED TO MY ADVANCES, AND SHE MUST BE ABLE TO COME FORWARD WILLINGLY! IT SURELY WILL BE FUN AND ENJOYABLE FOR US TO CONTINUE IN THIS WAY FOR A WHILE! I WANT TO SEE THAT SMILE ON HER FACE, BUT MORE WIDELY!
This finally makes her lift her eyes to him in wonder, he is perfectly happy now to allow her to leave, says Okay and steps aside to make way for her! She moves away with a small smile and then turns back to look at him, sees him with his smirk once again, and with a smile lighting up her face, walks away! He is happy, he wanted to bring that smile back on her face, he had known the sadness in her heart, the feeling of guilt swamping her when she was thinking of his Di and the feeling of tension and concern for him for not having taken his medicines!
ASR is back to his business suits, his vest, his gelled hair and his Bluetooth, he has now got a new car, hope he has some new clothes in his wardrobe and some pairs of new shoes in his shoe closet! Khushi has now got some wonderful dresses in her wardrobe, and the house is looking better than before, Anjali's room is beautiful than earlier, I am waiting to see Arnav's room, is it still the same or will it turn back into Arnav and Khushi's fifty-fifty room again? But Khushi, why are those hair clips back again? You had such a beautiful hairstyle when Arnav was missing but again hair clips are back when he is back? Why? Has he ever told you that he loves those clips too?
TO BE CONTINUED..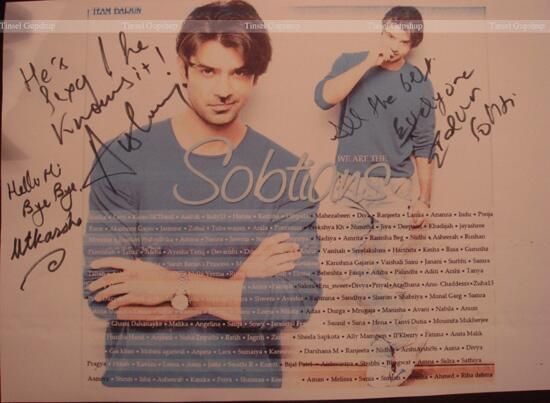 Jul 13
DHAK DHAK PART TWO! (By Samona) (Thanked: 3 times)
Khushi realizes that Anjali had not eaten anything since morning, and Naniji was also not at home, she has gone to the temple! She does not stop to think twice about Naniji's request to stay away from Anjali, but takes the food tray and goes to Anjali's room! She has the tendency of doing things from her heart, on the spur of the moment, without thinking of the consequences! At this moment, Nani's advice has gone out of the window; she rushes to give food to Anjali who is still mourning the loss of her beloved husband!
Anjali is turning the pages of her wedding album, she is turning the pages of her memories, the pictures of Shyam are strewn all over the bed! Anjali remembers some moments of her past and a flicker of a smile comes onto her face to be wiped out instantly by a teardrop rolling down her cheek! There is a knock on her door, she refuses admittance but Khushi still enters the room with the tray in her hand! It is a very awkward meeting for both of them, meeting for the first time after those slaps and Arnav pushing the wayward husband out of the house!
Anjali refuses to acknowledge Khushi's presence in her room, she continues to look at the pages of pictures in her album, steadfastly ignoring Khushi who is standing in front of her! Khushi , who is used to taking the bull by the horns, cannot stop herself and tells Di that everything that had happened was her fault! Why, Khushi, why do you take the entire blame on yourself? I don't understand Khushi's guilt and blaming herself for Shyam's lust!! Anyways, Khushi continues to tell Di that she was right in getting angry, she could take out her anger on Khushi herself but not on the food! She tells Anjali that Arnav was saddened by Anjali's plight, he loved her too much! Anjali wipes the tears that come suddenly on thinking of Chhotte, but she does not react! Khushi tells Anjali not to punish herself, she had a tiny life within her, she asks Anjali to think of the baby who was innocent! Khushi does not want the child to be punished for no fault of its own, she wants Anjali to eat something for the baby's sake! She then proceeds to give Anjali a picture of her baby who would bring life and laughter to her, who was the main reason for her existence! The little princess who was much awaited by Anjali Di!
Halt, Khushi, halt here, for God's sake! Why did you have to bring Shyam's name into the conversation? Upto this point, you were right in telling Anjali to take care of herself and the baby, why did you bring HIS name into the talk? You have hit Anjali on her raw wound; she now remembered that her husband had fallen for your charms, that he fell in love with you! How could you tell her to forget him since he was the past and to look forward only to the future? If this was told by someone else, it would not have hurt Anjali so much, but coming from you, the girl, for whom her patidev was ready to leave her, it hit her very hard! I sincerely wish Khushi had not gone to meet Anjali after Nani's advice, if she had still gone there, then she should not have spoken about Shyam and advised her so soon to forget him!
Khushi, when will you understand that there is a time and place for everything? Out of your concern for Di, you have now aggravated the situation, a lady who has not yet come to terms with her husband's infidelity CANNOT be advised by the very same girl, it must have been very painful to have come face to face with the object of her husband's love and lust!!!!
This is my opinion, openly expressed, but might not be shared by my readers!
Khushi leaves the room; Anjali breaks down completely holding her unborn baby from outside her stomach, and shedding tears for her misery! In the evening, Arnav and Akash return from office, Arnav tells Akash to take Di to the doctor the next day for her appointment!
The absence of Anjali from her room creates panic in Raizada Mansion, sending everyone searching for her all over the house! Arnav goes back to search in her room and washroom, Naniji and Mamiji are all worried at her absence!! Arnav is shattered on remembering the way with Anjali Di had called him ARNAV and put him out of the room! He also recalls that she had not eaten the morsel of breakfast he had offered to her early that morning! HP tells them that he had seen Anjali going in an auto an hour ago! Arnav rushes to search for her, when Khushi wants to accompany him, Naniji stops her! Arnav consoles her and goes away after agreeing to call them once he knew the whereabouts of Di!
Remember the time Anjali had gone missing and Arnav had set out to search for her? That time, Naniji had made Khushi go with him although both were not willing to go together, today however, Naniji does not let Khushi go with Arnav to search for Anjali!
Arnav asks the security guard at the gate (FINALLY THE SECURITY GUARD GOT HIS CHANCE AFTER A YEAR OF STANDING THERE TO DO SOME WORK!) and he tells Arnav that Di had gone by auto an hour ago! While Arnav tries to drive out, an auto driver blocks his way and asks for his fare, Arnav gets angry at the delay and then realizes that the auto driver must have taken Anjali from there! He gets the information that Anjali had gone to a nursing home and not returned to give the fare!
Anjali waits for the doctor and remembers the slap again! Anjali tells the doctor that she had decided to get her baby aborted! Meanwhile Arnav rings up the doctor, but she does not hear the ring since the phone was on silent mode! The doctor is shocked to hear about the abortion and tells Anjali that she could not do it unless her husband was with her! The permission of her husband was required for the abortion.
Naniji tells everyone that no one had gone to Anjali's room. Manorama and Payal deny going there, but when Mamiji asks Phati Sari whether she had gone there! Naniji interrupts Mamiji saying that she had already told Khushi to avoid going to Anjali's room. Khushi tells Naniji that she had gone to Anjali's room to talk! Meanwhile Arnav informs the family that Anjali was at the nursing clinic.
The doctor tells Anjali that she was not in a fit state to take such a decision, Anjali tells her that she would go elsewhere if the doctor did not help her! The doctor tells Anjali that the decision of abortion was illegal too! Anjali leaves the room and goes out!
Mamiji and Naniji are upset hearing this. Khushi tells Naniji that she had gone to give food to Anjali since she was not at home. Mamiji asks her why she was not told about this, she should have told Payal, what was the need for Khushi to go to her room?
Arnav reaches the hospital and searches for Anjali. The doctor too comes out of her room calling out for Anjali. Arnav hears the doctor's voice and turns back!
PRE-CAP:
The precap was so worried for Anjali that it decided not to make an appearance at home! It is searching for Anjali along with Arnav!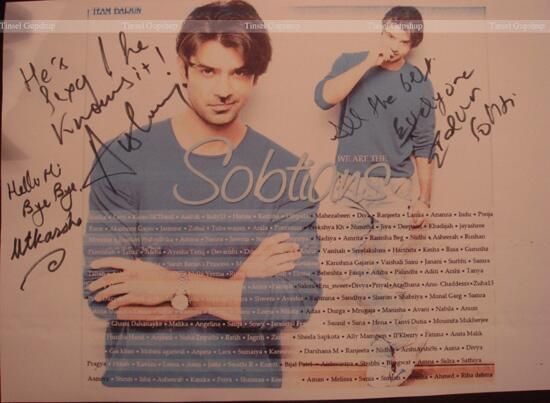 Jul 13
TO ALL MY READERS!! (By Samona) (Thanked: 1 times)
TO ALL MY SILENT READERS AND TO THOSE WHO HAVE COMMENTED:
Click here to watch the video on YouTube
Click here to watch the video on YouTube
Click here to watch the video on YouTube
These videos are to relieve the tension being given by the CVs and PH to us, we have to learn to take care of ourselves from the mental trauma of seeing the couple together but still far from each other!
Time for the Gupta sisters to go home and live in peace till the Raizada brothers realise their folly and come back begging for their company!!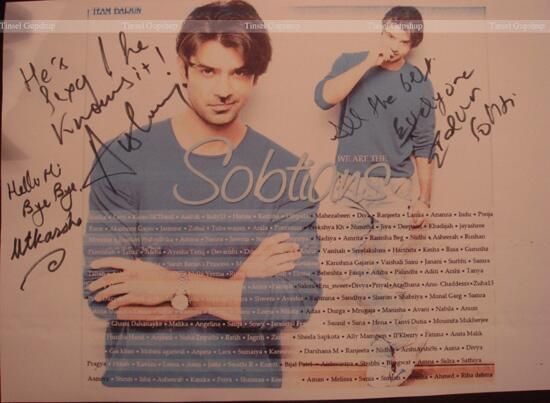 Disclaimer: The views expressed above are member's views and myeDuniya does not comply with it. The views expressed may not be factually correct. Incase of any issue please contact us/report it to us.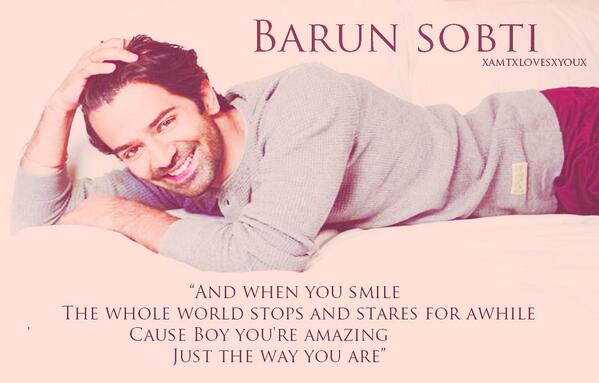 Missing Arnav Singh Raizada!!!!!!!!!!!