MAIN TUMHARE BINA……………!
Jul 14
MAIN TUMHARE BINA……………! (By Samona) (Thanked: 13 times)
FINALLY THE JOURNEY BEGINS FOR ARNAV SINGH RAIZADA! THE LONG CLIMB FROM THE BOTTOM OF THE GRAVE TO THE TOP! THE GRAVE WHICH HE HAS BEEN DIGGING FROM DAY ONE TILL YESTERDAY! THE GRAVE TO WHICH HE ADDED ANOTHER FEW INCHES TODAY! IT IS A LONG WAY, IT IS A CHALLENGING WAY, BUT WHEN HAS HE RUN AWAY FROM CHALLENGES? HE HAS TO, HAS TO, HAS TO WIN THIS TIME!!
The episodes from now on will show the ways in which Arnav tries to woo and win back his lady love! It will show the flirty ASR at his best, the emotional Arnav at his best! Khushi will try hard to resist him because she is angry and upset with him, but won't be able to resist for very long because she loves him too much! The viewers are in for a treat after so long, the drought of teasing romance, shoulder grabbing love and stopping a running away Khushi with arms as barriers on both sides is coming to an end! Mwah to that!
Khushi recollects all those scenes when she has seen Anjali and Arnav bond with each other! She is still in tears alternating between Arnav's cutting remarks and the brother-sister bonding that she has witnessed in the past year! Finally she remembers Di pushing Arnav out of her room and recalls his words that if she had not entered their lives, Shyam would not have fallen for her! She collects herself and goes towards the wardrobe.
Meanwhile Payal is about to leave her room and go to see Khushi when Akash enters the room. He is in his sulky mood still and berates her for thinking of Khushi when his Di was in trouble! Akash, you are falling deeper into the ditch now, you have turned into a brother and forgotten your wife! You are expecting your wife to forget her sister while you want to be a brother to Anjali! It is gratifying to see Payal come out of the Payash mode, she had lost her identity after her marriage to Akash! In trying to fit into the Raizada household, and wanting acceptance from her mother-in-law, she had indeed forgotten to see to the welfare of her younger sister! Now finally, when Payal has realized the troubles faced by Khushi, she has decided to stand by her, the sister-sister bonding is back! And Hey! What happened to Khushi JI? Akash has now called her Khushi twice in that conversation with Payal, instead of Khushi JI!! He walks away leaving Payal in tears yet again! Mind you, Akash, you are going to be standing there in tears when she decides to walk away! It is getting to be a case of GHAR KI MURGHI, DAAL BARABAR!!
Arnav rushes back to his room, and opens the door, calling out Khushi in a panic! He sees her sitting on the bed and packing her clothes into a bag! He is stunned to see this, Khushi looks up for a moment and then continues to pack. Arnav goes up to her and asks her what she was doing. Can't you see Arnav, she is preparing to go out of your life! You just can't bear to see that, can you? She blames herself for their troubles! He does not like to hear it thrown back to his face! She speaks the very words that he had told her earlier, that Shyam would never had done all that he did, his Di would have been happy in her life and she would not have tried to harm herself and the baby! He is frustrated because she does not let him speak! Right, yesterday you did not let her talk and today she is not letting you!
Khushi!! There she is, sitting on our bed and packing a bag! Packing? No, she cannot go! Khushi, what are you doing? She says that I was right; she was to blame for all that has happened! No, Khushi, I was WRONG! You are not…….. She is saying that if she had not met me that day in Sheesh Mahal, nothing like this would have happened! Khushi, how do I tell you that the day you fell into my arms in Sheesh Mahal, it had felt so right! I had felt like I had received a gift from the heavens, only I did not believe in God and so I rejected you! She continues saying all those words that I had told her in my anger just a little while earlier! She is not letting me speak, just like I did not let her speak when I was angry! She said that she was leaving, No Khushi, you cannot go!
Arnav halts her in her tracks, he comes in front of her to prevent her from leaving, holding her bag. She tells him to believe that they had never met! He cannot leave her; he tells her that he said too much in his anger GUSSE MEIN KUCH ZYAADA BOL GAYA! (MY VIEW OF YESTERDAY WAS ON THE SAME LINES: "KUCH ZYAADA HI BOL DIYA, ARNAV!) She tells him that she is not angry, but does not want others to be hurt due to her, especially Arnav himself!
Khushi, you cannot go! No! She told me that I should believe that WE HAD NEVER MET EACH OTHER! NO! I cannot let you go! Whatever I told you, I did not mean it! MAIN GUSSE MEIN KUCH ZYAADA BOL GAYA! She feels it is her fault, she is still not angry with me, but does not want to hurt anyone anymore; she does not want to hurt me! I said all those hurting words and she still thinks of me! Khushi, what have I done? I curse myself for having hurt you! Her eyes fill up with tears, I gulp down my tears! I cannot bear to see her cry, those tears were my doing! She tells me she is going to Buaji's house, and walks away! No, I hold her hand and stop her! She asks me to let her go, but how can i? I cannot survive without her! She does not want to hurt anyone! Khushi , whatever I had said, I did not want to! Please don't do this right now! MAIN TUMHARE BINA……………………….! SHE DID NOT LET ME COMPLETE MY WORDS! I WANTED HER TO KNOW THAT MY LIFE WAS INCOMPLETE WITHOUT HER! MAIN TUMHARE BINA JEE NAHI PAUNGA!! She said that she couldn't bear to see Di in pain, but WHAT ABOUT ME? AUR MAIN? She asks me if I could be happy if Di was unhappy. I had no answers to her question and leave her hand! She looks at me with the truth in her eyes, all the grief and love in her eyes and I cannot bear it when she picks up her bag and turns to go!
No, I cannot let her go! It is just not possible! What do I do to stop her? How do I make her stay? I know! Yes, I know! She will hate me more, but I need to do this to make her STAY! That is more important now, making her stay rather than think of her hate! Khushi, halt, I cannot let her open the door! I keep my hand on the door and bang it shut again! Arnav cannot stop her with his love but ASR can stop her with his hate! She does not know that now there is no hate, ASR and Arnav have merged into one and loves her but let her think I am the shaitaan again, not her prince anymore!
I had to bring anger into my voice again, act tough on her again, my heart bleeds at the thought but I have no choice! No, Khushi you cannot go because you cannot break the marriage contract! I can see that she had forgotten about it, I too had forgotten about it till just a short while ago! She is stunned to hear it, I reminded her of what I had told her on the day of our marriage! I told her that we had a contract marriage, the contract was not yet over and so she should take out all those thoughts of leaving me! I take the bag out of her hands, relieved to see her not protesting! You can't go coz you simply can't! She asks me whether I still believed our marriage was a contract after everything we had gone through, I cannot look into her eyes and lie! I turn away and tell her the biggest untruth, that I was telling her that it was a contract! She is now angry, she asks me what I would do if she broke the contract, hand her over to the police? I cannot bear to hurt her more, but I must do it or she will leave me right now! I tell her that I would force Akash to leave Payal, I know that Akash would never refuse to do my bidding! I know that it is the only thing that will stop her now, my love cannot stop her anymore!
Khushi, if you insist on leaving, I will insist on making you stay, you have figured me out by now! She is very angry now, I will remain only a shaitaan for her, who never thought of other's feelings! She has tears again, she tells me that she had thought that I had changed but she now knows that I will continue to hurt her everytime, give her pain whenever she began to forget! Khushi, I don't mean to hurt you, but she does not let me complete! She tells me that I, Arnav Singh Raizada will never change! She is now ready to stay till the contract was over, the pain in her eyes and face is tearing me apart, she leaves the room and goes away! I cannot bear to see her like this, SORRY MUJHE YEH SAB KEHNA PADA, KHUSHI, LEKIN TUMHE MAIN KAISE JAANE DE SAKTA HOON? AUR AB SIRF TUM JAANE SE NAHI ROKUNGA, ISS CONTRACT KE POORA HONE SE PEHLA TUMHE PAA KAR RAHUNGA!!! I CANNOT NEVER LET YOU GO, KHUSHI, I WILL NOT ONLY STOP YOU FROM GOING, BUT I WILL WIN YOU BACK BEFORE THE CONTRACT IS OVER!
The pain in Arnav's heart is evident in his eyes, he is bitterly regretting all the actions of the past, he knows his future is in Khushi's hands, he cannot survive without her!
Khushi goes down, she is still thinking of Arnav's words about the contract and is very sad,but hears a sound; she sees Anjali in the kitchen and almost rushes in to help her again! But stops herself and hides behind the pillar to watch her. She sees Anjali totter, luckily Mamiji comes there and helps Anjali, she takes her away, but Khushi is now in tears at her helplessness! She feels a hand on her shoulder and turns back, it is her sister Payal, keeping an eye on her own sister, she has come there in spite of Akash's words! Payal and Khushi share a hug, trying to console each other at this turn of events in their life, both the Gupta sisters are in pain due to the two Raizada brothers! they have found their way back to each other, their marriages had made them go far away emotionally but now this tornado of revelations has made them bond closer!
TO BE CONTINUED......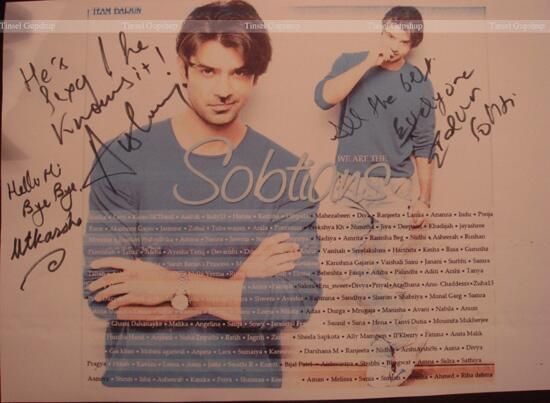 Jul 15
MAIN TUMHARE BINA…! I CANNOT LIVE WITHOUT YOU! PART 2 (By Samona) (Thanked: 6 times)
MAIN TUMHARE BINA…! I CANNOT LIVE WITHOUT YOU! PART 2
Khushi stands near the poolside at night, looking at the stars, her parents and thinks about her life. she remembers all the words from Arnav, she remembers him telling her about the contract marriage, about his threat to break Payal and Akash's marriage and remembers asking him if he would hand her over to the police! Arnav comes there and looks at her, he feels the pain in her, he cannot see her face but knows that the eyes will be filled with tears while looking at her parents, she misses them so much at this moment in her life! Arnav remembers those painful moments when he has hurt her the most in his life! the most terrible moment of their marriage when he had tied that mangalsutra as a punishment to her! She remembers the moment he had put that sindoor into her maang, that slash of red which changed her life forever! She closes her eyes to the pain; he opens his eyes in pain! He can feel the burning pain behind his eyes, his tears do not show, but they are there, hidden in his heart!
I remember when I was sad and she had met me meet her parents in the sky, she had told me that my mamma was also there and they must have met each other by now! My eyes are wet with her tears; she has always stood by me! I put that mangalsutra around her neck, telling myself that I was trying to save my Di's marriage, but now I know that I was trying to save my love! I was not a brother then, I could have thrown her out of my Di and Shyam's life then, but I wanted her for myself, I could not let her go even at that moment! I gulp down my tears; I cannot show her my grief! I clench my fists in my grief and anger at myself! Why does it feel like I had won you but again lost you?
I AM SORRY, KHUSHI! MUJHE MAAF KAR DO! MAINE TUMHE ITNA DUKH PAHUNCHAYA HAI, BUT I WILL WIN YOU BACK! TUMHE WAPAS JEET KE RAHUNGA AUR APNI ZINDAGI KA HISSA BANAUNGA HAMESHA HAMESHA KE LIYE!
I AM SORRY, KHUSHI! PLEASE FORGIVE ME! I HAVE GIVEN YOU SO MUCH HURT, BUT I WILL WIN YOU BACK! I WILL WIN YOU AND BRING YOU BACK TO MY LIFE FOR FOREVER AND EVER!
THE SADDEST RABBA VE RESOUNDING IN HIS HEART IN HER VOICE AND HEARD BY US TOO!
Arnav wakes up to an empty bed, the bed covers flung out but no Khushi in sight, not in the bathroom, nor at the poolside. He panics thinking she has left when he was sleeping. He comes rushing down the stairs, two and three stairs at a time, the panic evident in the heavy breathing, in the hurried steps as he looks around the living room. He goes to the dining area, no Khushi , he rushes to the kitchen, again No Khushi! Where has she gone, dammit? He rushes upstairs again and checks the place but where is she? In his panic, he rushes to his Di's room and barges in asking Di, if she had seen Khushi!!!! Naniji is stunned to hear him asking Anjali such a question, while Anjali does not like the question too! Arnav realizes his mistake and asks her if she had taken her morning medicines? She nods and he turns to go, he glances at her from the door, and knows that his sister has realized that he was searching for Khushi, and he was worried about his wife, not his sister! Naniji comes out and tells him that Khushi had gone to her Buaji's home early morning! Arnav gets angry at Khushi for not having told him before going! He rushes up stairs to his room again and then comes down after dressing; he is in a temper as he drives to Buaji's house!
Where has she gone? Not in the bed, in the bathroom, is she near the pool? No! She is not here either! Wait! Has she left me? She must be somewhere in the house, in theliving room, in the dining area, in the kitchen!! No! I CANNOT SEE HER ANYWHERE!! WHERE HAS SHE GONE? WHY HAS SHE GONE? IS SHE UPSTAIRS IN ONE OF THE ROOM? RUSH UPSTAIRS , TAKE TWO STAIRS AT A TIME, ARNAV, SHE HAS TO BE HERE SOMEWHERE!!!!! DI, DI, HAVE YOU SEEN KHUSHI?? O MY GOD! WHAT HAVE I DONE?? DI, HAVE YOU TAKEN YOUR MORNING MEDICINES? I MADE A MISTAKE, I AM SORRY!
WHERE IS SHE? WHERE DO I SEARCH FOR HER? WHAT?? NANIJI, WHAT DO YOU MEAN? SHE HAS GONE TO HER BUAJI'S HOUSE IN THE MORNING? HOW DARE SHE? I AM WORRIED SICK ON NOT SEEING HER AND SHE HAS RUN AGAIN! KHUSHI, I AM COMING TO GET YOU, YOU CANNOT LEAVE ME ALONE LIKE THIS!! NOT A SECOND CAN I LEAVE YOU, I AM GETTING DRESSED AND COMING, AGAIN TWO STEPS AT A TIME, WHEN CAN I GO THERE AS SOON AS POSSIBLE!!
Buaji is surprised to see her, she had been about to ring up and talk to Khushi, but Khushi had reached home. Buaji asks Khushi if she had told everyone at home before coming there! Khushi does not tell the problems at Shantivan and is her chirpy best! Buaji goes to call Garima and Babuji while Khushi takes the pooja thali and talks to DM and confesses that she had not told her problems to her family! Arnav reaches there in his car and enters the house. He sees Khushi standing there and starts his tirade!
How dare you, Khushi? Why did you come here without informing me? Did I not tell you that you cannot leave my home? DO YOU EVEN KNOW HOW I FELT WHEN I DID NOT SEE YOU IN THE BED, IN MY HOME? I THOUGHT THAT I HAD LOST YOU! I THOUGHT THAT YOU LEFT ME AND WALKED AWAY! I WAS AFRAID THAT I WOULD NEVER SEE YOU AGAIN! MERE SAANSE RUK SI GAYI AND YOU ARE HERE, IN YOUR HOME! BUT I CANNOT SHOW MY FEAR, I CAN ONLY SHOW MY ANGER, MY FEAR HAS FUELLED MY ANGER! Look at me when I am talking to you! Why did you leave, dammit, answer me!!
Buaji, Garima and Babuji come there. They are happy to see Damaadji. Buaji tells Arnav not to shout at Khushi, she always wants to eat the rabdi and kheer made by Buaji on her birthday!
BIRTHDAY? YOUR BIRTHDAY?? KHU………….YOUR……….! PRESENT, BUAJI YOU ARE ASKING ME WHERE IS HER PRESENT? I DID NOT KNOW IT WAS HER BIRTHDAY!! KHUSHI, WHY ARE YOU LOOKING AT ME LIKE THAT, WHY DID I NEVER ASK YOU ABOUT YOUR BIRTHDAY?? YOU COULD HAVE TOLD ME TOO! I NEED TO DO SOMETHING FOR YOUR BIRTHDAY! YOUR FIRST BIRTHDAY AFTER I HAVE STARTED TO LOVE YOU!
MAHAEPISODE::
EAGERLY AWAITING FOR THIS MAHAEPISODE TO SEE HOW ARNAV WILL CELEBRATE HIS LADY LOVE'S BIRTHDAY AND WHAT IS HE GOING TO GIVE HER AS A PRESENT!! WILL SHE ACCEPT IT?
MERI, MAIN TUMHARE BINA.........! MEANS I CANNOT LIVE WITHOUT YOU!! OR I AM INCOMPLETE WITH OUT YOU!!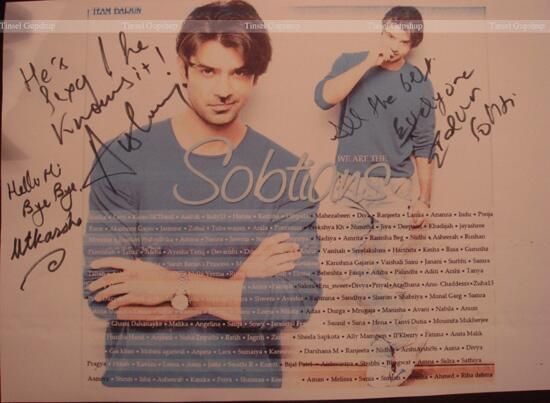 Jul 15
replies to my readers! (By Samona) (Thanked: 9 times)
REPLIES TO MY READERS WHO HAVE COMMENTED:
SHEZ: FIRST TIME I THINK THAT YOU HAVE COMMENTED ON MY VIEW. GLAD YOU LIKED IT!
BABYFACE: LOVED THAT SENTENCE MYSELF, BF, THE ME DID NOT LIVE UPTO ITS EXPECTATIONS BUT NEXT WEEK WILL BE BETTER!
RAMYA: YEAH, ASR DID NOT KNOW IT WAS HER BIRTHDAY, BUT WHEN HE DOES THINGS, HE DOES IT IN ASR STYLE!
JUSLIKETAT: GLAD YOU LIKED IT!
OCEAN: THANK YOU FOR YOUR LOVELY COMMENTS! YOU MAKE ME FEEL HAPPY! ARNAV MEANS OCEAN!! IS THAT WHY YOU NAMED YOURSELF?
VIMMIYA: I LOVED TO READ YOUR VIEWS TOO!
KABI: MAIN TUMHARE BINA......JEE NAHI SAKTHI, KABI!! YOU ARE MY JAAN!
MERI: LOVE YOU TOO! SO HAPPY TO READ YOUR COMMENTS! YOU GIVE ME MORE THAN I DESERVE!! THANK YOU!
BOGDAN&LILI: THANK YOU FOR YOUR CLAPS!! THEY WORK AS COMMENTS FOR ME!!
SILENT READERS OF THE FORUM:: THANK YOU ONCE AGAIN!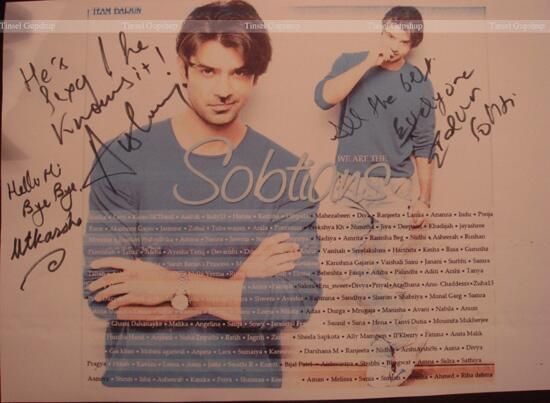 Jul 15
NEW RABBA VE SONG! (By Samona) (Thanked: 5 times)
THE WORDS OF THIS RABBA VE WERE PERFECT FOR ARNAV'S FEELINGS AFTER HE MADE HER STAY BACK! HE USED THE CONTRACT MARRIAGE TRUMP CARD WHICH HURT KHUSHI!
BUT KHUSHI DID NOT STOP TO THINK WHETHER THIS TRUMP CARD ACTUALLY WORKED NOW! ARNAV HAD USED THIS CONTRACT MARRIAGE AS A REASON TO SAVE DI'S MARRIAGE AND TO HIDE THE TRUTH FROM DI! AFTER SHYAM'S EXIT FROM THE SHOW AND DI'S KNOWLEDGE OF THE EVENTS WHERE IS THE NEED TO CONTINUE THE FACADE??
KHUSHI ONLY HAS TO THINK ABOUT IT TO REALIZE THAT ARNAV HAS USED THIS EXCUSE TO MAKE HER STAY BACK FOR HIM! HE IS ONE WHO IS UNABLE TO LET HER GO! HE CANNOT SAY IT IN WORDS, BUT HE CAN SAY IT IN ACTIONS, THAT HE CANNOT LIVE WITHOUT HER ANYMORE! USKI SAANSE RUK JAYEGI!
REMEMBER THE TWO DAYS WHEN SHE DISAPPEARED FROM HIS RADAR?? NOW IT IS WORSE, THOSE TWO DAYS HE WENT TO OFFICE AND WORKED AS NORMAL DAYS, BUT TODAY WITHIN MINUTES OF WAKING UP, HE RUSHED TO GUPTA HOUSE TO SEE HER FACE! HE HAS REACHED A STAGE WHERE HE CANNOT FUNCTION NORMALLY IF HE DOES NOT SEE HER! IT MEANS SHE IS THE BREATH OF AIR THAT HE TAKES IN, SHE IS HIS HEART BEAT!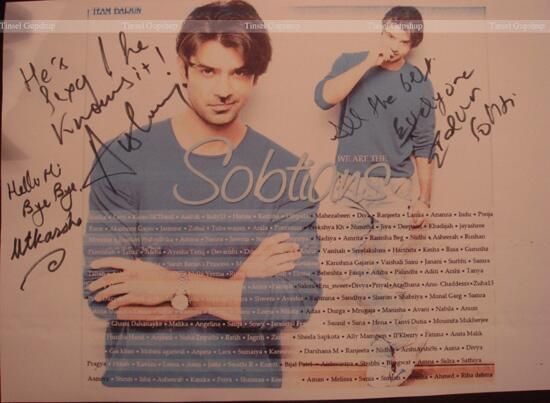 Disclaimer: The views expressed above are member's views and myeDuniya does not comply with it. The views expressed may not be factually correct. Incase of any issue please contact us/report it to us.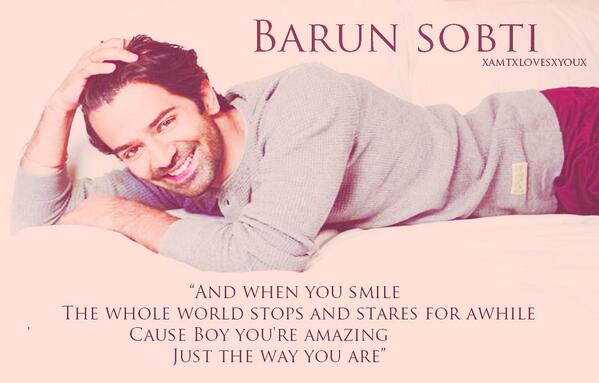 Missing Arnav Singh Raizada!!!!!!!!!!!