CHANGING RELATIONSHIPS –MY TAKE ON MAHAEPISODE!!
Jul 16
CHANGING RELATIONSHIPS –MY TAKE ON MAHAEPISODE!! (By Samona) (Thanked: 19 times)
The Maha Episode seems to have disappointed many viewers but I felt it was done just right! Let me tell you why I feel so! The last two days prior to the Maha Episode had a lot of drama and a lot of anger between the two crazy lovers, who love each desperately and telepathically too, but do not know how to express it when in front of each other!! The sadness and anger shown by Arnav and Khushi could not be suddenly converted into pure, intense and passionate romance at the drop of a hat, it would have looked as ridiculous as that barn scene where the goons were outside hunting for them with guns in their hands, but inside the hut, Arnav and Khushi forgot everything and went into a passionate clinch! Let us keep it credible, guys! Let the romance come at its own sweet pace, instead of it hurrying in its path and burning itself out!
The episode in brief:
Arnav panics on not seeing Khushi in his home, he rushes to his sasural! On reaching there, he starts his tirade against Khushi for not having informed him before coming there! If he had shown relief on seeing her first, she would have understood that his anger was due to the fact that he was afraid she had LEFT HIM! She would have understood that FEAR FUELS ANGER!! How many times have we not shouted at a person after discovering that the person was safe? At the time of fear, we panic, we pray, but the moment we realize that all is well; we take out our anger on the same person who we were praying for desperately just a short while ago! Same was the case with Arnav! He worried for her and then he saw her and yelled at her!
And he got YELLED AT IN RETURN! But by Buaji!! She got angry with Arnav for shouting at her bhatiji when it was her birthday! And she got angry with Arnav for not getting Khushi a present!! And then she got mad at him for not knowing it was his wife's birthday!!
Today's Maha Episode showed how the relationships were changing both in RM and in GH.
Take Arnav and Buaji:
His changed relationship with Buaji is one which can be noticed very glaringly. Arnav was very uncomfortable the first time he came to GH and Buaji had hugged him outside their door! He was not used to physical affection, he did not know how to behave and converse with others, and he was very much uneasy! But slowly the equation changed and now we see Buaji treating Arnav like a son, and pulling his leg, teasing him and making him very comfortable at home! Yesterday, we saw how Buaji pretended to be angry with Arnav babua and how he was bent on pleasing her! Can you think of one instance where Arnav will do something to please anyone in his own home? Whenever he does something that Anjali wants, he still protests before doing it! But with Buaji, he does it from his heart! Buaji is very formal with Akash, the other Damaadji, she cannot take such liberties with him! Arnav and Buaji crack jokes with each other, he helps her with ease and with a feeling of being her own, in short, Buaji has become a surrogate mother to Arnav! Did you see how he touched Buaji's feet when Khushi bent to touch her feet and get her ashirwad? He did not do the same to Babuji and Amma! He calls Khushi's Buaji as Buaji and then ate everything on his plate to please her! Buaji had made those dishes for Khushi's birthday breakfast and Arnav wanted to please Buaji as well as Khushi! Buaji teases Arnav by asking how he was going to manao his Shrimatiji! She is bent on harassing him, but after a while giggles and tells him that he had won her heart, it was now time to win his wife's heart!
But the relationship between Arnav and his inlaws, Shashi and Garima has not yet changed! It is still formal unlike the informal relationship that has now arisen between Arnav and Buaji!
Arnav is very insecure as far as Khushi is concerned! For me, the BEST SCENE OF THE MAHA EPISODE WAS WHEN HE ASKS KHUSHI TENTATIVELY WHETHER SHE WOULD RETURN HOME? He wants to take her home himself; he is not sure whether she would come back if left alone! He is scared, he is worried whether Khushi would decide to never return home! He has thrown that contract marriage and the break-up of Payal and Akash's marriage as a trump card, to stop Khushi from walking out, but what if she decides to never walk back into RM after having reaching GH? The tone of his asking is like a pleading from his heart, a plea to come back, a plea to let her know that he would wait for her, a plea to let her know that he wanted her back! There is no anger in his voice, there is a mute plea, but Khushi does not understand this, she is in an angry mood, because he had not yet wished her!
He comes back home after having his gift rejected summarily because he had not bought it himself, Aman was thanked for it, and he is seething with anger! He feels that Khushi did not appreciate his gift, whereas Khushi wanted to show Arnav that the giving of the gift was immaterial, she wanted him to wish her! They are two individuals, totally opposite by nature, by upbringing, by ideologies, by character, one is like chalk and the other is like cheese!
COMING UP: CHANGING RELATIONSHIPS OF
ARNAV AND NK ALONG WITH ARNAV AND AKASH
ARNAV AND ANJALI ALONG WITH ANJALI AND KHUSHI
ARNAV AND NANIJI
AKASH AND PAYAL
TO BE CONTINUED.........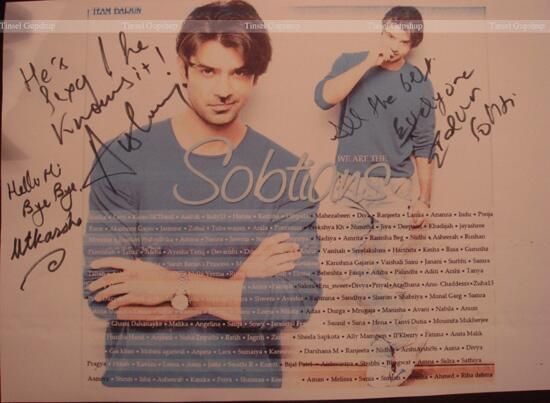 Jul 16
contd part 2 (By Samona) (Thanked: 22 times)
Arnav tells his Nani that it was Khushi's birthday. Nani is pleased to know that Khushi did not tell anyone at RM because she did not want a celebration due to the atmosphere in the house! She has understood Khushi's character much earlier when she had first met Khushi! That was the reason Naniji wanted Khushi to keep coming to Shantivan, in a bid to make her grandson see the difference between Lavanya and Khushi! She has also noted the sterling character of Khushi, how she never told lies, and always put the feelings of others before her own! Naniji decides to celebrate Khushi's birthday in such a way that her own grand-daughter Anjali would not be affected! But she asks Arnav if he had wished Khushi on her birthday! Again, the relationship between Naniji and Arnav has changed!
Take Arnav and Naniji:
Earlier, Arnav never listened to Naniji, both were at loggerheads with each other and Anjali played mediator with them! Naniji was traditional and Arnav went against her just to antagonize her, it was pure rebellion! Naniji used to throw Arnav's father's name at him whenever he did anything that she did not approve of, in return he used to do the opposite of what she wanted, and used to walk out when she was talking! Now, we see Arnav explaining to his grandmother about Shyam, we see Naniji wanting to know the details. We see Naniji bonding with Arnav better after Khushi has come to their lives, both do not get angry with each other! In the Maha episode, we see Naniji asking Arnav whether he has wished Khushi on her birthday, she is aware of Arnav's discomfiture to wish anyone! She knows that he has never ever wished anyone in his life, but she still wants him to know that Khushi is not just anyone, she is his wife! In her own way, she is encouraging Arnav to come out of his shell!
Arnav checks out on the internet, the different ways to celebrate a birthday and to wish a person when NK strolls on the scene! NK remembers that it was Khushi's birthday, he is excited! He gets ready to help Arnav but Arnav does not accept him at first! But again, relationships have evolved and we see Arnav and NK working in tandem to celebrate Khushi's birthday!
Take Arnav and NK:
Arnav has never been the gregarious type like NK. He has merely tolerated NK for the sake of Mamiji, Akash has been closer to him than Arnav. But again relationships are changing! Nanav who never could tell anything to anyone told NK yesterday that Khushi was angry with him! Arnav told NK that he was the one to live his life with Khushi so he wanted to do something for her birthday, yet we see him taking NK's help to prepare for Khushi's birthday! Arnav, who used to feel jealous of NK when he was paying so much attention, today feels secure that NK would not poach on his feelings for his wife! NK has stood by Khushi during Arnav's kidnapping and had actively helped her, so Arnav is now bonding better with him; he feels gratitude and a great love for his cousin brother!
TO BE CONTINUED.....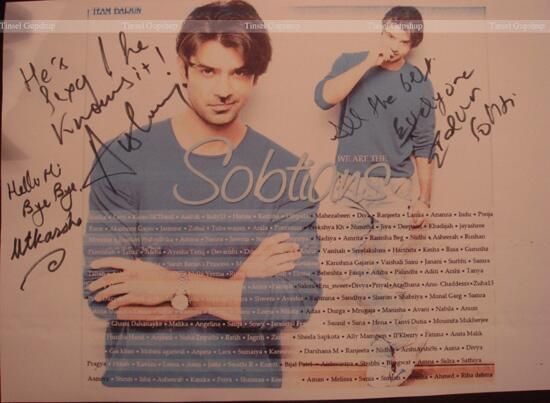 Jul 16
changing relationships -PART 3 (By Samona) (Thanked: 16 times)
changing relationships -PART 3
We see Akash getting angry on Payal for preparing some food for Khushi! He is actively encouraged by his mother, Mamiji, who had never wanted Payal as a bahu! Akash is more concerned about Anjali, he obviously feels that Anjali should be looked after more than Khushi! He fails to realize that Anjali has everyone in the house to take care of her, but Khushi only has Payal, in the true sense of the word to take care of her! Akash's changed behavior towards Payal will soon be noted by Arnav and Khushi which will rise to tensions between the two Raizada brothers! Again the relationship is changing but in this case, it is not going to get better!
Take Arnav and Akash:
Akash who was a shadow of his elder cousin, Arnav, is now coming out of it! Akash never questioned his brother about anything all his life, but for the first time, he hesitated when Arnav asked him to call the security to throw out Shyam! He is not completely convinced of Khushi's innocence or of Shyam's duplicity due to the lack of evidence. It is seen in the way he has been referring to his brother's wife in the past two episodes, by referring to her as Khushi instead of KHUSHIJI! He is not overtly opposing his brother yet, but the undercurrents of rebellion is seen when he talks to Payal about Khushi! He does not like the attention being paid by Payal to Khushi and some day matters are going to reach a head when Arnav realizes that Akash does not care for Khushi and her feelings anymore! HOW WILL AKASH FEEL WHEN THE TRUTH COMES OUT? HOW WILL HE FEEL WHEN HE COMES TO KNOW THAT KHUSHI HAD SACRIFICED OR BARGAINED SIX MONTHS OF HER LIFE SO THAT HE COULD MARRY PAYAL??
Take Akash and Payal:
Akash and Payal are going through the roughest patch of their marriage! Payal has been trying desperately to adjust to the moneyed status of the Raizadas and trying to cope with the mother-in-law who is hell-bent on ruining her son's life! In her quest to keep Akash's attention on herself, Payal had not only forgotten about Khushi and her well-being, but she has lost Akash's love! Akash is being instigated by his mother although subtly, Mamiji is doing exactly what Bubbly had done earlier! Their equation has now changed because it became a case of GHAR KI MURGHI DAAL BARABAR! Akash has changed from a gentle soul into a harsh, unforgiving man who is the direct anti-thesis of what he was when he met Payal! That marriage is heading for the rocks!
Khushi leaves her home carrying the new bag gifted to her by Arnav but bought by Aman from the shop. As her usual practice, she packs it with tomatoes, spinach and comes home to the amazement of Arnav who opens the door! Arnav is stunned to see the condition of the designer bag which cost him Rs.2 lakhs, he has assumed that all girls were like Lavanya who could be pleased with a similar designer bag, but his Khushi is a girl who is happy with a bag costing only Rs, 200. He does not understand yet that Khushi is a girl with simple tastes, she does not care for his moneyed status, and she is more a girl who appreciates feelings and emotions. Naniji welcomes her with the pooja thali and performs an aarti to wish her on her birthday with Payal, NK and Mamiji standing behind her! arnav is very happy to see his Naniji welcome Khushi on her big day! Seeing Arnav so happy, Mamiji does not dare to protest! Khushi is happy and distributes laddoos to all. Naniji tells Arnav pointedly to wish Khushi while walking away, the others too take the clue and walk away, it is obvious that Naniji has told everyone that Arnav is unable to articulate his feelings so easily! Mamiji does not participate in wishing Khushi, some day, Arnav will have a heart-to-heart talk with her!
Take Arnav and Mamiji:
Mamiji has been the surrogate mother for Arnav in his growing years! Anjali took to pooja in a bid to overcome the trauma of their parents' loss. Naniji lost her daughter and hence took to teeratyatras and the like, Mamaji was always under the rule of Mamiji, so Mamiji influenced Arnav's thinking from a young age! We see that Mamiji having come from a poor background has always used money to fit into the society! She has always maintained that PAISA BOLTA HAI! This is exactly how Arnav has got his values, he too had thought that MONEY TALKS! IN EVERY SITUATION, IT IS MONEY WHICH BRINGS POWER! It is only now after meeting simple Khushi that he has realized that all do not follow Money as their God! Arnav is changing in respect of the value of money but Mamiji still believes that the poor should be kept apart! This changed scenario will soon make Arnav go against his Mamiji who loves him like a mother, but if she continues to ill treat Khushi, someday Arnav will put a stop to it! That day is not far!
TO BE CONTINUED.........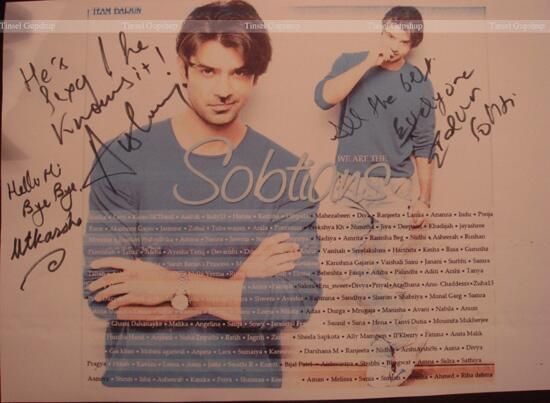 Jul 16
CHANGING RELATIONSHIPS -FINAL PART (By Samona) (Thanked: 12 times)
CHANGING RELATIONSHIPS -FINAL PART
Take Mamiji and Khushi:
Mamiji has not liked Khushi from the first day when Khushi committed the biggest mistake of her life! Khushi thought that Mamiji was the servant of the Raizada House when she had first entered carrying Buaji's Chikankari saris!! And Mamiji has not forgotten it nor forgiven Khushi for that blunder! Khushi is still paying the price for it! Mamiji cut a part of the saris brought by Khushi and renamed her as Phati Sari! Since then, Mamiji has been the most vocal opposition in that house and when Payal also entered their lives, Mamiji decided to WELCOME THEM TO HELL! When Arnav was kidnapped, Mamiji and Khushi joined hands to search for him. At that time, Mamiji saw Khushi's love and concern for him, she started to melt! But again, Khushi committed another serious blunder! She sidelined Mamiji from the investigation after Mamiji sprained her ankle, she took only NK's help, and this angered Mamiji! Khushi should have involved Mamiji in everything from the checking of the blood stain to the entrapment of Shyam; Mamiji loved Arnav as her own son! This mistake has now compounded to such an extent that the dislike has now turned to hatred! Their relationship formed and changed to this ugly level due to Khushi's mistakes! Don't blame Mamiji for Khushi's blunders!
Arnav does not allow Khushi to enter the room, it is obvious to us that he is planning something inside for her birthday,
but our desi girl does not understand! She grumbles at him and goes away to the kitchen to clean her DO LAKH KA BAG! She is grumbling that her DO SAU KA BAG was better than this one! NK comes out of the room and asks Arnav if he had ordered for the thing which he wanted to order and at that moment the door bell rang! Three people in the house heard the bell, Arnav rushes down the stairs in a bid to reach the door; Khushi looks up from her clean –up job and starts to move, while it is Anjali who wins the race to the door! Why was Anjali loitering near the door? Was she not supposed to be resting in her room?
A bouquet of red roses and Anjali lights up! The card says AAP KE CHHERE PAR MUSKURAHAT DEKHNA CHHATE HAI!! The crying princess thinks her wicked prince has sent it! But our Greek God looks at the bouquet and knows that he had sent it! How does he grab it out of his Di's hand and hand it over to his Desi Princess? His Queen of Hearts too reaches the outskirts of the living room and sees Anjali smiling away! If only Anjali knew! And understood! Then she would have pulled out all those petals from the blooms! When Arnav tells his sister that it was ordered by him, she assumes that her dear brother has ordered the red roses for her and hugs him with love and gratitude! Khushi sees her hugging Arnav and is happy to see that the rift between the brother and sister was reducing!
MY FRIEND, BABYFACE, ASKED ME A PERTINENT QUESTION DURING OUR DISCUSSION ON THE ME, SHE ASKED ME WHY DID ARNAV WRITE AAP IN THE NOTE SINCE HE HAD BEEN CALLING KHUSHI AS TUM?? BLUNDER BY THE CVs?? APPEARS TO BE SO! SHYAM USED TO CALL ANJALI AS AAP BUT THOSE FLOWERS WERE ORDERED BY ARNAV FOR KHUSHI SO IT IS OBVIOUSLY A BLOOPER! THANKS, BABYFACE FOR POINTING IT OUT TO ME, I HAD NOT NOTICED!
Take Arnav and Anjali:
Anjali and Arnav share a mother-son bonding more than a sister-brother bonding! Anjali has always relied on his strength; she has always been able to understand him without him saying a word! She has raised him after their parents' death; she has herself been broken after her wedding fiasco! Arnav has always kept her in the centre of his universe, everything and everyone else revolved around her! But again relationships are changing! From the center of Arnav's universe, now Anjali is coming out to the periphery, it is now Khushi who is in the center of Arnav's existence, Khushi who holds Arnav's life in her hand! Now Anjali has become his responsibility, which he will always take care of, Anjali has to realize that her brother has to have a life of his own! Anjali has understood that Khushi is Arnav's love, she had been the one who has always pushed them closer, although it appears now that they are being pushed apart by Anjali herself, she will bring them closer again once she is out of her own troubles!
Do you remember the scene when Arnav shouted at La for wearing a Khushi-styled dress? He was trying desparetely to forget Khushi and not to feel any emotion for Khushi and when La came wearing it, he was seething with anger! After Khushi admonished him and he hurt her in return, he could not bear to see Khushi's tears! He goes up to Lavanya and says sorry to her, La hugs him and behind her back, Arnav tells sorry to Khushi too! Although La was hugging him, he was not hugging her back, his focus was on Khushi, he knew he had hurt Khushi and wanted to apologize to her! A similar scene was seen in the Maha Episode when Anjali hugged Arnav for those flowers! She asked him how he knew that she loved red roses! But Arnav who was being hugged by his Di looked at Khushi and said that he knew who loved red roses, a clear indication to Khushi that he knew that she was the one who loved red roses, and he had ordered those roses for her!
Take Anjali and Khushi:
Anjali has always liked Khushi, she had been instrumental in bringing Khushi back to RM, and thus indirectly into Arnav's life! She has always loved Khushi and both have shared a wonderful rapport! It was this love which prevented Khushi from revealing the truth of the cheating husband to Anjali! Khushi assumed that the matter would resolve itself on its own; she had assumed that Skunky would stop lusting after her, but she was wrong! The situation could have been handled better if she had confided in Arnav or Anjali or at least her would-be brother-in-law, Akash! Sweeping dust under the carpet has never anyone, one day all the dust would naturally blow out and that is what happened! From a beautiful relationship, it is now in a state of damage! Anjali has to come to terms with the fact that her husband had fallen for the charms of this petite girl that he was lusting after her, that he had tried to kill her brother and also has to accept the fact that he had married her for her money! Once she is able to accept these facts, she will be able to see Khushi's innocence, at the moment; she can see Khushi as her home breaker! It will take a lot of time for her wounds to heal!
Take Mamiji and Buaji:
Mamiji has always ill-treated Buaji's bhatijis, Buaji has been unaware of it all! The day Buaji comes to hear of all this, will be the day Mamiji will have her ears blown off! Till now, Mamiji is holding the upper hand by virtue of being the Damaadji's mother, the day Buaji realizes that all her nieces' sacrifices have been in vain, the bomb is going to explode and then there will be HELL TO PAY! I am waiting for that day!
POOR ARNAV: COULD NOT SAY HAPPY BIRTHDAY NO MATTER HOW MUCH HE TRIED!
Arnav has never wished HAPPY BIRTHDAY to anyone in his life! This is a fact known to the entire family! He has not been able to celebrate life's fun moments, in his rush to grow up, in his bid to secure a good financial position for his family in society. He has been single minded in his climb to the top, so he had erased all emotions and feelings, left them to lesser mortals and ruthlessly risen to the top! The RMians had never questioned his authority, if he said NO, it remained a NO for all time! Into this autocrat's life, entered a bubbly, effervescent girl who had frivolity as her middle name! She enjoyed life to the hilt, taking the day as if it was her last! She made him stop and think, stop to look at her, stop to listen to her voice, and stop to wonder at her, her beauty, her simplicity, her righteousness, her madness, her very existence! He learnt many things from her, he learnt how to apologise, he learnt how to listen to other's feelings, he learnt to unbend a little from his rigid stance, he learnt to joke and laugh, he learnt to cry in front of her, he learnt to live! BUT THERE IS STILL ONE THING LEFT TO LEARN, AND THAT IS TO WISH SOMEONE A HAPPY BIRTHDAY!
He had been trying to wish her since all day, starting with GH, when he started with HA…..HA….HAP.. and continued to say Happy Singh was asking for her! Again when the spoon fell, he started with HA…HA.. HAA.. And Khushi purposely told Buaji to give a full poori instead of a HALF poori!
I do hope he manages to wish her HAPPY BIRTHDAY before they go to sleep, else Khushi will never forgive him, even if he celebrates her birthday in royal style! THE RICH LITTLE BOY HAS FALLEN IN LOVE WITH A POOR LITTLE GIRL, WHO MAKES HIM DANCE TO HER TUNES! AND HE IS HAPPILY DANCING TOO!
AKASH WAS A GENTLE SOUL WHEN PAYAL FELL IN LOVE BUT KHUSHI FELL IN LOVE WITH ARNAV WHO HAS ALWAYS BEEN A FORMIDABLE MAN! AKASH HAS CHANGED FOR THE WORSE, AND THUS PAYAL WILL FEEL CHEATED! AKASH BETTER APOLOGISE FOR ALL THE RUDENESS AND HARSH BEHAVIOR HE IS SHOWING HIS WIFE! AND SHE SHOULD DEFINITELY NOT ACCEPT HIS APOLOGY UNLESS IT IS ACCOMPANIED BY HIS MOTHER'S APOLOGY TOO!
ARNAV HAS NOT CHANGED OR IN FACT IS NOW CHANGING FOR THE BETTER, KHUSHI KNEW VERY WELL WITH WHOM SHE WAS FALLING IN LOVE WITH, AND SHE HAD THE CHOICE TO NOT FALL IN LOVE! ARNAV FORCED HER TO MARRY, NOT TO FALL IN LOVE, THAT DECISION LAY SOLELY WITH KHUSHI, THIS IS THE REASON WHY KHUSHI FORGIVES ARNAV SO EASILY FOR ALL HIS MISTAKES, SHE KNEW WHAT SHE WAS GETTING INTO!
BUT THAT DOES NOT MEAN ASR/ARNAV SINGH RAIZADA NEED NOT APOLOGISE, HE MUST APOLOGISE BECAUSE HE IS A GENTLEMAN, HE HAS HURT HER AND HE WILL ALWAYS LOVE HER! IT WILL ALWAYS BE A CAT AND MOUSE GAME WITH THEM, A TOM AND JERRY GAME, WHERE ONE WILL TRY TO DOMINATE THE OTHER AT TIMES, BUT FINALLY THEY WILL WALK HAND IN HAND THROUGH THE JOURNEY CALLED LIFE!
I have not written on the changing relationship between Arnav and Khushi because this story is about them, it merits an entire view, not just a paragraph! If this is liked, do let me know if you want me to write about them (IN YOUR COMMENTS)!
THANK YOU FOR READING MY VIEW!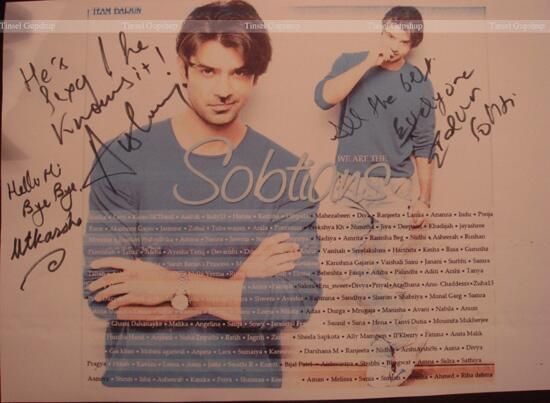 Jul 17
Thank You as a Reply! (By Samona) (Thanked: 6 times)
THANK YOU TO ALL MY FRIENDS AND READERS WHO HAVE GIVEN ME SUCH WONDERFUL COMMENTS FOR THIS VIEW!! I AM DELIGHTED TO GIVE THESE SCENES AS A RETURN THANK YOU PRESENT BACK TO YOU AS MY REPLY TO EACH ONE OF YOU!
Ankkg, Dhalia, Sreddy, NK4arhi, Kabi, Meetu, gk, Ramya, Diehard_Rom, sunita, bogdan&lili, shruti, ss, Mysindhu, Athena, Jusliketat, Jazmyn_gill, Babyface, Ana, Meri, Jb, DV, Tanu_rshi, Pepper, Sandyy, Dhara, Proy, muskaan, crystal, DK, Ipkkndfan19, Aanchal, munni, Arushi, Cherryblossom, MAYA, Rashdah, FAIRY and all the other silent readers!
Some Amazing Scenes from the Maha Episode:
1) Loved the look of amazement on Buaji's face when she realized that the Damaadji had not brought any gift! Loved the way she started berating for his mistake, and his mother-in-law, Garima tried to cool down Buaji's temper!
2) Loved the look of remorse on Arnav's face when Buaji ne daant piladi for having not known it was his wife's birthday! Loved the way she looked at him, naraaz and sad! It made him feel guiltier!
3) Loved the way he stood for the aarti without a murmur. Loved the way they kept glancing at each other without letting the other know! A cat and mouse game!
4) Loved the spontaneous way in which he took Buaiji's blessings along with her! Loved the way the CVs have let us know that Babuji will play a role in the revelation of truth soon!
5) Loved to see Buaji intimidate the mighty ASR with a spoon held like a ruler, scared him into eating breakfast!
6) Loved the abrupt way she said Dhanyavaad before he could complete his HA…….. HA…!
7) Loved the exasperated shake of his head when he looked into the broken mirror and said ARNAV SINGH RAIZADA! It was like telling himself that he was useless!
8) Loved the smile on his face when he saw Buaji taking out her nazar and Khushi pleading with her to stop or else she would faint, the chirpiness makes Arnav smile, he has seen that smile after many days! Loved that soft rabba ve for him and then the gasp when her bag broke due to the weight of the laddoos!
9) Loved the way Buaji was amazed at the fact that Arnav had never wished any one Happy Birthday all his life! Loved to see the business tycoon reduced to a small boy pleading for understanding and forgiveness from his Buaji!
10) Loved the way he grabbed that thali of pooris, after Buaji had evaded his hand earlier! Loved the way he filled a glass with water for himself only to find Buaji flicking it from under his nose!
11) Loved the way he pulled out a chair for himself but found Buaji nudging him away! Loved the way he gave up and sat next to her! Loved the confident way in which he told Buaji that he would manao Khushi any ways!
12) Loved to see Buaji taking revenge on Arnav, and he very manfully polishing off those puris with a protest! Loved to see both father-in-law and son-in-law licking their fingers in appreciation of the food at the same time! Loved to see Babuji indicate towards Arnav with his eyes, and Khushi looks at him!
13) Loved to see the way he knocked that spoon off the table and then both knocked their heads against each other! Poor guy, even after holding her hand, he cannot get his HA… out of his mouth! Got a full poori instead!
14) Loved the way he started saying NAHIN, DIMAAG! When asked by Garima if his car needed repairs!
15) Loved to see the way he tried again to say Ha……., she raised her eyebrows a millimeter high but no sound escaped his mouth!
16) Loved the way he tapped her shoulder from behind, and then waited for his turn! Loved the way he took her to a corner to yell at her, not in front of Buaji!
17) Loved to see the way she cut him down to size for the handbag! He was stunned by her playing Twenty Questions
with him, all his answers were NO!
18) Loved, loved, loved the scene when he asks her "KHUSHI, TUM WAPAS TOH AAOGI NA? I MEAN, GHAR!" THIS SCENE WAS THE BEST SCENE OF THE EPISODE! IT SHOWED HOW VULNERABLE HE WAS; IT SHOWED THAT HE WAS WORRIED ABOUT LEAVING HER IN GH, WHAT IF SHE NEVER RETURNS TO RM? NEVER RETURNS TO HIS LIFE?
19) Loved the way NK harasses Arnav about celebrating Khushi's birthday! Loved the way Arnav confessed to NK that Khushi was very angry with him! Loved the way Arnav refuses to get Salman Khan for Khushi's birthday surprise! Does not want any competition for her attention!
20) Loved the way Arnav went into a flashback of the Diwali fairy lights when he removed those fairy lights from her body!! Brought a smile on his face! He also remembered the way she had switched on the lights to wish Happy New Year to her sister and found him in front of her instead!
21) Loved the way he said "Khushi ke saath poori zindagi maine bithani hai ya tumne? Main manage kar loonga!!" Said this with the trademark ASR smirk!
22) Loved the way she filled her designer bag with greens and reds! Loved to see him getting angry but keeping a smile on his face! Does not want to yell at her anymore!
23) Loved the sight of Arnav holding the vegetables in his hand so that his pyaari patni would give laddoos to the others!
24) Loved the way Naniji signaled to the others that Chhotte and his wife were to be left alone!
25) Loved to see Khushi eating laddoo in her anger against LAAD GOVERNOR!
26) LOVED the way he stopped her from going by holding her hand, listened to her outburst and finally murmured a SORRY! Poor guy is really trying his hardest not to irritate her!
27) Loved the way he ran towards the stairs in his hurry to get to the door!
28) Loved the smile on her face when she saw Di hugging her brother holding her flowers!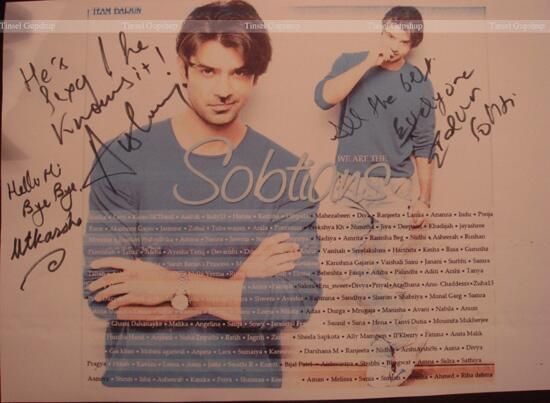 Disclaimer: The views expressed above are member's views and myeDuniya does not comply with it. The views expressed may not be factually correct. Incase of any issue please contact us/report it to us.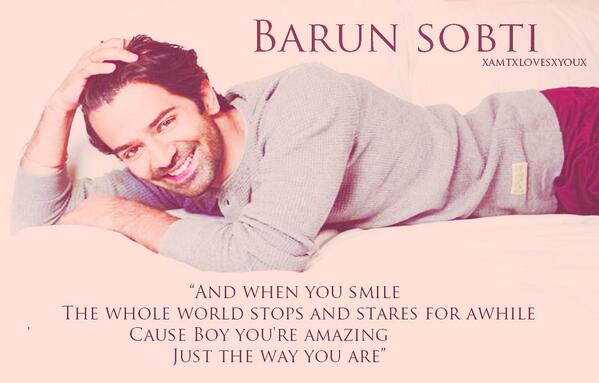 Missing Arnav Singh Raizada!!!!!!!!!!!