ARNAV GOES DOWN MEMORY LANE!
Jul 19
ARNAV GOES DOWN MEMORY LANE! (By Samona) (Thanked: 2 times)
THE 300TH EPISODE BROUGHT SOME SMILES, SOME LAUGHTER, SOME TEARS, SOME ANGER, SOME ATTITUDE, SOME INTERFERENCE AND SOME QUESTIONS FROM ALL THE CHARACTERS OF IPKKND!
SCENE ONE: ARNAV AND KHUSHI:
Arnav had checked on the internet, rung up and placed an order with a website for a sari for Khushi! He had never done so for anyone on any occasion! He had a staff that took care of all the social niceties related to business, he has done everything for her himself, this time purely to show Khushi how much he loved her and how much her words regarding the bag had affected him! Oh, the look of love in his face when she started opening his gift! The soft and gentle smile playing around his lips would have melted any one's heart but Khushi was not looking neither was she interested! Arnav was happy at that moment, then he showed shock when she returned it to him! He was speechless for a moment and asked her Why? When she did not answer him, his anger flared up and he told her that it was for her and she could not reject it! He was totally in his ASR mode when he suddenly recalls that NK had told him to talk sweetly using words like Baby and Sweetheart, he obviously is not NK for such talk but softens his tone and tells her that he wanted to see her in that sari! He gets upset because she does not look at him while he was talking to her; he never liked it with anyone! He asks her why she did not smile to which she answers very curtly that he could buy her a sari but could not buy a smile for her! He is stunned to hear this, he gets annoyed that after all the trouble he had gone through for it, she did not bother to look at him properly!
SCENE TWO: ARNAV AND NK:
NK is in his room when Arnav comes barging in his temper and tells him that it was his entire fault! His temper is soaring sky high when NK tells him to cool down! Arnav warns him that if NK told him to breathe in and out again, then he would make him stop breathing! Oh, it was hilarious to see Arnav and NK together! Saans ko maro goli, tum apne kaan se ruaan nikalna band kar do! Ruaan, nahi dhuaan! In spite of the anger, Arnav corrects NK just like Khushi had corrected NK while she had fainted! Arnav tells NK that he had been trying since morning but to no avail! He tells him that it was due to NK that Khushi did not eat the specially made aloo at breakfast! He then tells NK about the online gift, NK wants to know if the sari was worn, Arnav glares at him and NK corrects himself that he did not mean whether Nanav had worn it, he meant if Khushi had worn it, Arnav tells him irritatedly that no one had worn it! When NK tells him that he had another idea, Arnav walks away that he would manage!
We see the strong bonding which is developing between the two cousins. Arnav keeps telling NK that he did not want to use any of his ideas but finally uses them. NK had suggested cake, lights etc for a party and Arnav tried it! NK suggested sweet talk and gifts, so Arnav tired it! NK suggested food and Arnav tried it! Arnav is now opening up in front of NK and telling him all that is in his heart! He was upset that Khushi did not eat anything at breakfast and told it to NK! A man who would not confess to anything, even to himself is now disclosing matters which is affecting him to NK! NK has turned out to be a friend to both Khushi and Arnav! What a marked contrast between Mamiji and NK and between NK and Akash! Akash, the brother Arnav grew up with, is remarkably distant from Arnav now!
SCENE THREE: KHUSHI AND DM:
Khushi has her heart to heart talk with her best friend, Devi Maiyya while folding the new sari which she had ignored earlier! She tells DM that she could not be happy and accept those gifts because Anjali Di was unhappy with her, Mamiji was naraaz with her and there was trouble in Payash Land too! She is upset and cannot smile and be happy for that reason! She tells DM that she is not angry with Arnavji! But then she thinks for a while and tells DM that it was so easy for Arnavji to forget everything that he had said about Shyamji falling for her and it being her mistake! She wanted to leave home, but again Arnavji did not let her leave! She goes on to say that some things cannot change, but some things can be changed! She meant that ASR would not change, but she could try to change the situation between Akash and Payal!
TO BE CONTINUED..........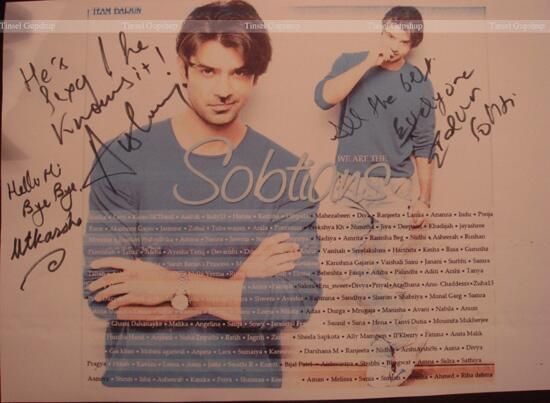 Jul 20
ARNAV GOES DOWN MEMORY LANE! PART 2 (By Samona) (Thanked: 3 times)
Khushi, you said that you could not be happy and accept gifts while Anjali and the family were unhappy, but a short while ago you had accepted Payal's gift very playfully and with a smile on your face! You also accepted NK's gift happily! It was only Arnav's gifts which you did not accept, only Arnav's love which you did not see! Not fair, Khushi Kumari Gupta Singh Raizada! You said that you were not angry with Arnav but in the same breath, you said that you could not forget what he said! You are a very confused person, make up your mind, you are angry with him and so you are not accepting his gifts, not because Anjali, Mamiji or Payal are sad! You said that some things can be changed; I guess that you will now interfere in Payash Land!
SCENE FOUR: KHUSHI AND AKASH:
Akash walks in from office and sits down on the sofa, he calls out for Payal automatically, then stops and calls out to HP for water. Khushi who is now in her social worker mode once again, gives him water and sits down to a cosy chat with her brother-in-law! Did not Khushi see the way her jeejaji looked at her, like he was not happy to see her? The jovial jeejaji has been replaced by a sulky one long back! Khushi asks him about his work, to which he does not reply! She forges ahead with her talk and tells him that since he had been working too hard, he should now take a holiday and go for a honeymoon which had earlier been postponed!
Khushi, sometime ago, you were telling DM that Anjali was unhappy and so you could not be happy! That was why you did not want gifts, you are now advising Akash who is Anjali's brother to go on a holiday when his sister is suffering! How could you ask her brother to forget the problems being faced by his family, that too on the basis of your unproved allegations against Shyam, his jeejaji?? Why did you not talk to Payal, your jiji, before talking to Akash? Earlier, you had got them together, agreed, but now that they are married, they will not accept any interference from you, especially after all that happened! Khushi, you never learn, do you? KHUSHI RUSHES WHERE ANGELS FEAR TO TREAD!
SCENE FIVE: AKASH AND PAYAL:
Akash did not expect to get a lecture from his sister-in-law about the way to conduct his marriage, he gets angry on Payal! He assumes that Payal had told Khushi about her marital problems and Khushi had rushed in to solve their problems! He knew that Payal has always depended on Khushi and so it was a natural progression of thoughts in his mind! He tells Payal that their problems would not vanish with one holiday; it is now obvious that the rift has widened! First his mother, now her sister! One has interfered with the intention to separate, the other has interfered with the intention to join, but outside interference in a marriage generally ruins it!
Akash was deeply hurt by the fact that Payal had hidden such an important fact of Shyam being engaged to Khushi even after so many months of marriage! He has a guilty feeling of not having been able to help his sister in such a time! He had told Payal that if he had known earlier, then things would not have turned out this way! Both have made mistakes, and now Akash has lost his trust in Payal, Khushi's interference has compounded the matters!
SCENE SIX: PAYAL AND KHUSHI:
Khushi thinks that all the issues between Payal and Akash will now be solved, but she has aggravated the situation. Payal comes to tell her that it was a matter between husband and wife, she should no longer interfere between them! Payal tells Khushi that she was tired to convincing everyone in the family that she was not only Khushi's sister but also Payal, a separate individual! She has been trying her best to fit into the household with an disapproving mother-in-law and angry husband, now she cannot take it anymore! This marriage might break up before Khushi's six month contract is over!
SCENE SEVEN: NANI AND ANJALI:
Nani removes all the knots from Anjali's hair, when Anjali talks about the knots in her life! naniji turns the talk to her own pregnancy! Anjali wants a son who would be the image of Shyam! She cries on Naniji's shoulder, now she has come out of the trauma and is thinking about the allegations! She breaks down and tells Naniji that Shyam was not like the way he has been portrayed, but then Chhotte too would not do something like this unless there was some truth! She wants to know the truth, she is crying out for the truth! Naniji panicked on seeing her cry, and instead of giving the TRUTH MEDICINE, gives her a sleeping pill!
Anjali has only seen the loving and caring nature of Shyam, in the event of no proof, she would not be able to accept that he was evil! It is but natural for any wife to believe her husband when there was no solid evidence to the contrary! Arnav trusted Khushi, similarly Anjali trusted her husband, Shyam! There had been no explanations from Arnav either, Anjali would still believe that Shyam was innocent! Naniji lost an opportunity to tell the events to Anjali, or she could have called Arnav to do the explanation to Anjali!
FINAL PART COMING UP SHORTLY!
TO BE CONTINUED...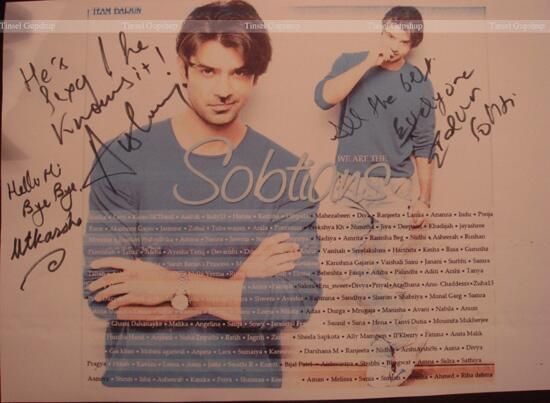 Jul 20
ARNAV GOES DOWN MEMORY LANE! FINAL PART! (By Samona) (Thanked: 3 times)
SCENE EIGHT: ARNAV AND KHUSHI AGAIN:
Arnav decides to go to the office and work, he was not able to do anything about Khushi in any case! There was a time when ASR would not come home from work, work was his priority but now Khushi has become his priority, he is going to office as a last resort! Ha Ha Ha! How the mighty have fallen! And fallen deeply in love!
Khushi is still thinking of Payal and her words, when both come face to face with each other and then turn their faces away like little kids who had fought with each other! They turn to go and dash against NK and Payal respectively NK ticks Arnav off for dashing against him but then realizes that Arnav was looking at his lovely wife, mistake toh banta hai na boss? LOVE IS TRULY BLIND! ROFL!
Arnav returns back to his room, all thoughts of work and office flying out of his brain again! ROFL!
Payal ticks off Khushi for not looking where she was going! Remember Anjali once ticking off Khushi for not looking where she was going? KHUSHI AGAIN THINKS THAT SHE HAS TO DO SOMETHING! Matters are going to worsen now!
SCENE EIGHT: ARNAV AND NK AGAIN:
THIS WAS THE BEST SCENE OF THE EPISODE WHICH SHOWCASED THE TREMENDOUS TALENT OF BOTH BARUN AND KARAN! THE NATURAL BANTER BETWEEN THEM, THEIR BROMANCE AND THE WAY NK HAS BONDED WITH NANAV WAS BROUGHT OUT VERY BEAUTIFULLY! THE SILLY MISTAKES IN HINDI, THE UPLIFTED EYEBROW, AND THE SMILE ON BARUN'S FACE WHEN HE GOT LOST IN HIS MEMORIES MAKES THIS SCENE WORTH SEEING!
Nk tells that Pyaar kiya nahi jaata , bas KHO jaata hai! Arnav glances at him and wonders if he should even bother to correct him! NK tells him further that he can get ghumsan (GUSSA) that is really mad, but Nanav has stopped correcting him! Sometimes I wonder, if NK does it on purpose, just to bring about that vital communication and fun element to the somber Raizadians!
NK tells Arnav that Love could not be helped! Arnav confesses that Khushi spoilt his mood earlier throughout the day and now NK too was not leaving him alone! NK tells Arnav that he loved Khushi , that was why her actions were affecting him! he tells him that the mighty Arnav Singh, nay, the mighty Nanav Singh Raizada has been defeated by a girl!
He gives the idea of recreating his past romantic moments to Arnav and tells him to think back on their first meeting and tell him how their romantic journey began! NK is in for a major shock!
Arnav remembers their first meeting at Sheesh Mahal! He remembers the way she had fallen into his arms! He remembers that moment when he had looked into her eyes and seen her quivering lips! He had fallen for her but had started fighting his attraction for her with aggression, by breaking her pearl dori! There is a fond look on his face when he realizes that it was his first meeting with his would-be wife, his love!
NK wants to know the whole story and Arnav starts telling him in short, brief one-liner headlines with a fond look on his face, he is remembering those moments but does not actually know the havoc created by those very moments!
He tells NK that she had spoiled a major event, and he had taken her to having being sent by a rival. In return, he had locked her up in a room in Sheesh Mahal for a night! He confessed to NK that it was due to him that Payal's marriage was cancelled!
He tells NK that the news channels were told by him to flash the footage of Khushi in his arms, and made her life so difficult!
He tells NK that she had worked for him in his office, and was about to fall from his first floor office when he caught her arm and saved her, but after a heated argument, he let her go and she fell down! He does not tell NK that he had seen that there were many cartons below which would cushion her fall, or else he would never have let her fall! He had told this to Lavanya later when La had protested that it was not right to have let Chamkili fall down!
He continues to tell NK about the parking lot incident when he had made her stand in the rain doing her duty! He did not tell NK that he had saved her from the onrushing car because he had also been standing in the rain watching over her, and had rushed to grab her away from certain death! He had unknowingly fallen in love!
He also tells NK about the guesthouse incident when he had sent her to a crumbling place! He does not mention that he had then rushed to save her after hearing that she was not yet home! That was the first time he had accepted the fact that Khushi had meant something to him! He had unknowingly fallen in love!
He talks about himself in a sarcastic way, NK wanted to know about how they fell in love but Arnav realizes that they had fallen in love in spite of all these horrifying moments!
NK stands up horrified to hear all this, and tells him that you are ASR, so these things have happened due to you, but sweet Khushi must have created some romantic moments for both of you!
Arnav raises his eyebrow and starts with Khushi's moments! Arnav then tells NK that she started calling him Laad Governor! He feels very happy saying this, for him it is as close to DARLING as Khushi can get!
He tells NK that she threw a cup of hot tea on him, he has an amused look on his face, but does not add that he had burnt his skin very badly!
He smiles while telling NK that she had threatened him with a knife and he had held it very close to his neck!
He smiles again when telling NK that he had lost his voice when she had lit a mosquito coil!
He is amused and smiles again when recounting the time when she had starved him until he had fainted! He does not tell NK how dangerous that day was for him since he was a diabetic!
NK does not want to listen anymore, he wanted romantic moments, he got to hear horror and thriller stories! He wonders how they could have fallen in love with these incidents! We wonder too!
The lopsided smile of Arnav stops our hearts
when he realizes that pagalpan and madness was an intrinsic part of Khushi and his life! These moments were actually romantic moments for Arnav who suddenly realizes that he could recreate some of those mad moments in an attempt to bring back that sweet smile on Khushi's face, the smile that he now craves for!
The day he realizes that these memories had destroyed Khushi's life and altered it for all time, he will cry tears of blood; it will be the worst day of his life! he will hurt himself in a bid to do penance, in a bid to repent and will move heaven and earth to bring peace, solace and happiness to his beloved!
PRECAP:
ASR IN THE WARDROBE AND ALL THE ISS LADIES IN THIS FORUM WANTING HIM IN THEIR WARDROBES TOO!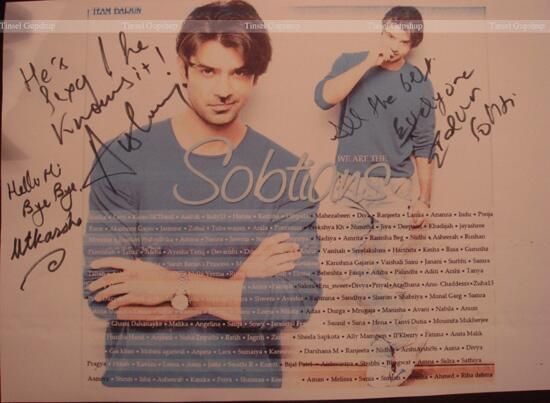 Jul 20
Thank you once again! (By Samona) (Thanked: 1 times)
Thank You,
Meri, Diehard_Rom, Kabi, Ti, Jb, ss, naj,Cherryblossom, bogdan&lili and vimmiya for those wonderful comments! IPK is turning out great with the Midas Touch!
A fantastic episode was shown today, it made everyone go insane with drooling! Watching it again, to savor the hotness of ASR and Arnav!! Wow, tomorrow's episode will be more exciting!
Thank You,
My Silent Readers, hope you don't stay silent forever! Please do comment,I love to read them!
Love You All!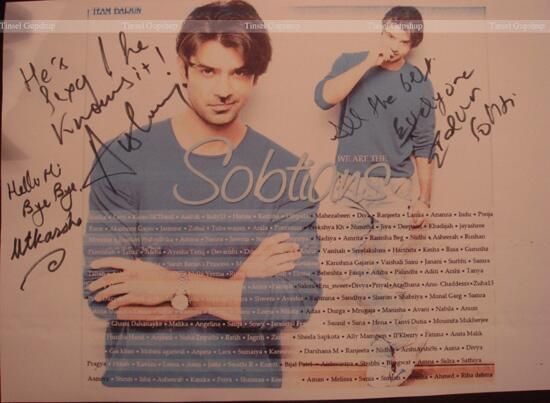 Disclaimer: The views expressed above are member's views and myeDuniya does not comply with it. The views expressed may not be factually correct. Incase of any issue please contact us/report it to us.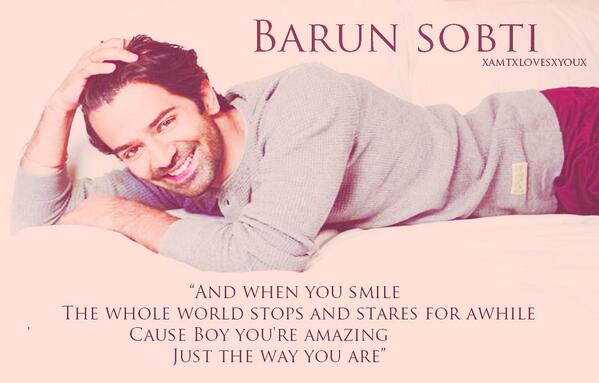 Missing Arnav Singh Raizada!!!!!!!!!!!