DEAL OR CHALLENGE? ARNAV VERSUS KHUSHI!!
Jul 20
DEAL OR CHALLENGE? ARNAV VERSUS KHUSHI!! (By Samona) (Thanked: 9 times)
NAUGHTY, FLIRTY, ARROGANT ASR IS BACK!!! AND THE FANDOM HAS EITHER GONE DROOLY OR CRAZY OR DIED AND GONE TO HEAVEN, THE REST WILL FOLLOW THEM AFTER TODAY'S EPISODE! ASR HAS CHALLENGED TO MAKE KHUSHI ADMIT THAT HE WAS HER HUSBAND; HE HAS ALREADY ACCEPTED THAT SHE WAS HIS LEGALLY WEDDED WIFE, THE WAR HAS BEGUN! The charm of the old pre-Diwali IPKNND episodes was back and I hope is here to stay!
PAYAL AND KHUSHI FACE-OFF:
Khushi's line of KUCH NA KUCH TOH KARNA PADEGA was seen in action when she knocks on the door! Akash is surprised to see her, he is still in his jeejaji mode and calls her Khushi, it is high time, he takes his own advice to Payal that this is her sasural and she is first and foremost a bahu, by that standards, Khushi too is a bahu and thus his elder brother's wife, his Bhabhi! He is just the devar and so should be calling her Khushiji or Bhabhi, not plain Khushi!
Khushi begins by apologizing to Akash for her earlier words and goes on to tell him the reason for Payal's silence regarding Shyam. She wants to explain that both the sisters were ready to spill the beans when their mother had stopped them. Payal sees her standing at her door and gets angry. She pulls Khushi out of her room and berates her for interfering once again! She tells her that she would handle it all by herself! Akash sees their exchange and does not like Payal yelling at Khushi!
NANIJI DOES HER DUTY:
Mamiji and Naniji reach there and as usual Mamiji blames the Gupta sisters for the mess in their home! She now openly blames Phati Sari for the problems in Anjali bitiya's life but now Naniji can take it no more! She tells Mamiji that it was easy to point fingers at others, but the bahus had done their duty to their sasural by keeping quiet! They did not want the family to fall apart and so had not revealed the truth. She categorically said that Khushi was definitely not at fault, the fault was in Damaadji! Her emphatic words cause Akash to take note; he realizes that his Dadiji knew some part of the truth! Mamiji does not argue further and goes away!
By standing up for her grand daughters-in-law, Naniji has redeemed herself for not having spoken earlier during the Shyam rant! Khushi is further saddened by the fact that she was easily blamed for Anjali's misery, but till the solid evidence is presented to the whole family she cannot expect anything more! Two members of the family, Arnav and Naniji, are accepting her version as the truth without any evidence, it shows the trust they have in her!
SCENE IN KHUSHI'S ROOM:
Khushi is drinking tea at the dining table when she sees Anjali coming in and she goes to her room. This hide and seek being played cannot go on for long, there has to be an end to it! She keeps her half filled cup on the table and opens her wardrobe and jumps back in shock!
Oh, the sight of Arnav sitting inside her wardrobe made me rush to my own wardrobe in the hope of seeing him there too!
The sweet mischievous glint in his eye and the slightly raised eyebrows made us smile
and made Khushi's lips twitch into a smile as she remembered her own stint inside the wardrobe! The look of shock on ASR's face on that occasion can never be forgotten, the way Khushi covered her face with her hands and then slowly uncovered one eye and peeped at him, her sudden widening of her eye with the eyebrow shooting up, BRILLIANT ACTING, SANAYA! Was a sight to be seen! Similarly, Arnav too recreated the past just like his Love Guru, NK had told him to do! Khushi realized what he was trying to do, and controlled her smile, she turned into stone again! Arnav jumped down in one fluent motion and stood in front of her! He tells her that he was trying to remind her of their past moments when they were together and asks her if she remembered something! Khushi tells him that she does not remember anything!
IT WAS NOW A MATTER OF CHALLENGE FOR HIM TO MAKE HER REMEMBER SOMETHING FROM THE PAST! AND SO THE GAME BEGINS!!!
TO BE CONTINUED........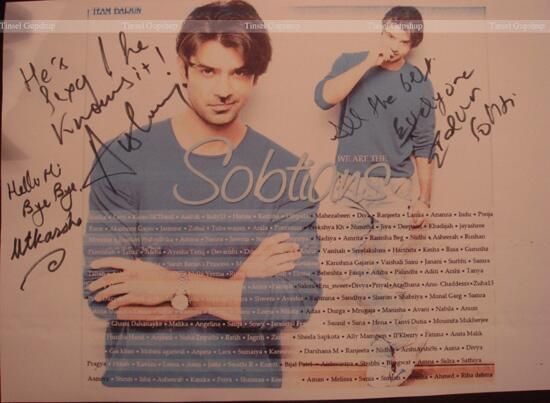 Jul 20
DEAL OR CHALLENGE? PART 2: ALMOST KISSED! (By Samona) (Thanked: 6 times)
DEAL OR CHALLENGE? PART 2: ALMOST KISSED!
You don't remember anything, right? You don't remember that you had also hidden yourself inside my wardrobe? I remember the day very clearly even now! I had arranged for the celebrations for my sister's wedding anniversary party! I was very busy, taking care of all the arrangements when for a moment I felt the gust of fresh, fragrant air that always made me aware of your presence! I felt that you had entered my home again! But I knew for a fact, that you had gone to Lucknow, how could you be here in my home then? I dismissed your thoughts as my dream, as my craving for you, as my addiction to your presence!! I had been trying to forget you but you still invaded my thoughts all the time! Never, never in my life, have I faced such a temptation like you, you exasperated me but also fascinated me!
Then HP or OP, I don't remember, spilt coffee on me and I opened my wardrobe to take fresh clothes! I was stunned to see you sitting there, like a gift to be opened, my gift again from the Heavens!
You covered your face with your hands and then peeped at me from one eye, oh, I loved you for it!
At that moment, all my fascination for you came to the fore, when you tried to run, I ran after you, but could only touch your dupatta! You were like a drug in my blood, totally addictive!
But you don't remember?? Okay, I will try something else!!
He sees the coffee mug on the table and remembers something! Picks it up and splashes it onto her face! The shock on her face makes him smile and he asks her again, Ab? Oh, the cute eager innocent smile on his face when he asked Ab? Made me rewind it again and again to see it!
Oh, you are so shocked and angry!! You have started spluttering and coughing, have I hurt you again? I am so sorry, I truly am!
Do you remember, Khushi when you threw the cup of hot tea on my face and neck? I was just standing there angry with you after our argument when you turned to go! I had seen your dupatta caught in the cactus, but you thought I had held it! You just turned around and threw that hot tea!! Now do you remember when I threw my cup of cold coffee onto you? But now I can see your anger glinting in your eyes and you are turning to go?????????
He holds her hand and roars AGAIN? DON'T WALK AWAY WHEN I AM TALKING TO YOU!!! ASR COMES ROARING BACK INTO FORM WHEN suddenly he remembers his Guruji's words, CALM DOWN! Lambi Saans Andar Lo, Lambi Saans Bahar Pheko! ASR turns into gentle Arnav and he softly tells her that he was talking to her, why was she going then? The lioness roars back that she was going anyways, what can Mr. Arnav Singh Raizada do? Oh ho, you are living dangerously, Khushi Kumari Gupta Singh Raizada! You are openly challenging him to do something? Are you waiting for the thrill of being hauled into his arms? Were you too missing it desperately like he does?
He pulls her back by holding her hand and twisting it behind her back in his ASR style, pulling her against him and not letting her move! He reminds her that she knew what he could do, she is reminded of her pearl dori being broken on Sheesh Mahal night, and she looks at his lips, the same way that he had looked at her lips when she had first fallen into his arms! He can see that she had remembered that night and his passion flares up! He moves her open hair from her neck, she is worried when he does that, and he touches her bare neck at the dori line, to remind her and to tease her! He was the tough, ruthless ASR then, he had wanted to frighten her then, but now he is the lethal, adoring ASR who wants to tease her, and ignite the same passion in her as it was raging in his body!
She manages to push him away, he is still lost in the passion, and we can see it in his eyes, BARUN, YOU ROCK!
She throws the cup of cold tea from the table in an effort to cool him down, in her anger, she wants the tea to act as a COLD SHOWER? He is stunned to get her tea in his face just like she was stunned to get his coffee in her face! He is very angry and WHAT THE! comes out again, we have missed it indeed! ASR comes back to the attack and pulls her towards him with his hand in her hair and brings her very close to his body! Just one hand to keep her close!!!!! The signature tune of ASR and Rabba VE makes us go weak in the knees as fandom waits with bated breath!
He is very angry and breathing heavily while she is seething in anger! The anger changes into passion within a second and he continues to hold her while she looks at his lips and understands his move! She tells him that he was doing badtameezi and he gives back his standard reply that he had not yet started his badtameezi! She tells him that he could not do such a thing, whereas he asks her why not? He could because she was his WIFE! MY LEGALLY WEDDED WIFE! How sweet those words sounded! He informs her that he could do this and much more! She is still caught in his half embrace but tells him that he had married her by force and that she did not consider him as her husband!
He smiles his lethal smile and tells her huskily, he is already affected by her proximity, that it was time to be corrected, THEEK HAI! TOH AB MANVALETE HAIN!!! His eyes glazes over with passion and he starts concentrating on her lips! She looks into his eyes and realizes his intentions! Unwillingly at first, but later with a growing awareness, she too looks at his lips and eyes alternatively as he gets closer to his target! The tension mounts in them as he slowly bends towards her lips with a soft and teasing look on his face, intent on completing what had been left half done eons ago during Diwali! She closes her eyes and her lips as she waits for the passion to explode! Both are lost in a world of their own, completely unaware of the open door, Fandom has forgotten to breathe and was waiting for the lips to connect and finally give them a high, a feeling of great anticipation permeating in the atmosphere! Their noses touch and just then!!!!!KNOCK! KNOCK!
OMG! FANDOM GETS MAD, IS IT ANJALI AGAIN?? NO? OH, IT IS NANI'S MESSENGER, HP! WHY DID THE HEAVENS NOT SEND LIGHTNING TO STRIKE DOWN HP IMMEDIATELY!! Now we will have to wait again for a lifetime!
Oh, but wait! The drama is not over! HP knocks at the door and Arnav looks up at him. He is still holding Khushi in his tight embrace, his hands in her hair! She tries to free herself, he holds her tighter! HP tells Arnav that Naniji was calling them, he does not feel embarrassed, is he dumb or what? Or has he suddenly gone blind? Arnav tells him that they would follow shortly and HP goes away! Khushi pushes Arnav away from her and looks at him angrily. Or was that frustration? She walks away and Arnav looks after with so much of adoration in his eyes that I have melted down! He too follows her to meet Naniji!
Oh, how mad she makes me! Trying to walk away when I am talking to her! And challenging me to show what I can do? I tug her into my arms and hold her tightly against myself! I can feel her, my passion soars high; her lips look so adorable, pink and tempting to me! She does not consider me as her husband? I must make her think of me then! I look at her angry eyes, they incite me more, I look at her lips and I know that she is feeling the tension in me! I get closer and closer, I can feel her eyes and lips closing of their own accord, I cannot see anything other than her delectable lips, Oh to get closer to Heaven! Damn HP, for knocking at this time! No, I am not letting you go, let HP see us! Okay, tell Naniji we are coming! Damn, she looks so good when angry! One day, I will make you mine!
TO BE CONTINUED...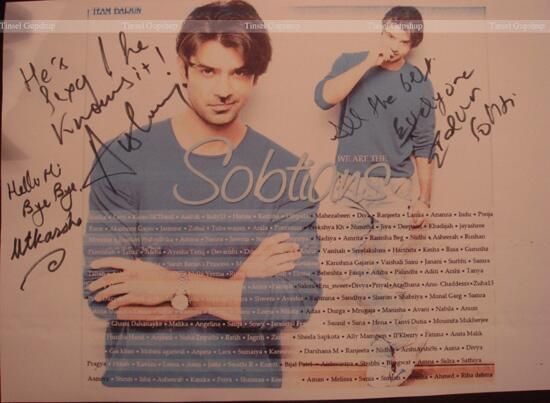 Jul 21
DEAL OR CHALLENGE? PART3: FINAL PART (By Samona) (Thanked: 10 times)
DEAL OR CHALLENGE? PART3: FINAL PART
ADORABLE RAIZADA NANIJI TEASES THEM:
Naniji looks at them and then does a double-take to see Arnav and Khushi, both dripping wet, their hair shows tea and coffee baths respectively! She asks Khushi what was on her face, and Khushi starts telling her that the coffee…..and Arnav interrupts saying that Khushi spilt the coffee, complaining just like a little kid! Khushi turns to him and says it was you! She then tells Naniji that she fell on the coffee, No the coffee fell on her, but the tea………………….. Now Naniji interrupts and tells them in a hurry that Chhote fell on the tea, No the tea fell on Chhotte!
Both look at each other embarrassingly and Naniji laughs! She asks them whether it meant that both of them had drunk the tea and coffee.
Naniji, please clarify, since you are aware of their antics in the bedroom, what did you want to know? Whether they had drunk tea and coffee from their cups or from each other's lips?
Arnav sees Khushi touch her arm, he sees his finger marks on her skin, red marks which make him feel very upset. She winces slightly in pain, covering them with her other hand; Naniji does not notice but Arnav feels her pain and is very upset by it! Naniji tells them that they were ready to go to the satsang, Arnav informs Naniji that Akash had told him and that they were going to get ready and come down. Naniji was surprised to hear that Chhote was ready to go to the satsang, he tells yes to which Naniji tells him that Anjali wanted to visit another temple on their way back. Chotte agrees to do whatever Di wanted, Khushi tells Naniji that she would remain at home. Naniji understands the reason,
Arnav is disappointed that Khushi was not going, he did not know that before he had agreed to go for the satsang!
Satsang ladies beware, the Greek God is planning to come, please pay attention to your prayers!
Naniji calls out to HP to keep the things ready and goes away!
Our adorable fighting couple look at each other and Khushi turns to go when Arnav holds her hand again! Khushi asks him what he was doing when he asks her if she was hurt in a very husky and worried voice, LAGI TUMHE? the voice gives me goose bumps every time! She tells him that she was used to getting hurt due to him and he is very upset to hear this! She pauses for a moment and issues her next challenge, she tells him that she still did not consider him her husband!
It is indeed a Tom and Jerry chase for them, their life has always been this way, chasing and teasing each other, inciting each other and they do get a thrill out of it! She goes and of course he has to follow, how could he not, after those inciting words?
She goes up the stairs, he rushes up from the side and halts her in her tracks, with his hand kept on one side of her. Both of them look around to see if anyone was watching them, it was hilarious to see that they did not want any witnesses to their nok-jhok! But hey, we, the Fandom are watching!
Arnav whispers near her ear "MANOGI! TUM MUHJE APNA HUSBAND MANOGI!" UFF, HIS GRAVELLY VOICE FLUTTERS MY HEART!
KHUSHI, HOW CAN YOU BE SO IMMUNE?
KHUSHI glares and tells him "NAHI MANEGEY!"
He goes forward and she steps backwards again!
Arnav tells her "MAIN MANVAUNGA TUMHE! His words are accompanied by a smile, indescribable in words!
Khushi glares back and tells him "AAJ KAL AAP BAHUT SAPNE DEKHNE LAGE HAI! Oh yes, he is indeed dreaming a lot about you!
She turns to go up but he keeps his hand on the wall beside her, she turns to go down and he keeps his other hand on the wall next to her on the other side, effectively locking her within his arms! Uff! The age old tactic again!
Arnav whispers again "DAUDTI HUYI MERI BAAHON MEIN AAOGI, KHUSHI KUMARI GUPTA SINGH RAIZADA!" Yes, you are going to come to my arms!
Khushi asks him "HUM? AUR AAP KI BAAHON MEIN?" WHEN ARNAV NODS WITH A SMILE, SHE MUTTERS "JIS DIN AISE HUA, US DIN HUM AAPKO APNA PATI MANEGEY!"
OH, HE WAS WAITING FOR IT! "DEAL?" AND SHE NODS "SAUDA" "LEKIN ISS JANAM MEIN POORA NAHI HOGA!"
HE FOLDS HIS HANDS AND SMIRKS "DEKHTA HAIN!" SHE GETS ANGRY AND ASKS HIM" JAB KUCH HOGA HI NAHI TOH AAP KYA DEKHENGEY?"
HE smiles adoringly and she runs upstairs, halting for a moment to turn and look at him, he looks up to her with a smirk on his face, very like the one he had when she had looked upto him after he had kissed her at the poolside! That challenging smirk will create trouble for Khushi, he will win at all costs! Nk comes there, he had been watching it all and delivers his gem of a dialogue "ISS WAR KO KYA NAAM DOON!" NK sees Arnav looking after Khushi with an adoring look on his face! BARUN, YOU HAVE A FANTASTIC RIGHT PROFILE!!
Anjali is getting ready when Arnav comes to her room and checks on her. He asks her if she had taken her medicines on time. He also informs her that he had told HP to pack some juices for her. He wants to know if she would be in a position to travel so much and to visit another temple on the way back as Naniji had told him. Anjali assures him that she was fine, and asks him if he would accompany them. Chhotte nods yes and asks her if she had kept any stupid fast this time to which Di says no. At that moment Arnav receives a phone call from Aman informing him that a meeting had been fixed at Agra urgently and he was required there. Arnav gets angry on Aman, since he had informed Aman earlier that he was going out with his family. He asks Aman to cancel the meeting but Anjali forces him to go. She tells him that she was happy that Chhote had agreed to go to the temple for her, she did not want his work to suffer due to her. She tells him to drive safely. Mamiji comes to the room and takes Anjali to the car.
Mamiji makes Anjali sit in the front seat, helps Naniji to sit in the middle seat and herself rushes in and shuts the door. She tells Payal to get in at the back, saying that she had Payalphobia, later converting to claustrophobia. Akash opens the backdoor for Payal, without saying a word, looks like he is thawing towards her. Mamiji is at her obnoxious best now; a day will arrive when she is going to admit to all her mistakes and ask for forgiveness for each one of them!
Arnav goes to room to pick up his coat and laptop bag. Khushi enters the room and starts folding her dried clothes. Arnav tells her that he was leaving for Agra, she wants to know "SO?" he tells her that everyone was going for the satsang and would return late at night, and HP was on leave, he asks her if she was going to stay alone, again she wants to know "SO?" He asks her to accompany him to Agra and she could see the Taj, she refuses saying that she had already seen it and anyways she wanted to do some cleaning! Of course, he had to ask her whether she wanted to clean her brain? APNE DIMAAG KI? in a deadpan voice and she glares at him and tells him that her dimaag would be clean the moment he left! He takes his coat and bag from the recliner from the front side, forcing her to move a bit and leaves the room. Khushi goes to shut the door saying that she did not want to admit that he was her husband, she did not want to fall into his arms and she also did not want to see the Taj Mahal, he shouts from far that he had heard everthing and she yells back that if he had heard then he better remember it!
Oh, their nok-jhok is too cute and this is what we have missed!
It is their nok-jhok and fights which make them a special couple and also make them come closer to each other! They will never be a lovey-dovey couple in life, constantly sniping at each other but also never letting each other out of their sights!
Arnav leaves for Agra in his white car, he gets a phone call while he was driving his car.
It is night and Khushi is happy to be alone without her Laad Governor ke Paagal Premi nahi (she corrects herself) Paagal Pati wali dhamki!
Suddenly she hears a loud noise and jumps up, she convinces herself that it was only the wind! There is the sound of thunder and lightning and she jumps again! She is very scared of thunder and lightning, the door opens suddenly due to the wind! Khushi starts feeling scared, when the other side of the double door too opens! She calls out for HP and Laksmiji and remembers that she was alone! She shuts the door and moves into the room when the doors open again with a bang! She panics and yells out KAUN? The thunder and lightning adds to the effect and Khushi is now in a sweat, she nears the door and peers out into the darkness. There is no one but Khushi is already feeling panicky, she shuts the door! Suddenly the lights go off in her bedroom and poolside, she is terrified now, she sees lights in the other parts of the house! She feels that the fuse of her room has blown off, she remembers teaching La to change the fuse, and that the fuse box was at the poolside! She sees a shadow on the wall and on the pool too and asks in terror Who was there! She tells herself that she should have gone to see the Taj Mahal instead of staying alone at home! She picks up a pot to try to fend off the intruder, and is now in a total panic and is ready to run into the arms of her husband if he appears at that time!
PRE-CAP:
FAINTED OUT OF FRIGHT!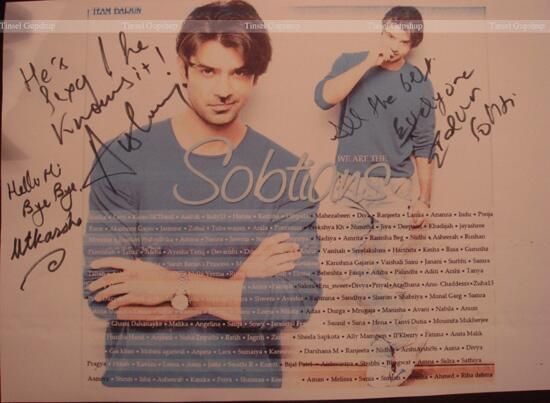 Jul 21
Replies to the comments written by you! (By Samona) (Thanked: 1 times)
REPLIES TO THE COMMENTS!
DEAR RAMYA, I HOPE YOU DID GIVE LASSIS WITH PILLS FOR THE PART WHEN THEY WERE ABOUT TO KISS, BUT SADLY ISS KISS KO KYA NAAM DOON? ALWAYS INCOMPLETE!
DEAR OCEAN, THANK YOU FOR YOUR WONDERFUL COMMENTS! YOU GIVE ME MORE CREDIT THAN I DESERVE! LOVE YOU FOR THEM AND WILL TRY TO POST IT EARLIER! DID YOU READ THE LATER POSTS TOO? I STRIVE TO PLEASE YOU!
DEAR PEPPER, THANK YOU FOR LOVING IT! YOUR WORDS ARE ENCOURAGEMENT TO ME!
DEAR KABI, LOVE YOU FOR YOUR COMMENTS, I LOOK FORWARD TO THEM!
DEAR BOGDAN&LILI, THANK YOU!
DEAR ASH, LOVE TO DO THE MONOLOGUES ACTUALLY!
DEAR MAYA, THANK YOU!
DEAR NK4ARSHI, THANK YOU AND HAPPY THAT YOU LOVED ASR'S MONOLOGUES!
DEAR DV THANK YOU VERY MUCH!
DEAR SILENT READER, THANK YOU VERY MUCH!
DEAR DD, LOVED ASR TO BITS, BLUSHING TOO!!
DEAR JB, THANK YOU!
DEAR DIEHARD _ROM, I DEFINITELY READ ALL YOUR COMMENTS, EVEN THE LAST ONE IS PRECIOUS TO ME! I AM GLAD THAT YOU TAKE THE TIME TO READ MY VIEW! THANK YOU SO MUCH!
DEAR CHERRYBLOSSOM, THANK YOU FOR YOUR KIND WORDS, WILL TRY TO POST EARLIER, BUT ALONG WITH WORK, A LITTLE DIFFICULT TO MANAGE, WILL TRY!
DEAR GK, FOR THOSE LOVELY WORDS!
DEAR CDNDOST, OH, LOVED TO KNOW THAT IT WAS SO ENJOYABLE! THANK YOU!
DEAR TSHAHEEN, THANK YOU!
DEAR SILENT, SILENT, SILENT READERS, THANK YOU, THANK YOU, THANK YOU!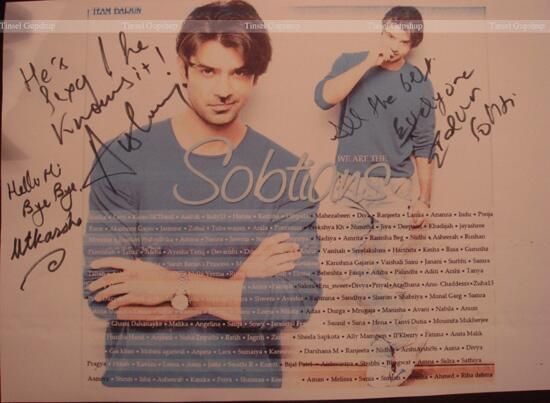 Disclaimer: The views expressed above are member's views and myeDuniya does not comply with it. The views expressed may not be factually correct. Incase of any issue please contact us/report it to us.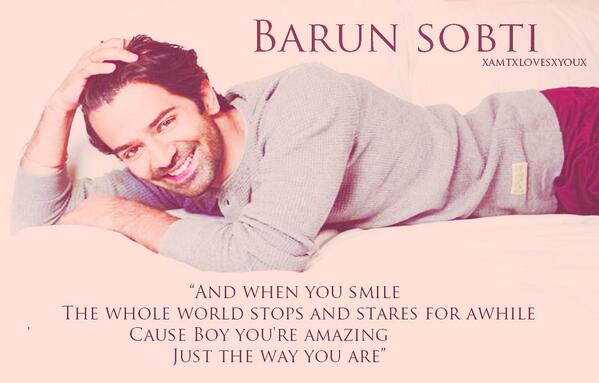 Missing Arnav Singh Raizada!!!!!!!!!!!