TUMHE GHAR LEKAR JAYENGE!!!! (I WILL TAKE YOU HOME!!)
Aug 2
TUMHE GHAR LEKAR JAYENGE!!!! (I WILL TAKE YOU HOME!!) (By Samona) (Thanked: 11 times)
WHAT AN EPISODE!
BEGAN WITH A COMIC FLAIR AND THEN WENT ON TO TUG OUR HEARTSTRINGS WITH THE GRIEF AND LONGING AS REFLECTED IN OUR LEAD PAIR'S EYES! BRILLANT ACTING ONCE AGAIN WITH A BRILLIANT EPISODE WHICH IS THE FORERUNNER TO AN EXPLOSION SOON TO COME!
Khushi realizes that Gupta House has been plagued by her personal Shaitaan who had cut off the electricity and water supply in a bid to take her back to his castle! Now her Rajkumar has given up trying to convince her to go back to Raizada Mansion with loving words and pleading eyes! Arnav has taken a backseat after trying for so long with his version of past funny and loving memories and ASR has decided to take the matters in his own capable hands! After all, he must have reasoned out that the fiery Khushi Kumari Gupta Singh Raizada would not listen to gentle words but had to be coerced into action by tough measures!
She is hopping mad at Arnav for shutting out the water and electricity supply to her home and she rings him instantly to give him a piece of her mind! She begins her tirade with her AAP KI HIMMAT KAISI HUYI AISE KARNE KI? She tells him crankily that she had not even had a cup of tea since morning! How cute she sounded when she gives a very wifely complaint to him, she is sulking! He teasingly tells her that if she had not drunk any tea then how could she give him a cup of tea? She warns him against coming to her house and is stunned to see him coming out of her house! The innocent look in Arnav's eyes and face when he tells her UH HUH! TOO LATE! Is simply outstanding!
She did not know that Arnav was already in her house, he had entered when she had gone out! He is in a flirty mood, ASR had cut off the water and electricity supply but it is Arnav who comes to meet her at her home! He is not able to sustain his tough exterior with her for long nowadays, he turns gentle very soon! He is also not able to lie to her looking in her eyes, he tends to turn around and say those tough words so as to avoid looking at the hurt he glimpses in her eyes!
She starts her tirade after a brief pause. He tells her that he had already heard her questioning his HIMMAT and wants to hear something else. He looks at her adoringly when she is fuming mad at him! THIS IS THE KHUSHI HE FELL IN LOVE WITH, THE GIRL WHO NEVER GOT SCARED OF HIM, WHO ALWAYS STOOD UP TO HIM! He makes small talk with her, asking her whether she had gone out to write her kismet, her destiny and also smiles at her when she glares at him! He then asks her how it feels without water and electricity, she is getting ready to blast him with her angry words when he asks her why she was still standing outside and not welcoming him home. What would Buaji say if she heard that the Damaadji had come and Khushi had not offered tea to him! ROFL, Arnav, you know the way Buaji would have welcomed you to her home! He then raises his eyebrow and asks her how would she cook food if there was not water till the evening? Khushi gets angry at him and goes inside saying that she would handle the matter in her own way!
The priceless smirk on Arnav's face is worth mentioning!
ARNAV'S THOUGHTS:
Where has she gone, leaving the house wide open? I want to see her reaction when she becomes aware that I had switched off the water and electricity supply to her home. I did not want to inconvenience the family but since Buaji had mentioned yesterday that they were taking Uncle to the hospital in the morning, I waited till now so that they could leave with minimum trouble! How stubborn this girl is! I want to take her home but she did not listen to my gentle words! Does she not hear the pleading in my voice, the longing in my voice? Oh, yes there she rings and I hold the phone a little distance from my ear when she shouts out AAP KI HIMMAT KAISI HUI AISE KARNE KI? I listen to her words, she does not let me speak a word other than KHUSHI…….. She sounds so cranky like a little girl when she said that she had not drunk a cup of tea since morning! How cute! I tease her by saying that how could she give me my tea if she has not drunk it herself!
I can see her twirling round in a bid to see if I was behind her, she does not want my presence and warns me but I walk out of the door and stand behind her! She is stunned to hear me say UH OH, TOO LATE! ANGRY, BLAZINGLY ANGRY AT ME, BUT STILL STUNNINGLY BEAUTIFUL!
I tease her again by smiling at her and telling her that she should use some other words to convey her anger! I want to know how she was managing without water and electricity, and why was she not welcoming me home as I was the Damaadji! What would Buaji say? I ask her how would she cook food but she glares at me and tells me that she would do something. She goes inside and I smile wonderingly at her, I know my Khushi is capable of anything!
The smirk on Arnav's face laced with humor is worth a mention here!
I follow her inside as she goes about collecting the little water in different pots and pours it into one pot. I tell her that she might get scared in the dark since I would not be there in the night holding her hand, I was so used to sleeping with the AC on, she tells me that the water was sufficient for them. She would use candles and lanterns and is not bothered by the darkness too! What do I tell her now? How do I make her understand that I need her beside me when I slept? I am not scared of the dark but I want to hold her hand and sleep! And AC , what AC? I don't switch on the AC anymore because she feels cold in the night! Yes, I tell her that she was very ziddi, very stubborn, and that she should not trouble her parents this way! That made her think a little, I tell her to come home with me, THAT IS ALL YOU HAVE TO DO!! I wait with bated breath to hear her reply! Please say yes, Khushi, please say yes, you will come home!
Anjali comes out of the doctor's cabin after thanking her and is greeted by Buaji who had come there with Khushi's parents. Anjali is surprised to see her for a moment, and asks Buaji if she was alright! Buaji tells her that she was fine and that she had come to the hospital for her brother's check-up! We see the shock on Anjali's face as she slowly realizes that Buaji was fine, she was not sick as told by Khushiji! Buaji takes Anjali to drink a cup of tea from the vending machine.
TO BE CONTINUED........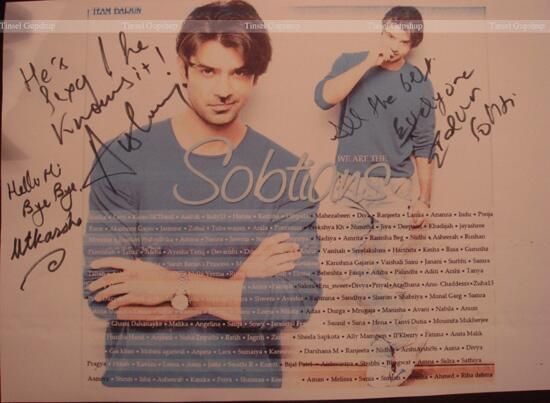 Aug 3
TUMHE GHAR LEKAR JAYENGE!!!! PART TWO (By Samona) (Thanked: 8 times)
Back at Gupta House: ARNAV CONTINUES TO THINK:
Khushi has poured all the water available in the house to a small utensil. I purposely pull the utensil and drop it on to the floor, all the water spills out. Khushi is very angry to see this, she says that she would not give up! I say I am sorry for this but she is not ready to listen and walks away! She slips on the water and is about to fall down, HEY, WATCH IT! MY HEART WAS IN MY MOUTH AS I HOLD OUT MY HANDS TO SAVE HER!
Khushi goes to the public hand pump to fill water in two steel pots; the neighbor asks her if there was no water in her home, Khushi lies that the tap was broken in her home! LIES, LIES, LIES EVERY STEP OF THE WAY, KHUSHI! SOME OF THOSE LIES ARE GOING TO BACKFIRE ON YOU SOON! She brings back the pots filled with water and sees Arnav blocking her way! She tells him to move aside and he asks her what if the door would not open? She turns to see the lock on her door, and the key hanging from Arnav's fingers! He tells her that he was the landlord and could lock her out anytime! She is angry with him again, and goes towards him, the pots tumble down spilling the water on the floor, some water splashes onto her neck, hands and clothes! He starts telling her that she can manage without water or electricity but what would she do if the door was locked. What would she do when the family came home? She is about to retort back when he is mesmerized by the water trickling down her neck!
ARNAV'S THOUGHTS:
I lock the door when she goes to fill the pots with water. I heard her lie to the neighbor that the tap was broken and so she could not fill the water in the house! She comes back and I show her the key to the door. She starts fuming at me and is about to pounce on me verbally when the pots fall down! TUMHARE IRAADE PAR TOH PAANI FIR GAYA! Hearing my comment, she turns away to wipe her hands with a towel! I go near her to ask her what she would do when the family came home! But my attention is captured by a mesmerizing sight! The sight of water trickling down her neck is too much for me! I could not control myself and I touch her neck with my finger to wipe out the water! Her pulse is beating madly against my finger! I know that she is affected by my touch, I too am affected very much! I can sense her looking at me but I am unable to look at her immediately, her skin feels like velvet to my touch! RABBA VE! RABBA VE!
YOU ALREADY KNOW WHY I AM DOING THIS! Khushi asks him why he was doing this, Arnav turns around and becomes ASR! He is unable to look into her eyes while telling her that her family would be in the streets if she continues to do this! he looks at her and tells her to go to him!
POINT TO BE NOTED IS THAT HE SAID MERE PAAS AA JAO, NOT MERE GHAR CHALO! HE WANTS HER WITH HIM; IT IS PLAIN THAT HE WANTS HER WITH HIM FOR EVER! There is a look of pleading in his eyes as he waits for her answer! KHUSHI, WHY HAVEN'T YOU SEEN THAT HE TURNS AWAY AT CERTAIN TIMES BEFORE TELLING YOU SOMETHING? YOU WERE THE ONE WHO HAD TOLD HIM THAT A PERSON WHO LIED CANNOT LOOK IN THE EYE, YOU CANNOT LIE TO OTHERS LOOKING AT THEM, THEN WHY DON'T YOU REALISE THAT ARNAV TOO IS LYING ABOUT WHAT HE WANTS TO DO TO YOUR FAMILY?
ASR tells her to get ready to vacate the house in an hour, he sees Khushi with tear filled eyes staring at the lock on the door, he looks at the lock himself and feels her pain! He is unable to look at her further and steels his heart and walks away to his car!
At the hospital, in the meantime the meeting of Buaji and Anjali has turned into a revelation for Anjali. Hearing that Buaji did not have any blood pressure problems makes Anjali feel that her Chhote and Khushiji had both lied to her! After Buaji goes away, Anjali cries thinking that her Chhotte had lied AGAIN! THAT MEANS SHE HAD NOT BELIEVED ARNAV WAS TELLING THE TRUTH EARLIER EVEN AFTER HE HAD TRIED TO CONVINCE HER! The MISUNDERSTANDING HAS NOW REACHED MAMMOTH PROPORTIONS, AND IS ON ITS WAY TO AN EXPLOSION! She tells herself that Chotte is no longer HER Chotte! She sees Naniji and Buaji talk to each other happily while she is in tears again! She will find it difficult to believe Khushi and Arnav easily because she has seen with her eyes that they have lied to her!
LIKE BROTHER, LIKE SISTER! READY TO MISUNDERSTAND! THIS IS THE WEAKNESS SHARED BY THE RAIZADA SIBLINGS INCLUDING AKASH! KHUSHI'S WEAKNESS IS THE DO-GOODER HABIT, WANTS TO SAVE THE FAMILY FROM MISERY AND SO LIES OR HIDES THE TRUTH FROM EVERYONE, NOT REALISING THAT ONE DAY IT WILL EXPLODE ON HER FACE!
Khushi comes in front of Arnav's car forcing him to halt suddenly. He gets angry on her because she would have been hurt if he had not managed to stop the car. She tells him that she was ready to go home and asks him to pick her up after two hours! The relief on his face is palpable, but he tells her that he was Arnav Singh Raizada and never wrong! Khushi, tell him that he had been wrong before when he misunderstood her with Shyam!! WHY DON'T YOU TALK WHEN NEEDED, GIRL? She turns to go and Arnav VOWS TO HIMSELF that he would bring her back to his life before the contract was over! She turns away from him and VOWS TO HERSELF that she would never go back to him till the contract was over!! AGAIN, LIED TO HIM, KHUSHI? LIED TO HIM THAT YOU WOULD GO BACK TO RM? WHEN WILL YOU LEARN THAT SUCH LIES CAN BE CAUGHT VERY SOON?
TO BE CONTINUED.....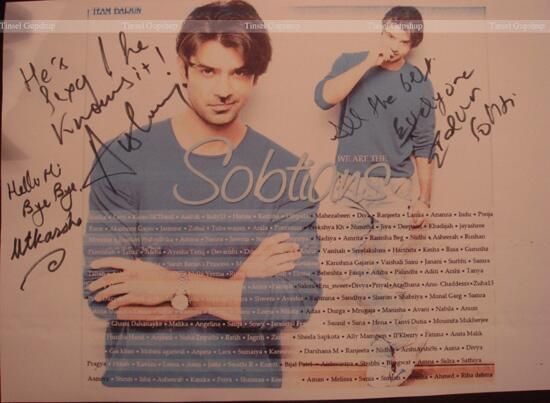 Aug 3
PART THREE (By Samona) (Thanked: 12 times)
Arnav reaches GH after two hours and rings the bell. FINALLY I WILL TAKE KHUSHI HOME WITH ME! The look of utter satisfaction and contentment is seen in his eyes and face! It changes into consternation as he waits before ringing the second bell. He checks through the windows and then rings the house phone. Khushi who is sleeping soundly does not hear the phone ring! Arnav rings her mobile and Khushi picks up the phone! He is worried and asks about everyone and herself. She tells him truthfully that Amma, Babuji and Buaji had gone to the hospital followed by a LIE that she too had gone with them to the hospital! He is upset and tells her that she had asked him to come and pick her up after two hours! But she tells him that she had to go to the hospital with her family. He disconnects and Khushi heaves a sigh of relief only to see him standing in front of her! He has learnt to sieve out the truth from the lies, Khushi Kumari Gupta Singh Raizada, he knows now that you might be telling lies to evade him! But now he is very angry, irate ASR comes to the fore as he walks to her bedside and asks her HOW DARED SHE LIE TO HIM AGAIN? He pulls her by the hand to make her get off the bed and Khushi utters another LIE! She tells him that she could not go with him!
He pulls the blanket off her and sees her foot in a cast! His anger is replaced immediately by CONCERN AND WORRY as he sits next to her and cups her face with his hands and asks her what had happened and what did the doctor say? She tells him that she had slipped and hurt her foot, she could not keep her foot on the floor out of pain. She wants him to go home and HE REALISES THAT SHE WAS NOT LOOKING AT HIM WHILE TELLING HER TALE! HE HAS LEARNT HIS LESSON WELL, KHUSHI, HE HAS LISTENED TO YOU CAREFULLY THAT TIME AFTER THE SETHI BROTHERS INCIDENT WHEN YOU HAD TOLD HIM THAT LIARS NEVER LOOKED IN YOUR EYES, ONLY THE TRUTHFUL COULD SAY UNBLINKINGLY! THERE YOU ARE CAUGHT AGAIN, IN YOUR TANGLED WEB OF LIES! HE MAY NOT HAVE APPRECIATED YOU AT THAT TIME OR SAID A THANK YOU OR SORRY, BUT HE HAS TAKEN YOUR WORDS AS THE GOSPEL TRUTH FOR HIM!
He tells her to look at him and she refuses again TELLING HIM THAT SHE HAD TO REST AND COULD NOT KEEPING TURNING TO LOOK AT HIM! He gets off her bed and purposely hits his leg against the door and moans in pain! That very instant, Khushi jumps off the bed and rushes to him and asks him whether he was hurt! In her panic, she does not realize what she had done! ARNAV HAD PROVED HER LIE! He looks at her and asks her about her injured foot, she turns and starts limping again! She tells him that she was hurt but now he has had enough! He picks her up his arms and tells her that he was taking her home! He was carrying her, if need he would pull her home too! His temper is on the boil now as he asks her if her naatak was over! She tries to lie again saying that she had indeed hurt her leg and the doctor had told her to rest her foot for atleast …………TEN DAYS! HE COMPLETES HER SENTENCE! He lets her down and she knows that her TIME FOR LYING WAS OVER!
The most POIGNANT SCENE is seen now with some brilliant acting by Barun and Sanaya, with Barun a little ahead in the emotional scenes, edging her slightly!
He asks her if the problem was for only TEN DAYS! She is unable to meet his eyes and looks away, he cups her chin and brings it back to face him, saying KHUSHI, YOU CAN'T LIE TO ME! She starts to stammer a reply when he asks her softly that she was doing it due to the contract! He tells her that she wanted to stay in GH for the remaining ten days so that she could get free from their marriage…….he is unable to complete the sentence! The grief and pain is very evident in his voice, in his tone, in his eyes! Khushi cannot bear to look at him, she can see his pain too! He asks her if she would allow this to happen, if she would allow their marriage to end this way? She tells him that it was not a marriage, it was simply a DHOKHA, it was a contract, she had to fulfill the terms for six months and she had done so! he listens to her stunned, there is a silence in his heart! She tells him that it would be over in ten days, conditions over, deal over and everything too would be OVER! HE AGAIN COMPLETES HER SENTENCE! Her eyes fill with tears as he asks her ITNA EASY HAI TUMHARE LIYE? There is a world of pain in his words but she tells him that these words did not mean anything to her anymore! She tells him KOI MATLAB NAHI and he repeats her words KOI MATLAB NAHI with a wealth of pain coursing through them!
She sits on the bed and removes the cast and tells him that he knew the reason for doing this! she is not ready to talk anything but now Arnav tells her that it was time to finish everything now, it was just a matter of time to wait for Buaji, Uncle and Aunty to reach home and time to tell the truth! He tells he that they could explain to them that it was a contract marriage for six months and they could become the witnesses for the divorce too! Khushi does not want this to happen, and tells him that he could not do this to them! He asks her what was going to be her excuse, ANOTHER LIE LIKE THE LIES SHE HAD BEEN TELLING HIM AND HIS FAMILY TO COME TO HER HOME! AND TELLS HER THAT FOR A CHANGE, AB SACH BOLTE HAIN! TIME TO TELL THE TRUTH! She tells him that they would not be able to bear it, but he tells her that it was time for the truth, and not to play games anymore! She asks him what he wanted and he tells her the same thing what he had wanted all along, GHAR CHALO! MERE SAATH! She puts the condition that after ten days, when the sauda was over, he interrupts to say that he did not care what happened after ten days, FARAK NAHI PADTA! He tells her that there was no one at home at that time and tells her that he would come the next morning to take her home!
ARNAV'S THOUGHTS:
I knew she was lying again when she said that she had gone to the hospital with her family. She forgot that I had already been inside the house earlier in the day and discovered that they were not at home! I entered the house and there she is sitting on the bed! She is shocked to see me and I am very angry with her, HOW DARE SHE LIE TO ME AGAIN! I pull her arms and she tells me that she could not go, I pull off her blanket and see the cast on her foot! WHAT HAPPENED TO HER LEG? MY POOR BABY, HURT SO BADLY, AND I AM HURTING HER AGAIN! I sit on the bed and cup her face, asking her what happened and what did the doctor say? I am going to talk to the doctor myself and ask him how serious was her injury. She must be in unbearable pain and still controlling it, not showing it to me! But wait a minute, she is not looking at me, not meeting my eye! I tell her to look at me, and she refused saying it hurt her to turn her face too? OKAY, LIES AGAIN AND NOW I WILL PROVE IT TO YOU!
I get up and bang my leg on the door, it hurts and I groan, she is off the bed in an instant and I look at her! She feels my pain and panics but does not understand that her lying hurts me too! I pick her up in my arms, I am ready to drag her home but then she tells me that the doctor has told her to take off the plaster only after TEN DAYS? I let her down and ask her if it was a problem of ten days only. I hurts me to talk about the contract, she is not looking at me now. I tell her that I know she is doing this due to the contract, she wanted to stay there for the remaining ten days, away from me, till the marriage was……….! I cannot continue, there is lump of pain in my throat, I gulp my fear! I cup her chin and make her face me and tell her that KHUSHI, YOU CAN NOT LIE TO ME! She does not want to talk about it, she takes off the cast too! KHUSHI,WOULD YOU ALLOW THIS TO HAPPEN, TO ALLOW OUR MARRIAGE TO END JUST LIKE THAT? She tells me that it was not a marriage, just a contract, it pains me to my heart to hear her words! She tells me that she had fulfilled all the conditions set by me and it was time for it to be over! She tells me that the sauda would be over and everything else would also be OVER? Is it so easy for you, Khushi? Can you not hear the tears in my voice, Khushi? She said KOI MATLAB NAHI, did it really not matter to you , Khushi? KOI MATLAB NAHI? The pain in my heart spills over to my voice, to my eyes, as I cannot see her through the wetness in my eyes!
I tell her that it was time to tell the truth and we would wait for her family to come home. What was going to be your excuse, another lie like the ones you had told me and my family before coming here? We will get the divorce witnesses in the house itself! I knew that she could not bear to hurt her family, I am unable to bear the hurt to her too, but I push her more, I want her to say she will come home to me! she finally agrees and I tell her I would go and take her home the next morning! FINALLY, TUMHE GHAR LEKAR JAYENGE! I WILL TAKE YOU HOME!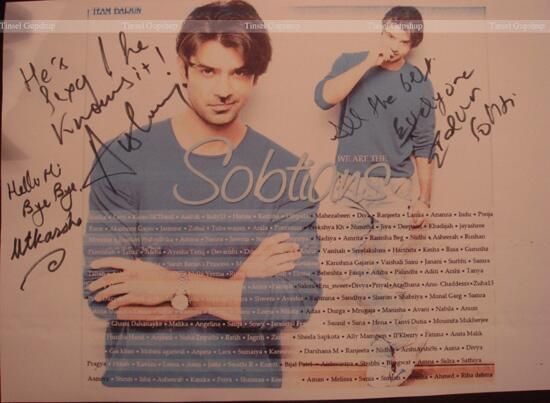 Aug 3
I WOULD LIKE TO THANK YOU! (By Samona) (Thanked: 4 times)
MY HEARTFELT THANKS TO MY READERS FOR APPRECIATING AND ENCOURAGING ME IN MY WRITINGS! IT IS INDEED SATISFYING TO READ THESE COMMENTS, THEY MOTIVATE ME MORE!
THANK YOU!
ss- updated the post but could not leave Anjali, she is the enigma of the story!
Arushi- glad you love it!
FAIRY- indeed it is addictive to write and read!
MAYA- glad you find it awesome!
Ocean- it does feel like I do share a telepathy with Arnav!
Rashdah- nice to see you here!
Sandyy- yeah, ASR's thoughts do kill, along with his appearance!
gk- hope you are fine now, and hope you have read the remaining parts of the view!
Jb- glad you like it!
RAmya- that has been one of the most fantastic compliments I have ever received here in this forum! I would love to be ASR's voice over if the PH will listen to your request!
Glad that you liked the view so much!
Arushi- Sorry, will not torture you so much, will try to post earlier!
Pepper- yeah, I know you like me to write Khushi first person too, but I love Arnav a bit too much!
Gianni- began writing for the first time in this forum, never wrote anything other than school and college essays before! But now I have discovered that readers LIKE YOU AND ALL HERE like my writings and so I am encouraged to write more! your query of why have I not written on the cabin scene in the forest was because I was not convinced that ASR would endanger his lady love's life and romance her when goons with guns were after their lives! It was simply unconvincing and I could not write on it!
Tshaheen- will try to post earlier so that you dont have to wait so long!
Kasturi- glad to know that my view moved you to tears, it is a great compliment to me!
Anna- glad you liked it.
Diehard_Rom- happy that you loved it! Hooked to the serial like crazy, aren't we?
Ana- really happy that you loved it!
Sreddy- Happy to allow you to sneak peek into Arnav's brains along with me! LOL!
SILENT READERS OF THE FORUM- DO LEAVE COMMENTS SOMETIMES, IT DOES ENCOURAGE ME!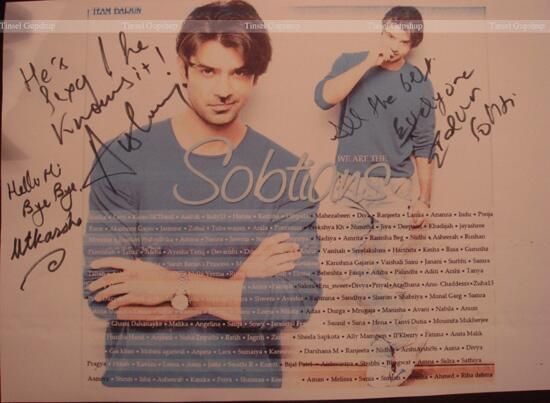 Disclaimer: The views expressed above are member's views and myeDuniya does not comply with it. The views expressed may not be factually correct. Incase of any issue please contact us/report it to us.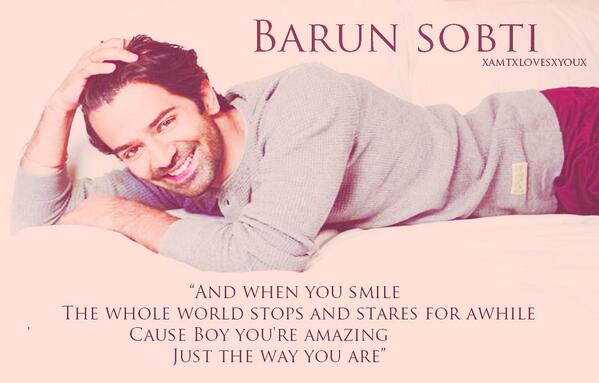 Missing Arnav Singh Raizada!!!!!!!!!!!