PYAAR AUR RAKSHA KA DOR!!(THREAD OF LOVE AND PROTECTION!)
Aug 3
PYAAR AUR RAKSHA KA DOR!!(THREAD OF LOVE AND PROTECTION!) (By Samona) (Thanked: 10 times)
AN EPISODE FILLED WITH SISTERLY LOVE AND AFFECTION, RENEWAL OF BROTHERLY PROTECTION, AND ALSO A CIRCLE OF TOGETHERNESS WITH THE FAMILY MARKED THE OCCASION OF RAKSHABANDHAN, A FESTIVAL CELEBRATED IN INDIA WITH GREAT JOY! THE HOTNESS QUOTIENT INCREASED THE GLOBAL WARMING METER TO UNEXPECTED LEVELS AGAIN AS THE EYE CANDY DRESSED TO KILL AND SUCCEEDED IN KILLING THE FANDOM, WHO DROOLED ALL THE WAY TO HEAVEN!
Akash bitwa returned to his mother's aanchal and was greeted with a hug and welcome smiles from the family. But it appeared that the ABSENCE HAD NOT MADE THE HEART GROW FONDER as he had a smile for his mother and Naniji but not for his wife, Payal! Payal offers to take his bag inside but Akash prevents her saying that he could manage it himself! This distance is noted by Mamiji who is satisfied with the rift developing between her son and daughter-in-law which does not augur well for the future!
Payal, all this has happened due to your newly acquired habit of speaking in half sentences or just saying one word and pausing there for a long time! If you had said that there was no one at home to take care of Anjali Di, Akash would have hugged you and gone to Mumbai, and came back and hugged you first! But you began your sentence with Khushi and took a deep breath, waiting for Akash to understand the unspoken sentence, how do you expect him to know the reason for not going with him? He wanted to make up for the harsh words uttered by him and take you to Mumbai, but you lost the opportunity! Anyways, better luck next time and of course, better sentences next time too!
The family barring Anjali gathers in the hall when NK discusses about the coming Rakhi festival. He talks about missing Nanav, when Arnav and Khushi enter the house. NK is thrilled to see Nanav, MERE BHAI and Khushiji!
We see a contrast in the greetings between the two brothers and two sisters! Arnav and Akash who have never been demonstrative, hug each other but Khushi and Payal who have always been demonstrative in their love, do not hug each other! It is an indication of the emotional distance that has developed between the two sisters, adversity has separated the two sisters, and the anger shown by Payal before Khushi left for her home makes a hug impossible!
Mamiji starts her attack of words telling Khushi that she was not expected to be back so soon, Arnav is uncomfortable on hearing his aunt pass snide comments to his wife, he glances at her sideways to look at her reaction, very soon Arnav needs to restrain his Mamiji from hurting Khushi with her poisonous barbs! Mamiji then switches her attention to Payal, her daughter-in-law, once again calling her Khoon Bhari Taang, wish someone would shut her up! She tells Payal to go to GH but Khushi tells her that there was no need since Buaji was fine now. Arnav looks at Khushi, he is not happy to hide the truth from his family about Buaji's illness! BIG TROUBLE BREWING THERE, ARNAV, WHEN YOUR DI WILL BRING UP THE ISSUE IN FRONT OF MAMIJI AND NANIJI!
Payal wants to know about the health of Buaji and Khushi assures her, while Naniji tells Payal that she had met Buaji the previous day in the hospital!
Point to be noted is that Mamiji has refrained from calling Khushi as Phati Sari this time and spoken to her without any form of address, it is possible she had noted that Arnav had given her killer looks last time when the family barged in unannounced on his privacy! Again, the communication between the members of the Raizada family is distinctly nil, we realize this when Naniji informs Payal about meeting Buaji the PREVIOUS DAY! Why was Payal not told about the meeting? Also, Payal has not bothered to ring up her home or go to her home to enquire about her Buaji, Amma and Babuji's health!
Great injustice is being done to the character of Payal by portraying her as a dumb girl! A complete turnabout from her previous nature before marriage!
NK brings in a touch of humor to the family, as always, making an error in his diction, saying that he was happy to be a part of the KAKSHA BANDHAN which is laughingly corrected by Mamiji as RAKSHA BANDHAN! He tells the family that he had made some plans to make Anjali Di happy during this festival but Arnav informs them that he had already made the necessary arrangements for the same! He walks away to his room carrying Khushi's bag, such a caring husband! Actually must be worried, what if she decided to walk out with the bag the moment he went to his room?
Khushi wants to know from Naniji about the whereabouts of Anjali Di, Naniji informs her that she was resting in her room!
NO, KHUSHI, NO! PLEASE REFRAIN FROM SUCH THOUGHTS! I CAN SEE THE WHEEL OF HELP AND LOVE WHIRRING SPEEDILY IN YOUR BRAIN! JUST BECAUSE DI SPOKE A COUPLE OF WORDS TO YOU BEFORE YOU LEFT FOR YOUR HOME, DOES NOT MEAN THAT SHE HAS STARTED LOVING YOU AGAIN! PLEASE STAY OUT OF HER RADAR FOR A WHILE! THINK ABOUT THE REMAINING TEN DAYS! THINK OF ARNAVJI! STOP INTERFERING IN OTHER'S ACTIVITIES! REMEMEBER WHAT HAPPENED THE LAST TIME YOU WENT TO DI'S ROOM? BUT, YOU ARE KHUSHI, AFTER ALL! HAVE YOU EVER STOPPED TO THINK ABOUT THE CONSEQUENCES OF YOUR ACTIONS?
NK memorizes the name of the festival finally as RAKESH BANDHAN! He is so cute, a blast of fresh air indeed, cleansing the stifling air within the Raizada Household!
TO BE CONTINUED......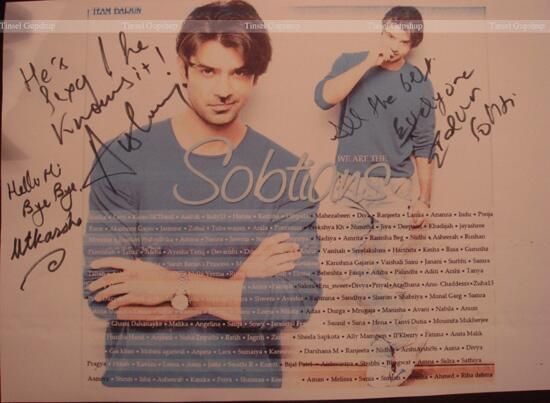 Aug 4
PYAAR AUR RAKSHA KA DOR!! PART TWO (By Samona) (Thanked: 8 times)
Anjali is making the rakhis when Khushi knocks on her door! Anjali is not pleased to see her, she looks at her unblinkingly with an expressionless face! Khushi enters the room and tells her that she had brought the RAKSHA DHAAGA for her baby. Buaji had brought it but Khushi had forgotten to give it to Anjali. It was Devi Maiyya's blessings for the baby, to protect the baby!
You exasperate me, Khushi!! How many times do you need to fall before you learn your lesson? Haven't you told Naniji yourself that you try to do good to others but the results are always disastrous? Haven't you realized that whenever you try to meddle in other's lives, matters go out of hand? The last time you meddled in Akash and Payal's married life, you lost the closeness of your Jeejaji and Jiji's relationship! The last time you meddled in Anjali's life by giving her the pep talk to forget her husband and live for the future after that shocking disclosure of Shyam's cheating within one day, Anjali had tried to abort the baby! The last time you meddled in Anjali's life, Arnav had misunderstood you and angrily uttered harsh words! He is repentant for having said those words and has learnt his lesson, but when will you stop going to Anjali's room?
Khushi tries to tie it to Anjali's wrist, but Anjali just takes it in her hand! Khushi, why will Anjali want to get the thread tied by you? For her, you are the other woman in her husband's life! You may not love him, but Anjali can never forget that her husband had fallen in love with you, she can never forget that your charms had attracted her husband! When will you realize this that Anjali can only tolerate you for the sake of her brother but will always keep a distance from you? She needs a lot of time to accept you, why do you insist on reaching out to her? Being too good all the time can bring trouble to others and also to us! Khushi, you have come to live in this house for only ten days, stay out of everyone's life, and leave quietly! Why do you have to try and put everyone's life into order?
Khushi sees the rakhi thali on which Anjali has kept the rakhis for her brothers. She tells Anjali that the rakhis were beautiful, she also tells her that her brothers too would do something special for her! This makes Anjali tell Khushi that she did not expect Chhotte to do anything special, she only wanted a liitle time from him! She asks Khushi whether she was expecting too much from him? Do you realize Khushi, that Anjali is not happy with your entry into her room? Exit at once please and do not enter again! BUT………………..!
Khushi comes back to her room thinking of Anjali when she sees HP keeping clothes inside Arnav's wardrobe. A set of clothes fall down and Khushi goes to pick them up. HP is apologetic and tells he was about to keep them in order when Naniji calls out for him. Khushi is about to keep them inside when she sees the white embroidered kurta and remembers the time when she had seen the kurta in Di's hand! Di had given it as a present to Arnav and he had said that it would join his unused collection! She smiles thinking of a plan!
Akash and NK wrap presents for Di when Arnav comes and tells them that he had bought some jewellery sets for Di, she really likes them! Khushi comes there and tells them to dress up since it was nearly rakhi time! They leave but Khushi tells NK that she had a plan to make Di happy!
She tells him that Laad Governor would not listen to this ABLA NAARI! ROFL, KHUSHI, THAT LAAD GOVERNOR WILL BEND BACKWARDS TO LISTEN TO HIS ABLA NAARI!
She gives the idea to NK and asks him to help!
Arnav is in his room talking on the telephone to Aman, asking if the jewellery boxes were dispatched when NK comes there. The bonding between NK and Arnav has grown stronger over the days and now we see Arnav not getting irritated or angry with NK anymore! He listens to NK's hazir jawab idea and corrects it saying it is lajawab (excellent) idea! Akash, NK, Payal and Khushi get busy decorating the house. Nani too is excited by the preparations.
It is time for Anjali to descend to the hall with her rakhi thali and she is accompanied by Naniji. The hall is in darkness and Anjali wonders why. Suddenly the lights come on and Anjali is amazed to see the flower decorations and twinkling lights that were draped over the mandir. The whole atmosphere was changed and Anjali stands shocked, rooted to the ground! A beautiful smile lights up Anjali's face as she looks around and sees the long, hanging flower strings in red, yellow and orange colors, hanging in the doorway to the temple. Mamiji, Payal and Khushi looking beautiful in a orange sari, come and see her happiness. Mamiji announces that it was Rakhi Surprise Part One!
Mami turns Anjali to look towards the stairway and announces Rakhi Surprise Part Two! She sees her brothers NK and Akash coming down the stairs wearing sherwanis and looking very dashing! Her joy increases on seeing them and she smiles very sweetly. The old Anjali with her innocent, impish smile is back! The brothers hug Anjali who is very excited on seeing them and she praises the decorations of the temple too! Mamiji then announces that YEH TOH ABHI SIRF JHAAKI HAI, BLOCKBUSTER SURPRISE TOH ABHI BAAKI HAI!
NK turns Anjali around to face the stairs again. She is now stunned to see Arnav descending wearing the white embroidered sherwani and looking very very handsome!
She couldn't believe her eyes , her Chhotte wearing traditional clothes! Arnav comes down very self-consciously, Khushi looks at him with disbelief, she finds him the most dashing and handsome prince of all! It is the Prince of her Dreams!
There are tears of joy in Anjali's eyes when she hugs Chhotte! Arnav tells her that she had given him the gift, but he had given her the surprise! Anjali is very, very happy to see her brother in that attire! He had consistently refused to wear such clothes all his life! anjali wants to know if it was one of the kurtas she had presented to him, he confirms that it was one she had given him a long time ago, there were a pile of kurtas in the cupboard! Tears roll down Anjali's cheeks and Arnav asks her if he was looking so bad, that she had tears in her eyes? She shakes her head, they were tears of joy! She tells him that she wished mother was alive to see him in that dress, she would have been very ……. But Arnav interrupts her and tells her that she was present, it was enough for him! He has always seen Anjali as his mother, she had been the motherly influence in his life!
Arnav turns to look at NK, and then towards Khushi, he finds everyone staring at him, he asks them why were all staring only at him, the other brothers too had worn sherwanis. NK tells Arnav that DI KA PAPAD KA DUKHDA was looking handsome when Anjali laughingly corrects him that it was PAPAD KA TUKDA AND YES, HER PAPAD KA TUKDA WAS LOOKING THE HANDSOMEST OF ALL! NK claims it was unfair, and Arnav wants the rituals to be completed soon! He was feeling uncomfortable in those clothes! Anjali asks Arnav whose idea was it and Khushi hurriedly tells that it was Nanheji's idea! Arnav looks at Khushi and NK and realizes that once again Khushi had told a lie to make Di happy! He knew that it was Khushi's idea! Arnav is now able to read Khushi perfectly!
TO BE CONTINUED........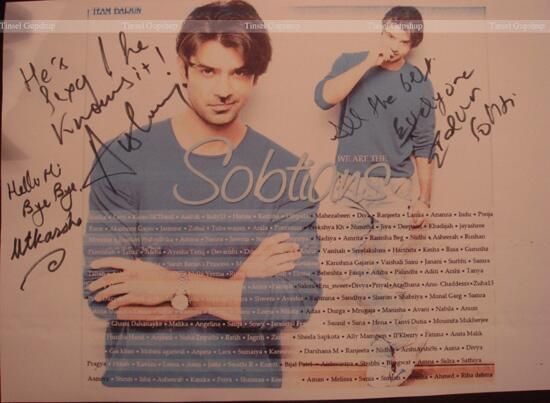 Aug 4
PYAAR AUR RAKSHA KA DOR!! PART THREE (By Samona) (Thanked: 10 times)
Anjali performs the pooja in the mandir with her family beside her. She then ties the rakhi first to NK and then to Akash, in customary fashion. NK starts recording this ceremony in his camcorder. Both give presents to their sister.
Then it was Chotte's turn!
MUSKURAKAR JAB TU MUHJE PYAAR SE SAMJHATI HAI, when you smile and explain things to me,
TERE CHEHERE MEIN US PAL, MUJKO MAA NAZAR AATI HAI, I see mother in your face!
PHIR DUA HAR ULJHAN MAIN, JEENA SIKHATI HAIN, you teach me the meaning of life,
TERA EHSAAN HAI, MERA ARMAAN HAI, I owe you my life, and it is my wish,
TUJPE KURBAAN DIL HO JAAYE, I am willing to sacrifice my life for you!
ZINDAGI SHURU AUR KHATAM TUJHSE, life begins and ends with you,
HAR KHUSHI AUR GHAM TUJH SE! all happiness and grief is connected with you!
VAADE AUR KASAM TUJH SE, all the vows and promises begin with you,
HAR KHUSHI HAR GHAM TUJH SE! all happiness and grief is connected with you!
This song shows the relationship between Arnav and Anjali, she is not a sister but a mother to him, he sees his mother in her face! He will be willing to sacrifice his life in order to ensure his mother's happiness! Similarly, Anjali has not realized when she had turned into a mother for her Chotte, she would sacrifice all her happiness to keep her brother happy!
Anjali gets a phone call and she is nervous, she looks around at the others but they do not notice, they are busy talking amongst themselves. Anjali goes to her room with her phone.
Arnav talks to Aman and wants to know about some boxes, when HP brings some gift bags. Arnav tells HP to keep them on the bed, HP advises Arnav to change the kurta since he was uncomfortable, Arnav gets angry with him and asks him to leave. But again calls him and tells him to send Khushi to his room. Well Arnav, what is the plan? You look so eager to see her, she is wearing a beautiful sari, isn't she?
ARNAV'S THOUGHTS:
She was looking so beautiful today, in her orange sari and long flowing hair, I was mesmerized by her!
Di was so happy that I had worn the sherwani, I am uncomfortable but the happiness on Di's face was worth the trouble. Looks like Khushi had sent NK to my room with the idea to make me wear the kurta! I wish she had told me herself! I would have happily worn the kurta if she had asked me to! When will Khushi realize that she can make do all that she wishes? The day she realizes it, she will begin to make me do her every bidding! And I know I would happily do it too! She is the centre of my universe now, I want to keep her beside me forever! I want to ask her how I looked; did she think I am looking handsome?
Hp tells Khushi who sends back the message to Arnav that she was going to give sweets to Anjali and then would go to the room. Khushi, AGAIN?
There is no one in Anjali's room. Khushi searches for her everywhere and she is not found in the bathroom either. Khushi rings up Anjali's mobile and discovers that it was on the dressing table. She comes downstairs calling out for Di but does not find her anywhere! The mystery begins!
PRECAP:
Khushi searching for Anjali outside, wonders if she should inform Arnav, and discovers her cell is left at home. She starts searching for Anjali and sees her waving out to someone, a tree hides the person from Khushi's sight! Is it the beginning of Khushi Detective Agency again?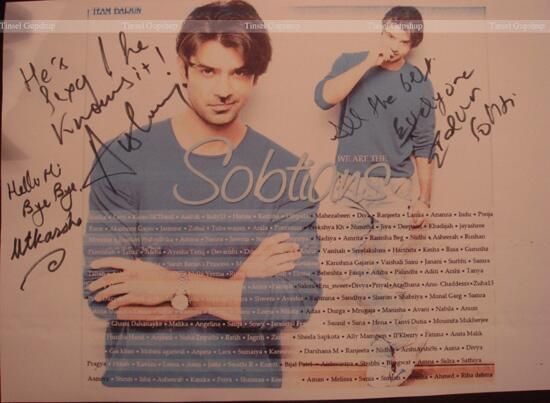 Aug 4
THANK YOU! THANK YOU! (By Samona) (Thanked: 5 times)
THANK YOU,
TO
RAMYA, gk, FAIRY, Jb, Diehard_Rom, Sreddy, dd-IPKKND Fan, Gianni, Ankkg and all the other silent readers!
It is wonderful that you have visited my view and read it! Thank You Once Again!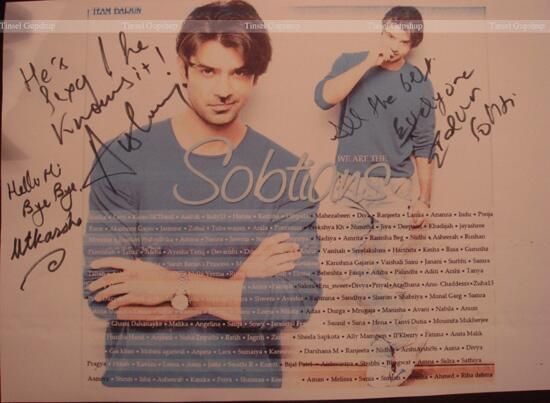 Disclaimer: The views expressed above are member's views and myeDuniya does not comply with it. The views expressed may not be factually correct. Incase of any issue please contact us/report it to us.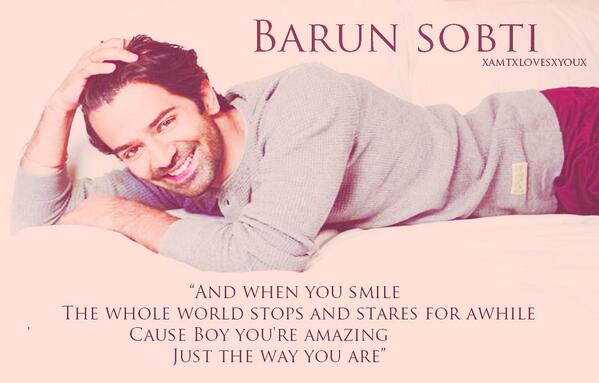 Missing Arnav Singh Raizada!!!!!!!!!!!