YEH SUB KUCH HAI TUMHARE LIYE!!
Aug 4
YEH SUB KUCH HAI TUMHARE LIYE!! (By Samona) (Thanked: 20 times)
A FABULOUS, ROMANTIC, SWEET AND AWESOME EPISODE MADE OUR WEEKEND SPECIAL! ISS PYAAR KO KYA NAAM DOON IS NOW ENTERING THE MAIN TRACK OF ARNAV AND KHUSHI'S PAST! IN THE MEANTIME, ARNAV HAS FINALLY UNDERSTOOD THAT MONEY DOES NOT IMPRESS KHUSHI, THE SMALL GESTURES MATTER TO HER! THE PRESTIGE AND LUXURY OF THE RAIZADA TITLE DOES NOT MEAN A THING TO HIS LUCKNOWI DESI GIRL, IT IS THE SIMPLER THINGS IN LIFE WHICH MAKE A DIFFERENCE TO HER SOUL!
Khushi has not learnt her lesson yet, she is still trying to make up with Anjali. I don't understand when she has come back to RM under duress and has already decided to go away after ten days, why did she suddenly turn into a happy daughter-in-law, chirpily doing all the decorations, the planning and basically forgetting all the fights she had with Arnav just the previous day?
Khushi comes downstairs searching for Anjali, and goes to the mandir at home looking for her. Naniji comes there and asks her whom she was searching, but Khushi tells her that everything was fine. She justifies not telling Naniji about the missing Anjali by thinking that the whole family had been worried in the past few days, she did not want to add to their tensions! Khushi, Arnav has been handling this family before you came in! How about telling him about Anjali not being at home? After all, he has already caught you in your habit of lying or hiding the truth, how about letting him handle the family mess now?
She goes searching outside and then thinks that she should inform Arnavji. But discovers she has left the phone at home. She starts searching again.
Meanwhile, Arnav is waiting for Khushi impatiently,

it has been a long time since he had told HP to send her to the room. He rings up her mobile and HP comes in carrying Khushi's phone saying that it was ringing! Arnav asks HP angrily why hadn't he given the message to Khushi and HP tells him that he had done the job. Arnav wonders if she had run away from home again and he is very angry swearing to himself that he would bring her back!
Where is she? Why hasn't she come as yet?

Let me ring up, PICK UP THE DAMN PHONE! What? Khushi's phone is here in HP's hand? Did I not tell you to send Khushi? You told her but now you don't know where she is? If she has run away from home then I SWEAR…………………..
Khushi sees Anjali standing near a tree and talking to someone who is hidden behind the tree. Khushi cannot see anyone from where she is standing and so she calls out to Di. Anjali is shocked to hear her and turns quickly to look at Khushi, she looks furtively towards the tree twice before Khushi reaches her. She is definitely hiding something. Khushi gives thanksgiving to DM for having found her. Khushi looks behind the tree and sees that there was no one there. There is a look of fear on Anjali's face when Khushi asks her what she was doing there. She says she was not doing anything but counter questions Khushi why she was there. Khushi explains that she had reached there while searching for her and then asks her if they could go home. Anjali readily agrees and as they walk off, Khushi turns around to see if there was anyone, she is very suspicious just like Mamiji had felt the other day. After they leave the place, a shadow moves away from the place!
Khushi shuts the main door and is relieved to have brought Anjali back home without anyone knowing that she had been missing for a while. But the wheels of her suspicion starts whirring when she thinks about the change in Anjali. She reflects on how happy Anjali had been in the morning and wonders why she had gone out.
She hears Arnav's angry voice calling out KHUSHI and he reaches there in a temper, asking her WHAT THE HELL! (FULL PHRASE!) and wants to know where had she been? She tries to cover up and tells him that she had been right there, but is unable to pacify his anger. Ha Ha Ha, Khushi has learnt one thing for sure!
ATTACK IS THE BEST FORM OF DEFENCE IN THE CASE OF ARNAV SINGH RAIZADA! She had employed it once before in GH while countering his questions with questions of her own, which cooled down Arnav's anger very fast and put him on the defensive!
TO BE CONTINUED.......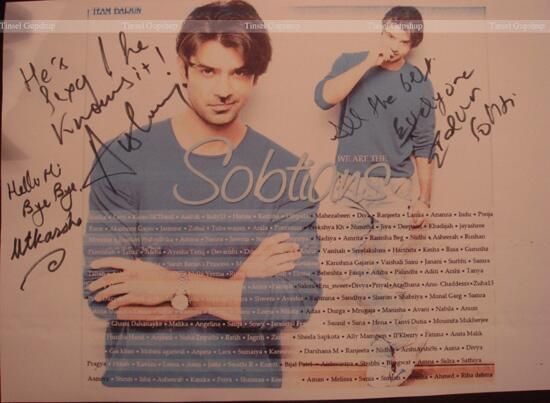 Aug 5
YEH SUB KUCH HAI TUMHARE LIYE!! PART TWO (By Samona) (Thanked: 14 times)
She counter attacks him saying that he wanted to change those clothes since morning but he was still in them and busy scolding her! He ticks her off telling her to stop her stupid jokes and CHALO KAMRE MAIN! A typical wifely scolding heard by Arnav and his reaction to it! She tells him that she would follow him if he lead the way! Ha, ha, ha! These two thrive on their nok-jhok!

Arnav leads the way to their bedroom and opens the door for her to enter! What a change in the man! Now he opens doors for her! Remember the way he had opened the door of the boutique for Lavanya to enter and then entered before Khushi could, leaving her to follow them! He had waited to do that purposely at that time!
SIDE NOTE TO THE FANDOM: BARUN LOOKS SUPER HOT IN WHITE SHERWANI WITH A TIKKA ON HIS FOREHEAD!

The room is in darkness and Khushi stumbles on entering it, making Arnav yell out CAREFUL! and grab her arm! She is angry at him asking him why he had switched off the lights! She turns and stumbles again, but now he gives up raising his arms and retorts that her dimaag ki batti was never on even if the lights in the room were switched on! She wants to know why he had said so!
Arnav enters the dark room and grumbles about NK and his stupid ideas! He tells her that Di did not need any surprises, she had been happy on seeing the wonderful jewellery set given by him! She gets mad at his remark and tells him that now his dimaag ki batti was not on, Di did not become happy with that kundan set, she was happy to see him wear the kurta bought by her, she was happy when he stayed back for the pooja! Arnav continues to say it was a STUPID IDEA, STUPID SURPRISE! She does not realize that he is GOADING HER, he has a soft and gentle smile in his eyes! Khushi gets angrier by the minute hearing his talk and tells him that the idea might be sounding stupid to him, but according to all the others there was no better idea to make Di happy! He tells her RUBBISH! WHY WOULD ANYONE BE HAPPY SEEING THEM IN THIS DRESS? He continues to say that HE WAS NOT SURE WHICH WAS MORE STUPID, THE IDEA, THE KURTA, OR THE STUPID BUTTONS WHICH DID NOT CLOSE! He attempts to put the buttons when Khushi pushes his hand away and closes the buttons herself in a temper!
She is in such an angry mood that she fails to look at him properly, the room is dimly lit, but Arnav Singh Raizada has achieved one objective from his agenda, getting his wife to close the button on his kurta, he is thrilled to have succeeded without his wife's knowledge!

How easy it was to goad her! Next, Khushi is in full tirade and tells him that he would never get such an idea for the next two generations! He asks her softly if she would get such an idea and she promptly reveals to him that of course, she would, because THIS WAS HER OWN………….AND SHE IS STUNNED WHEN SHE REALISES THAT HE WAS WAITING FOR HER WORDS!
THE LOOK OF OPEN MOUTHED ADORATION ON HIS FACE, THE GENTLE SMILE PLAYING ALONG HIS LIPS AND THE SMILING EYES MAKES HER BLUSH, SHE KNOWS NOW THAT HE HAD PUSHED HER INTO REVEALING THE TRUTH! IT WAS SO EASY TO ANNOY KHUSHI, SHE ALWAYS BLURTS OUT THE TRUTH WHEN GOADED!

She turns to go away from him when he holds arm and tells her to LOOK AT HIM!
Khushi, Look at me! Why do you think I have worn this kurta for so long? I knew that it was your idea! Every time I turn, it feels like the pyjama will loosen and will fall down! Oh, that brilliant smile on your face will stop my heart beats! But still I have worn it and have waited for you! Have you thought why? I want to kiss her on her forehead, come closer! I hold her in my arms and kiss her on the forehead and tell her that it was to see her smile! I leave her and go to switch on the lights, as she blushes happily!

I switch on the lights and come and turn her by the shoulder to face our bed, she sees those presents that I had placed on the bed! I was waiting to see her happiness but she was shocked! She let out a gasp of shock and I was stunned myself at her reaction! For a moment she was motionless, and then she said MAR GAYE! I AM DEAD! PHIR SE KOI CUP BAHAR RAH GAYA KYA? I give up, now I understand why she was motionless for that minute, I am sure she had the flashback of those presents in GH which I had made her wrap and unwrap as a prank!
She wants to know if I wanted her to open and check in these presents and I tell her YA, EXACTLY, CHECK KARO! I am teasing her and she takes it seriously! She is looking very beautiful in her orange sari with her flowing hair, and I go to stand near the poolside door as she sits down on the bed and picks up her first present! I wait there in front of her, wanting to see her reactions, don't want to miss her surprise, her shock and her delight on seeing what is inside them!

This is the first time that I have understood what exactly she needs, I had tried to impress and win her heart with a designer bag, the cake and lights, the expensive crystal sari and those rose petals, all costing money but they had not touched her heart! Now I know what my Khushi needs, it is only the thought that counts for her, she finds pleasure in simple things and I have learnt my lesson well, very well indeed!

I am excited to see her excitement after opening those gifts, at the moment she thinks that it is some work, but soon, very soon, there will be a smile on her face, and I am waiting to capture that smile for my HEART!

TO BE CONTINUED.......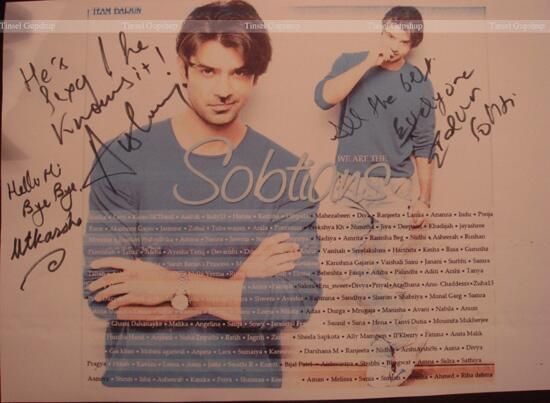 Aug 5
part three of Yeh sub kuch hai tumhare liye! (By Samona) (Thanked: 17 times)
part three of Yeh sub kuch hai tumhare liye!
She starts opening the gifts one by one!
She has a frown on her face as she opens first the green wrapped gift which turns out to be a box of chana. She is shocked to see it and turns to look at Arnav with amazement in her eyes, she sees him with a satisfied look on his face.
She opens the next present eagerly now and it is a Salman Khan poster! The childlike glee on her face as she yells out SALMAN KHAN KA POSTER and looks up at him with immense joy makes him very happy, she gives him the badhiya hai sign with her thumb and index finger curled into an "O" and the three fingers sticking out!

She is now very excited to open the next gift with a smile of anticipation and it is a box of jalebis! The way she says JALEBI with thrill in her voice makes Arnav laugh out silently and he realizes the importance of these sweets in his sweetheart's life! She opens the box and smells it, saying KISHANCHAND MITHAIWALE and asks him whether it was from CHANDNI CHOWK, he nods smilingly!
Look at this guy, he had once told her that he did not want anything to do with Chandni Chowk, that was a cheap and ghatiya place, and now he has brought her the sweets from the place of her choice, he knows that she loved the jalebis from that shop! He had told her during the sangeet function after her dance performance of DIDI TERA JETHJI DEEWANA that he did not know that she had been observing him so closely, MAIN NAHI JAANTA THA KI TUM MUJH PAR ITNI BARIKI SE NAZAR RAKHTI HO, but this proves that he has been observing and learning a great deal about her! He has taken the trouble of knowing her smallest likes and dislikes too!

The next box is opened and she exclaims soundlessly GOL GAPPES! The glow and happiness on her face is so evident that the soundless word appears like a shout! He is very satisfied that at last he had managed to please his wife!
Now Khushi opens the smallest present of all! It is a jewellery case! They look at each other for a long moment! She opens it with curiosity and is stunned for a moment to see what is inside it. Arnav waits with bated breath wanting to see her reaction to this one, his most important and significant gift! It is a pearl necklace, a single strand white pearl necklace! She holds it in her hand and looks at him.
The strains of Rabba Ve resound in the air as they are caught up in the most poignant scene of all! The smile vanishes slowly from Arnav's face as her eyes slowly fill with tears! The first tear drips down her cheek as she remembers her dream when ASR was missing, she had seen him putting a similar chain round her neck! She stands up from the bed and continues to look at him with her eyes filled with those precious tears while there is a sheen of tears in his eyes! He comes closer to her and slowly wipes away her tear, then takes the first step towards her and embraces her in a hug, holding her close to his heart! There is grief, regret and contentment in his face and eyes, he holds her silently within the comfort of his embrace! She sheds tears and slowly her arms go around him still holding the pearl string, with a teary smile, her eyes close in acceptance of his love at last! Both are at peace with each other, each holding a piece of their heaven on earth in their arms!
YEH SUB KUCH HAI TUMHARE LIYE!!
I go and stand near the poolside door watching her as she frowns while picking up the first present. She tears open the green wrapper and discovers a box of chana in it! She is surprised with it, it was not at all what she had expected to see! She looks up at me wonderingly and seems a bit amazed by it, cannot show her feelings on seeing it! It has taken her by surprise!
The next present is opened with anticipation on her face, she is now eager to see what was in this cylindrical gift! She took it out of the wrapper and then unrolled it! Staring at Salman Khan's poster, she exclaims happily SALMAN KHAN KA POSTER, the joy evident on her face, I too smile happily although a bit sheepishly too, who would like their wives to appreciate another man while standing in front of them? But her favorite hero's poster has brought about that precious smile, it is more than worth the pang of jealousy I feel at that time! She gives me the best present sign with her hands,

the first time I had seen it was when she had called NK as boodhiya hai during the dance rehearsels! The second time was when she was eating those Gol Gappes which I had brought at Buaji's house, and now!
I wait for her to open the next present, she starts on it happily! She is thrilled to see the box contained jalebis, she shouted out JALEBI! and the absolute delirious happiness on her face makes me laugh out silently, my cute wife is overwhelmed by such a simple present, she opens the box and smells it, she mumbles that it was from KISHANCHAND MITHAIWALE and confirms from me whether it was from Chandni Chowk, I give her a satisfied smirk! Of course, I had taken the trouble to identify from which place she preferred her jalebis when she was not making them of course!

I wait for the unwrapping of the next one now, she has a smile on her face, and as she takes out the box with Gol Gappe, she exclaims soundlessly GOL GAPPE! But the happiness and joy is in her eyes, the delight and glee on her face! I feel like I have achieved a big goal, I have finally managed to bring a smile on her face! I remember her words telling me that I had bought the sari for her but could not buy her a smile, today I realize what it means to me to make her smile!

I watch her as she reaches out for the last but smallest present in terms of size but the biggest in terms of significance. She opens the wrapper and sees the small jewellery box, she looks up at me with a trepidation. I know what she must be thinking, this LAAD GOVERNOR WILL NEVER CHANGE, GETTING SOMETHING EXPENSIVE AGAIN! But she then opens it and is shocked for a moment! I see the tears forming in her eyes and a lump lodges itself in my throat! She looks at me then, holding the strand of white perfect pearls shining in the light! She looks at me and a solitary tear makes it way down her cheek, then others follow!
I remember the pearl dori from her dress which I had broken in my anger at Sheesh Mahal, I want to erase that memory from her mind, I have three pearls from that strand with me till today! I fight back my tears, her tears find their way to my heart! I go closer to her and she looks at me with trust and love shining in her eyes but flooded with tears! I hug her tightly, I want to comfort her, I want her to feel my remorse, my guilt for having broken those pearls in her dori, and I wanted her to forgive me. I wanted her to feel secure in my arms! I want to ask her forgiveness for that scene one year ago but I beg for her forgiveness with my hug,

I had moved closer to her first, I have hugged her, she holds back for a moment and as I wait for my forgiveness, my redemption, I feel her arms go around me slowly and hold me in a hug! She is still holding that pearl strand and also holding me at the same time, I have restored her pearl chain, her dignity which she had covered with her open hair after I had broken those pearls on that fateful night!
TO BE CONTINUED........THANK YOU FOR READING MY POST!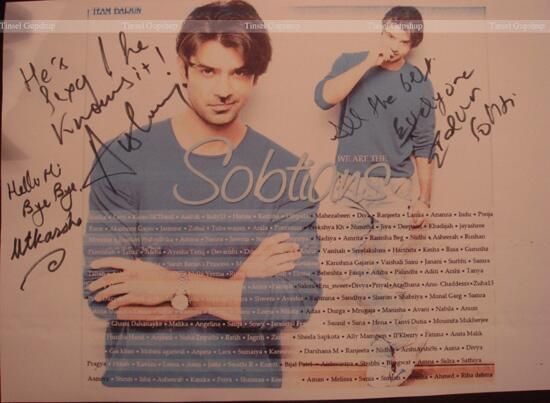 Aug 6
YEH SUB KUCH HAI TUMHARE LIYE!! PART four (By Samona) (Thanked: 17 times)
MORNING:
Khushi still asleep in her bed starts stirring and finally opens her eyes and yawns her sleep away! She immediately looks towards her hand on her pillow, missing Arnav's habit, his self-confessed habit of holding her hand while sleeping! She is now getting used to this habit, slowly she too will not be able to sleep without his hand in her hand! Then she looks across the room and sees him sitting on the recliner!
Did that give a sense of déjà vu to anyone of you? Remember the scene when she woke up at the night and saw Arnav lying on the green recliner and looking at her with love in his eyes, but when she switches on the light in the excitement of his return, the mirage vanishes! This happened after he was away from home and he was kidnapped, but Khushi saw him there since it was her innate wish!
She sits up and looks at him, he has been looking at her with his heart in his eyes,
he looks adoringly at her with unblinking eyes, there is a feeling like he is trying to capture every little nuance of her, he loves to watch her when she sleeps! She smiles at first and then starts getting conscious and looks down but Arnav continues to admire with his killer eyes, she checks her forehead to see if there was any stray lock of hair which was mesmerizing him, she then looks at him again to gauge his feelings! The rising passion and desire in his eyes makes her feel shy, she glances upwards towards him and sees him motionless and lost in her beauty!
She is unable to remain still under his unwavering gaze, she checks out her neck on the side and realizes that her dupatta was missing! It is on his side of the bed on the blanket, it is the first time that she has been comfortable with him without her dupatta! She generally sleeps with her dupatta, it shows the rising level of comfort that she is feeling now, it is a gradual acceptance of him as her husband!
She gets up slightly embarrassed and bends to pick up her dupatta when Arnav gets up from the recliner and approaches her, she straightens but does not step behind even though she is getting flustered by his constant gaze! He knows the reaction of his girl to his presence, he wants her to acknowledge the fact that he affects her physically too, he wants her to get comfortable with him, before taking their relationship to another level. He knows now that she had accepted him totally and that she is finally aware of his love for her, she is now sure of his love! The Rabba Ve resounds in their hearts and feels like it is in the air around them, it is a song, a refrain of love, which accompanies their rising passion and increased heartbeats!
Arnav continues to look at her with rising desire and smiles a flirty smile as he realizes that she had begun breathing heavily a little with desire and a little with panic, she is like the doe caught in the gaze of the lion! He flirts with his eyes, his adoring expression and his magical hypnotic gaze, she is wondering if he is going to take any liberties with her! He is about to do so, when there is a knock on the door! For the first time, Arnav shows his irritation and roughly asks who was outside and is surprised to hear Naniji call out to him!
Naniji tells Arnav that she needed to speak to him urgently and he tells her that he was coming to her room shortly! She goes back to her room, she looks like she is scared of something!
Arnav looks at Khushi with the same expression back on his face, and voices his thoughts that HAMARI BAAT ABHI KHATAM NAHI HUI! And leaves from there even as Khushi holds her neck and says that AISE LAGA JAISE HAMARI SAANSE RUK GAYI HO!! This is Khushi's saanse ruk jayegi moment for the first time, he had faced it when he thought that she was injured and in the ambulance! This breath stopping moment defines the ultimate moment in love when you surrender totally to love! Khushi is now on the verge of discovery of what Arnav actually meant to her! She smiles a little as she feels happy that Arnav is now so completely in love!
Arnav goes to Naniji's room and sees her in a panic. She gives the following news to Arnav:
1) Phone call from ashram informing the disappearance of the lady there since the past two days!
2) The lady in question being Subhadra Devi, Arnav's paternal grandmother, Dadi!
3) There is shock evident of Arnav's face and panic on Naniji's face!
4) There is anger in Arnav's voice as he is about to give a call to the ashram's manager for having informed them after two days!
5) Naniji regrets having left Subhadra Devi at the ashram, Arnav reminds Naniji that he had tried to bring her back but not succeeded!
6) Tears flow down Naniji's cheeks as she recalls the tragedy that overcame the family due to a lady, she repents having left Subhadra Devi at the ashram!
7) Arnav assures Naniji that he would find her, Naniji wants to go with him!
8) Naniji tells Arnav that Anjali should not be told about this matter!
9) Arnav gets ready to go to search for his Dadiji taking his Naniji along with him!
Akash and Mamiji discuss Subhadra Devi, it appears that Mamiji is dead scared of that lady! She folds and refolds the towel with shaking hands, her heart rate has definitely shot upon on recalling that Arnav's Dadiji was a danger earlier, she hopes that the years in the ashram has mellowed down her a bit! Payal comes there but she is not told the truth, Akash tells her that some things are better if buried! He only tells her to relax and not to worry! Really Akash, what happened to the promise of not keeping any secrets now? And has Arnav told Khushi a little of his family secret, although he can be excused for lack of time!
Anjali is getting the pooja materials ready when she misses her pooja ki thal! Khushi gets it and gives it to her, she mentions having gone to her room the previous day to give the thal to Anjali! There is a secretive air about Anjali, she is not comfortable talking about it! Khushi gives her red roses as a peace offering, Anjali accepts them and keeps them in the temple. Khushi wants to talk about the incidents of the past few days, Anjali prevents her from speaking about it! WHEN WILL YOU STOP, KHUSHI? STILL NOT LEARNT HER LESSON! Anjali tells Khushi that it was better to forget the past, or else the present too was marred by the past! She has seen her Chhotte changed due to their past, she herself wants to make a fresh start in life! is she referring to the fact that Chhotte has changed and was no longer HER Chotte after the revelations of Skunky? She thanks Khushi for influencing Chhotte and making him wear the kurta on Raksha Bandhan, Anjali knew that it was Khushi's idea to make him wear it! anjali goes away from there and Khushi smiles at DM!
Pre cap:
The silent footsteps of a old lady carrying her bag and a small mat does not alarm anyone as Dadi prepares to enter Raizada Mansion! Trouble brewing big time ahead, beware!
THREE CHEERS FOR:
SANAYA IRANI: THE EXPRESSIONS ON YOUR FACE REFLECTED THE SHEER JOY ON RECEIVING THOSE SIMPLE GIFTS WHICH TOUCHED YOUR HEART! THE BREATHLESS FEELING, SAANSE RUK GAYI FEELING AND THE TOTAL ACCEPTANCE OF ARNAV'S LOVE WERE BEAUTIFULLY PORTRAYED! THE PERFECT KHUSHI FOR ARNAV!
IPKKND TEAM: FINALLY YOU HAVE BEGUN CLOSING THE LOOPS WHICH WERE OPEN FOR A LONG TIME! THE EPISODES SEEM TO BECOME BETTER DAY BY DAY AS THE CHARM OF THE OLD EPISODES SEEMS TO BE RETURNING TO THE SERIAL, THE CHARM WHICH HAD HOOKED US FROM DAY ONE!
BARUN SOBTI: YOU AMAZE ME WITH THE SHEER BRILLANCE OF YOUR EXPRESSIONS! NO WONDER YOU ARE CALLED THE KING OF EXPRESSIONS! YOU MAKE US FORGET THAT ASR/ARNAV IS A FICTIONAL CHARACTER, YOU BRING HIM ALIVE TO SUCH AN EXTENT THAT TODAY BARUN IS ASR/ARNAV! YOU ARE LETHAL!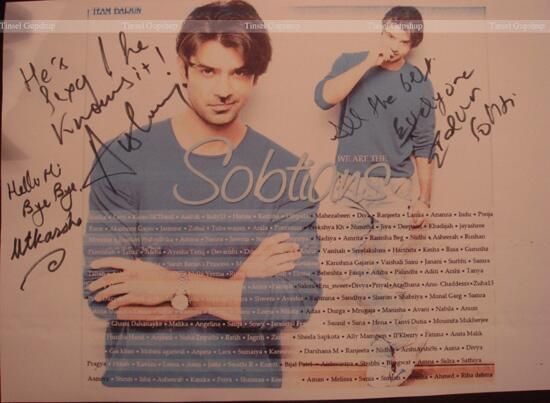 Aug 7
Yeh sub kuch hai tumhare liye! Thank you!!! (By Pepper) (Thanked: 9 times)
Hi Guys,
I know, I know I am not Samona. But Samona could not post this thanking everyone for reading her view and for leaving such wonderfully heart felt comments on her view. Unfortunately, her Mom was admitted to the hospital today, so she could not thank you here personally like she always does.
Please note that she will answer your questions especially Gianni in her next view. Please join me in praying for her mom's speedy recovery, and hope all of you understand.
She really does appreciate all of you and your comments.
Thank you,
Pepper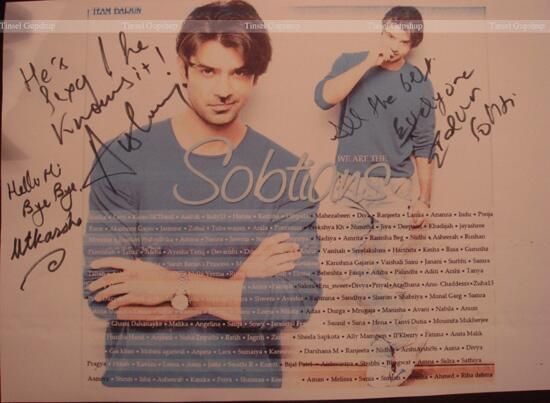 Disclaimer: The views expressed above are member's views and myeDuniya does not comply with it. The views expressed may not be factually correct. Incase of any issue please contact us/report it to us.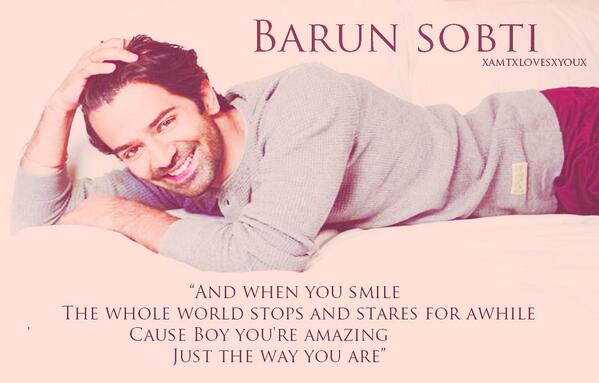 Missing Arnav Singh Raizada!!!!!!!!!!!