ADVENT OF DADI HAS BROUGHT REALISATION!!!!
Aug 15
ADVENT OF DADI HAS BROUGHT REALISATION!!!! (By Samona) (Thanked: 7 times)
SORRY FOR NOT HAVING WRITTEN FOR A WEEK DUE TO MOM'S ILLNESS BUT THANKS TO MY READERS FOR THEIR SUPPORT AND LOVE AND ALSO FOR WAITING FOR MY VIEW! ALTHOUGH I AM LATE, HERE IS MY TAKE AND ARNAV'S THOUGHTS ON THE WEEK THAT WAS!
6TH AUGUST, 2012:-
Mami's fear of the known Dadi transmits itself to Payal and NK wants to know who was causing all that fear! He asks Masiji WHO IZ? in typical Mami style after seeing her panicking and confessing that she was scared and that her BP was going high-low, high–low! This is a first for Mamiji who generally is the person giving high-low, high-low BP to others especially the Gupta Sisters! She tells NK that Dadiji was very strict and Manorama prayed that she would be fine wherever she was but did not want her in RM! Mamiji shows a real fear and panic when she talks about Dadiji, it shows that she had been at the receiving end in the past!
Khushi is busy planting and watering a rose plant in Arnav's garden, the Shaitaan's garden now handed over to the Princess, just like the Prince has handed over his dil to the Sundari! ASR had never allowed anyone to enter his sanctuary except his sister but Khushi had gained admittance right from the beginning! It is the first time that Khushi has been shown caring for Arnav's plants, he is now very comfortable sharing such an important part of his life, she is now on an equal level to Anjali!
Dadi's entry to Raizada Mansion happened very dramatically, I am sure her exit from the lives of Anjali and Arnav must have happened equally dramatically fourteen years ago! Naniji and Arnav scour the city in search of the missing relative, but Dadi walks in silently through the gates of RM. Point to be asked is how did Dadi know the address of her grandchildren if they were not in contact for all these years? How did Dadi know that they lived in Raizada Mansion when she knew that her grandchild, Arnav was a Malik and not a Raizada? Who gave her the address? Where were the security guards posted outside RM when she walked in? We have seen Arnav enquiring from the guard outside when Anjali goes missing, so why was Dadi not stopped at the gates?
She walks in with a bag in one hand and a mat under her arm and steps inside the door just when Khushi reaches there with a tub full of muddy water to be poured over the outdoor plants. What a twist of fate that Khushi saw a lizard (CHIPKALI ) at that very moment!! The new entrant is welcomed by the shower of muddy water instead of the customary aarti, it shows that she is about to enter the house and muddy the relationships within, it was symbolic that she was not the recipient of the aarti but rather doused in dirty water which proves that this relative is going to create havoc and bring chaos into the family! Dadiji has entered with an hidden agenda in her mind!
The first impression being the last impression proved true for Dadi and Khushi who was taken for a servant of the house, in spite of being the daughter-in-law of the house, remember Khushi doing the same mistake when she had entered RM on the first day with those Chikankari saris and mistaking Mamiji for a servant of the house? Life has now turned a full circle for Khushi! Later events prove that Dadiji had come to the house with preconceived notions about Khushi, she was already poisoned and prejudiced against Khushi!
She turns to look at Khushi while leaving, a look which shows that she sees Khushi as beneath her station by virtue of being a servant, is there a look of faint recognition or memory lurking in her eyes? She is a lady with old traditonal values and a feeling of superiority within her, she has come back from the ashram after fourteen years, and intends to take over as the head of the house, she does not know that she has a fight on her hands! Arnav being the de facto head of the house has taken the reins of the family into his capable hands from a very young age, and it has made him a tough adversary!
Khushi feels that she did not know much about Arnavji whom she loved very much, she has now accepted to herself that what she had thought as dhak-dhak and acidity was in fact love! Dadiji does not let Khushi enter her room with the milk and shuts the door as well as the curtains in a bid to keep her out, does that not remind us of the time when Arnav had done the same to Khushi in a bid to keep her out of his life? But finally, Khushi broke down the barriers surrounding Arnav's heart and entered it, it will only be a matter of time when Khushi will be ensconced in Dadiji's heart! Dadiji is a follower of Krishna, the God of righteousness, it will not be long for Dadiji to see the truth after the scales of falsehood has dropped from her eyes!
Dadiji is again scandalized on seeing Khushi at the mandir getting the aarti materials ready, Mamiji once again keeps quiet and does not correct her on her false assumption of Khushi being the servant. Mamiji does not want to talk to Dadiji more than necessary, also she is waiting for Naniji who is a friend of Dadiji, to tell the truth, there is another factor too, Mamiji is happy to see Khushi in the same place that she must have been years ago! NK tries to stop Dadiji from humiliating Khushi but does not explain the actual status of Khushi, and Payal the older sister too does not correct Dadiji! Khushi too could have spoken out her relationship with the family but Dadiji with her TRAFFIC STOP SIGNAL HAND makes it difficult for her to speak out.
Anjali comes back to the temple and sees Khushi upset, she is concerned about her, finally Anjali has begun to show normal reactions after that Skunky fiasco! Makes you wonder if the sudden change is due to her secret meetings and secret phone calls! She hears Dadiji's voice and looks at her, she remembers her wedding day when she had seen her mother rushing inside and then a gunshot is heard! She embraces Dadiji wholeheartedly but Dadi does not embrace her! Dadi tells Anjali that she was not aware that she was going to be a mother!
Now, how did Dadi come to know about this, she was not told about this by any of the members after her arrival! It is obvious that she is cahoots with some one who has kept her in the loop after all these years! Anjali enquires from Dadi as to where was she all these years, does that mean Anjali did not know that Dadi was in the ashram all this while? Dadi asks about Damaadji , it is surprising that she knew about the pregnancy of which we fandom are doubtful seeing Anjali's flat tummy but Dadiji was unaware of Shyam being kicked out!!!!!! Lies, Dadiji, lies! Dadi promises Anjali that she would make everything alright, even without hearing the story! She gets Anjali down for the pooja even as Nani and Arnav return home.
They see each other in a tableau which showed Arnav and Nani standing in the middle with Dadi and Anjali on one side, and Khushi, Payal, NK and Mami on the opposite side. Does it portend the turn of future events with Nani siding with Arnav and Anjali sidiing with Dadi in matters of Damaadji?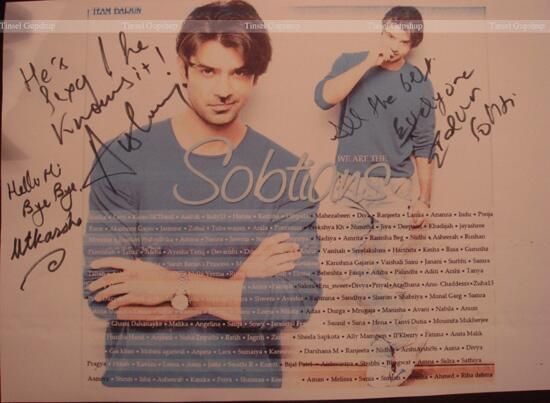 Aug 15
7th August, 2012 :- part two (By Samona) (Thanked: 3 times)
Seeing Dadi in front of him, Arnav remembers his nightmare of mother rushing in on his sister's wedding day and then the gunshot reverberates in his mind! The events of the past bring a grief to his face as he touches his Dadi's feet. She shows more emotion on her face, it is obvious that she loved Arnav more than Anjali, she embraces him with love! Nani introduces the new members of the family and Dadi is stunned to know that Khushi is a daughter-in-law of the house and Arnav's wife as well, she is displeased with the news! She takes back her foot when Khushi and Arnav bend to touch her feet for blessings, she only blesses Arnav, a point noted by Arnav! Battlelines weredrawn right then, with Arnav getting angry on seeing the insult to his wife!
Nani Devyani goes to talk to Dadi Subhadra about the relationship between Arnav and Khushi. Dadi asks Nani how she could have allowed Arnav to marry that girl who she had assumed to be a servant, no one had any details about their marriage, and no one had any news about Damaadji too. Nani asks her why she was concerned all of a sudden after leaving the children and going away for fourteen long years? Nani tells Dadi that the children should have been her responsibility and indicates that the tragedy had affected all their lives. Subhadra does not want to be reminded of the tragedy, it brought the memory of the woman who had caused it all!
Khushi comes back to her room and sees Arnav in a very pensive mood, he is thinking of the humiliation given to his wife by Dadi by not blessing her! He is upset too and Khushi tries to tell him that it might have been her fault, she must have said something which was not liked by Dadiji or probably she did not like Khushi or did not know about their wedding! He does not react and she goes to sit on the bed dejected and sad.
ARNAV'S THOUGHTS:
I turn to look at her and see the dejection and the rejection in her face, it breaks my heart to see her so sad. I went near her and raised her chin with my hand, two tears trickle down her cheeks! She is blaming herself for Dadi's rejection, I know that it was not true. I sit near her and tell her that Dadi was not angry with her. I confess to her that I knew about the way we had married, for the first time I look into her eyes and tell her that she was not at fault, it was I who had forced her, I know that I was guilty. She has tears in her eyes on hearing this, she had not expected me to say this but it has been weighing heavily on my mind since a long time! I tell her that she should not hold herself responsible for the situation even for a second! I also tell her that Dadi was like that! Had always been like that! Dadi always looked at things from her point of view, she never could see the truth! She believes only what she wanted to believeand expected every one else to see things from her point of view! If some one went against her, then they were wrong in her eyes!
Ha Ha Ha, Arnav, I felt like I was listening to a description of yourself! Don't you realize how much similiarity is there between you and Dadi?
ARNAV CONTINUES TO THINK:
Khushi has understood that there was something wrong in our relationships. She asks me why I or Di had never mentioned Dadi all these days? She wants to know if there was some old issues which were hurting me? She wants me to tell her everything. She feels like she does not know me at all, I can't stand there any more. I walk away, now I need to talk to Dadi again, she should not have insulted my wife!
Khushi thinks that she knew Arnavji very well at times but at other times, she felt that he was a complete stranger! Right, Khushi , Arnav is an Ocean, the waves on the top hide the mysteries of the ocean floor! The more you go deeper inside, the depths will amaze you!
Back in Dadi's room, Nani is forced to admit that she too was not aware of Chotte's plan to get married, Dadi is angry and wants to know why. Arnav reaches there at the very moment and declares that he had not announced his intention to marry to anyone, there had been no one there at the time of his marriage! Dadi is angry and asks for an explanation why he had not taken the blessings of the elders, she wants to know how he could take such a decision. ASR comes to the fore, an stark reminder of the tough man he had become due to the circumstances, he asks her in return why she had not bothered to even see his face, or meet him whenever he had gone to the ashram to ask her to return home.
ARNAV'S THOUGHTS:
You want to know answers to your questions? What right do you have? Why should I tell you what had happened? She is telling me that she had every right to question me, about my decisions, by relationship and agewise too , because she was my Dadi, my father's mother! I turn away from her, and she compares me to her son, my father! I can never hear that, Stop it, Dadi! I look in her eyes and tell her that I WAS NOT LIKE HIM NOR WOULD EVER BE LIKE HIM! I grit my teeth in an effort to control my anger, my breathing deepens and I tell her that I did not like anyone speaking about him in this house! Dadi begins to berate me saying that was not the way to talk about my father, I take a deep breath and then emphasize that she must have not heard me clearly, I DID NOT LIKE ANY ONE TALKING ABOUT HIM IN THIS HOUSE! I will not tolerate it even if it is my Dadi! The face-off between Dadi and Arnav frightens Nani who tries to make peace between the two of them!
Meanwhile seeing Khushi sad, NK and Payal convince her to go and ask for forgiveness from Dadi for having thrown the dirty water. She reaches Dadi's room and is about to enter when Dadi raises her hand and halts her in her tracks! It is the second time that Khushi takes back her foot from the threshold! But this time, Arnav turns around and sees Khushi being stopped from entering the room. Dadi starts speaking again but Arnav walks towards Khushi and goes to stand next to her outside the room. He is ready to listen now but Dadi want s to know the reason for his turnaround. He tells her that HE DID NOT FEEL HE WAS NEEDED AT THE PLACE WHERE HIS WIFE WAS DENIED ENTRY!
He was ready to listen to Dadi standing there beside his wife, but now Dadi tells him that she had nothing to say further to which Arnav responds that it was her wish not to say anything! Khushi is amazed to see Arnav standing by her, she has never had expected to see this support from him! Nani is very happy to see Arnav stand by his wife!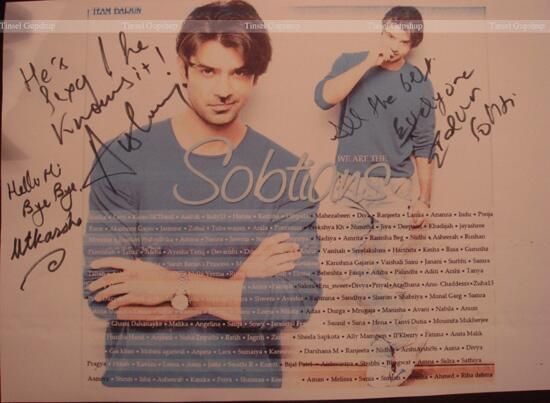 Aug 16
8th August, 2012 :- part three (By Samona) (Thanked: 4 times)
8th August, 2012 :- part three
Arnav tells his Dadi that he was ready to listen to her standing beside his wife and then walks away when she refuses to talk to him. He stops and comes back to Khushi and then takes her away holding her hand in a show of love and support in front of his amazed Dadi. He takes her back to his room, NK and Payal see them and Payal feels guilty for having sent Khushi to Dadi's room. Arnav brings back Khushi to their room in a fit of anger against his grandmother! The anger is evident in Arnav's body language as he walks back to his room with Khushi. Dadi is left fuming in her room while Nani is happy seeing her grandson supporting his wife!
Nani wants to know why Dadi was behaving in this strange manner with Khushi when she did not know her at all. She tells Subhadra that she was behaving very strangely and not in her normal way. What was Khushi reminding her of? Dadi is seen thinking deeply, we do not know if Khushi reminds her of someone or whether Dadi has been influenced by Shyam!
At night, Arnav wakes up with a start after seeing the recurring nightmare of his mother and the gunshot during the time of Anjali's wedding. Khushi too wakes up; they are both now so much in sync with each other that the troubles and sadness of one disturbs the other! She asks him what was wrong and whether he had seen a bad dream. He leaves the bed and goes to the poolside. She wants to share his sadness but does not know how, she knows that Arnav never shared his troubles with anyone. She does what she has always done, used song and dance to make others laugh and smile. She uses her mobile to switch on a song which mirrors the feelings in her heart.
AAJA PIYA TOH PYAAR DOON
O GORI BAYYIAN TOH PE VAAR DO
KIS LIYE TU ITNA UDHAAS
SOOKHE SOOKHE HONTH,
AKHIYON ME PYAAS,
KIS LIYE OH KIS LIYE,
AAJA PIYA TOH PYAAR DOON
LET ME GIVE YOU LOVE, MY DEAR, LET MY FAIR ARMS CIRCLE YOU AND GIVE YOU STRENGTH, WHY ARE YOU SO SAD, WHY ARE YOUR LIPS SO DRY, AND THERE IS AN EMPTINESS IN YOUR EYES, WHY? LET ME HELP YOU! LET ME HOLD YOUR WEARY HANDS IN MINE, LET ME TAKE YOUR SADNESS WHILE YOU TAKE MY HAPPINESS, SO THAT BOTH OF US CAN LIVE HAPPILY!
She tries to make him feel better, she takes him by the hand in an attempt to humor him, to make him laugh, and to reduce the tension in him. She makes him sit on the recliner by the poolside, hugs him from the back, rests her head on his shoulder and holds his hand in a bid to show him that she cared for him and wanted him to smile again. The sadness and grief in his eyes is unbearable to her, she does not know why but it feels important to her to make him happy again.
He leaves her and goes inside and she rushes after him to tell him that it was not her intention to harass him, she knew that he never shared his troubles and grief with anyone, she had no intention to hurt him. She tells him that she did not want to probe into his past but she could not bear to see him so hurt and sad. He then turns around to her and reveals the reason of his grief when he tells her that he was only fourteen when his mother committed suicide, MY MOTHER COMMITTED SUICIDE!
The anguish in his eyes, the sheen of tears glistening in them and the despair on his face stuns Khushi! He gulps down his choked tears as he looks at her, red eyed with tears! She is speechless for a moment, she then rushes to him and hugs him desperately, she tries to comfort him by holding him tightly, by giving all her love to him in that hug, he lets her hold him for a moment and then slowly his arms go around her and he hugs her back, he takes her strength into his heart and soul, he lets her comfort him as he had never been comforted before! The fifteen year old boy who had grieved alone for his mother all these years finally gets someone of his own who grieved along with him, no questions asked or no judgments given, only comfort, solace and love! Khushi cries along with him secure in the knowledge that he had finally let her completely inside his heart!
BARUN, YOU WERE FANTASTIC IN THAT SCENE, IT DID NOT FEEL THAT YOU WERE PLAYING A ROLE, I CRIED ALONG WITH YOU FOR THE LOSS OF YOUR MOTHER! BRILLIANT, BARUN, BRILLIANT, THE MARK OF A GREAT ACTOR WHEN MAKE-BELIEVE FEELS REAL!
In the morning, Khushi watches Arnav sleeping peacefully after the restless night, probably for the first time without a recurrence of the old nightmare, she had shared it with him in the night. She thinks of all the pain inside him and promises in her heart that she would always be with him in his times of need. The contract marriage which was of primary importance in her mind just last week now has vanished from her mind completely as she fell more and more deeply in love, she also saw the depth of Arnav's feelings for her, and also saw that Arnav was no longer hiding his love for her and now also stood by her side in support. He wakes up and sees her watching him, he is surprised and wants to know why? Remember Arnav a few days ago, when she was sleeping and you were admiring her for a long time, how flustered she felt to see your unblinking glance? She keeps giving him side glances and looks away when he looks back at her, he is surprised to see her acting strangely. When he asks her why she was looking at him, she asks him whether she had to pay a tax to look at Arnav Singh Raizada and goes away!
Khushi, my dear, do you have any idea how many of the fandom is ready to go bankrupt by paying taxes to look at ASR? Include me in that list too!
In the meanwhile Anjali wants HP to search for a conch which belonged to her mother in the store room, Khushi hears of this and offers to search for it. Anjali tells Khushi that the conch belonged to her mother, and tells her that Dadi had reminded her of it. I wonder why Nani had not remembered the conch all these years if it belonged to her daughter. She then hugs Anjali after remembering the tragedy of her mother, it is witnessed by Arnav. Anjali too accepts the hug and hugs Khushi in return, Arnav is happy to see the two most important women in his life accept each other.
He gets down the stairs when she comes up, he does not lose the opportunity of flirting with his wife, halting her progress by standing in her way, she blushes while he smirks cutely. The soft nok-jhok between husband and wife is not noticed by any one there and there is a cute smile on his face while she has a coy smile.

Payal tells Nani that all the preparations for the next day's Janmashtami celebrations. Dadi tells Anjali that she was waiting for her Laddoo Gopal meaning Anjali's baby, yes we are waiting for that one too! Dadi wants to know where Damaadji was but Nani is silent. Arnav wants to know why she was not telling Dadiji about Shyam, but Nani tells him to wait till the pooja was over, Anjali was happy now on the occasion and she did not want to make her cry on such a happy festival.
Khushi goes to the storeroom and searches in various boxes for the conch, finally she sees a box inside a cupboard. On opening it, the first thing she sees is a silver pooja thali engraved with the image of Lord Ganesh, I believe this is her mother-in-law's thali which will one day be given to Khushi as the only daughter-in-law! The sight of Lord Ganesh, who is the remover of obstacles is a good omen for Khushi, truth will prevail in the end! Then she sees the conch and takes it out, she keeps the box back in place but an album falls into the ground. It is the family album with childhood and babyhood pictures of Arnav and Khushi, she smiles till she sees the photograph of his parents, there is a moment when she thinks about something, a fleeting memory perhaps, but then continues to turn pages when a photograph falls down.
Did Khushi remember some memory from the past, a glimpse of the unspoken and buried past?
Dadi reaches there when she is looking at the picture of Arnav's mother, coincidentally Khushi was wearing clothes of the same color combination that day as it was in the photograph. She snatches the album from Khushi's hands and creates a scene in the living room in front of the entire family. She accuses Khushi of snooping but Anjali tells her Dadi that she had asked Khushi to search for the conch.
THE ASR TUNE IS BACK NOW WHENEVER ARNAV HAS A FACE-OFF WITH HIS DADI! OH, HOW MUCH I LOVE THAT TUNE!

Arnav reaches there and has a face-off with his Dadi proclaiming that Khushi was his wife and so was entitled to go to any place in the house, search, pick up or look at anything in the house. She has the right to look at the photographs and so there should not be any issue about it. HE REITERATES THAT KHUSHI WAS HIS WIFE AND SHE COULD DO WHATEVER SHE WANTED IN THE HOUSE!

He walks away after letting his Dadi and the others in the family including Mamijji the importance of Khushi in his life and home! Dadi fumes again even as Khushi has tears of happiness in her eyes at this display of love and support from her husband! The husband who was always at loggerheads with her is now her biggest support system against the world!
MY MOM IS NOW FINE, THANK YOU FOR YOUR WISHES!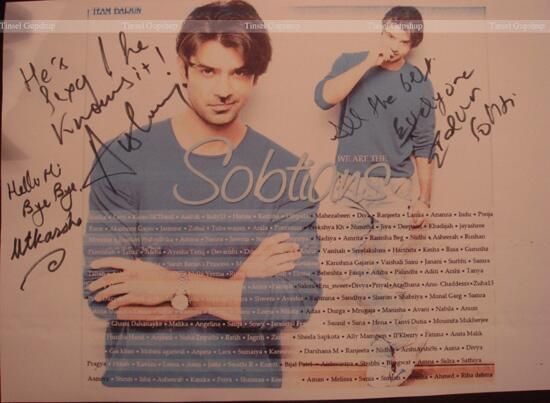 Disclaimer: The views expressed above are member's views and myeDuniya does not comply with it. The views expressed may not be factually correct. Incase of any issue please contact us/report it to us.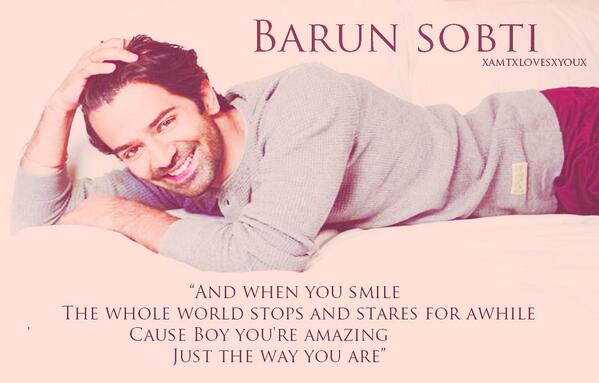 Missing Arnav Singh Raizada!!!!!!!!!!!