ARNAV'S THOUGHTS ABOUT KHUSHI IN THE WEEK THAT WENT BY!
Aug 18
ARNAV'S THOUGHTS ABOUT KHUSHI IN THE WEEK THAT WENT BY! (By Samona) (Thanked: 18 times)
9TH TO 16TH AUGUST 2012:- THIS WEEK SAW MANY UPHEAVELS IN THE LIVES OF ARNAV AND KHUSHI WITH THE ADVENT OF DADIJI! I AM PRESENTING TO YOU ONLY ARNAV'S THOUGHTS ON VARIOUS TOPICS CONNECTED TO KHUSHI THAT WERE SHOWN IN THIS WEEK! HOPE MY READERS LIKE IT!
[1] ARNAV'S THOUGHTS ABOUT THE BROKEN BED:
The beautiful romantic scene wherein Khushi realizes that she loves Arnav with the backdrop of the title song makes you smile too at the innocence of her love!
JOH PEHLE HUA NA , AB HONE LAGA HAI, DIL HUM KO JAGAH KAR , KYUN SONE LAGA HAI
YEH ISHQ HAI YA KUCH AUR HAI YA BAS KHALI KHALI SHOR HAI,
OHHH, ISKO MAIN KYA KAHUN, TU HI BATA , TU HI BATA,
ISS PYAAR KO KYA NAAM DOON, ISS PYAAR KO KYA NAAM DOON!
Khushi goes to her room in a daze, in a romantic daze, a soft smile playing on her lips. Arnav is busy hunting for something in his wardrobe, when Khushi comes in and hugs him suddenly. He is worried if something is wrong, she apologizes to him and he tells her that she should not apologize for anything.
She tells him that she has seen him without any clothes on and then when he is amazed, she smiles impishly and shows him his babyhood picture which makes him feel embarrassed. He tries to pull it out of her hand while she leads him on a merry dance around the room. Finally she jumps on to the bed and in a bid to pull out the picture from her hand, Arnav with a great sideways flying leap makes a valiant attempt and manages to pull her down onto the bed. The great force with which both fall onto the bed BREAKS IT! They fall and are breathless for a moment, on opening their eyes, and looking around both realize the funny situation.
Arnav begins laughing openly and delightedly like a little kid, the laughter in his eyes, crinkling at the corners, he is so amused by it all. Khushi looks at him for a moment before she too bursts out with laughter, she laughs because he laughed.
Oh, she has my baby pic, and that is why she said she had seen me without my clothes on! This girl will be the death of me some day! Hey, give that back to me! She has started running around with it, laughing happily and teasing me with it, give it back! Khushi, this is not funny! Don't throw the towel at me, just give it baa………. Oh, you have jumped on to the bed! Think I can't? One great flying leap should do it! YES, I JUMP AT THE RIGHT MOMENT! CRASH! THWACK! CRASH!!
WHAT HAPPENED? BREATHLESS FOR A MOMENT! I RAISE MY HEAD, KHUSHI LYING BESIDE ME AND MY HAND OVER HER WAIST, HER HAIR ON HER FACE! THE BED HAS BROKEN? BROKEN!!!!! THIS IS AMAZING! VERY, VERY FUNNY! I CANNOT CONTROL MY LAUGHTER AND GIVE A GREAT SHOUT OF LAUGTHER!
Oh, it feels like I am a little kid again!
I laugh out loud and look around at the broken bed, Khushi laughs loudly, I look at her beautiful face adorned with her smile, when I ask her the reason for her smile, she tells me that she has never seen me laugh like this before, an open laugh, and I tell her that the bed had also never broken like this before! We share a beautiful moment together, this slip of a girl has brought HAPPINESS to my life like never before!
Her joyous laughter echoes through me, and I feel a surge of intense love for her, I pull out the baby picture from her grasp and get up from the bed before I do something like grabbing her and kissing her, I know she is not yet ready to go to the next level! She jumps off the bed sulking again but what a beautiful sight before my eyes, my broken bed and my beautiful wife lying on it!
The family sees the wooden planks and bed being changed and on enquiring by Mami, HP tells them that the bed in Arnavji's room had broken. Hearing this, Mami wants to know whether cricket was played there on the bed, Khushi hides behind the diya she was painting and Arnav has a bemused smile on his face, he realizes that Khushi was feeling embarrassed. The family including Nani, Anjali, Payal, Akash and Mami have knowing looks on their faces and Khushi gets up to walk away! Arnav looks at her and winks at her slowly, she is shocked to see this!
I love the look on her face when Mamiji started asking what was done on the bed, whether cricket was played, I can see how Khushi held the diya in front of her face! She gets up to leave and sees me, I love to tease her so! I looked at her and winked,
she is stunned and I smiled a very naughty smile, letting her know that I had heard Mamiji asking about what we had done in the bed! She gasped at my audacity and looked down, what a cute sight to see, my bold and outspoken Khushi is blushing to the roots of her hair!
[2] ARNAV'S THOUGHTS ABOUT THE INCOMPLETE MARRIAGE/REVERSE SUHAAG RAAT:
Janmashtami preparations makes Khushi realize that the incomplete marriage without pheras was not considered a marriage at all. She panics and goes to Arnav to tell him about the dire situation. She tells him that they had not done anything that a husband and wife generally do in a marriage. He takes advantage of her words and rolls his eyes in delight. He asks her what was done by a husband and wife generally after marriage and Khushi lists out in order starting from roka, Kuldevi ki pooja, haldi, mehendi, sangeet, phere, muh dikhayi, suhaag raat hota hai, she does not pause till she reaches the end of the list! He was waiting for it, he was waiting for IT! He told her that they had to complete all the rituals but they could start backwards!
THAT'S RIGHT! TUM KITNI INTELLIGENT HO, KHUSHI! RASME TOH SAARI HAME KARNI HAI, BUT WE WILL START BACKWARDS! Oh yes, we will start with the Suhaag Raat, what do you say?
I go forwards towards her while she gets anxious and starts going back! I told her that you were the one who wanted to do all the rasams and now going back on hearing about the first one? I am really enjoyed this nok-jhok with her, my lovely wife, this is how I am going to spend my life with you, forever teasing you and then harassing you and then making up with you! Khushi Kumari Gupta Singh Raizada, have you changed your mind? I am not going to eat you up? MAIN TUMHE KHA THODI JAAONGA?
Remember these words which he has said to her after the Teri Meri Song in her dressing room? She reaches the wall and then I bind to one side by keeping my hand and leaning towards her, she anticipates some shararat from me, and I lean closer and closer to her and smile a lopsided smile, a smirk, and then tell her that it was a deal, that the next night was our Suhaag Raat! She panics and rushes out, I still call out OKAY, LISTEN, TOMORROW NIGHT!
She woke up in the morning after I received the bag which the courier had brought home. I wished her good morning and then reminded Khushi about our suhaag raat that night. I could see that she was stunned to hear this again, but I turned my face and hid my smile. Oh, I am loving it!
Akash wanted to know if there was anything special for me to smile about, I tell him it is a good day!
I know that Khushi is thinking about the Suhaag Raat that I have been talking to her about, she has become absentminded. Nani wanted a glass of water at the breakfast table, she poured water into a glass with milk in it. I THINK YEH LADKI BILKUL PAAGAL HAI! Then NK asked her why she was wearing her dress in reverse, she is shocked to see it herself! I have a smirk on my face when I see her, I also tease her asking why did she appear lost and bewildered since morning? HAAN HAAN KHUSHI, KYA HUA, AAJ TUM BAHUT KHOYI KHOYI LAG RAHI HO? She looks daggers at me, knows that I am the culprit who has been harassing her all day yesterday and even today morning. She rushes off to our room, it feels good to think of it as OUR ROOM INSTEAD OF THE OLD MY ROOM!
[3] ARNAV'S THOUGHTS ON THE FLOWER SHOWER:
Khushi carries a tray of yellow and orange flowers and is about to go towards the mandir when I pull her behind a pillar. I have to search for new ideas to get some time with my wife! She is stunned and the flowers fly in the air coming down as a shower of petals over us. It feels like the scene after a wedding when guests shower flowers on the bridal couple. I hold her hand behind her back as she gasps in fright. I remind her of the upcoming Suhaag Raat and ask her if she was afraid. She gets more afraid after hearing me but I have a definite smirk on my face, I ENJOY TEASING MY WIFE! Don't you remember that we spoke about it yesterday? I lean closer to her and whisper in her ear, wondering whether she was afraid of it. She is terrified, I can see, and I look at her and walk away confidently, having created havoc in my wifey's heart! Oh, how I love teasing her so!
I see Khushi in the kitchen making jalebis by the dozen and Nani and Payal standing there and asking why she had made them instead of the badaam kheer. I could not resist teasing her again and so go to the kitchen and again ask her what the matter was, why was she looking so lost and flustered today since morning? You have not answered me yet, SOMETHING WRONG? She looks at me with fire in her eyes, I really loved it!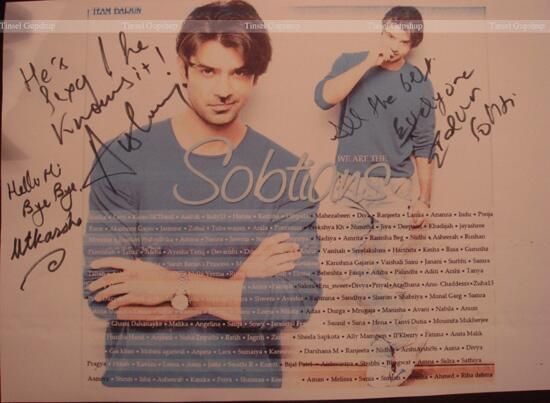 Aug 18
ARNAV'S THOUGHTS ABOUT KHUSHI PART TWO (By Samona) (Thanked: 13 times)
ARNAV'S THOUGHTS ABOUT KHUSHI PART TWO
[4] ARNAV'S THOUGHTS WHEN KHUSHI PUSHES THE WHITE DECORATED TRUNK:
Arnav sees Khushi pushing and pulling a huge box similar to the one she had pushed with Buaji before the Payash wedding. What does it contain?

I see her pushing and pulling that white box but it was too heavy for her. Then I realize that something was stopping it from moving, it was a trowel. It was a funny sight seeing her huffing and puffing, frankly speaking I love to watch the antics of my wife! Thinking of Khushi as my WIFE now gives me great pleasure, I savor the word and the relationship! I removed the obstacle and the box moved speedily, dashed against the table and a glass kept on the table fell down and broke. Khushi too fell down and when she opened her eyes exclaiming Hey Devi Maiyya, she saw me upside down! I asked her what she was doing down there and gave her my hand to help her up but she snorted and got up on her own. She runs away from me and dashes against the box, stubs her toe and groans while I am worried and shout out a Hey, she turns to me and glares at me, I asked her WHAT??? But she rushes out of the door. UNBELIEVABLE , MAN!!!! I cannot stop myself from thinking so, but I know why she is acting like this, the Suhaag Raat is playing havoc in her mind, I do love to torment her so!
[5] ARNAV'S THOUGHTS DURING THE POOJA:
Janamashtami celebrations are on in full swing. The couples come down for the pooja, Khushi and Arnav looking very good. Payal is in the forefront of the preparations, later Akash gets to blow the white conch shell.
We come down for the pooja, Khushi is looking so pretty in her lavender sari, she has curled her hair into ringlets and I loved to see her looking different. Actually it makes me feel glad to see her so happy, I have come down this Janamashtami without a murmur, I remember what she had done last year to bring me down. She had switched off all the lights in the house and I had come down to find out what had happened. I had then lit the lamp in front of the Lord and the lights had come on, to reveal the entire family standing there. I had initially thought that it was Lavanya who had tricked me but then I had heard Khushi telling Lavanya that no one should know that it was her idea. I was so angry then but today I am standing beside my Khushi, happily joining her during pooja. Although I don't believe in rituals I am here to make her happy. I join her while doing the jhoola jhulana of Lord Krishna, it is a customary ritual for married couples on Janamashtami day. I keep glancing at Khushi while doing so, she is flustered by my attention, I can see that she is worried of the night, and I am enjoying this time with her!
After the pooja was over and we got the blessings, Nani told us that she wanted grandchildren from us, I indicated to Khushi with my eyes about Nani's words. She looked down and I went near her and whispered in her ears that YOU ALWAYS TELL THAT WE SHOULD OBEY OUR ELDERS, SO DID YOU HEAR WHAT NANI SAID?
[6] ARNAV'S THOUGHTS IN HIS ROOM:
Arnav keeps calling to Khushi first at the mandir, and later in the kitchen. Both the times Khushi ignores him. Finally he goes to the living room where all are sitting on the sofa and chatting, Khushi is there with the others in a bid to avoid Arnav.
Later I kept calling Khushi to our room, but she was ignoring me, I started getting angry at her. Finally I went and called for her in front of the family telling her to come up to the room. She was angry because I had shouted in front of all but I was more upset. I take out the gift and push it to her hand. I tell her that it was for her and that she should wear it right then. She gets mad at me then angrily asking if it was the right way to give a gift to a wife, I tell her MAIN AISA HI HOON, JA KE PEHAN KAR AAO! NOT ONE MORE WORD! ABHI JAO AUR ISE PEHAN KAR AAO, JUST DO IT! GO!
TO BE CONTINUED.......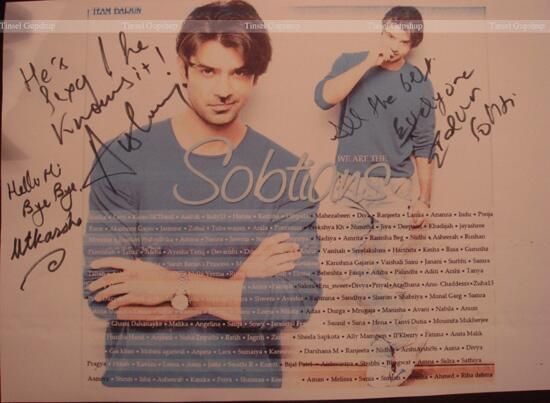 Aug 19
ARNAV'S THOUGHTS ABOUT KHUSHI SUHAAG RAAT (By Samona) (Thanked: 12 times)
ARNAV'S THOUGHTS ABOUT KHUSHI PART THREE:-
[7] ARNAV'S THOUGHTS ON SEEING HIS WIFE IN THAT DRESS:
She goes to the bathroom to change and I look at the bag which the courier had brought earlier. I rush to it and take out all the materials inside. I decorate the bed with red rose petals in the shape of a heart! I hang the flowery decorations over the bed and light up many candles in the room, and I sit and wait in anticipation.

I am nervous too and I sit facing away from the bathroom, as I wait for my wife.

I hear a sound of something clinking and turn around, there she stands behind the screen, her bare shoulders flashing and the red choli peeking at me, she looks nervously at me as she tries to hold her hand near her neck in a bid to hide the bare skin! I get up and hold one hand behind me hiding something as she looks at me and then away, her eyes falling on the bed, I had decorated personally just now, the lights on the wall behind the bed twinkling and the colorful flowery curtain adorning the bed with its heart of rose petals,

her eyes widen for a moment while my eyes smile in return. I want to please her, I want her to appreciate what I had done. I want her to look at me with that love in her eyes.

WAHAN KYON KHADI HO? IDHAR AAO! I want her to come near me, I want to see her in that dress I had chosen for her! She is shy and hides again, saying she could not come out, because there was no dupatta with that lehenga choli, I smile hearing her words! I bring out my hand from my back, her red dupatta in my hands, I had repacked the dress after taking out the dupatta! as the dupatta fluttered in the air, she looked at it and at me with amazement and shyness, I loved to see both in her face! WILL YOU COME HERE OR SHOULD ICOME THERE? I could feel the rising passion in my voice, the huskiness was back in my voice!

I could feel the rising tension in her, and the heavy breathing too, she gulpedown her feelings. I looked at her and knew that she would never come out on her own, I had to go and get her! As I walk towards her, she looks down shyly but with a unknown fear, I am too caught up with the rising passion in me! I remember the strains of the song
TUMHI DEKHO NA, YEH KYA HO GAYA,
TUMHARA HOON MAIN AUR TUM MERI!
[8] ARNAV'S THOUGHTS ON THE SUHAAG SEJH (MARRIAGE BED):
I reach her as she has her back turned towards me, I make her turn to look at me, a beautiful doe looking back at me with a little fear and a little love, she is too anxious to face me. I take her by her hand and bring her near the bed, but she turns away again, trying to hide her body with her hands. The lehenga and choli leaves the midriff bare, I knew she was waiting for her dupatta.

I remember the day when I had thrown the dupatta that Lavanya had brought to my room, out of the room but it had fallen on Khushi then! Now I take the dupatta in my hands and drape it over her head like a bridal veil, for me she is my bride and it is our Suhaag Raat! I touch her face and her lock of hair which always fascinates me, my hands shake with the thrill of having her close to me. She reads the passion in my eyes, and is sehmihui , a little quiet, but I hold her in a hug! Slowly she blends into me, as I hug her closer, she embraces me too!
It is time to let our passion rule us, and take us higher so I carry her in my arms and take her to the bed. It is a moment I had been waiting for, since I realized that I loved her! I had never been able to complete a kiss, last year's Diwali near kisss was the jinx to be broken! I lower her onto the bed and then go closer to kiss her but she averts her face and looks aside.
I know my Khushi is bold otherwise but in matters of love and physical attraction, she is an innocent and coy. As I take it slowly, one step at a time, I am reaching my peak of anticipation and desire, but she stops me suddenly saying NAHIN, ARNAVJI!
I am worried instantly, I ask her what was wrong, if she was okay? She got up from the bed saying that she could not go through with it because HAMARE SHAADI POORI NAHI HUI! WHAT THE!! What do you mean by that, Khushi? We are married, dammit!
TO BE CONTINUED.........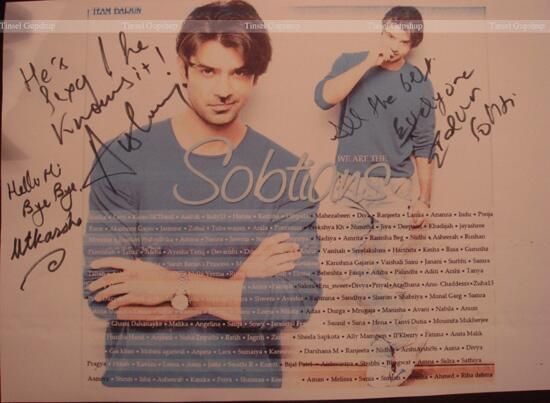 Aug 20
ARNAV'S THOUGHTS ABOUT KHUSHI PHERES AND I LU DAMN IT! (By Samona) (Thanked: 4 times)
[9] ARNAV'S THOUGHTS ON THE PHERE:
HAMARE PHERE NAHI HUYE! Phere? What Phere? What is the connection here? I cannot understand her obsession with the phere. Did not our hearts matter? I love her and she loves me, for me that is enough!

We don't need rituals between us, our hearts are enough! STOP IT, KHUSHI! TUM MERI WIFE HO! TUM MERE GHAR ME, MERE SAATH MERI PATNI BAN KE RAH RAHI HO! AND TUM YEH BELIEVE KARTI HO KI HAMARI SHAADI NAHI HUI HAI? PHERE, PHERE, PHERE! OKAY, SO THAT IS YOUR PROBLEM, RIGHT! YOU FEEL THAT OUR MARRIAGE IS INCOMPLETE, BECAUSE WE HAVE NOT TAKEN THE PHERE?
THEN COME WITH ME! I take her by the hand to the well lit terrace, and look around. I AM MAD WITH ANGER, I BREAK A COUPLE OF STOOLS WITH IMMENSE FORCE DUE TO MY INTENSE ANGER AND THEN SET THEM ON FIRE! Khushi continues to try and stop me but I am beyond listening now! I am frustrated with love, longing and desire

but if she wants phere, then I will do the pheres right now! She does not even understand the mental stress I am going through, but I am going through with the phere first and then the suhaag raat today itself! Until I make her mine, I will ALWAYS be afraid that she will leave me!
I tell her that there was fire and we could take the pheres which were so important to her. She refuses saying that the marriage had to be done with all the reeti-rivaaz. I am fed up of listening to all these rituals and so I carry her in my arms and ask her how many pheres whether seven or eight! At the moment I don't remember anything, but then I have never bothered to count the number of pheres people take earlier, it had never interested me! She continues to protest that it was not the right way, that the panditji had to say the shlokas and mantras but I was beyond reasoning now and continued to take the pheres with in my arms. She said that we had not done it right the first time and now too it was not right but suddenly she stopped in her tirade and I looked at her. She was staring at someone with shock, I look up and see Dadi standing there with disapproval writ large on her face. Khushi tries to get off my arms but I tighten my arms and do not let her get down, it is my house, it is my terrace, it is my wife in my arms and no one, I repeat, no one has the right to interfere in my life and actions!
[10] ARNAV'S I LOVE YOU, DAMN IT:
Dadi walks away and then I let Khushi down. I am very angry but so is Khushi. She tells me that Dadi has seen us like this, she will be more angry. I told Khushi that she is my WIFE and I am standing on the terrace of my house and I was not doing anything wrong that should make Dadi angry. She tells me that Dadi might have heard that we had not taken phere. KYA HAI YEH PHERE? IS IT MORE IMPORTANT THAN OUR FEELINGS? She told me that the rituals and customs mattered, they had a significance to it! I asked again, KYA HAI REETI-RIVAAZ? HOW CAN THEY BE MORE IMPORTANT THAN OUR FEELINGS? WHAT WE WANT, USKA KOI MEANING NAHI HAI KYA? She gets angry on me and starts shouting out, THERE IS NO MEANING TO REETI-RIVAAZ ACCORDING TO YOU, THERE IS NO MEANING TO THE RITUALS OF MARRIAGE ACCORDING TO YOU, THEN YOU TELL ME WHAT DOES HOLD MEANING TO YOU?
Her words provoke me to such an extent that I go forward and grab her arms and yell out THAT I LOVE YOU, DAMN IT!!

Yes, I love you, those words held meaning to me! That I want you to be mine, that holds meaning to me! She is shell-shocked at my confession, I am too angry to register my own words in my mind! For a long time we look at each other in the eyes, the impact of my words reverberating in the air, in the form of the words of the RABBA VE! I am still angry at the turn of events, I had planned for my Suhaag Raat, but now I walk away from her and go away from home for a drive, I need to cool my mind!
On the night of their wedding, six months ago, Khushi spent her Suhaag Raat outside the room and today six months later, Arnav spent his Suhaag Raat outside the house. On that night, Arnav slept on the green recliner and tonight Khushi slept on the green recliner.
I walk into the room before dawn and see Khushi sleeping on the recliner. I remove all the decorations, lights and rose petals from the bed and walk out quietly to dispose them. It has been a torturous night for me but I don't want Khushi to know that.
[11] ARNAV'S THOUGHTS AFTER DADI'S REVELATION TO THE FAMILY:
I walk in to my house and enter to hear Buaji ask Khushi whether it was true that her marriage was incomplete and that no pheres were taken. My entire family stood nearby while my wife was made to feel guilty, like she had committed a crime. It looks like Dadi has called for Buaji to pass judgment on Khushi in my absence! How dare Dadi do that? Buaji forces Khushi to face her and look into her eyes and tell her the truth. Before I could speak, Khushi looks at Buaji and starts apologizing for what I HAD DONE TO HER! I saw Buaji raise her hand to strike at Khushi, IMPOSSIBLE, NO ONE TOUCHES HER! I REACH THERE AND HOLD BUAJI'S HAND BY THE WRIST AND THEN COME IN FRONT OF KHUSHI AND GLARE AT BUAJI WITH IMMENSE ANGER IN MY EYES! Buaji is shocked to see me there and in a temper, I have always loved Buaji but I tell her
APNI PATNI KO HAATH LAGANE KI IZZAZAT MAINE KISI KO NAHI DI, THAPAD MARNA TOH BAHUT DOOR KI BAAT HAI! I HAVE NOT GIVEN ANY ONE THE RIGHT TO TOUCH MY WIFE, SLAPPING HER IS OUT OF THE QUESTION!
[12] ARNAV'S THOUGHTS AFTER THE FAMILY TELLS THAT THE MARRIGE WAS INCOMPLETE:
Dadi tells me that Khushi was not my wife because pheres were not taken. I look at Khushi irritatedly if she had not created a scene last night, Dadi would not have heard her. But I tell Dadi that I don't believe in rituals, for me, what mattered was that Khushi was staying with me for six months and that she was my wife. Di sided with Dadi! I mean WHAT THE! I had told her that I had married Khushi for her sake and for the baby's sake but why did Di then raise the topic of the rituals? Dadi went on humiliating Khushi and her family and I could not bear it anymore! I look at Khushi who had tears in her eyes and cannot bear to hurt her anymore! Nani and Di sided with Dadi in proclaiming that the marriage had lacked social sanction in the form of pheres and reeti-rivaaz, and Dadi said that Khushi could not stay in my house anymore, then Buaji turned to Khushi and pulled her saying that she had to go back to Gupta House!
No, how could I live without her!
I rush after Buaji and told her that she could not take Khushi away from me. Di said that I was wrong and Nani sided with her. Buaji turned to go again with Khushi but I have had enough! STOP IT! I turned to my family and told them although I did not believe in rituals I was ready to do them. APNI PATNI SE PHIR SE SHAADI KARNE KE LIYE TAYAAR HOON! I wanted them to know that I still considered Khushi as my wife! PHERE LENE KE LIYE BHI TAYAAR HOON! AUR SAB RASME NIBHANE KE LIYE BHI! I turn to look at Khushi, tears trickle down her cheeks as she listens to me, I want her to know that I am doing this FOR HER
and not for the family. She wanted the rituals and reeti-rivaaz and I am going to do them for HER SAKE! I want her to be happy and I don't care about anyone else! Nani is happy and I look at Khushi and tell Nani that both of us were ready to get married! I look at Khushi and tell her POORI VIDHI KE SAATH
and turn to the others and say TAKI AAP LOG HAME PATI-PATNI MAAN SAKO! Nani and Di are thrilled on hearing this, Dadi does not appear happy but I don't give a damn to her! Khushi is happy on hearing me, that is enough for me! Di tells me that she had a lot of dreams and wishes for my wedding which she couldn't do earlier, she is happy to do everything this time!
Dadi says that we cannot stay together till the wedding, I don't want to let Khushi go. Nani tells me that it was customary to stay away from each other, she then tells Buaji that we would take the shagun to their house. Buaji tells Nani that they would wait for us and takes Khushi away. I turn to look at her as she turns to me too, I look at her longingly.
All turn to leave after the door closes and I am dejected on seeing my wife walk out, but hey! THE DOOR OPENED!
TO BE CONTINUED....... I DO HOPE YOU LIKE READING THIS VIEW! LET ME KNOW IF I SHOULD CONTINUE.........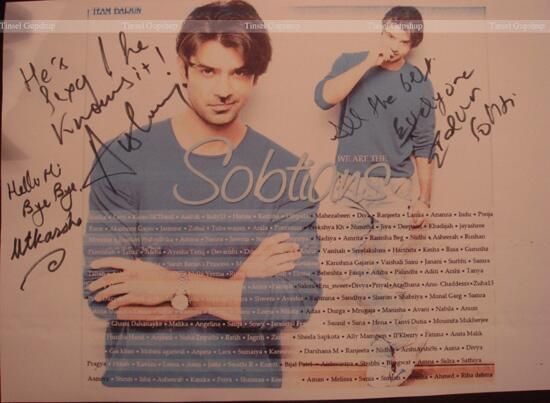 Aug 21
ARNAV'S THOUGHTS ABOUT KHUSHI FINAL PART (By Samona) (Thanked: 1 times)
ARNAV'S THOUGHTS ABOUT KHUSHI FINAL PART:-
[13] ARNAV'S THOUGHTS AFTER KHUSHI'S I LOVE YOU, DAMN IT:
The door opened and Khushi came in hesitantly. Nani and the others leave us alone and Khushi walks to me. She wants to say something, I wait for her words. JAANE SE PEHLE HUM AAP SE KAHE NA CHHATE HAIN KI HUM BHI AAP SE I LOVE YOU, DAMN IT! HEARING THOSE WORDS BRING A PEACE TO MY SOUL, MY HEART STARTS SINGING AND A SMILE APPEARS ON MY LIPS, AS I LOOK AT HER WITH WONDER!
SHE SMILES SO BEAUTIFULLY AT ME, AND THEN BLUSHES LOOKING DOWN, SHE HAS NEVER APPEARED MORE BEAUTIFUL TO ME AS THEN, THOSE WORDS ECHOING IN MY EARS, IN MY HEART AND MIND AND IN MY SOUL! HUM AAP KE AANE KA INTEZAAR KARENGE! She said that she would wait for me! I want her back with me as soon as possible! I am speechless at her words and smile, I look at her smiling away as she turns back and goes out of the door! Her I LOVE YOU, DAMN IT has me rooted to the spot for a long time with a happy smile on my face, I know at last I HAVE REACHED HOME!
NA KUCH POOCHA, NA KUCH MAANGA, TU NE DIL SE DIYA JO DIYA,
NA KUCH BOLA, NA KUCH TOLA, MUSKURA KE DIYA JO DIYA,
TU HI DHOOP, TU HI CHHAYA, TU HI APNA PARAYA,
AUR KUCH NA JAANO, BAS ITNA HI JAANU,
TUJH ME RAB DIKHTA HAI, YAARA MAIN KYA KAROON?
SAJDE SAR JHUKTA HAI, YAARA MAIN KYA KAROOON?
It is truly a RAB NE BANA DI JODI!
[14] ARNAV'S THOUGHTS ON AFTER SEEING KHUSHI'S SLAPPED CHEEK:
Dadi comes back to RM and announces that Buaji had called off the alliance. Nani and Anjali are worried about it, but Arnav comes there and tells them to continue preparations for the shagun to be held the next day. He looks at Dadi, and conveys that he did not trust her with a single glance. He goes to GH and confronts Buaji saying that he wanted to meet Khushi. On hearing that Khushi was not allowed to come out, he walks straight to the bedroom. He sees Khushi standing near the table and calls out to her. She does not turn to look at him and naturally his temper flares up.
Khushi, look at me when I am talking to you! How many times have I told you this! A HANDPRINT ON HER CHEEK! SHE HAS BEEN SLAPPED! HOW DARE THEY? I am stunned to see the red mark on her cheek! I can not look away from her cheek and I feel the rising anger within me! She looks at me with tears in her eyes and then hugs me for solace. I hold her in my arms, offering her comfort but my mind is seething with anger! I ask her WHO HAD HIT HER? She does not say anything and I turn to go out and lambast them for having dared to touch MY WIFE! I have sent her here does not mean they can do anything with her! How dare they hurt her? She stops me holding my hand and tells me that Amma had the right to slap her, even though she was not her natural mother, still she had raised her! She had every right on Khushi! I don't understand why everyone was creating such a fuss for such a small thing! I tell her that since she wanted all the rituals we will go through each one of them! I go out and tell Buaji that I would be coming there the next day with my family to give the Shagun to Khushi at ten o'clock. Buaji lets out the news that Dadi had visited them and said some unsavory words to Khushi, I knew Dadi was trying to break my marriage! I WILL NOT ALLOW DADI TO WIN OVER ME AT ANY COST! I WONT LET ANYONE COME BETWEEN ME AND KHUSHI!
I repeat to Buaji that I would be coming there the next day to ask for the hand of her daughter in marriage,and to give the shagun to Khushi. I turn to look at Khushi, who has tears in her eyes and a fear in them too! I assure her with my look, that I would be there for her all my life, I would take care of everything!
I go back home and tell Di that we were going in the morning at ten o'clock for the shagun. I can see the disapproval on Dadi's face, I tell Di that I wanted to complete this rasam as soon as possible. All except Dadi are happy but I don't care about her anymore! She steps beside me to walk away but I tell her that I knew what she was trying to do but will take the shagun the next morning whether she attended the function or not did not matter to me! I walk away to my room seething in anger but determined not to allow any one in the way!
[15] ARNAV'S THOUGHTS AFTER REALIZATION OF HIS PAST MISTAKES:
I remember the red mark on Khushi's cheek and the anger I had felt at that moment! I recollect telling Buaji that I would be going there for the shagun at ten o'clock the next morning. I recollect Buaji's words that they too were looking forwards to the shagun till the time Dadi visited them and said some unsavory words about Khushi, but I have convinced them.
I remember the past events, like a movie it unfolded before my eyes! I remember the blackmail I had resorted to force Khushi for the marriage saying I would not allow Akash to marry Payal if she did not agree to marry me for six months, I did not disclose the reason for it. I think back on how I had literally dragged her to the temple and tied the mangalsutra around her neck , and then put that slash of red, the sindoor over her maang! I recall the tears in her eyes as she was slapped her by her mother and she had fallen into my arms, then too the anger had bubbled within but now I realized how much pain I had caused her! Then I recalled how I had pushed her out of my room into the poolside and then shut the glass doors! The memory makes me cringe in horror! The amount of pain I had caused her is so immense that I close my eyes in a bid to avoid the realization eating into my soul!
I remember how she had taken care of me through the night when I fell sick! I remember how she had pleaded with me to listen to her innocence when I walked away in the airport! The tears in her eyes now find a partner from the tears in my eyes! I remember her searching for me and helping me to escape the kidnappers, the run through the forest, how she had put her life in danger to search for me! I remember the way I had to change the direction of my speeding jeep to avoid hitting Khushi who was tied and made to lie down on the road, I would have lost her if I had not managed to turn the jeep at the right time! The time when the kidnappers had held me, Khushi had shown bravery in pushing Lallan the ring leader but had fallen over the cliff, the distraction had helped to save my life!
MAINE KHUSHI KO KITNA DARD DIYA, USKI LIFE KI HAR EK DUKH KA REASON MAIN HOON! AAJ JAB KISI NE USS PAR HAATH UTHAYA, TAB BHI MAIN USI PER NARAAZ HUYA!
THE REALIZATION THAT I HAVE GIVEN SO MUCH PAIN TO KHUSHI, ALL THE TROUBLES IN HER LIFE WERE DUE TO ME, I WAS THE REASON FOR HER TROUBLES! TODAY WHEN SOME ONE RAISED A HAND ON HER, I YELLED AT HER AGAIN! I NEED TO SAY SORRY TO HER JUST NOW! CAN NOT WAIT FOR THE MORNING, TO SEE HER AND LET HER KNOW HOW MUCH I REGRET MY ACTIONS, EVERY SINGLE ONE OF THEM!
[16] ARNAV'S THOUGHTS WHILE APOLOGIZING TO KHUSHI:
Arnav goes to GH in the dead of the night to talk to Khushi and to apologize to her. He decides against ringing the bell and disturbing the entire household. He turns to leave and a gust of breeze brings the news of his love's presence at the window, a fragrance which pervades his entire body! He rings her up and asks her why she had not slept yet. She retorts back that he too was awake. He then tells her that she looked good in white and beautiful with open hair. She asks him if he had rung up so late at night to tell her this news and then stops as she realizes that he must be watching her. MAIN TUMHARE BAARE MEIN HAR KHABAR RAKTA HOON! He is just behind her in the house and she turns to see him, stumbles and he locks her in his arms like all the times they have locked her! A long eye lock follows with the strains of the Rabba Ve in the background!
Oh, yes , I jumped in through that open window after she had gone to pick up the phone kept on the table!
She is surprised to see me there, but I tell her that I had come to say something to her. I wanted to have some serious talk with her. I can see that she is tense and I make her sit down on the bed. I start by asking her whether she remembered our first meeting. As if she would ever forget it! I remind her of how I had locked her in the room for the whole night and did not let her go for Payal's marriage. I admit that Payal's marriage broke due to me. Then I remind of the time I let her fall from the first floor of my office, and also of all the times I made her life miserble in the office. I tell her how I had misunderstood that she and Shyam had an affair, and that was why I had married her. She wanted to stop me from saying all this but I want to tell all that was in my mind. I tell her that she had told me many times that she did not have anything to do with Shyam but I had not listened. At the airport too, she had tried several times to tell me but I had not stopped to listen. In spite of all this, she had put her life in danger and rescued me from the kidnappers.
She wants to know why I was saying all this at that time. Why remember the past? I tell her that it was needed to remember the past because I wanted to tell her something. I gulp down my tears and hold her hand in my hands. I stand before her, I am guilty, like I stand before the judge and confess my sins.
I AM REALLY SORRY, KHUSHI! MUJHE SHAYAAD PATA BHI NAHI HAI MAINE TUMHE KITNI BAAR HURT KIYA, FOR EVERY SINGLE TIME, I AM SORRY!
I AM REALLY SORRY, KHUSHI! I DON'T KNOW HOW MANY TIMES I HAVE HURT YOU, FOR EVERY SINGLE TIME, I AM SORRY!
She holds my face in her delicate hands and tells me that I need not say anything, she knew how much I loved her, DAMN IT! She hugs me as I hug her back, she is so large-hearted to forgive me in an instant! What have I done to deserve her? I am so grateful for her love, I will cherish her all my life! I am so relieved and happy to be in her arms! She holds me tightly, does not want to let me go and a smile appears on my face, as I realize that she loves me very much, damn it! I remain with her for a long time till it was time to go back to RM! My home is now where Khushi is but I still had to go back! I am now waiting for the morning when I can be back here with her!
[17] ARNAV'S THOUGHTS WHEN CONFRONTED BY ANJALI AND NK:
How did Anjali know that Arnav had left RM and gone to meet Khushi? The house was in darkness when he left silently. But now Anjali has roped in NK and was waiting to catch Arnav and tease him about his nocturnal actiivities. Anjali has come back to her former self, her chirpiness is back. Is it the result of her meetings with her Skunky? Arnav walks in happily, and does not see the ambush, NK calls out STOP! Both are in a teasing mood, anjali repeats Chotte's WHAT THE!! And asks him if he had gone to meet Khushijji! NK tells him that he should give the SAWAAL AND THAT HE WOULD ASK THE JAWAB! Arnav is in a jovial mood and corrects him! They banter for a while and Anjali tells NK that her Chotte was IN LOVE! She tells him that love changes a person! IS SHE PLANNING TO TELL HIM LATER THAT SHYAM HAS ALSO CHANGED DUE TO HIS LOVE FOR HER? NK continues to tease him by using the words NANAV, MERE BHAI in all the sentences but Arnav does not take offence anymore!
Arnav is about to leave Di's room when he hears Dadi telling Nani that she was unhappy that Garima had not come to meet her. He gets angry thinking that Dadi was searching for new ways to harass Khushi and her family. He rings up Khushi and tells her that it was unbearable for him to listen to Dadi's rantings about her family. He plans to take Dadi there at night and informs Khushi about their impending arrival. Later he informs Khushi that Dadi had changed her mind. He is keeping Khushi informed about all the developments in the family, the compatibility and comfort level between the two is increasing so is the trust factor! He tells her not to worry, he would be coming along and will handle everything!
[18] ARNAV TALKS TO KHUSHI IN THE MORNING: A TYPICAL HUSBAND –WIFE CONVERSATION:
While dressing up for his shagun ceremony, Arnav asks Khushi if she was ready. He does not have to do anything, but Khushi has to get the house ready, the gifts ready and other umpteen things hold her attention. She is not yet ready but she asks him what happened, why the morning call? He tells her that he would see her soon and she informs him that he could not come for the shagun ceremony. He retorts to her that who would dare to stop him. He disconnects the phone saying that he would see her shortly.
TUM READY HO? OH HO, THERE IS SO MUCH WORK ACCORDING TO BUAJI! I WILL SEE YOU SOON! Kya matlab hai tumhara? Dulha nahi aa sakta? AUR KAUN ROKEGA MUJHE? MAIN WAHAAN AA RAHA HOON! I WILL SEE YOU SOON! She thinks that I will not be allowed to go to her place for the shagun, I am going there by hook or by crook!
But this time he had not reckoned on the cunningness of his Dadi who uses his words that he was ready to follow all reeti-rivaaz to marry Khushi. She informs him that the groom was not allowed to go for the shagun. The family does not side with him only NK does but he is shushed by all. NK assures Arnav that they would give the shagun to the right girl, so he need not worry! As the family leaves, Arnav looks at Dadi who has a faint smile of triumph on her face!
It makes Arnav think twice about the whole issue, he is sure Dadi was planning something in Gupta House, and he knew just what he had to do! SHATIR DIMAAG, INDEED! One of the best days in his life and he would not want to miss it!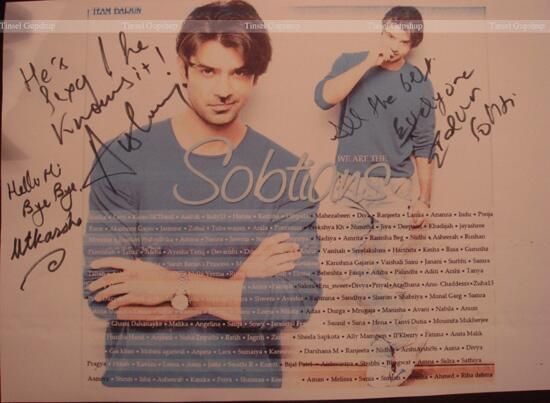 Aug 21
ARNAV'S THOUGHTS ABOUT KHUSHI the final bit! (By Samona) (Thanked: 5 times)
ARNAV'S THOUGHTS ABOUT KHUSHI the final bit!
[19] ARNAV'S THOUGHTS AFTER SEEING KHUSHI AFTER THE SHAGUN:
I enter the room after hearing Dadi say that the bride and the groom could not meet after the haldi ceremony. GREAT! TOH MAIN EKDUM SAHI TIME PAR AAYA HOON! It was the right time! Everyone is shocked on seeing me there, Khushi has her mouth open on seeing me in front of her! I look at Khushi, raise my eyebrows a bit and say a HI to her! She is shocked but I have a smirk on my face! I had told her that no one could stop me from meeting her! NK tells me that I had reached at the right time, and calls me a naughty boy! Yes that I am, a naughty boy, indeed!
Dadi is angry and tells me that she had forbidden me from going there. But I counter her arguments by telling her that she did not want me to be there for the shagun, but the shagun had already been given to Khushi! She also had said I could not meet her after the haldi ceremony so technically I was not breaking any rules because Haldi was some days away. I could continue to meet Khushi till then. NK was impressed by my logic and praised me, I could see Di, Nani and Akash also hiding smiles, and I am sure behind my back, Payal, Buaji and Uncle too must be hiding smiles!
But I had eyes only for MY KHUSHI! I tell her that I wanted to speak to her, and tell the others to EXCUSE US, WE WILL BE COMING BACK SOON! I hold her hand in front of both the families and help her to get up from the sofa and then lead her to the bedroom in front of my family! WHOOPEE! I HAVE SHOWN DADI THAT SHE CANNOT STOP ME FROM MEETING MY WIFE! I am not afraid to show my love and support for her, I AM HEAD-OVER-HEELS IN LOVE WITH HER! AND I AM PROUD TO SHOW IT TOO!
Khushi tells me that Dadiji was so angry. She had told me that I was not supposed to go there for the shagun. I remind her that I had also asked her KAUN ROKEGA MUJHE? She pouts and says ARNAV SINGH RAIZADA in a cute way and I cannot resist calling her KHUSHI KUMARI GUPTA SIN….. BUT SHE HALTS MY WORDS WITH HER HAND OVER MY MOUTH! WHAT?? She tells me that ABHI SINGH RAIZADA BANNE MEIN DERI HAI! It was not yet time! I don't know what she meant when she said that tomorrow was ROKA! She explains that ROKA meant that we would exchange rings the next day. I feel it is ridiculous to exchange rings but she explains the significance of it! She points out to her ring finger and tells me that we would wear the rings on that finger because the vein in that finger went straight to the heart! Her beautiful smile says it all to me, I listen to her amazed! She continues that after the emotions reached the heart, it meant that she was mine!
I listen to her and ask her REALLY? MATLAB TUM ABHI MERI NAHI HO?
DOES THAT MEAN THAT YOU WERE NOT MINE NOW? I wait with bated breath for her answer and she does give her answer promptly not realizing that I was again teasing her! HUM TOH AAP HI KE HAIN, LE……… and then stops when she sees me looking at her besottedly, lost in the innocence of her face and words, thanking the day I had met her and lost my heart to her! She is flustered by my look but I continue to stand there like a mesmerized guy totally in love!
THIS MARKS THE END OF THE WEEK I HAVE CHOSEN FOR ARNAV'S FEELINGS!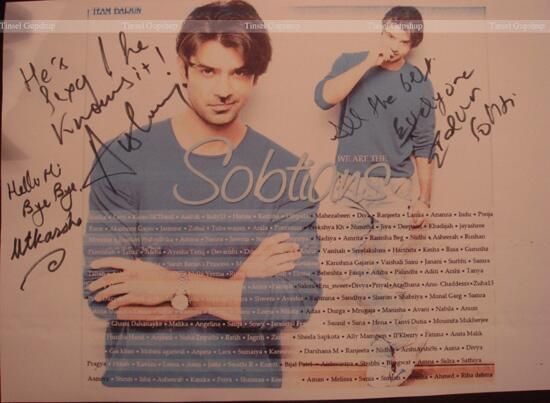 Disclaimer: The views expressed above are member's views and myeDuniya does not comply with it. The views expressed may not be factually correct. Incase of any issue please contact us/report it to us.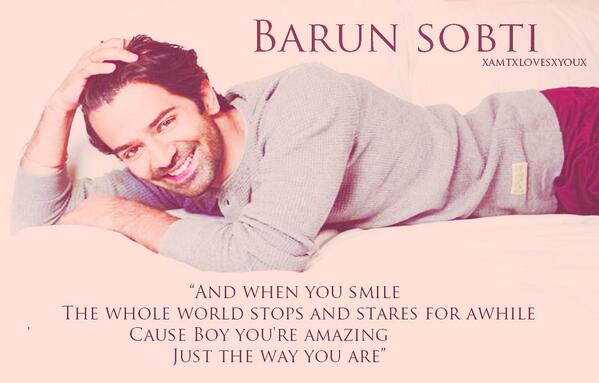 Missing Arnav Singh Raizada!!!!!!!!!!!