JAHAAN TUM WAHAAN MAIN!!
Aug 25
JAHAAN TUM WAHAAN MAIN!! (By Samona) (Thanked: 12 times)
FIRST MY APOLOGY FOR THE DELAYED REVIEWS, I WAS TIED UP WITH OTHER WORK COMMITMENTS HENCE COULD NOT POST EARLIER!
Three superbly romantic episodes came as Hottie's birthday gift to us, the drooling and swooning fans of Barun Sobti! Head over heels in love Arnav is going through all the rituals and ceremonies with Khushi happily and he is doing this only for the sake of the KHUSHI (JOY) OF HIS KHUSHI! THE SHAGUN, ROKA AND KULDEVI POOJA CEREMONIES SHOWED HOW ARNAV HAS DECIDED THAT NOTHING OR NO ONE COULD KEEP HIM AWAY FROM KHUSHI! HITLER DADI COULD NOT DICTATE TERMS TO HIM AS HE IS TECHNICALLY CORRECT IN HIS ARGUMENTS!
MONDAY –
ROMANCE – Arnav asks Khushi whether she was not his because the rings had not been exchanged. Khushi is tricked into telling him that she was always his but when she realizes what she had revealed, she grumbles in her mind that Arnavji had learnt the art of rendering her speechless from the time he has started articulating his thoughts. BOLNA KYA SEEKH LIYA HAME HI CHHUP KARA DETE HAI AAJ KAL!!!!
RASAM – Buaji tells Anjali that she wanted to tie the raksha dhaaga to Arnav but Anjali tells her that Chhote did not believe in these traditions. Buaji agrees to forgo it but Arnav hears the conversation. After the Raizada family leave, Arnav returns to take his forgotten phone and hears the conversation between Buaji and Khushi about the raksha dhaaga again. This time, Khushi tells Buaji that Arnavji did not believe in these traditions, but she also adds that he loved and respected her family very much so these small rituals do not matter. She does not want to force him to do something which he does not believe in. Arnav realizes that Khushi defends him in his absence and had got slapped in return but still did not want to let him know about it. He understands the depth of her love for him even without her words. Arnav thanks Khushi from his heart, he is very aware of her support for him and she too understands why he was thanking her ! That quiet BYE from both of them touches our hearts, it is like they do not want to part from each other!
TERI YAAD MEIN – At night , Arnav lies on bed wearing an orange Tshirt ( LOOKING HAWTT! CAN'T HELP BUT DROOL )and thinks of Khushi. He turns to his side and sees it empty for the third night in a row. It makes him restless, he is missing her very much. He gets up, and is about to ring up but then looks at the time and thinks that she must be asleep in some TAEKWONDO POSE!
He smiles fondly at the remembrance of her sleeping positions. Khushi on the other hand, is restless too, she sticks Arnav's photo onto the Salman Khan poster, now she wants Arnav to take her away in the doli! Very cutely she informs Salman that now she belonged to some one else, PARAYE HO GAYA HAI! She does not want Salman to look at her anymore! They have a telepathic connection again when Khushi demands a smile from Arnav's photograph and he obliges there in RM looking at the moon! She fondly chides him saying LAAD GOVERNOR KAHIN KE!, while he is thinking of her all the time!
NK'S GEMS: NK tells the family that they would next meet for the DHOKA CEREMONY! Anjali corrects him saying it is not Dhoka but Roka! Do you realize, Anjali, that you are the one who is giving the DHOKA to the whole family? To Chhote as well?
NK'S GEMS AGAIN: Let the Rok-Tok ceremony begin once Di has completed her work. Indeed, NK, you are right! Anjali is preparing the grounds for the rok-tok in the shaadi once she is successful in bringing Shyamji into RM!
RASAM AGAIN: Arnav babua has indeed researched very well on the topic of Roka. He does not want anyone to say that some reeti-rivaaz has not been completed. This time he is well prepared for any eventuality! He tells Khushi to stand to his right, then confirms it from NANI. Then he tells Khushi that Di would put her teeka and Buaji would put teekha to him. The others are very impressed to hear this and Khushi is amazed to know that he has gone to such lengths to make her happy. The cute looking guy looks hot with the red tikka on his forehead! The former ASR look with the cravat is back!
HAAN, IS BAAR SAB KUCH RASMON KE HISAAB SE HONA CHAHIYE NA? He offers his right hand for the raksha dhaaga and amazes everyone present there! The tears in Anjali's eyes and the shock on Khushi'face shows how much Arnav has changed due to his love. Khushi asks him about the raksha dhaaga and he replies that since he was following all the rituals why leave one? Buaji gets very emotional while tying the thread. Khushi can not believe her eyes and tells Arnav to pinch her to make her awake from her dream, he looks away at first and then with a side glance pinches her in the arm and smiles very flirtatiously at her!
THE ROKA CEREMONY: They exchange rings in a beautiful ceremony with smiles and joy on their faces. Anjali has tears in her eyes as she sees her Chhotte getting engaged to the love of his life! The happiness on Khushi's face brings a satisfied smile onto Arnav's face, he has wanted to make Khushi happy by giving into these traditions. He is now enjoying these moments with her.
TECHNICALLY DONE:
ASR THE BUSINESSMAN TURNED LOVER, argues with his dadi on his SHAGUN day that he was not breaking any rules technically by being in Khushi's house as he had arrived there AFTER the shagun was given to Khushi and he was not supposed to be there for the shagun. He also argued that since Dadi had said that he could not meet her AFTER the haldi ceremony, he could meet her between the SHAGUN AND HALDI ceremonies! Dadi is stumped by his logic and NK is very impressed. The others in the family are amused and all realize the importance of Khushi in Arnav's life!
ASR THE CYNIC TURNED ROMANTIC LOVER, tells Khushi on ROKA day, that they have already gone through an engagement technically before the eyes of Devi Maiyya. He refers to the day when he had bandaged her left finger, the vein of which went directly to the heart according to her on the day she had hurt herself. She agrees that she had become his from that day onwards. She had been sad because they had not done any rituals earlier. He wanted her to know that they had already gone through an engagement in the shape of the bandagement and that rasam had been done earlier.
The entry of the band baaja team makes everyone happy to dance to their tunes, the happy family barring Dadi start dancing to the music. Arnav watches his wife on one hand dancing happily and on the other hand watches his sister happily offering the SWEET OF THE DAY, JALEBIS, to everyone. He can see her happy with his engagement. Arnav watches Khushi dancing with abandon and his patience is at an end. He enters the circle of dancers and does a finger bhangra to please his wife and then holds her hand! He wants her for himself alone and leads her away from the middle of the dance floor!
THE EVIL EYE: Shyam is keeping a watch on the proceedings. The band baaja also allows Shyam to enter Rani Saheba's room under cover of the sounds to exchange the tablets in her medicine bottle. There was a pill fallen on the carpet. While changing the capsules, they drop on the floor, and he picks them up and puts them back inside the bottle. The one pill which was already on the floor earlier gets back into the bottle.
Akash stands by Buaji against Dadi when she is interrogated by Dadi about Garima's absence. He tells Dadi that he had told Payal and Khushi's parents to avoid attending the function because it would have been too stressful for their father! I really loved the way Akash takes Buaji away to dance during the roka. He does not bother to call Dadi.
ARNAV'S THOUGHTS OF THE DAY:
You want to know what am I doing? I am looking at you! Dadi has told me that I cannot see you after Haldi so I am going to look my fill now when I have the chance. I want to capture your image in my eyes when I have this opportunity. Although how I will be able to live on those days between Haldi and the marriage is something I do not know, but now let me look at you! Just looking at you is not enough for me, I have to touch your porcelain cheeks too, I want to kiss you! You do sense the passion rising within me, so you remind me of Di but I kiss your forehead and tell you to let Di come! At this moment, I don't care who comes! You know that I am going to kiss you again and so you remind me that Dadiji might come but I continue my journey towards your right cheek and plant a soft kiss on it, my voice turns husky as I say AANE DO! I look at you with eyes glazed with desire, as you lower your eyes and breathe heavily, you too are getting caught up with the passion of the moment! I bend towards your left cheek and do not let you complete your words of BUAJI and silence you with my gentle kiss and then say AANE DO! My eyes now focus completely on your soft pink lips, I have been waiting for this moment as I near them and close my eyes too when you tell me that Aman might ring up, and I say AANE DO in reflex, without thinking, all my focus on your lips and THEN MY MIND REGISTERS WHAT YOU HAD SAID!!!!!!
I OPEN MY EYES AND CAN'T BELIEVE WHAT I HAD JUST HEARD! WHAT!! AMAN KA PHONE AA JAYEGA? You tell me that Aman might call me if he faced some problems in the office! Yeah, I know why you said those words; I too remember that phone call which called me back to my senses that Diwali night! Now I wish I had kept my phone on silent mode then! I would not have wasted a year waiting for my KISS!
I am amazed at the timing of your words, you should write a book titled 100 WAYS TO BREAK ROMANTIC MOMENTS BY KHUSHI KUMARI GUPTA and when you completed your name by attaching SINGH RAIZADA to it, my heart went DHAK DHAK DHAK DHAK!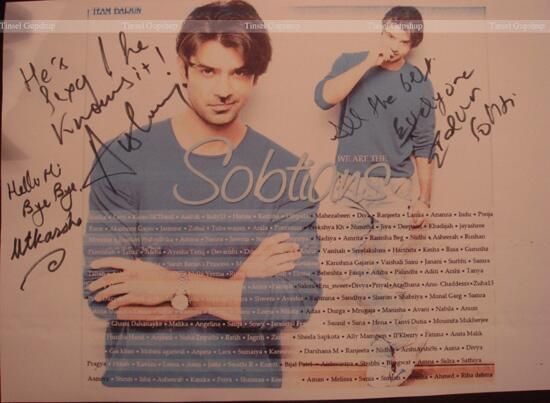 Aug 25
JAHAAN TUM WAHAAN MAIN!! TUESDAY VIEW! (By Samona) (Thanked: 11 times)
TUESDAY:
ROMANCE – ARNAV'S THOUGHTS OF THE DAY continues………….
I am amazed at the timing of your words, Khushi, you should write a book titled 100 WAYS TO BREAK ROMANTIC MOMENTS BY KHUSHI KUMARI GUPTA and when you completed your name and attached SINGH RAIZADA to it, my heart went DHAK DHAK DHAK DHAK!
Hearing SINGH RAIZADA attached to your name made my heart go CRAZY

and I realized that you were now completely mine even in your mind! Then of course, I HAD TO KISS YOU AND MAKE YOU MINE! As I slant my head and approach your lips, you suddenly push me away, EXCUSE ME? And then take me by my hand and pull me out of the poolside. What made you look so upset? I turned to look behind us but did not see anyone! Did you see someone or a shadow?
THE CARING BROTHER : Arnav sees his sister still taking the jalebi tray around and makes her rest for a while. He sends HP for a glass of milk. He goes to get the medicine from Anjali's room after telling Khushi to be with Di. Point to be noted was that in spite of the entire family standing around Anjali and Arnav, he looked at Khushi and asked her to sit with Di till he returned from the upstairs room with the medicines. Khushi is now synonymous with him as far as Di is concerned. He and Khushi are now two halves of the same whole, she can replace or stand by for him in times of need. MISSED : Arnav walks up the stairs and almost reaches the room when Shyam exits from there but does not see him. He looks around, does he sense someone's presence?
THE EVIL EYE: Shyam switches the medicines from the bottle and replaces with another set of the same kind and color. Shyam rewinds the CVTV footage and watches Anjali take the pill and thinks to himself that the doctor will be needed in the near future. POINT TO BE NOTED: Anjali is given the medicine by Arnav and the glass of water by Khushi, the two people who were the ones who sacrificed their lives for Anjali's happiness! They are still living for her!
GUPTA HOUSE SCENE: Buaji tells Garima that Dadi was very unhappy with her absence, and she also describes how Akash bitwa had rescued her from Dadi. She tells Garima that Dadi would hunt her out from hell if she hid there. She tells Garima that both the girls were very lucky to get those boys although she again teases Khushi by saying that one of the boys were a little crazy and paagal and Khushi takes the bait and pouts at her. They share a tender moment together.
THE CARING SON-IN-LAW: sends a nurse to take care of his father-in-law so that his mother-in-law can attend all the remaining functions. He is trying to make Khushi happy by getting at least one parent for the functions. He tells her not to refuse the nurse for Khushi's sake, IT WILL MAKE HER HAPPY! He knows how much Khushi loved and missed her parents and wanted them to attend the wedding celebrations! ARNAV NOW FUNCTIONS ONLY ON ONE MODE - " MAKE KHUSHI HAPPY!" MODE!

Garima then decides to tell the secret to Khushi after the next day's Kuldevi Pooja.
BEDTIME TALK - Khushi rang up to thank me for the nurse, she was happy that her mother would now be able to join us for all the celebrations. She mentioned the Kuldevi Pooja to be held the next morning at the temple and said that her mother could also join them now. I was happy to hear her laugh, I smiled happily thinking that I had managed to bring that smile to her face! The expensive things which I could easily buy for her did not hold any meaning to her, she was happy with the small things which mattered in life! I am slowly learning that MONEY IS NOT EVERYTHING IN LIFE, KHUSHI TEACHES ME SOME THING NEW EVERYDAY!
Khushi wanted to know what I was doing at that time and I told her the truth that I was busy signing accounts. She got mad at me asking if I never watched films. Excuse me, what has films got to do with what I was doing at that time? She wanted me to answer her question with the words that I was lying on the bed and watching stars! I mean WHAT THE? JAANTA HOON KI WOH THODI PAAGAL HAI BUT CUTE HAI!
I look up at the sky and not a single star was visible! I tell her that I was not lying on the bed and the sky was too clouded to see the stars!
She says that she was going to disconnect and I agree to it, anyways it was time for her to go to sleep. She wanted me to tell her if she should really disconnect, and I was surprised by this. When she asks me the same question again, I ask her in return whether I had to pass the order in the stamp paper! Now she told me to disconnect first and I said a good night to her and switched off. Within seconds the phone rang again and Khushi was back with her words that I was not supposed to disconnect even if she had told me to. What? Okay, what am I supposed to do then? Oh, Pehle Aap, Pehle Aap! She wants to know if I was from Lucknow or not, this was in their culture! I smile listening to her, she sounded so cute in her complaints, I could imagine her pouting in her room! She told me that I had halted at WHAT THE, WHAT THE! and did not indulge in romantic talk! Oh really, wait now it is my turn to have a little fun at her expense!
I smile naughtily as I disguise my voice and tell Khushi that I was Akash and that Bhai had just………Khushi is so flustered that she starts stammering in her reply! I cannot control myself and give a great shout of laughter thoroughly enjoying myself. Khushi gets mad at me for having fooled her, but then I tell her that if her nose had turned red and she was blushing then yes, I was laughing at her! I know she must have touched her nose then, just the way I like to touch it!

I forgot my work and began talking to her as we spent half the night in laughter and talk, till we fell asleep with each other's thoughts! It felt like we were in bed together sharing our love and laughter with each other!

Arnav gets the Panditji and tells him that everything had to be done according to the traditions and customs, the family is flabbergasted to hear him say so. Arnav rushes to the study to escape his family's leg pulling at his volte-face in respect of following traditions! Arnav does not want to take any risks now, he wants his wedding to complete smoothly without any glitches, he does not any one pointing out like Dadi did that his marriage was an incomplete one or invalid.
ANJALI - CREDIT CARD – Arnav signs the credit card bills and sees a suspicious entry for KL CAMERA EQUIPMENTS. He asks Anjali for her credit card, Anjali searches in her purse and then informs him that she seems to have misplaced it. He tells her not to worry, he would cancel it. He then arranges for Mohan, the driver to take Di to wherever she wanted to go! Did Anjali give the card to Shyam and merely pretend to search for it in her purse or did Shyam actually steal her card?
The next morning, Arnav asks Payal if all the requirements told by Panditji was ready. She wants him to check out the decorations but he tells her that he did not have the time because he had to go to the TEMPLE! The reactions of his family members was PRICELESS! EVERYONE LOOKS AT HIM WITH WIDENED EYES AND A SPEECHLESS LOOK!
NK'S GEMS: When Arnav raises an eyebrow a quarter of an inch, and asks his Nani, WHAT? NK reacts pricelessly with NAHI, NAHI, NANAV,WHAT NAHI! THE! THE! WHAT THE! OKAY?
MAMI GOES HELLO HI BYE BYE! And Nani asks him if he was going to the mandir. Arnav tells them that he was going to meet Khushi at the temple. Dadi gets the chance to say that he was not thinking of himself anymore and then suggests that the family could also go to the temple. She wants to meet Garima. Anjali does not agree to go to the temple, she is seen as moving away from God! NK does not go since he wanted to meet his Australian friend.
At the temple, Garima prays to DM to grant her the strength to tell the truth of her past to Khushi. Arnav and his family reach there. The entire family go to the temple but Arnav remains near the car, he does not believe in these rituals but has come to meet his Devi, Khushi!

Arnav stands there looking cool and hot at the same time, in his designer glares and suited to the nines, a dapper looking hotwa!

Dadi in her eagerness to look at Garima, does not glance towards the idol, but searches for Khushi's maasi!
Sometimes the PRE-CAP overshadows the whole episode, this is one such time! A super hot looking Arnav Singh Raizada removes his brand new shoes at the temple steps and climbs them to enter the temple of his own will for the first time! DEVI KE LIYE KUCH BHI KAREGA! PAR KIS DEVI KE LIYE?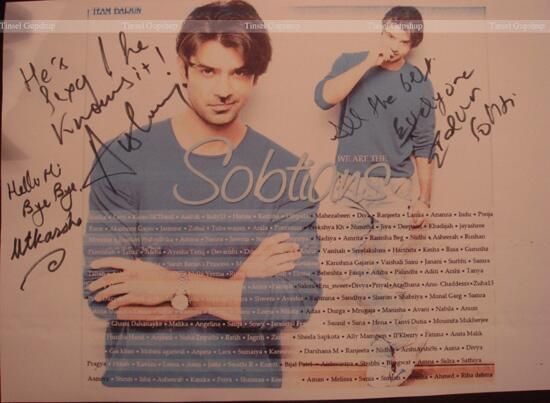 Aug 27
JAHAAN TUM WAHAAN MAIN!! THE REMAINING DAYS VIEW! (By Samona) (Thanked: 4 times)
WEDNESDAY –
The Raizada family comes to the temple and Arnav stays near the car, he is not interested in the rituals being held there. Dadi enters the temple and starts searching around for Garima, she does not even look at the idol of Devi Maiyya, it does not augur well for her. Khushi, Amma and Buaji pray while Nani, Mamiji, Akash and Payal follow Dadiji into the temple. Dadi stands behind Garima and she is intrigued by the lady in front of her, she cannot see her face but she waits for the aarti to be over. Meanwhile Garima exhibits the same tendency that Khushi has, she feels uneasy and starts sensing the presence of trouble (DADI) behind her!
She looks behind her and sees Dadi praying with her eyes closed, this causes panic within Garima. She manages to take the aarti before disappearing from the temple.
DHOKA:
Anjali comes back from the temple and asks HP about everyone, on hearing that all have gone to the temple, she still enquires about NK. How did she know that NK had not gone with the Raizadans to the temple? Has Shyam informed her that NK had not gone? Why has Anjali not realized that Shyam was keeping tabs on her family? Or is she aware of the cameras but pretends otherwise?

She gives a chutti to HP saying he could go and visit his family. She prepares tea very lovingly and then waits for the arrival of her special friend with the blue stone bracelet. Anjali, how could you do this? Recently you had lamented that Chhotte was not anymore yours because he had lied (according to you) to meet his wife, now what are you doing? You invited the man who your brother had thrown out of the house and are now serving him tea?
DARR:
Garima rushes back home in an autorickshaw, Akash sees her entering the auto when he is buying flowers. Khushi sees the entire family in the temple, she rings up Amma who tells her that she had to go back home to give the medicines to Shashiji. Dadi taunts Khushi by saying she had arranged a meeting with Arnav at the temple, although Nani tries to refute this statement. Khushi is scared on hearing this and tries to tell Dadi that she had not said anything to Arnav.
ROMANCE –
He goes to the mandir to meet his girl, but stays out of it, waiting impatiently for her.

Khushi rings up to inform him about Dadi. He is least bothered about what the others think. The moment she mentions a rasam, he is ready to enter the temple to complete it. He does not want to take any more chances with his marriage, he does not want anyone pointing fingers and saying that his marriage was not complete. He also wants to make Khushi happy since he has realized how much she had lost out of her dreams after his hasty decision to coerce her into marriage! Now he is on a one track dimension, that is to fulfill each and every one of Khushi's dreams!
Khushi informs Arnav that she had come to the temple to take DM's permission for their wedding. It was a part of the rasams. Arnav comes up the temple stairs and the whole family is shocked out of their minds! Gaping mouths, widened eyes and disbelief writ large on their faces, the Raizada family watches the mighty ASR as he removes his brand new shoes at the steps and the removes his glares while entering the temple, accompanied by ASR music! Khushi is stunned to see him there for her!
KYA HUA? RASAM HAI, RIGHT? KUL…….Khushi rushes to tell him that it was Kuldevi and Arnav turns to Nani to confirm that SHAADI KE LIYE KULDEVI KI PERMISSION CHHAHIYE, RIGHT? ISSI LIYE AAYA HOON! Khushi is thrilled to see him there,while Dadi snorts silently on seeing him. He follows her lead in joining his hands in prayers, closing his eyes but both share the most beautiful smiles with each other. Arnav turns to look at Khushi who is praying with her eyes closed, but she smiles feeling his glance on her, he closes his eyes and she glances at him and sees that beautiful smile playing around his lips!
She holds his hands while taking the holy water, the akshata and he repeats her actions.
Khushi winks at DM while telling her that Arnavji had come to the temple for her sake.
She also prays for his well being. Arnav asks her if she had now got the permission of the Kuldevi for the wedding and whether she was happy now.
Everything he does, is for Khushi! She reminds him of the little girl for whom he had bought all those pigeons and set them free! He is amazed to know that she had witnessed this incident!
ARNAV'S THOUGHTS OF THE DAY:
Khushi told me that getting the Kul…. Ka permission was also a rasam and I am not going to stand here near the car and miss this opportunity. I don't want any one to say that I did not participate in a rasam and so my marriage is again not complete. I climb up the steps of the temple, remove my shoes, my aviators and walk in. Khushi is shocked to see me, I can see the disbelief in my family's faces too. I ask Khushi KYA HUA? She gives a slow blink in disbelief! RASAM HAI, RIGHT? I try to say KUL…. AND KHUSHI COMES TO HELP ME AND SAYS KULDEVI! I turn to Nani and ask her SHAADI KE LIYE KULDEVI KI PERMISSION CHHAHIYE, RIGHT? ISSI LIYE AAYA HOON! Khushi smiles so beautifully at me, it was worth it to come up! I knew that she would understand that I had done so just to make her happy!

Nani makes us stand before the idol. I look at Khushi and she folds her hands in namaste while I copy her. She closes her eyes and I do so, I look at her again to see what she was doing next, she smiles with her eyes closed. How did she know that I was looking at her? But a smile appears on my face too as I close my eyes again! I sense her watching me, and I smile again. I don't know what she has prayed for and I don't pray but this time I only thought in my mind, that I wanted to make Khushi happy! Has Khushi's Devi Maiyya heard me?
I open my eyes and the panditji gives the holy water, I raise my left hand. Khushi raises my right hand to receive it, she holds her hand beneath mine. I watch and copy her, as she drinks the water and then touches her head. Nani is thrilled to see me and wishes that Di was here at the temple. Khushi reminds me of the child for whom I had bought and released those pigeons! I was surprised to know that she had been there on that day!
DHOKA AGAIN:
Anjali gives dhoka (betrayal) to the entire family by inviting Shyam for tea. She believes that her Chhotte had a big Misunderstanding as far as Shyam was concerned. Later when the family reaches home and Payal opens the door with her spare key, Shyam hides in her room. When asked why there were two cups, Anjali lies that she did not like the taste of the first tea and so she made another cup. Payal notices that both the cups were empty, she is about to say so, but Anjali pretends to be ill at that time and so no one notices what Payal had seen. Again when the family is taking her to the room, Anjali gives enough time for Shyam to go and hide in Dadi's room.
THURSDAY:
This episode showcased the emotions and sacrifices that a mother can undergo for her child. Garima has sacrificed a great deal in the past in hiding the truth and now realizes that Khushi's future happiness too was about to be destroyed if she came in contact with Arnav's Dadi. The episode also showed that Shashiji was aware of the past. Garima decides to leave the place with Shashiji till Khushi's wedding took place. The most awaited day in a mother's life is the marriage of her children; unfortunately she is unable to attend it, due to her past. Garima is ready to sacrifice her dreams and wishes in order to see to it that her child's dreams came true! I have not given any view on this episode simply because as I have mentioned in the beginning THREE ROMANTIC EPISODES WERE GIVEN BY HOTTIE AS HIS BIRTHDAY GIFT, (Monday, Tuesday, and Wednesday) and I have posted my views on those episodes. The Thursday analysis by Arshi Advocates was outstanding! NO ARNAV ON THURSDAY EPISODE!
FRIDAY:
This episode showcased the creepy alliance between Shyam and Dadi who had been brought out of her vanvas to RM. Anjali comes to realize that Dadi was there for her. Shyam has succeeded in influencing Dadi against Khushi and so she is hell bent on ousting Khushi from the Raizada family. Luckily Arnav is standing as a bodyguard for Khushi and is bent on disrupting his Dadi's plans! This episode also showed how cunning Shyam has planned some big dhamaka and is waiting to use Dadi at that time.
Khushi decides to do something special for Arnav since he was doing all that he could to ensure her happiness! She orders him to leave his video conference and meet her at THE PURPLE ORCHID HOTEL for dinner. He is amazed to hear her order, moments later she rings up to request him to meet her. He adores his crazy, cute wife and gets ready for a date with her. NK and Arnav share a very funny interlude when Arnav cannot decide what to wear for the date. NK tells him that Black was better than Black simply because Arnav did not have anything other than black or grey in his wardrobe. Arnav gets ready to go for his date.
On the other hand, Shyam invites Anjali for dinner at the same hotel, THE PURPLE ORCHID! Anjali gets ready to go, but Arnav sees her and offers to leave her at the place of her choice. He tells her that he would not let her go alone but Dadi comes to tell him that Anjali was not going alone, she would accompany her.
PRECAP:
This precap again eclipsed the whole episode! We see Shyam romancing Anjali and trying to impress her by presenting some baby bangles to her. Shyam sees Arnav and Khushi in the restaurant. Anjali and Shyam are color coordinated in blue while Arnav and Khushi are in black. Arnav looking dapper in his suit and Khushi looking gorgeous in her new black outfit had many of us rewinding to watch the precap again and again!
TITLE EXPLANATION:
JAHAAN TUM WAHAAN MAIN MEANS THAT I AM THERE WHEREVER YOU ARE!
THIS TITLE HOLDS TRUE FOR TWO COUPLES: ARNAV – KHUSHI AND ANJALI – SHYAM.
IT ALSO HOLDS TRUE FOR THESE MISMATCHED COUPLES BUT IN A DIFFERENT WAY: ARNAV –SHYAM , KHUSHI – SHYAM AND DADI – GARIMA!
READERS, YOU MAY ADD TO MY VIEW WITH YOUR OPINIONS ABOUT THIS VIEW OR ADD COMMENTS. ALWAYS LOVE TO READ THEM; I CERTAINLY LOOK FORWARD TO THEM. THANK YOU FOR PATIENTLY READING MY VIEWS!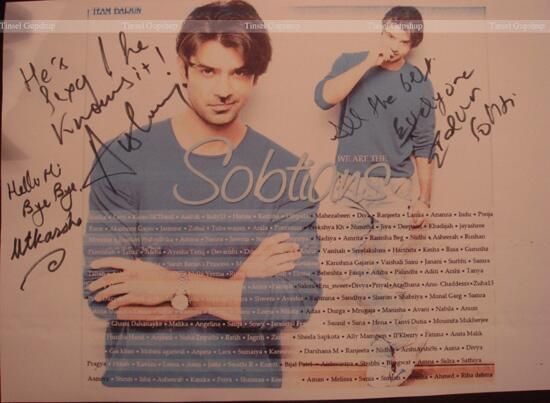 Aug 28
THANK YOU! (By Samona) (Thanked: 3 times)
THANK YOU TO ALL MY READERS:
PEPPER - Hi Sammy, missed your views so much especially the first person. This is making me feel like I am watching these episodes all over again with butterflies in my stomach. THANKS PEPS, YOU ALWAYS MAKE ME WANT TO WRITE AGAIN AND AGAIN!
RASHDAH -love you sammy, your ability to really bring out how Arnav thinks always stumps me! missed you yaar tons, your work is so touching and brilliant, you always capture the essence of the story, and you know what, I am so desperate to see what happens next - well what I will read next! THANKS RASH, HAPPY TO KNOW THAT I WAS MISSED! I HOPE TO ALWAYS STUMP YOU!
TSHAHEEN - Hi Samona u know how much I loved it when u talk about as Arnav so plezzz do the rest !!thanks! THANKS TSHAHEEN, GLAD YOU ENJOY ARNAV'S THOUGHTS!
SREDDY - Sammy, Missed Arnie's thoughts all week....Thank you for taking some time for your fandom :)) Usually I rewatch Arshi scenes after reading your view just so I grasp Arnav's expressions, they make lot more sense and interesting you see. THANKS SREDDY, I DID NOT KNOW THAT YOU WATCH ARSHI SCENES AGAIN AFTER READING MY VIEWS, IT REALLY GRATIFIES ME TO KNOW THIS!
KABIKHUSHI KABIARNAV - SAMMO WELCOME BACK HONEY BUNS ...YOU WERE MISSED ... THANKS KABI, MISSED YOU TOO! LOVE YOU!
SANDYY - Hey Sammy...missed your views so much dear!!Yey....you're back with Arnav's thoughts! THANKS SANDYY, GLAD YOU LOVE ARNAV'S THOUGHTS!
GIANNI - Thanks Samona - for indulging us. I know u must be busy. I wish I had 36 hrs. But somehow I make time to catch IPKKND thru the net (since it is one episode ahead) esp since I can never make it to catch the 8pm on TV. Don't think my hubby has any inkling yet why I am fascinated with this serial. YES, I KNOW, MY HUBBY TOO DOES NOT KNOW AND LET US KEEP IT THAT WAY, SHALL WE?
Silent%2525252525252 - Samona, welcome back and as always enjoyed your view. Thanks. THANKS, SILENT! GLAD YOU ENJOYED!
RAMYA - Samona,welcome back.you weremissed.hope everything is alright.how is ASR going to feel when he knows that his Di has betrayed him?thx for ASR's thoughts on last week.THANKS RAMYA, HAPPY YOU HAVE WAITED FOR MY VIEWS!
DD - Sammy darling welcome back.......Oh gosh I relived the episodes....I hadnt watched them properly whilst on holiday.....thank you Sammy wonderful wonderful view....THANKS DD, WELCOME BACK FROM YOUR VACATION, AND GLAD YOU LOVE IT!
MERI - you surely made my weekend with this view darling...waiting for some more :)))) to quench my thirst for some more Arnav thoughts :))) THANKS MERI! MISSING YOU, HOPE WE CONNECT SOON! YES, HOPE YOU READ THE REST TOO!
CHERRYBLOSSOM - Excellent! Excellent! Loved i...:) THANKS CHERRY, MOST WELCOME!
SS - wow sammy loved it. Missing ur daily views. THANKS SS, WILL TRY TO WRITE DAILY AGAIN!
AANCHAL - nyc view...loved reading arnav's thoughts..loved the view..!! THANKS AANCHAL. GLAD YOU LOVE ARNAV'S THOUGHTS!
BABYFACE - Dr Sammyyyyyyy, what awesome pics u got there . agree with you, our couple looked absolutely dashing. lovely view as usual but i skipped shyam's part.don't want him to ruin my moments with arnav and khushi . hope u r doing great dear. keep rocking. THANKS BABYFACE, NEED TO CONNECT SOON, GLAD YOU LOVE THOSE AWESOME PICS!
ARUSHI - Thank you Samona. iwas waiting for you and you did not disappoint me.THANKS ARUSHI! SORRY TO KEEP YOU WAITING, GLAD YOU LOVED IT !
OCEAN - Samona, No words jst
THANKS A LOT, OCEAN! GLAD TO SEE YOU APPROVE!
THANKS TO ALL MY SILENT READERS!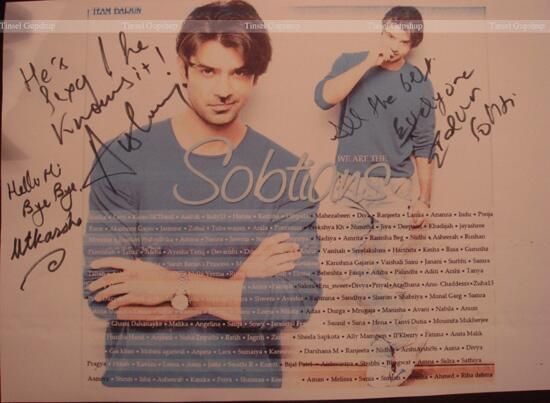 Disclaimer: The views expressed above are member's views and myeDuniya does not comply with it. The views expressed may not be factually correct. Incase of any issue please contact us/report it to us.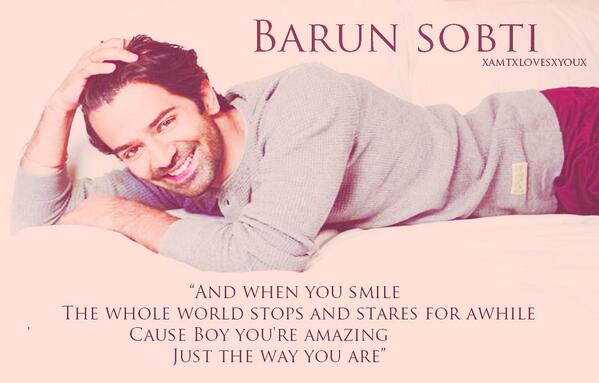 Missing Arnav Singh Raizada!!!!!!!!!!!