DIRECT ARNAV KE DIL SE!
Sep 2
DIRECT ARNAV KI DIL SE! (By Samona) (Thanked: 7 times)
FOUND THESE ENTRIES IN ARNAV'S DIARY – HE TOO HAS STARTED TO MAINTAIN A DIARY AFTER DISCOVERING THAT KHUSHI KEPT ONE TOO!
OCEAN, THIS TITLE IS FOR YOU, YOU HAVE SUGGESTED IT BEFORE!
[1] ARNAV'S THOUGHTS GETTING READY FOR DATE NIGHT:
Oh, I was feeling restless in my office and thinking about Khushi when my phone rang! My Khushi was on the line asking me what I was going to do after two hours. She ORDERED me to forget about my video conference to be held after two hours and told me to meet her at THE PURPLE ORCHID for a dinner. I mean WHAT THE! Before I could react she disconnected and left me with a foolish grin on my face!

I could not control myself from smiling; I mean she was ordering the mighty ASR to dinner! Anyways, within seconds, the phone rang again and she was back to normal, requesting me to meet her, she was in fact worried if I would say No! Like I would! I was dying to meet her, I was thinking up of ways to meet her and here was a golden chance, I would not miss it!
Came back home and searched for the best shirt and suit in my wardrobe, and in walks NK! The bane of my existence! I removed all the shirts and suits and threw them on the bed, it is the first time that I was undecided about what to wear! In spite of owning the premier fashion house in the country, I personally have never bothered about my own sartorial choices, preferring the somber black and grey shades of the palette! On the other hand, I had Khushi in my life who loved bright colors, but she was the real color of my life!

NK made fun of me by saying BLACK IS BETTER THAN BLACK! He offered to share his shirts with me and when I was stunned into silence, said that I could not carry them off! WHAT THE! Anyways, I was impatient to be with Khushi so I decided to wear the first shirt that I had thrown on the bed!

I descended down and the stairs and saw Di going out dressed in a pretty blue sari. I asked her where she was going and she appeared a little uncomfortable. She told me that she was going out to meet a friend and I offered to drop her. I told her that I was not going to leave her alone at that time of the night. Of course, Dadi came there at that time and told me that she was going with Di. I offered to drop both of them, but Dadi was very forbidding and told me that they would go in another car. Dadi seems to have decided to be tough with me; I know that she did not approve of Khushi. I don't care about it anymore!
[2] ARNAV'S THOUGHTS AT PURPLE ORCHID: DATE NIGHT:
I enter The Purple Orchid and stand near the door, looking into the restaurant to see if Khushi was already present. I had wanted to pick her up from her home, but she flatly refused to come with me. I heard the chimes of her payals, that sweet music made me turn around to look at her as she walked in. Those golden sandals, with the silver payals at the ankles were my first sight of her. She was wearing a beautiful black salwar suit with golden trimmings, and was looking gorgeous with her hair done in a different way, danglers in her ears and that beautiful face looked absolutely divine!
I was lost in her beauty, I could see the question in her eyes, she wanted to know how she looked. I showed her the effect in my eyes, but could not put it into words. Words fail at moments like this, her sheer beauty takes my breath away.
The Maitre'd came and asked about the reservations, very proudly Khushi gave her name as Khushi Kumari Gupta Singh Raizada. I was very proud when she said her full name and she looked very stunning.
Then we discovered that the reservation was for the next day. Khushi had goofed up and she became nervous. I told her that we could come back the next day or go elsewhere but she was too upset to listen to me. She asked the waiter if we could get another table but it was booked fully. I could see the tension in Khushi's face, in fact I could have arranged for a table immediately by announcing that I was Arnav Singh Raizada but I know how important this date was for her.
I waited patiently while she started weaving her web of magic on that guy. She began with saying that she was from Lucknow and went on to discover that the waiter was from neighboring Kakori. I smiled amusedly thinking that the waiter did not stand a chance in front of my wife, she had defeated me, the mighty ASR and who was a mere waiter for her? I was not surprised when we got the best table in the restaurant, she had done her jaadu again. I pulled the chair for her to sit and she nearly sat but rushed off to pull a chair for me. I was amazed by it all, but said OK and seated myself, I know my wife is a different personality altogether and I Love her for it! She mimed me by opening the menu list and then ordered by herself using the numbers, she refused my help. I started to tell her that it was my favorite restaurant when she suddenly banged the table and exclaimed WHAT THE! in typical ASR style and stunned me into silence. I froze for a while staring at her and then asked her what she was trying to do. She said that she was trying to be Arnav Singh Raizada! JAB HUM BAAT KAR RAHE HAIN TOH DON'T YOU DARE!! I said OK! AND RAISED MY EYEBROW TO TRY AND UNDERSTAND WHAT SHE WAS TRYING TO DO! She replied to my WHAT? With a WHAT THE!
She said that if I could go to the temples and follow the rasams for her, then she was also ready to come to such expensive restaurants and date me. When the food came she was surprised to see the small portions and I had to explain to her that this was the case in such restuarants. I watched her as she ate a mouthful, she did not like it at all. I added pepper to her food and told her to taste it again, she liked it much better now. She was upset because she had wanted my help for her food too. She told me that she wanted to do something for me and I asked her to taste the wine brought to us. Of course she did not have to drink it but I knew that she was bent on pleasing me; she hesitated but then drank it. She loved the taste of the wine and pretended to be drunk with it. I was amused when the waiter said that it was Kala Khatta, she got angry with me for tricking her.
I told her that I would never make her do anything which she did not want to do!
I tell her that she did not have to change just like she did not want me to change. I did everything for her. The following of traditions, going to the temple etc did not go against my thoughts but she did not have to do anything which were against her upbringing. I hold her hand and tell her that I LOVED HER THE WAY SHE WAS!
I could see the joy in her eyes when she heard me say so! I could see the glint of tears in her eyes when she said happily that she would not change! But again there was one more thing that she wanted to do for me. I told her to relax but I realized that she had managed some prior arrangements.
The champagne bottle shocked me and she said that I could drink although she didn't. She wanted to pop the bubbly, I told her that there was a specific way to do it. She tried it her way while saying TAPAK! And the cork flew! It hit the glasses of a nearby diner and it dropped into his soup! Khushi was stunned to see this, she was embarrassed when the man got angry. The waiter apologized and I too stood up and said Sorry to that gentleman! I could see that Khushi was deeply upset.
I did not get angry for the first time in my lfe when such a disaster had occurred, it made me realize how much I had changed due to her. I go near her and try to make her smile by acting just the way she did, speaking in her way and as fast as she did! It brought a teary smile onto her face and I was glad to see her smile again.
I seat her again and we continue our meal, I am glad to see that we could understand each other so well now! I pay off the bill without her knowledge but she wanted to argue against it, but I manage to convince her that it was okay for me to pay the bill even though she had invited me to dinner! After all, are we not two bodies but one soul?
I know all are waiting to know how our date ended that night, but I guess some things are not meant to be shared with any one! Let me just tell you that I was a bit satisfied that night too, I will wait for full satisfaction on the night of my wedding!
TO BE CONTINUED........ARNAV'S THOUGHTS ON THE MORNING AFTER THE DATE, HIS THOUGHTS ON MEHENDI DAY AND THEN THE GODHBHARAI! AND FINALLY ON WHAT HAPPENED DURING THE DANCE!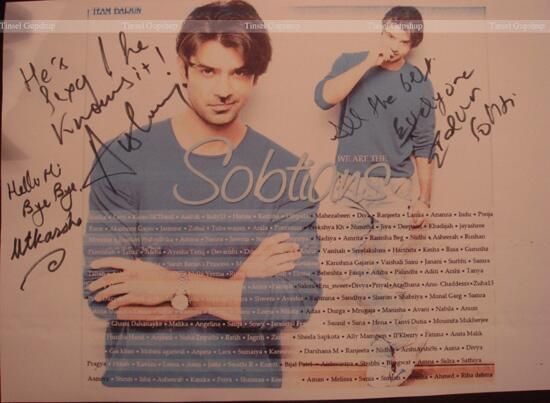 Sep 3
DIRECT ARNAV KI DIL SE! PART TWO! (By Samona) (Thanked: 5 times)
[3] ARNAV'S THOUGHTS THE NEXT MORNING:
I was working on my laptop when I heard NK behind me telling one of the workers to fix up more fairy lights to create HALWA! Thank God, Akash came and corrected him saying JALWA! This NK is going to create havoc one day with his amazing Hindi! The whole house is filled with workers, and the decorations were on in full swing, I was keeping an eye on the proceedings along with my work! I heard NK asking me Nanav what is this wire, but I tried to ignore him, he is so curious about everything. He did not relent but came and made me get up and check out the hidden wire near the stairs. I tugged at it and it came out of its hiding place, held by brown tape. As I tugged it out, I realized that it was concealed to the floor, and then on the wall. Tugging at it, I reached a point when suddenly the whole wire came out, it was cleanly cut at the edges. I did not understand what it was for and told the worker to throw it out! Yes, I know that I should have checked it out thoroughly!
I was talking to some workers about the position of the fairy lights and glanced around, there was a worker in uniform at the head of the stairs. I looked back a moment later and he was not to be seen. I asked the other workers but no one had seen that man. I felt uneasy and rushed up the stairs but no one was visible. I worried whether he had gone towards Di's room and so rushed there. There was no one there and when Di came out of the washroom, I asked her if she had asked for some help. She said no and then I felt a bit worried again. I called up the security and told them to check the Identity cards of all the workers, merely wearing the uniforms would not do. I did not want Di to be worried and told her that everyone had their jewellery and so it was better to be alert. I asked Di if she was alright, and if she was happy. She assured me that all was fine and I walked out.
[4] ARNAV'S THOUGHTS ON SEEING KHUSHI BEFORE DI'S GODH BHARAI:
NK started dragging me up the stairs saying he wanted me to see something, but suddenly I halted.

I turned around and waited for HER to appear!
She came into my line of vision, looking like a vision herself clad in a red choli and yellow sari, with her hair tied on one side and wearing red danglers in her ears. I blinked slowly, it felt like a dream seeing her in the beautiful dress, she was looking like a fairy to me!
She was searching for me, I know, her eyes darting everywhere when suddenly she saw me and stopped. Time stood still for both of us when we looked at each other and smiled with our eyes.
NK asked me how I knew that Khushiji had come, she answered for me saying BAS PATA CHAL JAATA HAI! True, how do I explain to NK that we simply KNEW! She looked at me for approval, I let my eyes do the talking! I wanted to tease her a bit, I gestured towards her ears and she checked the earrings to see if one was missing like the time earlier! I then gestured towards her nose and she touched her nose! I then touched my cheek to make her check out her cheeks, I loved to rile her so!
Giving her an amused smile, I walk upstairs accompanied by a confused NK! I have had my bit of fun with her, she is sure to get mad at me now! Oh, what fun it is to tease her so!
NK had made plans for us to watch a horror movie when the ladies had a night function purely for them, he ended up saying that we would have a tamacha here! TAMACHA, YOU MEAN A SLAP! OH, HE MEANT TAMASHA, A CELEBRATION!
I did not want to talk to them, I wanted to talk to Khushi, I wanted her to see me in my new Jodhpur suit, that I had worn specially for her!
I call her and she gets angry on my teasing, telling me that she had been checking if everything was fine in her face! I tease her again saying that there was still something on her face, A SMALL RED NOSE! She informs me that her nose was not red, but I continue to say that it was small. She says she wants to disconnect when I tease her again, using her words to say that how could she disconnect my phone without saying PEHLE AAP, PEHLE AAP?
I know that she was smiling and waited for her retort, when suddenly Buaji came on the line! WHAT THE! I know she had passed on the phone to Buaji in order to take revenge on me but I am smarter!
I toss my phone to NK telling him to handle some girl, and he takes the bait!
I sit down next to Akash and whisper it was Buaji on the line! What followed next was a laugh riot, with NK trying to impress the girl with his impeccable English and weird Hindi, and Akash and me laughing silently! The moment when NK realizes that it was Buaji and he fakes a mini heart attack was hilarious to say the least!
It is Di's Godh Bharai function being held downstairs and I come down wanting to see that everything was under control and to give Di her medicine. I see Di looking like a bride and smiling happily at the people who gave her gifts and whisper best wishes in her ear. Khushi was also nearby taking care of Di, I was happy to see this scene!
I come down and hear Dadi asking Nani to call Damaadji for the Godh Bharai ceremony, I am very angry to hear this. Who is she to come to my home after so long and interfere in our matters? One of these days, I am sure to ask her this question. I tell her clearly that THAT MAN WILL NOT COME TO THIS HOUSE! Nani tries to stop the confrontation but I walk away and Dadi follows me to the next room. She is bent on bringing Shyam to my home, but I am adamant and tell her that it took us a long time to put the past behind us! The events which occurred fourteen years ago had taken a toll on us, but now Shyam had betrayed Di and the entire family. Nani tells both of us to stop fighting on Di's important day, looking at Di's happy face I decide to keep quiet for the day! I tell Nani that I had tried my best to forget the past, Nani tells me to smile because I was getting married and also going to be an uncle soon!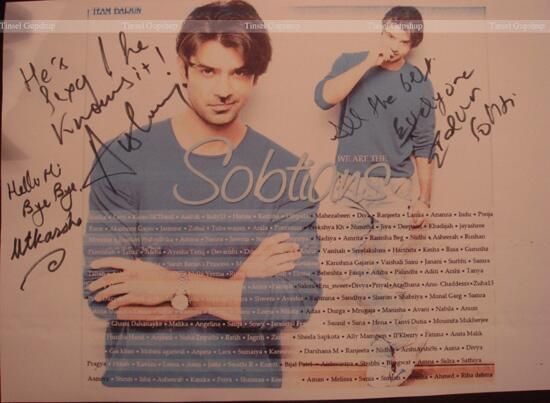 Sep 4
DIRECT ARNAV KI DIL SE! FINAL PART! (By Samona) (Thanked: 7 times)
DIRECT ARNAV KI DIL SE! FINAL PART!
[5] ARNAV'S THOUGHTS ON MEHENDI NIGHT:
I come down for the mehendi ceremony with NK protesting that we were not allowed! I retort that it was my house and I did not need anyone's permission to go around my house. Mamiji comes to tick us off from the hall, saying that Godh Bharai was a ladies function and boys were not allowed. Naniji came and told her that the Godh Bharai was over and now it was Mehendi time! She decides to allow the boys too this time, I know that she cannot keep me away from Khushi at this time! I tell Nani that it was GREAT! and as I walk away, I can hear NK telling Nani that she rocked and Akash exclaiming that EVERYBODY LOVES BHAI! Yeah, I know he remembered his own mehendi function when they were not allowed and he along with NK had crashed into the function wearing saris!
I see the ladies all sitting around the hall, with others putting mehendi on their hands. Khushi is sitting in a corner with a girl busy putting mehendi on her hand. As I near them , I hear the girl asking Khushi what was the initial she wanted in her mehendi, and I say "LG" and sit down in front of her. She asks me LG? and I reply " LAAD GOVERNOR" with a slight smirk. Khushi turns to the girl and tells her not to listen to me and write "A". I tease Khushi saying OH I FORGOT, TUMHARE NAAM MEIN BHI "A" HAI NA?
Khushi looks at me stunned when I say KHUSHI KUMARI GUPTAAA! I raise my eyebrow while reminding her of these words and can see from her eyes that she too remembered the scene in the kitchen during Akash and Payal's wedding when I had asked her why she had written "A" in her mehendi! She blushes and tells me that we have completed this .......and I continue rasam, saying YEH RASAM BHI HUM PEHLE POORI KAR CHUKE HAI! We share a long eyelock with each other, a long sweet RABBAVE!
I keep reminding her of all those rasams we have already completed albeit unknowingly because I want her to know that for me all those were the rasams from the heart and these rasams which she was insisting on were from the society, it did not have any meaning for me. Those rasams were more meaningful for me because it was from our love and our hearts. I think Khushi has now slowly realized why I kept asking her why the rasams were important, HAMARE FEELINGS KA KOI MATLAB NAHI?
NK told Khushi that he was the one who had brought me down for the mehendi functions, Liar! I was the one who came down to see her, and NK tried to stop me! NK wanted Khushi to thank him but Khushi wants me to put a dot of mehendi on my hand and also to dance in the function. She wants NK to make me do this! I RAISE MY EYEBROW AT HER WORDS AND ASK HER, "ARE YOU KIDDING ME, KHUSHI?"MAIN DANCE NAHI KAROONGA, AUR MEHENDI TOH DEFINITELY NOT!" I look at her and she sulks looking away. I know I would never want to hurt her or make her sad, looking sideways at her mehendi filled hand, I thought of a way to make her happy and walk away!
I know I will do all that she wished for, her smallest wish is now my command, she has to only express her feelings and wishes to me and I will do everything in my power to give it to her!
I have realized how much I had taken away from her, how much she has sacrficed for me without a murmur, I want to do all I can from my heart! MEHENDI? OK! DANCE? OK FOR THAT TOO! I hear NK calling out to me as NANAV, MERE BHAI! as I walk away from there!
[6] ARNAV'S THOUGHTS ON WATCHING KHUSHI DANCE:
I watch the family dance and I am surprised to see everyone from Nani to Mami, Buaji, Akash, NK, Payal and Khushi dancing away with great enjoyment. I saw Khushi searching for me with her eyes, I know she wanted me there beside her but I do not dance ever! NK dances with Khushi very happily, now I don't feel jealous of him any more! There was a time when NK near Khushi used to get all kinds of murderous thoughts in my head, but now I know I am secure in my love and so nothing matters to me except the smile on Khushi's face! I go nearer to watch the delight on Khushi's face as she dances with joyful abandon to the tune of the dholak players on the stage! Suddenly I realize that the dori of her blouse had opened and I get tense. She sees me looking at her and signals me to go to dance, but I refuse, she pleads for me to join her with her eyes and fingers! I call out to her soundlessly with my eyes and ask her to follow me! I go away from there, knowing that she would come soon.
When she comes near me, I try to hold her hand and she shows both her wet mehendi filled hands with a glee in her eyes and face, I then look at her unblinkingly with a soft smile and pull her close to me by holding her waist! She never expected me to hold her against myself and is stunned! I hold her against myself knowing that she could not use her hands to free herself! I am so happy to see that she had put that mehendi in my name just like she wanted to! I hold her hand and she struggles for a second saying KYA KAR RAHE HAI AAP, CHHODIYE! BUT WHEN I ASK HER REALLY? SHE LOOKS AT THE RING ON HER FINGER AND KNOWS THAT I WAS ASKING HER IF SHE REALLY WANTED ME TO LEAVE HER ALONE! I know that I could never leave her now, she is totally in my hands! We share a long look as we share a beautiful Rabba Ve moment when both feel mesmerized by each other!
I turn her around slowly using my hands on her waist to do so, she feels the same passion that I feel as I touch her! Slowly she closes her eyes and stands still in front of me, as I bend my head near her bare neck! I look at her face as I move my hand over her arm decorated with wet mehendi and take a smudge of it in my palm, now I have put her mehendi in my hand! Isn't that what she had wanted earlier, a dot of mehendi in my hand for our wedding? Her eyes are closed as she breathes heavily anticipating my lips on her neck and back and stands still giving me the permission to show her my passion but I do not want to do anything that she herself does not want to do so now! I slowly retie her dori, and she realizes that I had brought there for that purpose, she opens her eyes and smiles, I recall breaking her pearl dori on our first meeting! I don't know what she remembers, it might be the dori tying by Nani at the poolside!
She turns again to face me and looks at my lips, that increases my passion and I wanted to kiss her, I bend towards her face, drawn by those irresistible pink lips but now she feels shy and runs a little distance from me! I stand there with my head bent in submission of my love, I don't feel like I have bowed down but I feel humbled by our love! She turns to look at me and I slowly raise my hand to show her the mehendi on my palm, and raise my eyes to see her reaction to it! As I guessed, she is shocked at first and then she feels a great surge of love for me, the glint of tears in her eyes is proof enough for me! She runs up to me and hugs me wholeheartedly taking care not to smudge her beautiful mehendi but with her arms around me, the hug is far more intimate to me as I wound my arms around her taking care not to stain her dress or back with my mehendi!
This hug was an affirmation of our love to each other, we do not need words to express our bonding any more! I hope we are able to face all the difficulties of life together with our love! Looking at the briliant smile on my love's face, I know that I have managed to give her back a portion of the happiness she had deserved in the first place, slowly I am filling the grave that I had dug with my own hands! I look at her rushing back to the dance with my eyes filled with tears!
[7] ARNAV'S THOUGHTS WHILE DANCING:
She goes back to her dance and is happy to see me follow her, NK comes up and pulls me to the dance floor, looks at my mehendi and tells me that now it was my turn to dance! Akash and NK pull me to the stage to dance, I protest but I can see Khushi looking at me with hope and love in her eyes, she will accept me with all my faults and cherishs me, I want to dance for her! So I try out my awkward steps on the stage with my family and Khushi looking on, and I feel absurdly happy to be there at that moment! Di is looking at me happily and Khushi looks at me with love, all is right with my world! As I dance with NK and Akash, suddenly my eyes are drawn towards one of the dholak players, I feel uneasy as I think he appears familiar to me! I try to look closely but another dholak player comes in my vision and then NK holds my hand and makes me turn, while Akash tries out his bhangra steps with me, I am a little uneasy and go backwards, then dash against the dholak of a player, as I turn to apologize to him, THE LIGHTS GO OFF! I LOOK TOWARDS HIM FOR A MOMENT IN THE DARK, THEN I SENSE THAT HE HAD WALKED AWAY, I turn towards Akash and NK in the dim light and tell Akash to check on the lights. I call out to Di and rush towards her, asking her if she was okay. Mamiji calls out to HP for the candle. I next call out to Khushi, I am worried if she was okay too. Khushi comes closer to me and says that she was nearby. I feel relieved with the two precious women in my life safe near me!
The lights come on and I see Di sweating and I am worried, I am about to wipe the sweat off her forehead when Di tells me that she was fine, she sounded a bit irritated to me. Akash informed us that the main switch has tripped off and now everything was fine. The dance begins and Khushi comes to me for a dance, I refuse but NK forces me on to the dance floor. I start dancing with Khushi with my awkward steps but who cares? I am enjoying myself very much, first time in my life, I am in the midst of fun! Buaji holds both my hands and makes me dance with her, she is very loving towards me! Next, NK and Akash surround me and make me dance! I stop dancing after a while and stand in the sidelines to watch the others dance! I saw NK goes towards Khushi, Buaji and Dadi who were talking to each other and tell them to talk less and dance more, HIT IT!
The song MEHENDI LAAGE KE RAKHNA DOLI SAAJA KE RAKHNA was played and NK pulled Khushi to the centre of the dance floor; I was amazed to see them dance so well. Akash too got into the act and then pulled me along with the enactment of the lyrics of the song! I was so happy to see Khushi pull my family and hers too into the dance, Nani and Mami on one hand, Buaji and Payal on the other, all dancing with Khushi, she truly brings joy and music to my life! Nani pushes Khushi into my arms, she is so excited and all the others are laughing too, I am happy to have Khushi so near me! It was a treat to watch Nani show off her dance moves along with Akash and NK, I watch the intense joy on Khushi's face, then the jugalbandhi dance between Buaji and Mamiji makes me raise my eyebrows in amazement! I cannot control my love for Khushi and go near her to pretend to kiss her, her eyes go round in awe, but I pull back just in time. Khushi keeps her arm on my shoulder singing that I should have kept my heart in control, because her beauty was magic, what could she do if the magic ensnared my heart?
I WALK TOWARDS HER, PULLED BY MY LOVE, AS THE SONG PLAYED THAT I WOULD ONE DAY CLAIM HER AS MINE! She signals me with her eyes that I should say no more, and keep my feelings hidden in my heart, with her hand on my heart! I am overwhelmed by my feelings AND HUG HER IN FRONT OF MY FAMILY! I am not ashamed to declare my love for her, I have nothing to hide, my love is pure and she is precious to me, I want to declare to the whole world and my family that she was mine and I was hers! Khushi is stunned by my hug for a moment, it is the first time that I had shown my love in front of others, then she hugs me back with the same love! Our families circle us and dance, sharing in our happiness. We separate and are a bit embarrassed for a moment and then join them in the dance.
I hear the shriek, it is Di's voice and look up to the stairs, Di is falling down, I rush to her desperately to hold her before she hits the floor, BUT..................
[8] KHUSHI'S THOUGHTS AT THE HOSPITAL:
We rush Di in the ambulance, and then towards the operating theatre with Di lying unconscious on the stretcher. Arnavji is shattered by the sight of Di lying there with blook dripping down her forehead. The doors close and the red light comes on. The family is shattered and crying, everyone is stunned by the accident. Akash Jiju keeps a comforting hand on Arnavji's shoulder, he walks away from the others. I go and stand by him, holding his hand with mine, to comfort him. I remember Di telling me that I was going to be a Mama (uncle). I remember telling Di that this baby would be the ray of hope for her, she had to live for this child! We wait for the operation to get over, the sadness is overwhelming. The doctor comes out and we hear him say SORRY that they could not save.................. Arnavji walks up to the doctor and angrily shouts at him! SORRY? SORRY KYUN? WHY ARE YOU SORRY? WHAT THE HELL ARE YOU SAYING DAMMIT, SAY SOMETHING! I KNEW THAT ARNAVJI WOULD HAVE LOST HIS CONTROL MORE, I KEEP MY HAND ON HIS SHOULDER AND HE CONTROLS HIMSELF!
The doctor informs us that they could not save the baby! The news is DEVASTATING! WE ARE NOT ABLE TO THINK ANYTHING! They bring out Di on the stretcher, she is still unconsicous and it is devastating to see her in that state! Everyone breaks down. The doctor tells us that the fall during pregnancy had been fatal for the baby. I remember Di showing me the baby sonography video and being so happy about it! I remember the Godh Bharai which was held in the morning. Di was so happy! How will we tell her that her baby is no more, this child was everything to her, she had been looking forward to it!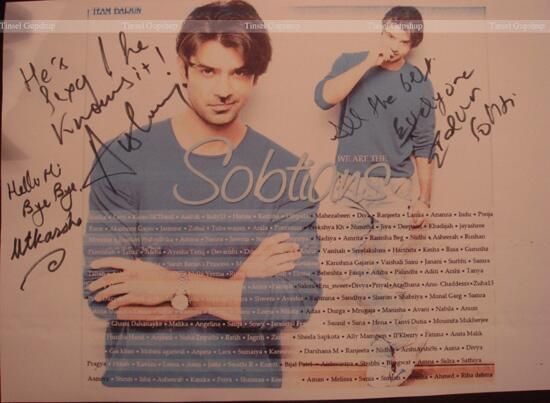 Sep 4
THANK YOU! (By Samona) (Thanked: 3 times)
THANK YOU TO ALL OF YOU WHO HAVE READ IT SILENTLY AND TO ALL THOSE WHO HAVE COMMENTED ON MY VIEW!
LOVE YOU ALL!
THANKS DIL SE TO
RASHDAH, SANDY, HRP, RAMYA, DHALIA, PRIANKA, NK4ARHI, CDNDOST, DD, OCEAN, PEPPER, GIANNI, ARUSHI, BABYFACE AND SHARMI!
OCEAN, WILL CHECK WITH ADMIN WHY YOU ARE HAVING PROBLEMS WITH MY VIEW? I WILL ASK HIM TO CHECK WHY YOU ARE UNABLE TO ADD MY VIEWS TO YOUR FAVORITE LIST, THANK YOU FOR LETTING ME KNOW!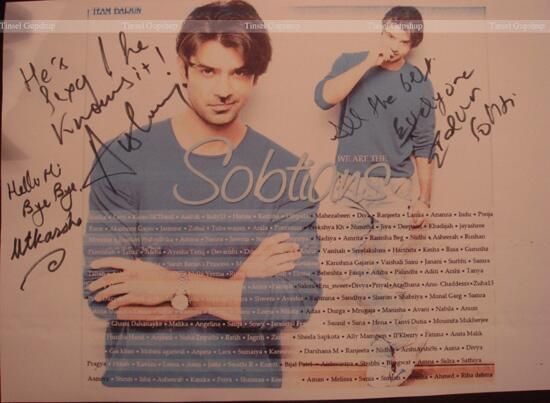 Disclaimer: The views expressed above are member's views and myeDuniya does not comply with it. The views expressed may not be factually correct. Incase of any issue please contact us/report it to us.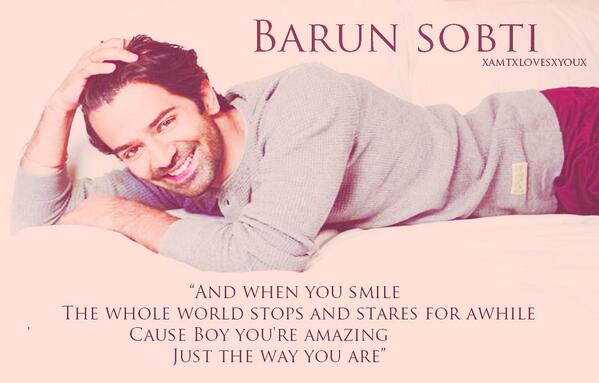 Missing Arnav Singh Raizada!!!!!!!!!!!