THE CREEP SLINKS BACK INTO THEIR LIVES AGAIN!
Sep 6
THE CREEP SLINKS BACK INTO THEIR LIVES AGAIN! (By Samona) (Thanked: 4 times)
Abhaas Mehta is back with a bang as the resident creep of RM! With the connivance of Dadiji and repeated demands from Anjali, he came, he saw and he tried to conquer! But it also brought about the remergence of ASR, the slap happy and punch hungry guy, we have been missing so far! Now all I want is his shatir dimaag, I guess he has sent it for a holiday while he romanced his Khushi, time he brought it back!
Khushi realizes how much Arnav was suffering due to his guilt, he was unable to go and face his sister thinking that he had failed in his duty to protect her as he had promised. Khushi hugs him and reassures him that he had done the best for his Di all his life, but there was a greater power called Destiny, Kismat, Karma, whatever you call it, it had the reins in certain events in our lives! She tells him that the events in his parents' lives or in Di's life could not have been controlled and changed by him, he could only hope for the best! Lord Ganesha watches the wife impart wise advice that he had to go and meet his sister, she needed him at her side at this time!
Lord Ganesha, the giver of knowledge, the patient one, and the Vighnahara - Remover of Obstacles and the Vignaharta - Demolisher of Obstacles hears the appeal in his court where Arnav had just cried his heart out in agony! All this while, Arnav had never spoken his fears and insecurities aloud, and had never cried in God's presence, he had always been an atheist all his life! Arnav refuses to go to Di and cries out to Khushi that he would not know how to console her, but Khushi holds his hand in solidarity and tells him that Di needed him the most, he was Di's strength,and when the time came, he would know what had to be done and told! Arnav looks into Khushi's confident eyes and hears her faith and trust in him, he realizes that he had to do this to prove to Khushi that her faith was not misplaced.
Meanwhile, Shyam walks into the hospital, his fingers keeping time with the music playing in his mind, he walks in unperturbed and unchallenged to his wife's room, Dadi and Anjali, being the sole occupants there at that time! Who had informed him? Was it Dadi herself? Or did he just come there knowing everything that had happened is going to stop the others from thinking about his presence? The moment he walks in through that door, Dadi looks up at him with a sense of relief and happiness on her face! Anjali looks at him with a small glad smile which changes instantly to a small sob, tears forming slowly in her eyes and the gasp of pain as she tries to tell him about their Rajkumari, her Gudiya! She breaks down then, wanting the despair and sorrow to be shared by her husband, any caring husband would have rushed to his wife's bedside and held her tight to give her solace and to share in the despair! But what does Shyam do? He piles on further guilt on to Anjali's soul, and vents his anger on her, asking her how she could have been so negligent and careless in her responsibility and lost the child. A broken Anjali drowns in her pain, as Dadi looks on, Dadi does not question as to how could a loving husband behave so.
Shyam shows his cunningness, first by venting his anger on Anjali, then by breaking down in tears, hugging Anjali and offering his shoulders for a moment and then taking away his strength to plead with her to bring back his Rajkumari. We see Anjali begging for forgiveness from her husband for having lost their baby, she is ridden with guilt, the guilt that should have been in his soul, has been transferred by him to her cleverly! He then cries again saying that he should not have left her, he would have prevented this from happening if he had been present at that time! we see Dadi analysing his words and thinking that what Damaadji said was true, Anjali needed the presence of her husband in her life! At no time, does Shyam say that he should have taken Anjali away from her maternal home, he talks about being there with her in Raizada Mansion, but Dadi does not find anything unusual in these words!

He cries that he was unable to bear to see her broken down with pain, the grief he portrays in his voice and eyes, the anguish and pathos can make anyone understand his suffering, he succeeds in his mission. Dadi and Anjali both fall a prey to his machinations, they cry along with him, unaware that he was the harbinger of doom to them, the baby was lost due to him, and he was exulting in his victory under cover of those tears!
He hugs her and then tells her that "RANI SAHEBA, HAME YEH SOCHE THE HUE BHI DARR LAGTA HAI, KI HAMARI RAJKUMARI ISS DUNIYA MEIN KABHI NAHI AAYEGI!" there is a strange evil lurking in his red eyes, the Devil Incarnate peeping out of them! He smiles then, with all his evil heart and soul showing happiness, he smiles thinking of how he had succeeded in fooling them, he smiles while hugging his innocent and devoted wife! He awakens from his victory mind celebrations when he hears Dadi's voice asking him to control his tears and comfort his wife, he realizes that the time had not yet arrived for him to gloat over his success! He needed to keep a façade for some more time!
He sees his wife hyperventilating and turns to Dadi telling her that he was going to MEET THE DOCTOR, instead of calling for him to attend to his wife!
He turns on his way to the door, while the nurse and Dadi check on Anjali, a look of pure evil coursing through his face, and his eyes a window to his dark soul! There is a miasma of pure evil intent in that moment when we feel a fear ourselves for not only Anjali but for everyone connected to her!
A word about the character of Shyam as played by Abhaas Mehta here is not amiss. It can be divided into two different portrayals by Abhaas. The first part was when the character started showing his evil tendencies coupled with intense planning to do away with Anjali and Babuji, planning till the last detail but failing miserably, bringing laughter to the Fandom after watching his antics, the bumbling villain who played Cupid to our adorable pair!
The second part after his reentry has now shown Shyam in an evil light, the likes of which was not seen earlier. This time he has succeeded in his first plan, he is planning more evil and playing a scary game!
Arnav walks to his sister's room, now sure of himself with Khushi beside him, he is ready to meet Anjali in her hour of need. He nears the door and gathering courage pushes the door open at the very moment that Shyam pushes the door outwards on his way to meet the doctor!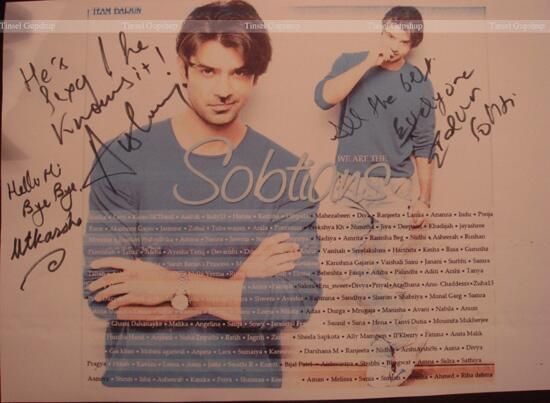 Sep 6
THE CREEP SLINKS BACK INTO THEIR LIVES AGAIN! FINAL PART! (By Samona) (Thanked: 8 times)
The moment of shock and disbelief on Arnav and Shyam's face when they came face to face is mirrored in Khushi's face too! The fact that Shyam dared to meet his sister after being thrown out brings an intense surge of anger to Arnav, Khushi keeps her calming influence on his shoulder and stops a fight at that moment. Arnav grabs Shyam by the collar and pulls him outside the room and takes him away to another room, Dadi follows in a bid to stop Arnav from throwing out Shyam!
Arnav, the gentle brother who had pushed the door open is replaced by ASR, the ruthless brother who grabs the collar and drags Shyam out with a deadly anger coursing through his veins! Shyam tries to beg forgiveness from Arnav, and tells him that he had lost his child, he was the father! Hearing this, ASR slaps him hard, the anger lending him strength as he tells Shyam with clenched teeth that he was NOTHING! YOU UNDERSTAND? NOTHING! Shyam might have fooled Arnav once earlier, but now he cannot fool ASR, or Arnav anymore!
Dadi tells Arnav to stop from hitting Shyam and tells him that Shyam had every right to be near Anjali! Shyam challenges Arnav openly saying he would not leave Rani Saheba and go, in a bid to anger Arnav into hitting him, he wants Dadi to see Arnav being stubborn and not allowing Anjali, her share of the happiness! Dadi forces Arnav to stop his punch midair when she shouts out to him to stop! But Shyam had other plans, he wanted to goad Arnav into hitting him and so he repeats that he would not leave Anjali again!
This defiance makes Arnav see red and a flurry of blows aimed to the face follows, Dadi and Khushi are unable to control Arnav who punches Shyam to the great joy of the Fandom who wanted some more hits, kicks and blows to the stomach! I am sure, the other members of our families must have been stunned to hear the whoops of joy emanating from our throats and the jubiliation we felt when those blows landed on Shyam's face!
Eight solid punches later,
Khushi keeps her hand on Arnav's shoulder to stop him, we think she should have waited for a little more time, and let him complete a solid dozen, but anyways, Arnav stops and we see Shyam bleeding from his cut lip! Oh, for a BLACK EYE!
I could not control myself, HOW DARE HE TAKE MY DI'S NAME FROM HIS DIRTY MOUTH! THE WIFE WHOM HE HAD BETRAYED EARLIER, HOW DARE HE COME TO VISIT HER? I WANTED TO KILL HIM THEN, THAT SMILING AND DEFIANT FACE MADE ME SEE RED! I WANTED TO CONTINUE PUNCHING HIM TILL I COULD GRIND HIS FACE INTO PULP BUT KHUSHI KEPT HER HAND ON MY SHOULDER AND I KNEW I HAD TO STOP THEN!
Shyam walks away, his mission accomplished, Dadi is now ensconsced in his camp, after seeing the inhuman treatment meted out to the Damaadji by the stubborn grandson, he knows Dadi can be used again and again in his fight against Arnav! Shyam knows that he has paved the way to his return to Raizada Mansion! This miscarriage has indeed been the first step towards it!
Arnav realizes that Dadi was siding openly with Shyam and takes the decision to take Anjali home with him. Dadi's protests falls on deaf ears, as he informs Dadi that he knew what was best for his sister. Dadi has not yet realized that Arnav was now the decision maker for the two families, the Raizadas and the Maliks, he was the de facto head of the house.
LOOKS LIKE DADI KNOWS HIM A LITTLE TOO MUCH. WHY DID SHE SAY THAT DAMAADJI LOVED ANJALI VERY MUCH? SHE HAS MET HIM FOR THE FIRST TIME, THEN WHY THE EXTRA SYMPATHY FOR HIM? HOW DID SHE KNOW IT WAS SHYAM? MANY QUESTIONS, BUT I KNOW DADI WILL ALLOW THAT SCOUNDREL TO MEET DI WHEN I WAS NOT THERE! NO, I AM GOING TO TAKE DI HOME WITH ME RIGHT NOW!
Back at Raizada Mansion, the next morning, the family is stunned to see Arnav wheeling his sick sister in from the hospital followed by Khushi and an angry Dadi. Dadi tries to tell Nani that it was her stubborn grandson who had decided to bring Anjali home.
We see Dadi calling Arnav her pota sometimes while trying to assert her authority on Arnav, but when she is not able to influence him, she changes the pota into Nani's naathi to emphasize on her role in the upbringing! I would say it was a lucky day that Dadi went to the ashram for fourteen years and gentle Nani had a hand in bringing up the children, her values are far deeper and humane than Dadi's are, dread to think of how she would have influenced Arnav with her harsh values!
Mami wants to know what had happened to prompt such a decision, but we also see Akash stopping his mother from questioning Arnav further by a shake of his head, Mami does not utter a word further.
It is a clear indication that the family including Akash and Mami will abide by Arnav's decision and will not question him on any matter. It is a tacit declaration of Arnav's status in that family.
Arnav asks Khushi to accompany him to Di's room in a clear message to the entire family that he considers Khushi to be an integral part of him and she would also be in charge of taking care of Di. This message was needed to establish her authority in the house in spite of Dadi's protests that the marriage was incomplete, Arnav wants to declare that he considered the marriage complete, and Khushi was his wife in every sense of the word. Mamiji and Dadi needed to hear these words, it leaves no doubt in any one's minds that Khushi was a part of Arnav who would not tolerate any wrong doings against her!
Arnav warns the family especially looking at Dadi that Shyam's name should not be mentioned anymore in the house, and any talk of bringing him back would not be tolerated. The entire family understand the situation and look at Dadi, Nani looks at Dadi with a strange emotion on her face. It appears like Nani is surprised and disgusted that Dadi had tried to talk to Arnav about bringing Damaadji back, she had been ignoring Dadi's words earlier.
Arnav sits beside his sleeping sister, holding her hand and remembering the time she had told him of her great joy on knowing that she was pregnant and then remembers the Godh Bharai. He sits near her with tears in his eyes, the sorrow evident on his face!

I dread to think of the vast grief which will engulf his heart when he discovers his sister's betrayal! He will be shattered completely, the faith in his sister is what had kept him going all these years long, when a child loses the faith and trust in its mother, it feels like an orphan again. Arnav is on his way to becoming an orphan again, just like he had made Khushi an orphan again shortly after the forced wedding when her family disowned her! The circumstances are different but the feelings will be the same.

Precap:-
Shyam enters Anjali's room and sends out the nurse for ten minutes. What happens next? Let us watch today and meet a short while later to discuss it!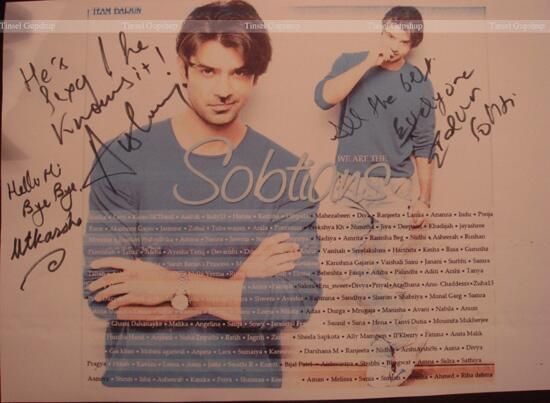 Sep 6
THANK YOU ONCE AGAIN! (By Samona) (Thanked: 3 times)
THANK YOU ONCE AGAIN!
RASH, DIEHARD_ROM, RAMYA, IPKKNDFAN, PEPPER, SANDYY AND ANKKG, THANKS A TON FOR LIKING AND LOVING MY VIEW!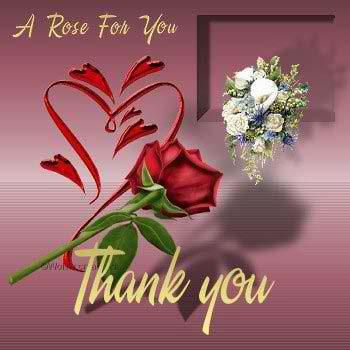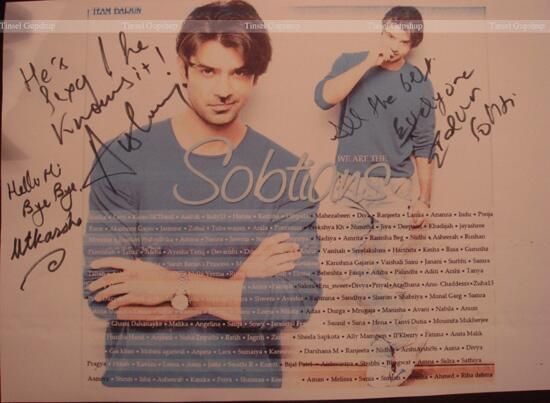 Disclaimer: The views expressed above are member's views and myeDuniya does not comply with it. The views expressed may not be factually correct. Incase of any issue please contact us/report it to us.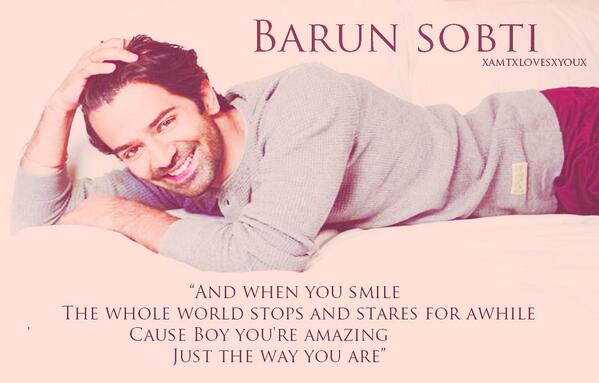 Missing Arnav Singh Raizada!!!!!!!!!!!