A FACE-OFF AND A DEMAND! ARNAV ATTACKED ON TWO SIDES!
Sep 7
A FACE-OFF AND A DEMAND! ARNAV ATTACKED ON TWO SIDES! (By Samona) (Thanked: 6 times)
5th September, 2012 -
Brilliant, brilliant episode came our way with fantastic performances all around! Barun, you rock in those intense scenes, Daljeet keeping up the tempo in her crying scenes, Abhaas making evil look like cakewalk and Sanaya lending her strong support to make the scenes rise above the ordinary, the rising trps are proof that finally something is going the way the CVs want! Oh, I don't want to talk about Dadi!
Khushi brought HP to take the crib away from Di's room as I watched sitting on Di's bed. Di was lying down with her eyes closed, but she woke up on hearing the sound. She started crying that it was her Gudiya's crib, and not to take it away. She clung to me and I held her as she cried for her lost baby, and then suddenly Di wanted to know whether it was a baby girl she had lost, she asked me specifically about it. I did not know
and so I told her to relax and to lie down.
THAT IS IT? LIE DOWN AND RELAX IS THE ANSWER TO ANJALI'S QUESTIONS? Why did the family not ask the doctor about it? If a baby is lost at seven months of pregnancy, the body is given to the family for the last rites, and the doctor informs the family about the gender of the baby. The family is allowed to see the baby for the last time too, so why was the family unaware of any thing? Why did Nani, Mami or Dadi not ask about the baby and why did the family simply go home? UNBELIEVABLE!

At Gupta House, Garima is saddened on hearing about Anjali's loss but scared when Buaji asks her to get ready to go and visit Anjali in the hospital. Garima starts to panic when Buaji tells her that they should go immediately, Khushi's phonecall to inform them that Anjali was at home and resting is a Godsend to Garima. She is intensely relieved to postpone the inevitable for another day.

Why does Garima forget the fact that she will be expected to go to her daughter's sasural for all the events occurring there? She has to face the music some day or the other, since it is Payal and Khushi's sasural. DM is still on Garima's side, the face-off is not far away in the future. Why has Garima not told Buaji that she had heard the conversation between Arnav and Dadi about Shyam who was thrown out of the house? The family hides secrets from each other, Khushi and Payal have not informed Amma and Buaji about the kidnapping and Shyam's ouster, Garima has hidden the past from Buaji and Khushi and now she has hidden about Shyam's dismissal from Buaji! UNBELIEVABLE!

I came out of Di's room and heard Khushi telling her family that they should not come right now but the next day since Di was resting. Khushi turned and saw me standing there behind her and understood my pain. She consoled me saying that everything will be alright, I WOULD MAKE EVERYTHING ALRIGHT! AAP SAB THEEK KAR DENGE! AAP SAB KO SAMBHAL BHI LENGE! The quiet confidence in her voice makes me look at her and I see the same belief in her eyes! She tells me that I would do everything right because I wanted to do all that was possible for Di's happiness! That look of belief and trust in me overwhelms me, she was the one I had NOT trusted, but she had never failed to trust me! The stentorian voice of Dadi resounds suddenly saying that she could see that I was not doing enough to take care of Di's happiness and I was not managing things properly! Both Khushi and I turn to glare at her, Dadi is hell bent of creating trouble for me every step of the way!
One moment outside Di's door, a confrontation between Dadi and Arnav with Khushi looking on and the very next moment, Dadi and Arnav in confrontation with the entire family looking on but in the hall! Payal is missing too! UNBELIEVABLE!

THE CONFRONTATION HAS BEEN BREWING SINCE DADI RE-ENTERED RM AFTER HAVING RUN AWAY FOURTEEN YEARS EARLIER -
The angry tones of Dadi rings in the air when Dadi wants to know what was Arnav trying to prove when he had brought Anjali back home against doctor's orders! Arnav, I am talking to you! Dadi gets very angry and frustrated when Arnav does not reply immediately!
I heard Dadi saying that she wanted to know why I had brought Di back home against doctor's orders. I did not want to reply to her, what right did she have to question me about Di? She got more angry and nearly yelled out that she was talking to me! I told her with clenched teeth that it was no use talking to me, I would do what I thought was right for Di! Di is my responsibility and I will not allow anyone to hurt Di in any small way! She started to remind me that the person of whom she was talking was Anjali's pati, Di was his responsibility and not mine! I clench my jaw as I listen to her spiel that not only had Di lost her child, that man had lost his child! I get more and more angry as she tells me that at this moment, he had the full right to be beside Anjali! USS KA POORA HAQ HAI! SHE EMPHASIZED HAQ IN HER LOUD VOICE, CLENCHING HER VOICE, BUT I WAS BOILING WITH ANGER BY NOW! HOW DARE SHE!!

USS NE APNA HAQ KHO DIYA HAI, DADI! You may forgive him for what he has done, but I CAN NEVER FORGIVE HIM! She questions me back saying that nobody could stand against my stubbornness! What if Di tried to harm herself? What would I do? What if she tried to do what my Amma had done? She asks me if I thought that by beating up Shyam and throwing him out of the hospital, whether I would be able to throw him out of Di's mind and heart? These stupid questions bombard my mind as she goes on to rant at me, I can feel Nani getting angry at Dadi. Everyone realized that Shyam had come to the hospital and that is why I had brought Di home! I don't need to look at the members of my family to see their reactions, I know them like the back of my hand! Akash and NK are stunned and look down, Khushi is stunned and angry to hear her trying to hurt me! Nani and Mamiji are shocked on hearing her words. She is alienating the entire family by her words and I am slowly losing whatever respect I had for her! She asks me if I would forgive myself if Di did anything like that!
I clench my teeth and my hands as I struggle with my words, Di will not do anything like that! Dadi is still after me, she is goading my anger, she does not let it go! She asks me again if I am sure of the reaction by Di? Khushi comes closer to me and keeps her hand on my shoulder in a bid to make me control my anger. I know that she realizes how angry I was now, Dadi wants to know what right I had to keep Shyam away from Di? She told me that she had seen love in Shyam's eyes! She thinks that no one can love Di more than Shyam. Nani and Mami shake their heads, both knew the truth.
Nani tries to quieten us but now I wanted to know a couple of truths from Dadi. So, I ask her how could she see so much love in his eyes, whom she had met in the hospital for the first time? How could she trust and say that he loved Di more than anyone else since she was not staying with us all these years and had never seen Shyam earlier? UNLESS AAP……………….. that means they have met before! Then Dadi admits that Shyam had met her in the ashram and told her a different story. Dadi tells me that she knew that a MUSIBAT (TROUBLE) had entered our lives. She looks at Khushi while saying so, I barely manage to hold on to my temper at that time! So Shyam had gone to meet Dadi in the ashram and pleaded for Di! How dare he? He had told her that he loved his wife very much, Dadi says that the rest was MISUNDERSTANDING!
GALATFEMI? THERE IS NO GALATFEMI! EVERYONE KNOWS HIS TRUTH! DO YOU HAVE ANY IDEA, THAT HE TRIED TO KILL ME? SHE DOES NOT BELIEVE IT, WHEN NK TELLS HER THAT IT WAS THE TRUTH, SHE ASKS FOR THE PROOF! I DON'T NEED TO GIVE PROOF, I KNOW THE TRUTH! NANI TOO TELLS DADI THAT THERE WAS NO GALATFEMI, NO MISUNDERSTANDING ! I REPEAT THAT A DISGUSTING MAN LIKE SHYAM WILL NEVER ENTER MY HOME AGAIN! I clench my teeth in anger and tell Dadi not to commit the same mistake that I had committed earlier, but she is adamant. She told me that I had made a mistake many years ago and repeating it again! She tells me that she had come to save the family!
NO! YOU WERE WRONG THEN, DADI AND YOU ARE WRONG EVEN NOW! YOU DID NOT KNOW WHAT WAS GOOD FOR US FOURTEEN YEARS EARLIER AND NOT EVEN TODAY! I HAVE BEEN TAKING CARE OF DI FOR ALL THESE YEARS, NOT YOU! I CAN TAKE CARE OF HER IN THE FUTURE TOO! YOU HAVE LEFT US AND GONE, WHY HAVE YOU COME BACK NOW? WHAT HAVE YOU COME TO TAKE FROM HERE? YOU SHOULD HAVE STAYED IN YOUR ASHRAM!! I INFORM THE OTHERS THAT THERE WILL BE HEAVY SECURITY AROUND THE HOUSE FROM TOMORROW AND I AM TAKING A RESTRAINING ORDER AGAINST SHYAM FROM THE COURT TOO! SHYAM WILL NOT ENTER MY HOME!
Shyam has already breached the defences of the home, Arnav, he has been slithering in and out of the rooms in your absence, having tea with your sister, changing medicines, removing cameras, fixing up wires, strewing glass pieces around, wiping off blood stains, cleaning up glass pieces etc and you have not had any idea about it! Your Di has learnt to lie to her brother, the same lady who was upset and offended by your alleged lie is now a master at it, she has been meeting him in the house, in restaurants, in hotels and talking to him through camera! UNBELIEVBALE!

Khushi brings medicine and water to my room and when I refuse to take it, she reminds me that I had to take care of myself so that I can take care of Di. I drink the tablet but then again start thinking of that man, I don't realize that I am gripping the glass of water very tight. Khushi keeps her hand over my hand and the tension in my hand and body reduces, I mutter I HATE THAT MAN, KHUSHI! with clenched teeth, she hears it and takes away the glass before it shattered in my hand and hurt me! She consoles me with a hand on my shoulder!
Now my wife too feels that Shyam was saddened by the loss of his child! I mean, ARE YOU KIDDING ME, KHUSHI? You seriously think that man can change? I know that Khushi wanted to give every one on earth a second chance, even the scum that Shyam was, but I had seen through his tricks! She tries her best to tell me that I should let Shyam meet Di once but I am hearing none of it! Khushi can never see anything bad in anyone but how could I or for that matter she forget that he had tried to kill her and me? That he lusted after her? That he had created misunderstanding between us? That he had betrayed my Di? NEVER! I AM NOT GOING TO GET HIM BACK TO THIS HOUSE, KHUSHI, NEVER! Khushi accepts Arnav's decision quietly, and he explains the reasons to her too!
THE MASTER HYPNOTIST IS AT WORK:
Shyam, the master hypnotist, the master manipulator, the master puppeteer is hard at work. He convinces his main puppet to behave in a certain way so that he could be reinstated in the mansion very soon. He has mesmerized his subjects very easily, both Anjali and Dadi were dancing to his tunes. Very subtly he suggests to his puppet that she should stop taking medicines and food from every one. Very cleverly he suggests that she should ask for his reentry on the grounds that she could not survive without him. A hypnotist can suggest anything to his subject and then his plans do work out. We see Shyam the husband turned hypnotist succeed in his mission shortly!

Oh yes, Di walks up to her Chotte's room without help, on her injured foot and asks for her gift, her favorite toy! Chotte has to give it to her, since she wants it, she has always listened to him and now it was her turn to get a reward! The favorite toy? Of course, HER PATI, SHYAM! MUJHE MERE SHYAMJI LAUTA DO, CHOTTE, MUJHE MERE SHYAMJI LAUTA DO! UNBELIEVABLE!

TO BE CONTINUED.....EPISODE OF 6TH SEPTEMBER COMING SHORTLY!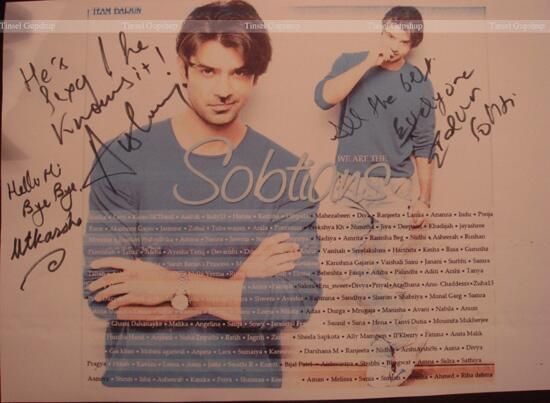 Sep 8
6th September, 2012:- EPISODE (By Samona) (Thanked: 7 times)
6th September, 2012:-
THE DEMAND:
HAME SHYAMJI LAUTA DO CHOTTE! HAME HAMARE PATI LAUTA DO! HAME UNKI BAHUT ZAROORAT HAI! HAMARE PATI! HUM UNKI PATNI HAI, CHHOTE! ISS BAAR TUM HAMARI BAAT SAMJH NE KI KOSHISH KARO, CHHOTE! ISS BAAR TUM HAMARI BAAT MANO!!
THE SHOCK ON ARNAV'S FACE CAN NOT BE DESCRIBED IN WORDS! THE STUNNED LOOK AND THE INCOHERENT WORDS OF ARNAV WHILE ASKING HIS DI IF SHE WANTED SHYAM AFTER ALL HE HAD DONE WAS PROOF THAT IT WAS A HEAVY BLOW TO HIM!

Anjali tells Arnav that she had always listened to him because she loved him very much! She told him that she had accepted every decision made by him as unbreakable ! PATTAR KI LAKHEER! SHE TELLS HIM THAT SHE WANTED SHYAM BACK!
OH REALLY, ANJALI? When has Chotte refused you anything? When have you accepted his decisions mutely? When Arnav had sent Khushi away from your home, you went to the temple and forced him to bring her back! When you wanted him to go and tie the mannat ka dhaaga, sacred thread, he agreed to go to the dargah to tie it, although he did not believe it. When you wanted to go to the temple, he accompanied you! When you fasted for Rakshabandhan for his well-being, he fasted along with you for your well-being! This is how you repay his love, by using your illness to bring back his kidnapper? You believed his eyes which mutely said that you had lost your baby! But you refuse to believe his eyes and words that Shyam was his kidnapper and enemy? Why, Anjali, why? The moment you lied to your brother and went to meet your husband, you had started losing your respect. You should have confronted your brother and told him that you were going back to your husband, why bring him back to your maternal home? How did you forget for a moment the great losss of your baby and tell your husband that you will refuse to eat and drink till he is brought back? Up to that moment, I too sympathized with you for having lost your baby, and wanting your husband back since you did not know the evil intentions he had, but the moment you knowingly decided to go on a hunger strike in a bid to force your brother into meeting your demands, you fell from my eyes!
Dadi tries to make Arnav call Damaadji back to their home, but Arnav refuses again. Seeing Anjali's condition, Akash and Mamiji feel that Arnav should change his decision for Di's sake. Nani and Dadi have a small face-off! Dadi tells Nani that she was a scared lady and this has made Arnav very obstinate. He no longer cared for the happiness of others. This prompts Nani to tell her that he was her grandson too and he had always cared for Anjali bitiya. Dadi remembers the other woman in her own son's life, she is reminded of her when looking at Khushi. Dadi equates Khushi as the other woman but in whose life is she is talking of? Nani proclaims her faith and trust in ARnav and Khushi but Dadi's stern and tough behavior makes Nani appear indecisive. Devyani Raizada, please rise up to your former stature and tell Dadi that she had no part in the upbringing of the grandchildren and hence she should not meddle in HER grandchildren's lives! After all, they are not MALIKS anymore, now they were RAIZADAS!
The past peeps at us again through Dadi's eyes as she vents her anger at a young lady who wrings her hands in fear, Subhadra Malik does not let her speak a word! The mannerisms are of Garima but the camera gives us a glimpse of her earrings, those dangling earrings which look like the same one given by Garima to Khushi as her mother's! Was it Khushi's real mother standing in front of Dadi or was Garima standing there in front of Dadi, having worn her sister's earrings? The mystery remains to be solved.
Arnav sits in the green recliner in his room, his face in his hands, the agony palpable in his face and eyes! His eyes tears up as he recalls how his sister had reacted to the loss of her baby, and the way she had asked for the return of her husband. He recollects the way she had fainted a short while ago and is in pain. He is angered by the flashback of Shyam telling Arnav that he loved Khushi to the point of dewaangee, to the point of obsession and that only one obstacle remained between them, RANI SAHEBA! He remembers the way Shyam had admitted to Arnav that he did not love his wife and then Arnav sweeps the vase from the table onto the floor in a fit of anger! The shattering of the vase and the opening of the door by Khushi is simultaneous! Khushi is unnerved on seeing the sight of the shattered pieces, she looks at Arnav and sees the pulsing anger on his face and body and is scared a little, Arnav realizes that Khushi is still scared of his anger sometimes.
Khushi bends down to pick up the pieces silently; Arnav wipes the lone tear from his cheek and bends down to help her. He knows that she wanted to talk to him, to tell him something but she is worried about him. She turns to go but he stops her by holding her hand and then making her sit beside him in the recliner. She looks at him, worry in her eyes, love and the agony clear to him! She is hurting for him from within, only she knows that Di's demand was impossible for him, but she does not utter a word, just waits for him. He can see the pain in her eyes, the fear of his immense anger too!
After all, she has borne the brunt of his anger innumerable times, although he was always angry with her because he was actually angry with himself, he was always fighting the demon of attraction between them! He used to get angry on seeing her, the force of attraction, anxiety, love and longing had to be suppressed by anger! But now he calms down on seeing her, the quiet love and strength that he receives from her unconditionally makes him realize her value, and he is soothed by her love!
My anger calms down as I see Khushi kneeling in front of me and picking up those shattered pieces of ceramic, and I quietly wipe my tear from my eye and cheek. I bend down to help her pick them up, there is a heaviness in my heart! Immense sadness permeates the air as I feel the grief and pain of knowing what I might have to do against my wishes! We look at each other, words are not required any more between us, and we know each other like ourselves! I know that she wanted to say something but had kept quiet; I hold her hand as she turns to go! I seat her beside me in the recliner and look at her. I hold her hand and sit there quietly looking at her! The immense wealth of love and understanding in her eyes makes me calmer than before, I know that I can face bigger storms than this with her presence in my life! I ask her what she wanted to say and she tells me that she was going home!
MAT JAAO! A DESPERATE PLEA AROSE FROM MY HEART AND SOUL! I NEEDED HER WITH ME! SHE COULD NOT LEAVE ME AT THIS TIME, SHE WAS MY STRENGTH! I know that she had to go, but I cannot fathom a time now without her near me! SHE HAD BECOME AS VITAL AS MY BREATHING AND SHE KNOWS IT TOO! AFTER ALL, HUM DONO KI SAANSE RUK JAYEGI! She tells me that she had a minute to be with me! LEKIN EK MINUTE KE LIYE BAITH TOH SAKTE HAI! A flicker of a smile comes to my face as I am happy for a split second, she was going to be with me for a little while more! DOOB NE WALE KO TINKA BHI SAHARA HOTA HAI! She kept her head on my shoulder and I held her in my embrace as we sat there together for a while, consoling each other, isolated from the others but also realizing that the coming times will be the most difficult for both of us!
The reflection of the couple seated there is seen in the side walk of the pool, a quiet togetherness seen in the midst of chaos, in the midst of the storm which is like an oasis of peace, they give their strength to each other, and share that moment of perfect understanding, love, affection, adoration, longing, desire, contentment in each other, which eludes many in this life! They have always been at loggerheads with each other, never have a moment of peace in their love, and nafrat rules their destiny but the mohabbat remains strong like a binding rope which holds them together forever!
Khushi returns home and tells her family that the pain of losing a child was infinitely more than the tiredness she felt in herself, the tiredness of soul she had seen in Anjali far outweighs everything else. Both Arnav and Khushi miss each other; they remember their mehendi moments, both look at the mehendi in their hands in the privacy of their rooms.
She remembers how he had said LG to be written in her hand, Laad Governor, he loved to hear that name now, it was an endearment for him now! She smiles while looking at the "A" in her hand while he remembers Khushi telling NK that she wanted Arnav to dance with her and put a dot of mehendi in his palm too. He then remembers the cunning way he had fulfilled her wish, smudging his palm with her mehendi and taking a blot of it, showing his palm to her and earning a hug from her! He smiles while looking at the red mark on his palm! RABBA VE, RABBA VE, KYON KWABON PE TERE SAAYE HAIN, DIL KYUN HAI TANHA MERA, KYUN KHAMOSH HAI ZUBAAN MERI, AASHQ SE KEH PAAUN NA! THEY MISS EACH OTHER VERY MUCH! Tears overflow from her eyes as she remembers his MAT JAO! There is a world of grief and tears in his eyes there!
Morning sees Hitler Dadi and Anjali in their SHYAM WAPAS LAAO ABHIGYAN (BRING BACK SHYAM MOVEMENT) in their own ways! Anjali starts her hunger strike andolan and refuses food, water and medicines. Dadi begins her KHUSHI GHAR SE HATAO MOVEMENT at the same time by insulting her and preventing her from doing anything in the house!
Arnav sees Khushi wiping her eyes and realizes that something was wrong, he asks her but she smiles at him and hides her feelings of hurt. He wipes the tear stained cheek and she mumbles that something was in her eye, the tear was its result, but Arnav knows that she had been crying. He cups her face with his hand and holds her close to him, kisses her forehead to comfort her, although he does not know the cause yet. She tells him to go and try to make Anjali eat something, at that very moment the family reach there, after having been sent out of Anjali's room. On asking if Anjali had drunk the juice, Mamiji answers Khushi in a polite way but with tears in her eyes, that Anjali had not drunk the jucie, in fact she had dropped the glass too!
There is no Phati Sari address or tone in her voice anymore! Looks like she has understood Khushi's importance in Arnva bitwa's life! Good for you, Mamiji! Please stay that way!
Arnav asks the family to get the food ready, very confidently he tells them that he would bring her to eat but is it possible any more? The family gets ready to make Anjali happy, but when Khushi offers to make kheer, Dadi stops her and tells her that she would make it! Arnav now realizes what had happened to make Khushi hurt earlier; the tears had been explained to him without words! We see Arnav thinking about it, he is bound to make a decision which will make Khushi get the rightful place in his life and his home!
ACTING:
BARUN: - SUPREMELY FANTASTIC, ABSOLUTELY HOT AND IMMENSELY TALENTED!
SANAYA: - PERFECT MATCH FOR BARUN!
DALJEET WITH SHYAM AND DADI: - PERFECT TRIO FOR EACH OTHER!
AKASH WITH MAMI: - THE POSSIBLE TURNCOATS!
NK: - WOW, WHAT A BROTHER TO HAVE, WHAT A FRIEND TO HAVE!
NANI: - SUPERB GRAND MOTHER, BUT NEEDS TO BE ASSERTIVE AGAIN!
PAYAL: - GAYAB JUST LIKE HER FATHER-IN-LAW!
OTHER MISSING MEMBERS TODAY: - HP, LAKSHMI SINGH RAIZADA!
AN ADDITION:- NURSE!
THANKS TO MY READERS AND PLEASE FORGIVE ANY TYPOS IF MADE!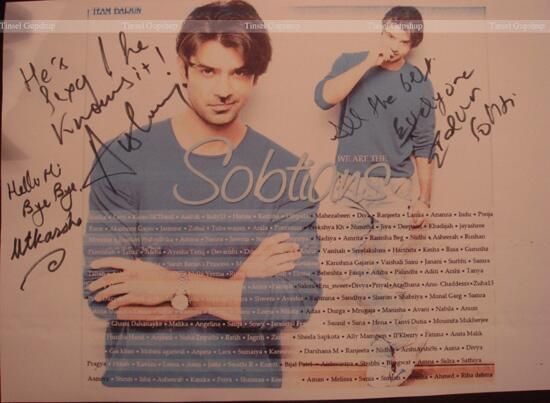 Sep 8
Thanks for my readers! (By Samona) (Thanked: 2 times)
THANKS FOR MY SILENT READERS AND TALKING READERS TOO!
THANK YOU RAMYA, DHALIA, SREDDY, SS, NITA, DIEHARD_ROM, PEPPER, RAINQRAZY AND RAMYA AGAIN!
THANK YOU DIEHARD_ROM, FOR POINTING OUT THAT HESITATION BY ARNAV BEFORE HE TOLD DI TO RELAX, I HAD NOT NOTICED IT BEFORE! NOW IT MAKES SENSE TO ME TOO!
THANK YOU PEPPER, I WILL ASK ARNAV THE NEXT TIME I MEET HIM TO KNOW WHERE IS THE MISSING PERSONS BUREAU? OR DOES HE KNOW THEIR WHEREABOUTS!
THANKS RAMYA, FOR ALL THOSE ENCOURAGING WORDS TO ME, YES, IT MAKES PERFECT SENSE TO ME, I TOO WOULD LIKE THEM TO BE TOGETHER! SR, KISS IS IMMATERIAL IF THEY ARE TOGETHER!
THANKS SILENT READERS!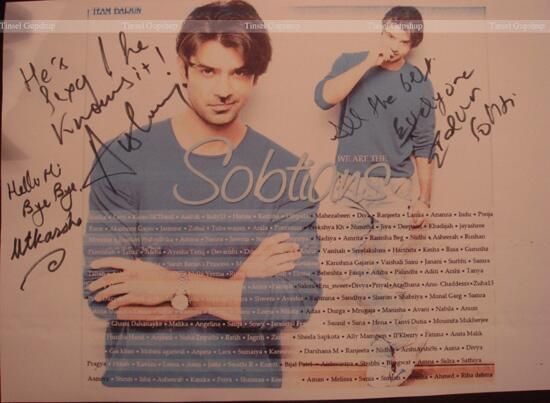 Disclaimer: The views expressed above are member's views and myeDuniya does not comply with it. The views expressed may not be factually correct. Incase of any issue please contact us/report it to us.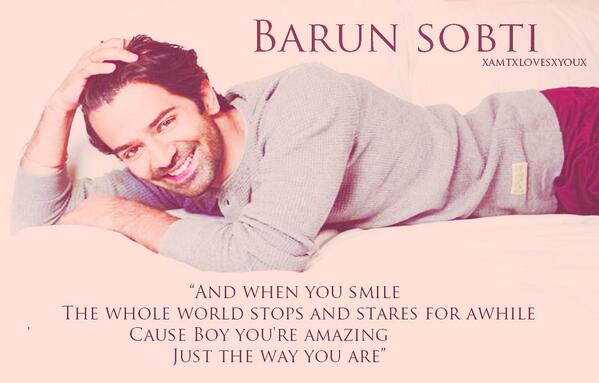 Missing Arnav Singh Raizada!!!!!!!!!!!